daily fantasy sports articles
NRL 2020 Fantasy Tips: Round 5 - Saturday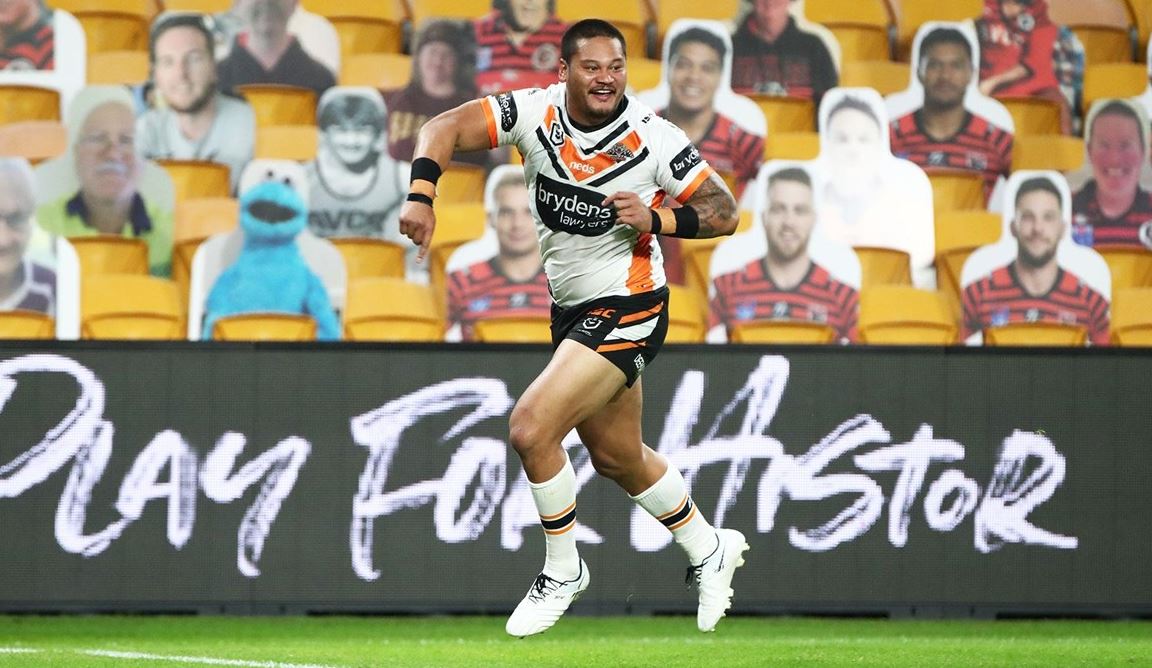 Super Saturday time once again, and we are back to the full slate of 3 games. None of the contests available on
Draftstars
are particularly big, but that doesn't mean we can't make them bigger by getting stuck into a great little slate.
$5,000 Saturday

$3,000 Rabbitohs v Titans

$3,000 Knights v Storm

$5,000 Wests v Raiders

Mini and Micro contests available
​

Rabbits 1.21 v Titans 4.45
Spread - 11.5
Total - 43.5
Knights 2.25 v Storm 1.65
Spread - 3.5
Total - 37.5
Tigers 3.15 v Raiders 1.36
Spread - 7.5
Total - 37.5
Weather
Sydney/Gosford - Partly Cloudy, slight chance of showers in the evening (12-20 degrees)
Fantasy Plays
Two games with fairly handy favourites, but I honestly don't think any of these games are clear cut. Both the Rabbits and the Raiders should be hurting after comprehensive losses last week, so there is no reason they should come out flat. Having said that, the Titans are looking galvanised and the Tigers would have been absolutely blasted by Madge this week, so both teams could well be up for the fight. My Knights bias has me thinking they should be favourites are against a Storm team that are finally looking a little susceptible, but in reality it should be a tight affair if this new defensive resolve continues under Adam O'Brien.
WFB: After a strong game out of nowhere last week, Latrell Mitchell $12,570 could be the bandwagon to jump on. He looked super involved last week, and I have to think that Wayne Bennett wants the ball in his hands often. Charnze Nicoll-Klokstad $8,900 is a value option I've been riding all season with no success, but a hurting Raiders team will have to come out fired up in this one, and he has to have a big game eventually. Kalyn Ponga $14,500 was electric last week, and although this should be a much tighter game, the Knights are a hot team right now and Ponga is involved in absolutely everything. His price is high, but for good reason, it's worth trying to squeeze him in. On the other side of the field, Suli Vunivalu $7,300 and Ryan Papenhuyzen $11,440 have been underwhelming, but are both now cheap if the Storm can get on top and put some points on the board.
CTR: The form guys are Bradman Best $10,500 and Campbell Graham $10,400, and despite big price rises there is nothing wrong with using them again, just that lots of other people will too. A little cheaper, I think Jarrod Croker $9,190 could be ignored, but the Tigers defence on his side has been ordinary and if the Raiders are on there could be plenty of goals for him to knock over. An interesting value option is Brenko Lee $7,600, who used to score quite well back in his Bulldogs days, and should be virtually unowned. I have no idea if he has a big game in him here, but I want a little exposure just in case.
HALF: Mitch Pearce $13,380 and Adam Reynolds $13,250 are similar players in many ways, controlling their teams around the field, doing all the kicking, and capable of busting the line if they see an opportunity. Either of them could put up a massive score today. The value option is probably Josh Reynolds $8,900, but he is far from safe. His history is scoring 40+ points as a five-eighth, but this is a tough matchup and I'll be reluctant to look for value in this position today.
2RF: Chris Lawrence $8,870 and Ethan Lowe $9,270 are both formerly good fantasy scorers named to start in the 2nd row, and they're both too cheap. Lowe is far more likely to smash value as the younger player on a big favourite team, so I'm very interested in him. Felise Kaufusi $9,950 and Kenny Bromwich $10,500 are both far too cheap, so if we can figure out which one of them is going to have a good day in attack there is lots of value there also. Corey Horsburgh $12,700 has looked great in most games this year, and it seems like the Raiders are ready to trust him with all the minutes he can handle. A try would be a nice bonus, but he's shown he can score 60 in just a normal game, which is more than okay at his price. It's not a sure thing, but I like this play a lot. If there is one player here that can score 80+ and be a must have, it's Cameron Murray $14,960. The guy is obviously a superstar, and the Rabbits have to be desperate to get a win, so I think he has a big ceiling today.
HOK: Oh boy. You don't get a much better selection of hookers than this one, and I'm having a tough time picking a couple out. Andrew McCullough $12,500 has to be the first look, after a fantastic performance last week and still at a very generous price. This should be a tight game so I can see him racking up a mountain of tackles again. Cameron Smith $15,600 is priced nicely, but I have concerns that he's finally on the decline, not to mention that he might end up playing halfback if the Storm pull the switch they're talking about. Instead his young protege Harry Grant $15,000, despite a big price rise, looks like he'll get the full 80 minutes and is just clearly a superstar. He looks like the next 60+ point hooker to me, so why not get on board straight away? Josh Hodgson $11,600 is too cheap, Damien Cook $17,250 could do anything, and Erin Clark $9,800 doesn't have the ceiling to be needed on this slate.
FRF: I do not want to play Zane Musgrove $8,300. Please no. But, with the Tigers shake up this week, it looks like he's been given the chance to show what he has. He was good back in 2017 before various issues derailed his career, so maybe he's found something over the break and can give us the 40+ points needed today. If not I have no problem going back to Tom Burgess $9,170 after a poor game, and I am certainly going to be clicking on Jesse Bromwich's $10,500 name plenty at that price. Nearly all of the top 8 options of the board are in top form (hence the prices), and I honestly can't pick between them. Perhaps save this part of your build until last and then take whichever guy you can afford.

Final Word: Overall, this is a pretty interesting slate. Late changes aside, there isn't any absolute locks from a value perspective, and there are lots of different angles to approach things from. Deciding which team is going to have a big win and stacking a few of their players is always a winning approach. My guess is the Raiders, who have the hurt from last week coupled with going against a Tigers team that must have copped a thrashing this week after a humiliating loss, and may not have the energy left to respond for all 80 minutes. Good luck with it!

Always remember to gamble responsibly. When the fun stops, stop. If gambling is having a negative impact on your life, seek support at
Gambling Help Online
. 18+ only.