daily fantasy sports articles
NRL 2021 Daily Fantasy Tips: Round 21 Knights v Broncos
Round 21 gets underway with a surprisingly intriguing matchup between two teams in the bottom portion for the ladder. The Knights (11th) and Broncos (15th) face off at Suncorp Stadium, with the Knights still a realistic finals chance as part of the 5 team logjam from 7th place on 18 points. They need a big for and against boost now that they're back at full-strength, but the Broncos have showed a little more steel lately in winning two of their last 4 games. The Brisbane weather looks good.
Draftstars has a $25,000 contest with $2,480 to first place. There are also several other contests including the Mini, Micro, and the High Roller.

Team News
The Knights get back Mitch Pearce and lose Jayden Brailey to injury. Phoenix Crossland goes out of the halves to accommodate Pearce, while Chris Randall comes in to fill the void at hooker. The Broncos have lost Kotoni Staggs and Jake Turpin to injury. Jesse Arthars comes into the centres, and Danny Levi moves to the hooker position, allowing TC Robati to join the bench.
Odds
Knights $1.28 v Broncos $3.75
Line – 11.5
Total – 50.5
Try Location through 20 Rounds
The Knights have scored 28 out of 59 tries (47%) on their left edge – Tuala / Best / Pearce
The Broncos have scored 34 out of 57 tries (60%) on their right edge – Issako / Arthars / Isaako
Overview
The Knights just must dominate this game if they want any of what they've been trying to build for the last two years under Adam O'Brien to mean anything. The team looks good on paper and has shown flashes of excellence when they can keep their best players on the field. The optimist in me sees a big win, but the tortured Knight fan in me is very worried about how this one play out. In other words, it's probably a good idea to stack the Knights, but you just know how easily that could go wrong.
Love It - Kalyn Ponga $12,270
Ponga has had another interrupted season, only getting through 8 full games. He flashed some of his best stuff last week, especially in connection with Bradman Best, and I like his chances to find some space against the Broncos in this one. He's far too cheap, so I can't really see any way to avoid this chalk (especially with all other WFB options looking very thin).
Love It - Chris Randall $8,820
Randall is a part of one of the more interesting HOK lineups you'll see, with all options in the same cheap price range and with decent roles in the team. Randall is the one that with the most upside, which mostly comes from his ability to rack up 50+ tackles, as well as a little bit more attacking opportunity given the Knights are big favourites.
Love It - Keenan Palasia $8,750
We still don't have much data on Palasia, with last week being his first crack at starting in the middle of the field. He's scored quite well in the chances he has received elsewhere and looks a handy player. I don't necessarily think last week's 60 minutes is likely to be repeated, but I do think he can repeat the 40 points, with 50+ upside if he can rack up any attacking stats. The 2RF/FRF eligibility always helps, and he's still very cheap.
Hate It - Mitch Pearce $15,740
As the most expensive Knight on the slate, Pearce presents a significant risk coming off a hamstring issue and continual injury issues over the last couple of seasons. He's on the wrong side of 30, which doesn't inspire a lot of confidence that he's going to get his body right. His scoring has been excellent when he has played this season (averaging 60 in 5 full games), but he hasn't put up the type of 70+ score that would make him a must have. I'd rather spend down at HLF so I can afford the likes of Haas, Ponga and Frizell.
Hate It - Corey Oates $7,000
Oates is an easy target having descended from Origin and Australian standard winger, to barely getting a game for the struggling Broncos. He needs multiple tries to really blow the doors off the slate. I don't love any of the Broncos cheap backs, but you'll probably need to have a little exposure to some of them if you are playing multiple lineups. Tuala and Hunt aren't exactly reliable scorers either!
Who Knows - Tyson Gamble $12,970
Gamble is the option that I find rather intriguing on this slate. Despite some excellent recent form numbers, he might get a little overlooked with the Knights heavily favoured and the likes of Clifford, Pearce and Watson looking decent. The thing is, Gamble has scored 45+ points 7 games in a row, many of which the Broncos lost heavily. He can score well regardless of how the game goes, because he takes on most of the kicking and runs the ball very effectively. He'll need around 60 points to beat out the other halves options, which he can definitely do. The other side of the coin is that everyone plays him because of the good form, and the bubble bursts on a player that is no longer cheap. Who knows!?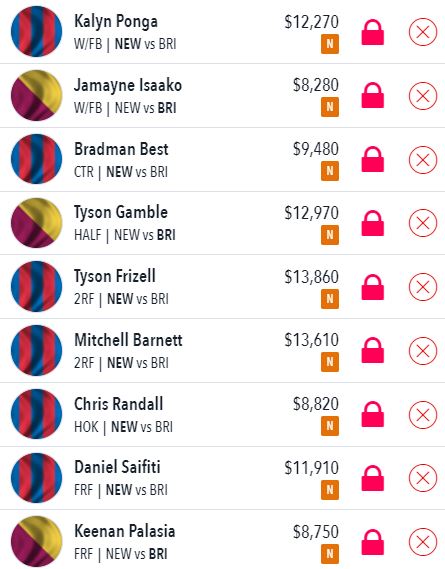 Always remember to gamble responsibly. When the fun stops, stop. If gambling is having a negative impact on your life, seek support at Gambling Help Online. 18+ only.