daily fantasy sports articles
NRL 2022 Daily Fantasy Tips: Round 11 Sunday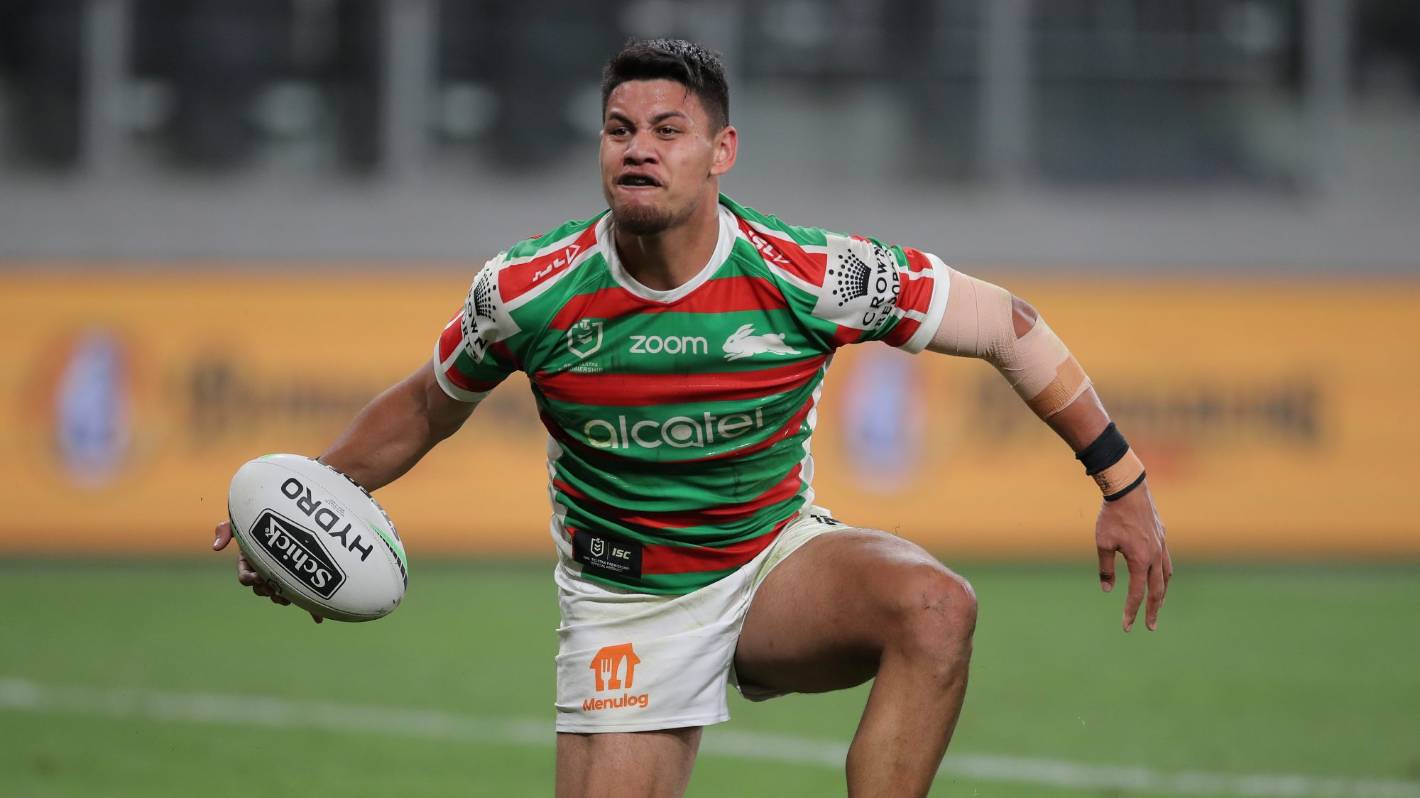 Round 11 in the NRL concludes with two potentially decent games on a Sunday afternoon. First, at 2pm the South Sydney Rabbitohs (8th) "host" the Canberra Raiders (10th) at Apex Oval in Dubbo. Then at 4:05pm the Gold Coast Titans (13th) welcome the Cronulla Sharks (6th) to CBUS Super Stadium. All four teams are floating in the middle of the table and yet to give up on chances for finals or top 4 (in some cases), and all but the Sharks are coming off a win. It has a fast and flowing afternoon footy feel to it.
Draftstars has a $5000 contest with $679 to first place. The single game contests are set at $6000 and $8000 respectively. There are also several other contests including the Mini, Micro, and the High Roller.


Team News
There's just one change for the Rabbitohs, after Jacob Host dislocated his shoulder in the opening minutes last week. He's replaced directly in the back row by Trent Peoples, who looked like a similar play in his debut a couple of weeks ago.
The Raiders one change is a big one, with Star half Jack Wighton returning from suspension. Matt Frawley has been rewarded for a good couple of weeks by keeping his spot, with Brad Schneider the one to drop out.
The Titans are unchanged after a quality performance last week. Toby Sexton re-found some form as a young halfback, and Jayden Campbell had the best game of his young career so far.
Only two changes for the Sharks, the simplest being a direct swap on the bench between Andrew Fifita (IN) and Jack Williams (OUT). The other sees Locky Miller make his debut at fullback, with Nicho Hynes back into the halves, Braydon Trindall back to the bench and Royce Hunt starting at prop in place of Dale Finucane who is out with injury. Those changes help Hynes who gets his base stats back, and the entire forward pack who again has a bench utility with less squeeze on their minutes. Blayke Brailey could lose minutes to Trindall but it hasn't really happened so far this season. Teig Wilton and Wade Graham have also been named to switch places between the bench and second row, which ruins Wilton.

Odds
Rabbitohs $1.50 v Raiders $2.60
Titans $3.10 v Sharks $1.37

Overview
I thought with Wighton back the odds might be a bit tighter in the first game, but it's close enough. The Rabbits are covering some big outs reasonably okay, while the Raiders have a long list of players who are below their best so far this season. Still, it's close enough that I'm treating this a game that can go either way.
I'm fine with the odds in the second game. Don't be fooled by the Titans win last week, they're woefully inconsistent and the Sharks are a properly good team. There are still a few moving parts in the Sharks team, but there is more than enough quality to take care of this Titans outfit.
Love It - Trent Peoples $10,800
Peoples was super busy in his first game, scoring around 35 in base stats and threatening to break the line while offloading at will. It's only one game, but as a starting second rower he's almost guaranteed 65 minutes at a minimum and that generally translated to 35+ points at the position. I've got him down for an expected 40, which is plenty at this price with some extra upside.
Love It - Jaxson Paulo $9000
This one is a bit of a toss-up for me between the youngster in Paulo, or a veteran in Jordan Rapana. Both look like value, and I'm a bit nervous about how wet it's likely to be in the game on the Gold Coast, which can limit scoring for OBs. Paulo has made a fairly slow start to the season while being thrown between left centre and right wing, but I think the team has settled on his role now (left centre, with Taane Milne sticking to the wing). We only have a 3 game sample, but an average in the 33-35 range is what I would expect in the long run. We know the Rabbits like the left edge, and Paulo could eventually have the ceiling of a poor man's Dane Gagai. He looks pretty unappealing with some bench games in his sample this season, so get on early in a game the Rabbits are favoured to win.
Love It - Nicho Hynes $25,970
Yes, Hynes is very expensive and scored a lowly 36 last week. What's your point? He moves back to halfback this week, and this slate has enough value on it that we are almost forced to play one of Hynes or Damien Cook as by far the top scorers (and most expensive). So don't worry about value, I like Hynes because he's back in his position, will regain all his kicking and defending duties, and will dominate no matter what the weather is in that game. Cook on the other hand has two players capable of giving him a spell on his bench, and is a 5-10 point lesser scorer than Hynes even at the best of times. It might not be a 100% Hynes over Cook situation, but it seems clear cut to me.
Hate It - Josh Papalii $18,750
The big Raiders legend hurt me last week with a tidy 69 points, but his minutes and points are still down this year on what we've seen in the past. Last week's score had a lot to do with a rare try, while he still only saw 44 minutes (after averaging 52 in 2021 when starting). He's still a good player, but with his body type and turning 30 this year I think it's clear that he's on the decline and it's better to avoid him unless the price starts dropping significantly.
Who Knows - Lachlan Miller $12,500
I don't follow Rugby, but apparently this guy was a very good sevens player representing Australia and therefore can probably move. Coming in at fullback is a fairly lucrative scoring position in fantasy, so my best guess is he can average in the 35-40 range on a good team. Draftstars have been proactive and priced him up a little, which means it's hard to know if this is value or not on NRL debut. The Titans can be a leaky outfit, so if you think the Sharks have a big day then I think Miller is definitely in consideration at the OB position.
Always remember to gamble responsibly. When the fun stops, stop. If gambling is having a negative impact on your life, seek support at Gambling Help Online. 18+ only.