daily fantasy sports articles
Odd rule denies top prize to tied winner of AFL Fantasy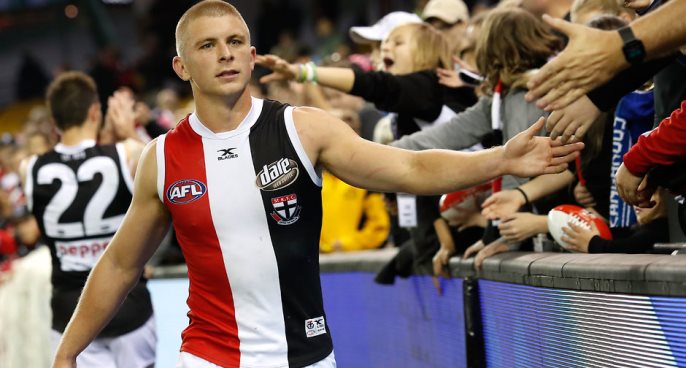 The season-long AFL Fantasy competition run on the official AFL website came to a close on the weekend, producing an unbelievable result, a tie!
Fantasy players James Robinson and Selby Lee-Steere finished the AFL season tied on 51,308 points. However, the competition only offered 1 top prize, which was a new car, therefore a countback system was employed to determine who won. The rule states that in the event of a tie, the winner will be determined based on who joined the competition first.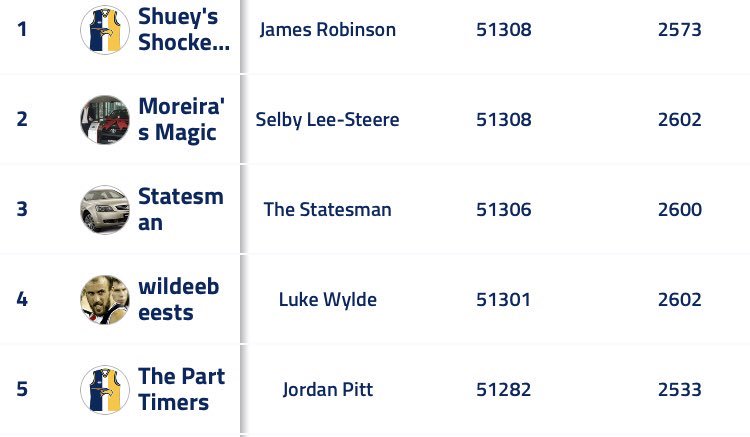 In the end it was 2017 AFL Fantasy winner Selby Lee-Steere who lost out, because he joined the competition just 2 hours after Robinson.
It's a cruel result after 6 months of competition. A result that wouldn't happen in daily fantasy contests. If there was a tie for first place in a DFS contest, the first and second place prize pools would be combined and split between the two tied players in first place.
Lee-Steere has proven himself to be one of the best AFL Fantasy players ever having won the competition last year and then running tied in first place in 2018, essentially making him the first back-to-back winner in AFL Fantasy.
Given the huge number of competitors, it's a remarkable feat to win just once, but twice in successive years is a phenomenal performance. In fact, thanks to the maths of one Twitter user, the chances of winning in 2017 was 0.00071% and in 2018 was 0.00065%. But to win both seasons came in at 0.0000004615%.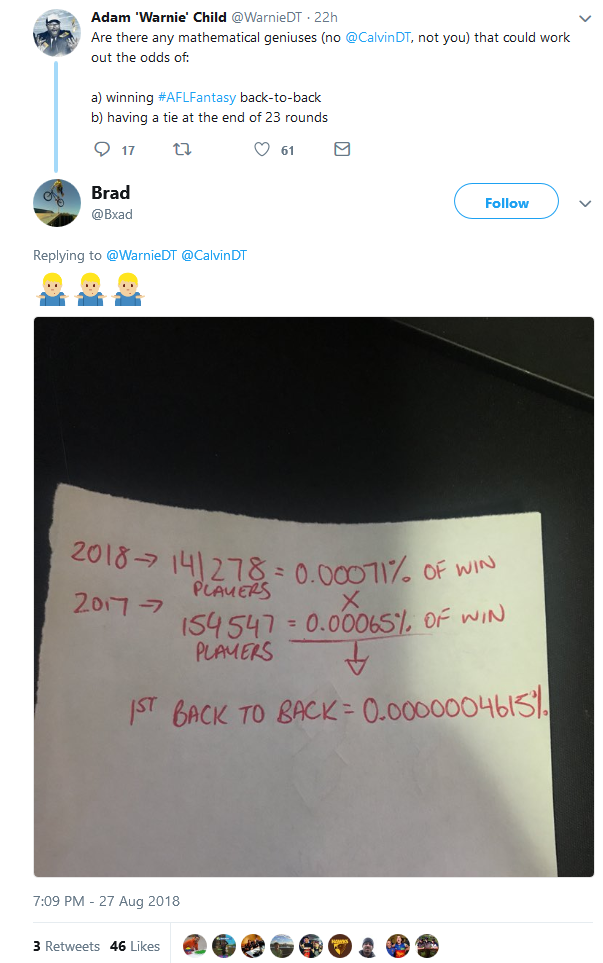 The decision went down to the wire, with the final result hanging on the performance of one player, St.Kilda's Seb Ross. Robinson needed Ross to score more than 122 points in order to win the competition, however Ross scored exactly 122 points, leaving him tied with Lee-Steere.
Both men registered on January 24th, however Robinson joined a slim 2 hours earlier and this was the deciding factor.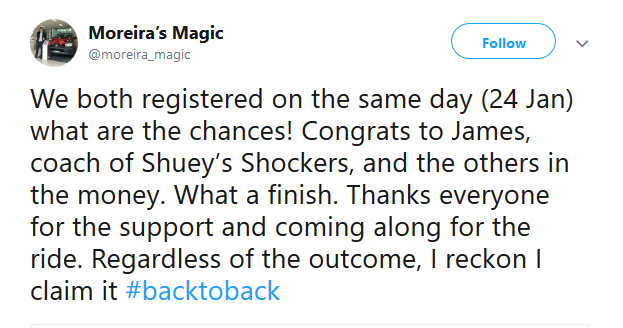 Upon learning of the result, a petition had been started up for both men receive a car.
It was a very tight contest as The Statesman ran in 3rd place, just 2 points behind the tied leaders and Luke Wylde just 7 points off the pace in fourth place.
If you love playing AFL Fantasy or AFL Supercoach and would like a new challenge, why not try your hand at Daily Fantasy Sports. You could win money from every weekend of footy. Thousands of dollars in prize money is won by our DFS players every day, like recent winner lion4life.
Check out our DFS reviews page for more information.