daily fantasy sports articles
Paddy Power Betfair Acquires US DFS Site FanDuel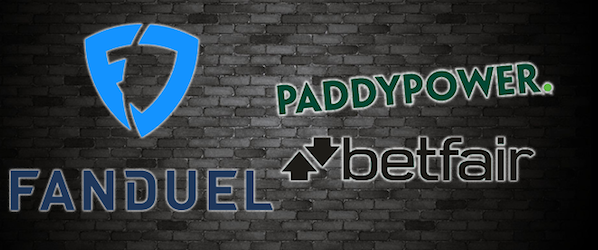 It has been announced that gaming-company Paddy Power Betfair (PPB) has completed a deal to acquire FanDuel, a prominent figure in US Daily Fantasy Sport (DFS).
With the new era of legal gambling gearing up in the US, this deal between the two companies will enhance the opportunity for Paddy Power Betfair to engage with the US sports betting market.
The brand name and financial backing that PPB provides FanDuel has potential to propel them to the top of the DFS industry, which has been dominated by DraftKings for the past couple of years.
Prior to the deal, it was estimated that FanDuel had over 40% of DFS market share in the US, with seven million people registered. Of their seven million members, 1.3 million of them were active in 2017, where the company were estimated to have a revenue of $124m for the year.
How will FanDuel integrate sports betting?
At this stage it's still unknown to the public just how FanDuel plans to offer sports betting to their users. However, in an email to their users, FanDuel CEO Matt King made it clear that they've already got the ball rolling saying, "We're currently working on a sports betting product, which we expect to be available by the 2018 NFL season. We can't wait for you to see what we have in store!".
What does this mean for DFS powerhouse DraftKings?
The question was posed to PPB CEO Peter Jackson as to why they chose to position themselves with FanDuel, rather than DFS industry leaders, DraftKings. Jackson suggested that FanDuel seemed like a better cultural fit, saying, "If you go far enough back, Nigel, who actually founded FanDuel, was one of the early people who worked at Betfair. So if you go back far enough, we're all related."
DraftKings and FanDuel came close to merging in 2017, but the deal failed to pass the federal government due to trust concerns. It's expected that DraftKings will respond to the PPB and FanDuel deal with some of their own news very soon, as they've been pushing their own sports betting product for some time now.
What does this mean for DFS in Australia?
Although the news of this deal clearly focusses on US sports betting, there is enough reason to believe that FanDuel could potentially spread their wings overseas. With PPB already owning Australian sports betting operator Sportsbet, perhaps this will provide a pathway for FanDuel to one day bring their DFS offerings down under.