daily fantasy sports articles
QuickDraft launches on Draftstars mobile app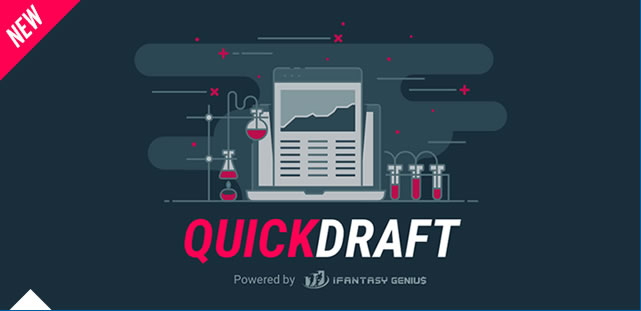 The team at Draftstars have announced a brand-new product which is sure to be a huge hit among Australian daily fantasy sports fans, especially those looking to save some time with setting their fantasy lineups.
The product is known as "QuickDraft" and is a lineup optimiser tool designed to quickly and intelligently provide users with a recommended lineup they can use in contests on Draftstars.
No longer do you have to spend time doing the research to find the best players to fit into certain positions, QuickDraft does all the heavy lifting for you so that you can get maximum value for every player in your team. This saves you heaps of time and lets you get involved in the action at Draftstars even faster!
Powered by iFantasyGenius, an independent fantasy source, QuickDraft allows users to select certain metrics and preferences and the software will calculate an optimal lineup while maintaining your team within the $100,000 salary cap.
The metrics that you can factor into the tool include recent player form, form at home vs away, form as favourite vs underdog, form at venue, form last time they met and form for day vs night. The tool provides easy-to-use slider bars where you can weigh your preferences for each of the metrics. You then click a button to generate a lineup that you can save into your chosen contests!
No more mucking around with players, salary caps and form as QuickDraft does it all for you in just a matter of seconds!
QuickDraft is only available on the Draftstars mobile app and currently supports AFL and NRL contests.
Click here to join Draftstars today!