daily fantasy sports articles
Second Qualifying Final: Eagles vs Magpies AFL DFS Lineup Tips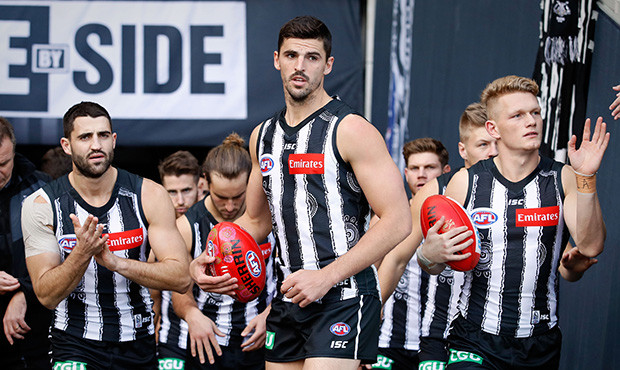 The final match of the AFL opening finals weekend will see two very evenly matched sides go head-to-head. Over the 22 games played prior to the finals, the Pies have scored just 34 points more than the Eagles, while the Eagles have conceded 42 points less.
PlayOn will be running contests whereby you can win seats in their $5,000 AFL Grand Final contest. At MoneyBall they have a major contest with a total prize pool of $2,000 on the line. And as has been the case all weekend, DraftStars will again have a major contest worth $40,000 and with a buy-in of $15.
Points Against
Points Against in the last 5 games paints an interesting picture. There are some significant differentials across all positions. Collingwood is a highly favourable match up for the West Coast backs. We will outline some recent scores against the Pies and also what the Eagles did to them back in Round 17. Forwards for the Eagles are also favoured over their counterparts, especially the top 3 scoring forwards which will have a crack at the +10.4 differential that has been on offer in these recent games.
It is the reverse within the midfield match though, with the Eagles leaking significantly more points across both the top scoring mids and lower scoring mids. The same can be said for the Ruckman, with Brodie Grundy contributing to the big differential there.

Backs vs Collingwood
Last time these teams met was in Round 17 and it was one of our first forays into targeting defenders playing the Pies. And we were not let down. Shannon Hurn scored 109, which is 20 up on his season average and Jeremy McGovern went for 107, an immense 40 better than his season average and his highest score of the year. Jetta (+19), Sheppard (+6) and Duggan (+6) all also outdid their averages that day.
Unfortunately for the Pies but fortunately for DFS coaches, things have not slowed since then. Recent scores against Collingwood show Duman (118), Witherden (123) and Rampe (117) all cashing in on the run home.
Look for all of the Eagles defenders outlined above to provide another dosage of high scoring on Saturday. More specifically, McGovern at the price of $9,040 due to some inconsistencies and having to play forward, is primed for this type of match. And if you are looking for a left field option it is someone like Tom Barrass, who fills the highly favourable bottom 3 mould that could also enjoy this +6 style game.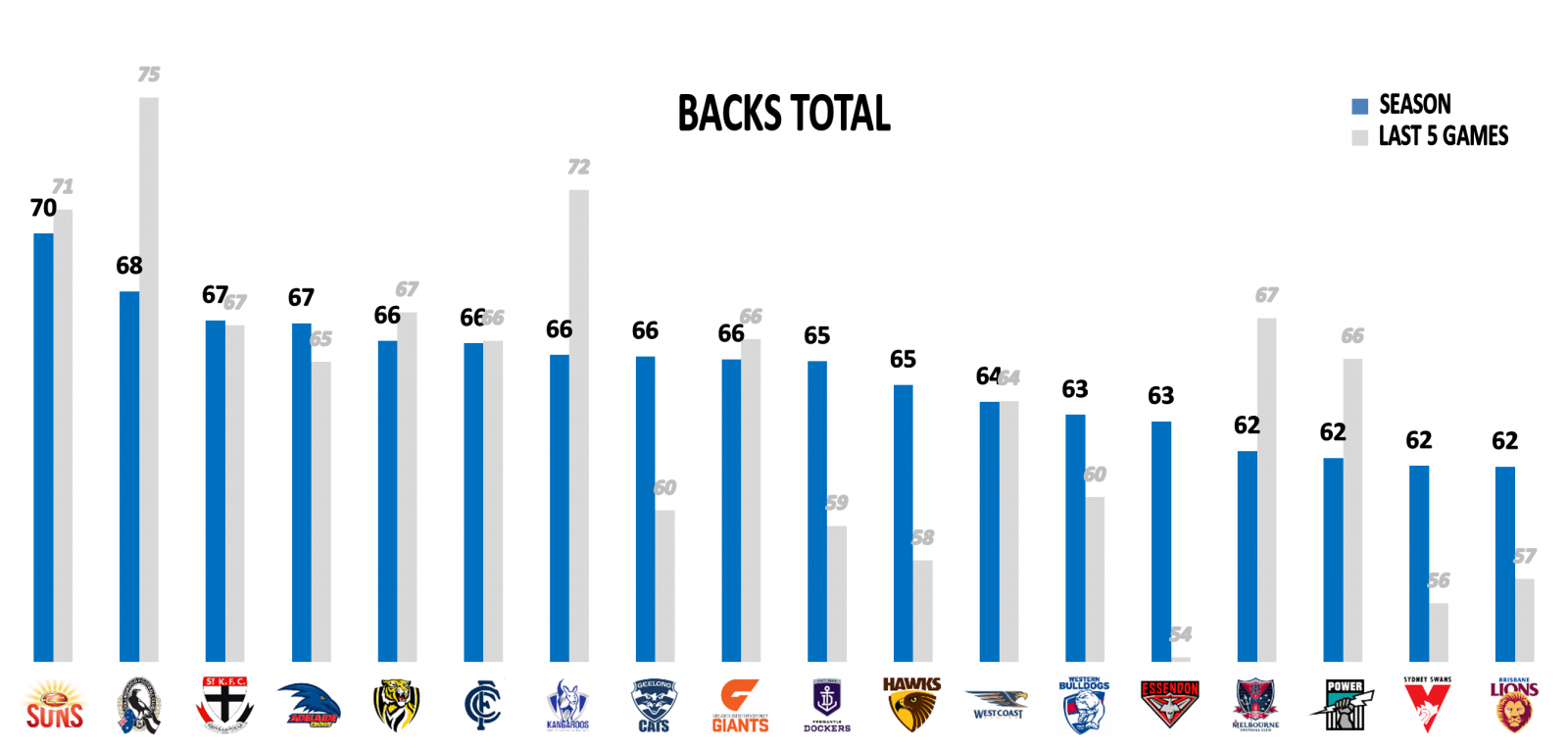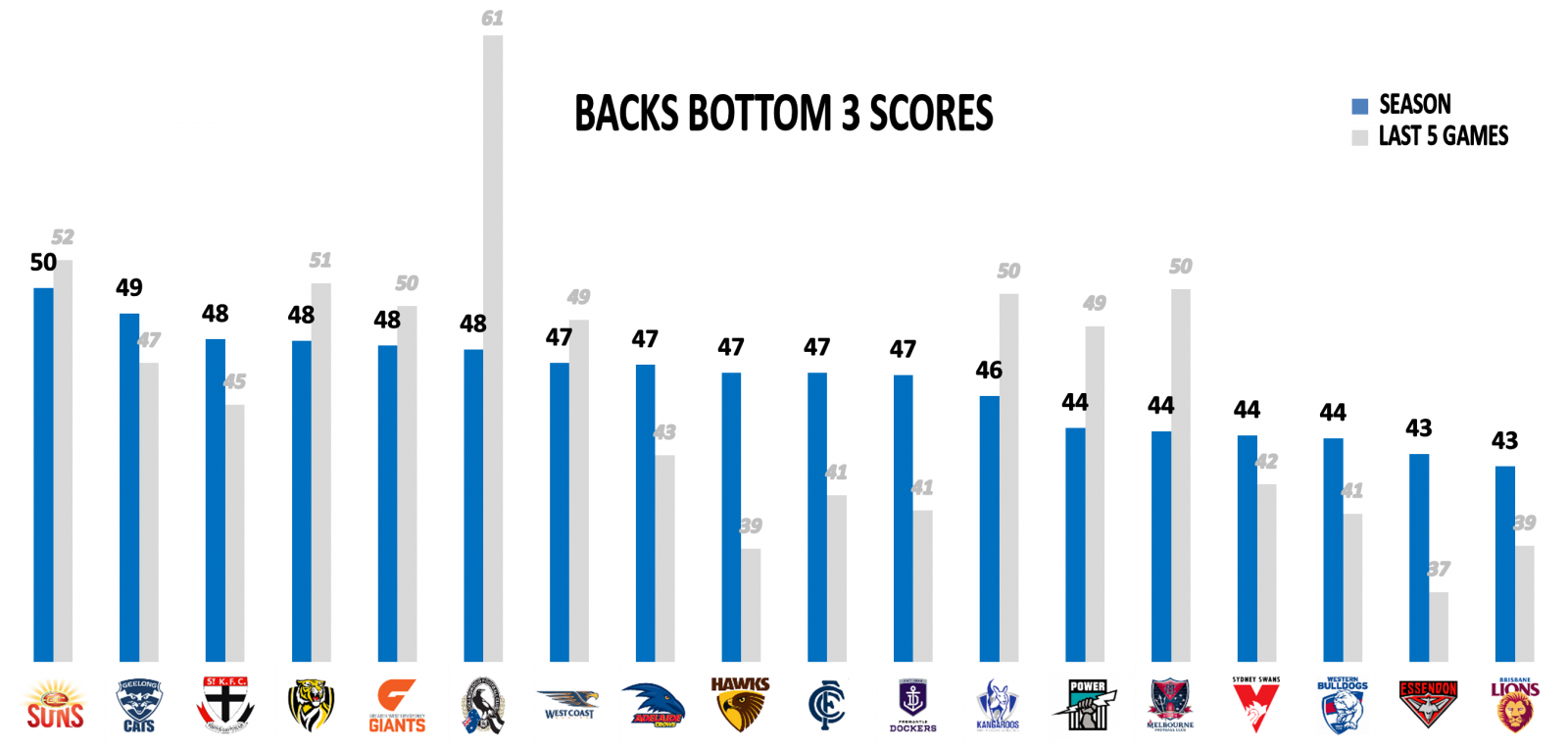 Mids
Steele Sidebottom. Last 5 average of 106. A great level of consistency with 13 scores in the 100's this year, including 5 over 120. Coming in great form with his two most recent scores of 119 and 123.
Scott Pendlebury. Has had a quieter second half of the year and is priced that way at $13,790. Averaged 108 up until the bye and 98 since then. In saying that, Pendles has 14 scores of 100+ from 20 games, so you know what you are going to get. Especially in a final.
Taylor Adams. Adams was averaging 85 with Treloar in the team but since the star Pie has been missing with injury, Adams has increased this output to 106 per game. His hard-nosed style stacks up for finals so I can't imagine that Bucks pulls him completely away from the contest, but be wary of reduced time due to Treloar being named.
Adam Treloar. Before injury, he was having a great fantasy year averaging 112. This included 9 scores in the 100's from his 12 games. Has a great ceiling too, 7 of 9 scores were 110+ and 3 were 130+. But the big question is, what will his output be returning from injury?
Hold the phone
With all of the above said, there is a whole of attention coming one Collingwood mids way. And it looks to be Sidebottom. In Round 17, Mark Hutchings went to Siddie and produced his most effective tag (score limiting wise) of the year, keeping him to just 48 points. Interestingly, it was also Sidebottom tagged in 2017 by the Eagles for 71 points and they were the only team to tag him that year. So, there is no reason this changes now. Hutchings has been in league leading form with the tag limiting opposition stars week in week out.

Top 3 Forward
Justin Westhoff (129) and Ed Langdon (128) have roamed the wings, pushing hard forward for some big scores in recent weeks against Collingwood. For the Eagles, look no further than Jamie Cripps who plays this role to a tee. Is in scintillating form with a last 5 average of 98 (Four 100+ scores in that time) compared to his season average of 81.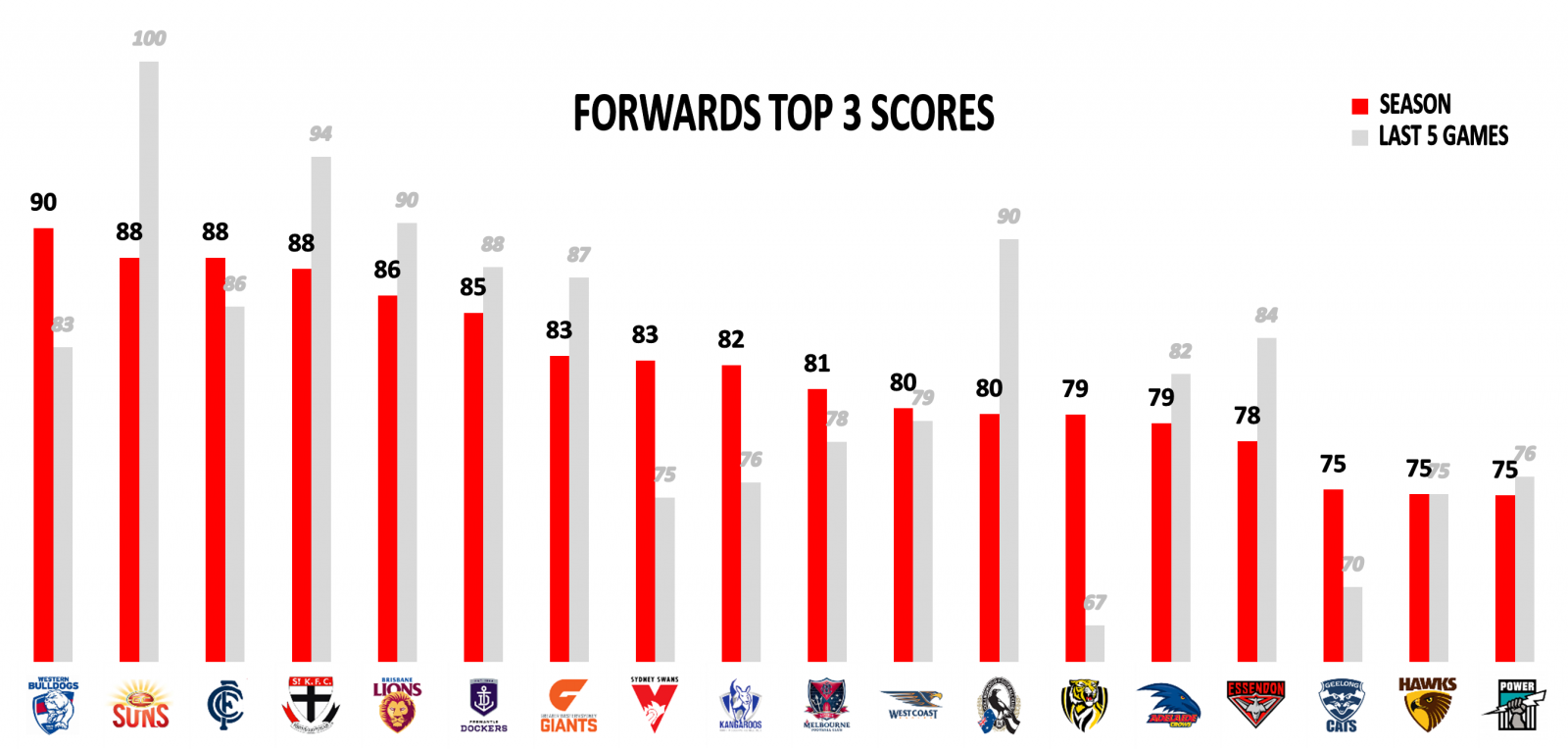 West Coast v Collingwood cheat sheet
The cheat sheet below gives you everything you need to know to help you build your DFS line-ups for the game between West Coast and Collingwood on Saturday evening.
The "Value" figure is especially important for DFS players as it provides an estimate of a player's worth to your team by comparing their projected score with their price. Ultimately, if you can fit more good value picks into your team, you're giving yourself the best chance of success.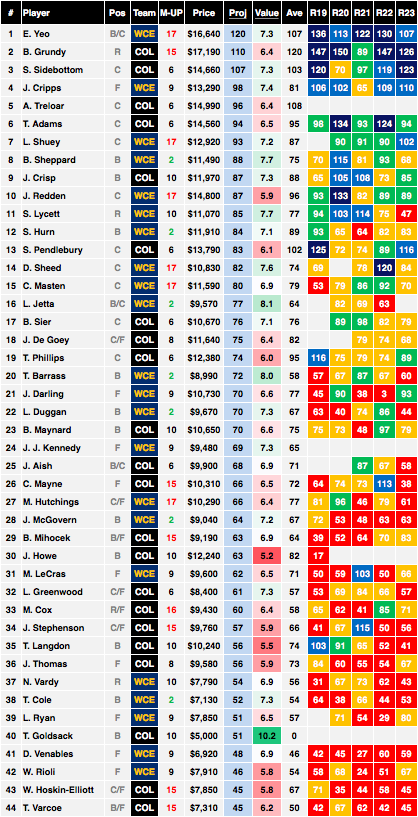 All of the stats and information used in this article has been provided by the team at Fantasy Boss - one of the pioneers for DFS data in Australia. Remember that all projections are merely based off the statistical data provided and we can not guarantee player scores or success in your DFS contests, but we think this information should give you a good head start! Good luck!