daily fantasy sports articles
Smatho's Draftstars Kayo $200k Live Final Diary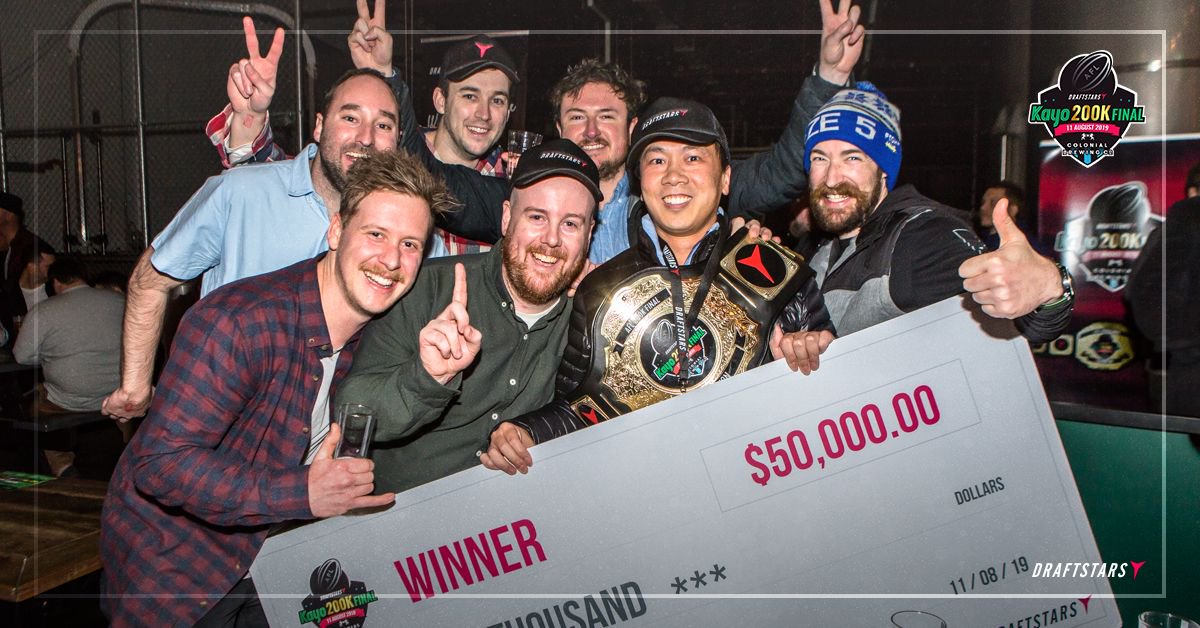 When I knew I was going to Melbourne with a ticket to the Draftstars $200k Live Final, I suggested that I would do a diary style article for the events recap.
So how does this start? Dear Diary??
Ok maybe not. But I was rather excited to get to Melbourne and get stuck into the Draftstars $200k live final. I got in pretty late on Saturday and headed straight to the Crown Sports bar on level one. I walked in and immediately see 'Parks12'. It was great to see a familiar face. After the pleasantries were out of the way we immediately started talking teams. "Who do you have?" "What about this guy?" "I'm not sure about him?" It was quite as scene with over 10 guys looking at their phones showing their teams and then deciding to change their teams on the spot. I met 'Milanos' who came all the way from Adelaide as a guest and was pretty pumped to catch up with fellow DFS players. He was also pretty pumped to tell about his massive play in Tex Walker. Little did I know for the next 24 hours every time I ran into Milanos the first word he would say to me was "TEX!".
In typical 'Parks' fashion, a contest for a proper Sherrin was announced by Parks with literally five minutes before lock. I boasted that I've gone with Fantasia as my POD. By half time I was not winning a Sherrin.
I have to say the accommodation at Crown Metropol was excellent but unfortunately my sleep the night before the final wasn't - tossing and turning anxiously about actually winning. I had a lovely breakfast at the hotel reading some articles about the game when a WhatsApp message notification came through. It was 'BigHef' and it simply said "Lads I am out, the young boy is crook". I was immediately staggered, DFR's Adgee replied back saying "You're joking!" He wasn't joking and my morning off became a little bit of a whirlwind. I was going to rely on Hef to finalise my team but alas Adgee had to step up to the plate.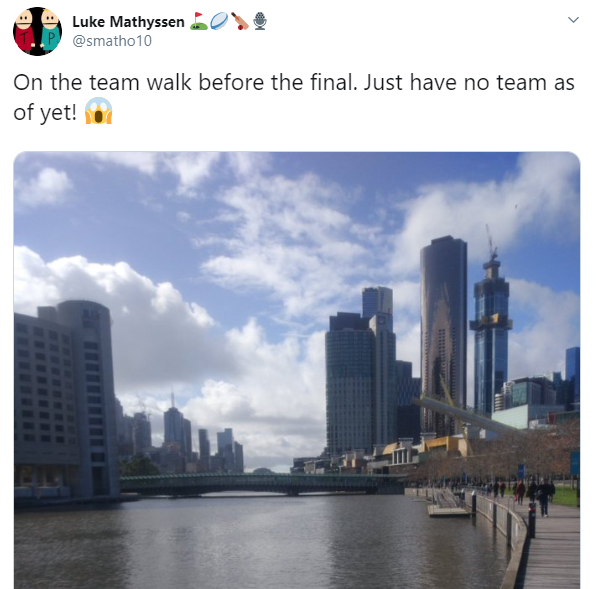 It didn't take long for the news to filter to the Tazzie crew who flew over earlier that morning with Briz, Stew, Liam and Faz all asking what had happened. We had a minutes silence at lunch down at Southbank in his absence. We sent that minute of silence to Hef - the response can not be repeated due to the graphic content of the reply. I had a big talk with Briz who had two teams for the final. I knew he could go really well for the event and his teams were great. Poor Liam was not impressed that his phone was already under 60% in battery and could not stop looking at it. Briz would tease that he had a portable charger and started to name exuberant prices for a "top up". We watch "I'm Wesley" win at Devonport, drop the lads off back at Crown and headed out to Colonial.
The Colonial brewery in Port Melbourne was exactly what I expected it to be, a brewery. You can tell by the people who didn't have a beer in their hand that they weren't loving the smell of hot hops and wheat simmering around in stainless steel vats. These gents were going straight to the bar for a bourbon.
Adgee arrives and we smash out a show. I was quite impressed as he was well prepared for the show. If you didn't catch the show catch up on our Facebook page here.
The guests start to arrive and I managed to say hello to a few of them. All I wanted to do is get the video camera out and talk to the guests. It was suggested that I did a roaming Smatho! Whilst i'd never done a roam before, I gave it a crack.
What was amusing was the quiz that Dipper ran. Now, being a Tassie boy, I'm used to the traditional piece of paper and answers quiz style. But before you know it, 100 players were in an app-based game that was swift and done within five minutes! I could barely think of a team name for the quiz in that time and Dipper had already given away free Kayo!
My next target was to talk to Scott from Draftstars. I bail him up and say I'm going to do the hard interrogation "60 minutes style". I get a nervous laugh from Scott but he was a legend about it. Check out the interview I did with Scott:
Now once I finished with Scott, I wanted to talk to the big 'Dipper' and started to go for a lap around. Now, I did get distracted saying "hi" to a fair amount of people. My lap ended after around half an hour and I get back to the crew. The crew informs me "mate he has gone with a couple of travellers". I felt good about this, as I knew it wouldn't be a dry chat. But it was a shame in hindsight that I didn't catch up the legend.
The game starts with some technical difficulties with the video and audio. The crowd was understanding of the 'sync' issues and a loud bronx cheers went up once it was fixed. As the quarter comes to an end, there was a notable buzz that one of the leaders was 'Parks12'. So I hit him up again for this award winning interview at quarter time.
As the game continued, I had a feeling my team was not going to be at the pointy end with Jamie Cripps hardly scoring at all. There was, however, a group of lineups that stayed close together for the game. These lineups included 'Briz17', 'BodycamCrush' and 'asanque'. I was fortunate enough for 'asanque' to introduce himself and say he was a big fan of mine and of the Daily Fantasy Rankings site. I asked 'asanque' for a chat at half time but we were upstaged by the quality halftime entertainment provided by 'TimmyK23' who sang us all a classic edition of Britney Spears - Baby One More Time.
Once we had a chuckle, you could see 'asanque' was up and about at half time...
Like all games when you've a couple of beers, the second half starts straight away and it turns out to be a bit of a battle between 'asanque' and 'briz17', with 'gahroo' and 'bodycamcrush' also having turns near the top. Being a bandwagon jumper, I sat with 'briz17' who was answering the lads question on the table. "Briz! Do you have Crouch? Briz! Do you have Sloane? Briz! Do you have Crouch?" After five minutes of repeated answers, I knew exactly who he had and I didn't even look at his scores! After three quarters, I knew this was risky but I caught of with the "Bristleman" here:
As fate would have it, 'Briz' starts to fade a slow death down the leaderboard and the audience are now starting to clap and cheer for particular players. Bronx cheers go for Josh Kennedy and gasps for Darcy Fogarty when he kicks his fifth goal. For the last five minutes there are pockets of excitement knowing they are near a player who was going to win a cheque. I look towards 'asanque' and he was up and down like a yo-yo. The siren blows and he has a six point win. There was a contained applause knowing that adjustments needed to be made. But as each handshake was given, the more confident 'asanque' become. I immediately give him a big pat on the back and proceeded to ask the same question over and over again…
I catch up with second place winner in 'IAMLegend' who thought he was a minor place finisher but explains how he was pleasantly surprised with his finish:
One of the highlights of the night was the sneaky bet from third place finisher in 'gatsid'. He laid down the challenge with 'jayk123' to swap avatars and they had a big laugh soon afterwards. As you can see 'gatsid' was pumped to be in third.
From there I left Adgee to do the big interviews and I was totally happy with that! I was ready for beer. This is the point of the diary where I wrap it up. Again many thanks to all who I got to chat with at the final and throughout the weekend. All of this could not happen without the support of Draftstars, Kayo Sports and the Colonial Brewery. For me, being apart of it was a win in itself and I'm already looking forward to the next one. Congrats to all the big winners!
I leave with the final thoughts from Adgee and 'asanque' who had a massive fill up.