daily fantasy sports articles
Understanding Jackpot Target Tournaments on Draftstars & Moneyball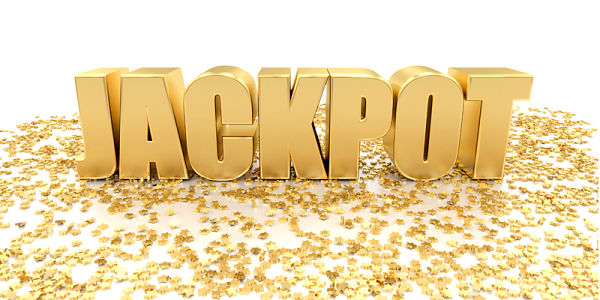 There are plenty of great AFL tournaments to enter at Moneyball and Draftstars every week. The most popular is of course the $15 entry, massive payout tournaments that allow players to enter multiple teams and offer at times up to $30k.
However, many players might not know about the Jackpot Target style compeitions now running at both Moneyball and Drafstars where you can win as much, if not more than the $15 tournaments for just the small entry fee of $1 per team.
How it works
Jackpot tournaments are aptly named because every time a certain target score isn't met (which is more often than not) the prize pool jackpots! Just like regular DFS contests, sites set a specific game or slate of games to choose your players from and your objective will be to score as much as possible - the different with these contests if that you have to try and hit a specified target.
The Draftstars target for AFL is set at 990 points and runs featuring all of the Saturday and/or Sunday games every week depending on when or if it goes off. The Moneyball target runs every possible day that there is an AFL game and is set at 975. Both allow 50 entries per tournament.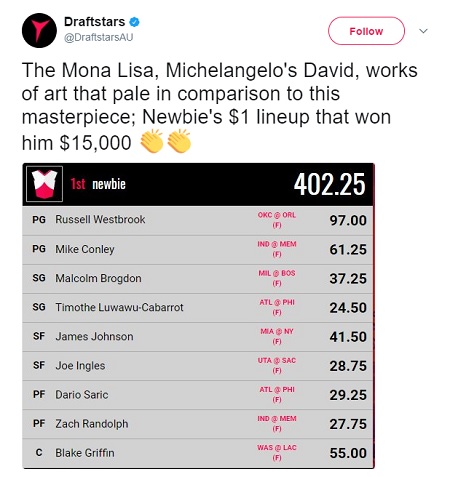 The person, or people that hit the target will share in the jackpot prize, if no one hits, then the prize will continue to rise after each tournament until someone inevitably hits it. The Jackpot will rise with every losing $1 team entered so with a few thousand people playing each week, it shouldn't take long until its ripe for the taking!
The Draftstars AFL tournament has only went off twice this year, with DFR members collecting the coin on both occassions in procession and tryanhit.
Draftstars also run NBA and NFL tournaments while Moneyball have that plus MLB for all you baseball fans. One lucky punter was able to take home the Draftstars NBA Jackpot earlier in the year after amassing a huge score of 402 for the day. The player named 'newbie' turned $1 into more than $15,000!
It's a great way to have a real shot at some serious cash, especially if you don't have the capital to be putting multiple entries into the $15 tournaments every weekend.
Strategy
The key to Target DFS strategy is doing your normal research that you would in any tournament and with a 50-entry limit you can maximise your chances that way. However, unlike a regular tournament where a lower score might still mean finishing in the money, you get nothing if you fail to reach the target so that means you need to pick players that are atleast capable of scoring you enough to hit that target level.
For those with a smaller bankroll, one 'strategy' that you might be able to utilise is simply biding your time. If the jackpot has just been hit the day or the week before, the base prize for Draftstars is $5,000 while at Moneyball it's $1,000. The Draftsars jackpot in 2017 alone has risen over $20k at times. So, it might be best to wait a few weeks, especially if those weeks include the bye rounds where it might be harder to hit that big target, and wait for the jackpot to rise.
_
So whether you've got a spare dollar leftover in your account after a bad loss or you want to enter the max 50 teams, Jackpot is a great way to stay interested in the weekly games an dhas the potential to be life changing.
With the Draftstars AFL jackpot at over $22,000 and the Moneyball at $7,000 heading into Round 14 of the 2017 AFL seaosn, now is the perfect time to jump in on the action! And if MLB is more your thing, the jackpot for that target is up over $20,000 as well! You can create an account with both agencies using the links below!
Australian Daily Fantasy Sites
Draftstars is the biggest Daily Fantasy site in Australia and offers massive weekly tournaments of up to $30,000 for AFL! Click the link below to find out more info and create an account!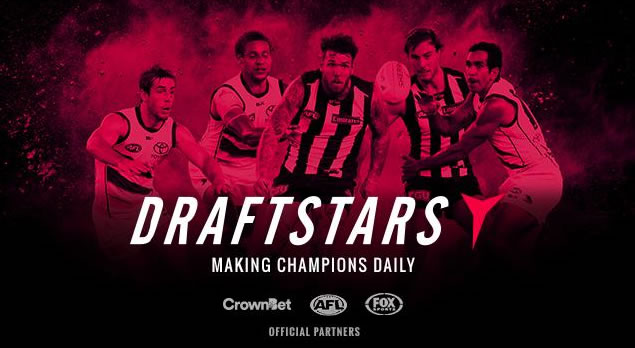 Moneyball are the pioneers of Daily Fantasy Sports in Australia, they offer great weekly AFL contests for thousands of dollars! Click the banner below to create an account and start winning today!