daily fantasy sports articles
US Open $100,000 DFS contests now at DraftKings!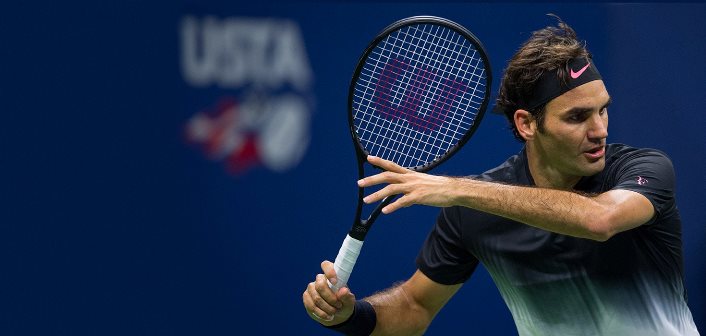 The most lucrative Tennis Grand Slam on the calendar is upon us, the US Open. The actual tennis tournament is set to pay out a total of $53 million dollars this year. It will get underway on Tuesday morning Australia time (the first matches begin at 1am) at Flushing Meadows and will continue through til the Men's final, which will take place on September 10 (in Australia).
The team at DraftKings have a $100,000 contest for the opening days games and another $100,000 contest for the games played on Day 2. There will be a swag of more big contests through the duration of the tournament, which means plenty of chances to enter and win! Their Day 1 major tournament has a buy-in of $8.
The first two days of the tournament provides you with the biggest pool of players to choose from as every player will play their first round match over these two days, in both the mens and womens draws.
Early on there's plenty of opportunities to score well, given the draw is laid out to favour the seeded players early on by not making them play each other in the opening round. So the skill will come in finding the most lopsided match up.
Given that the scoring system favours one-sided victors, look for any matches where seeded players take on qualifiers. Seeded players are quite costly, so be cautious and smart.
One unseeded player who is also one of the most expensive will be Andy Murray. He will face Australian James Duckworth for the first time. One expensive player who will be a good chance of delivering a good score is the $9,700 Milos Raonic. The 25th seed will face qualifier Carlos Berlocq, who is more at home on the European clay courts than the American hard courts. His current ranking of 173 suggests he will be easy pickings for Raonic.
Women's top seed Simona Halep has an average score of 64.4, the highest of all available players and given she isn't the most expensive (but close) at $9,100, she's a good chance against Kaia Kanepi, whose ranking has drifted out to 44 after peaking at 15 back in 2012. Kanepi has won 9 of her 20 matches in 2018.
Anastasija Sevastova is the 19th seed in the women's draw, with a very good average of 52.1 and at a good price of $7,400. She'll be coming up against Donna Vekic who is ranked 41 in the World. 31st seed Magdalena Rybarikova will face 53rd ranked Qiang Wang. Rybarikova has a solid average of 45.4 and cost's just $6,600, making her a steady pick that can allow you to select a marquee player elsewhere in your squad of 6 players.
As for an outsider, Guido Pella has a current rank of 57 and is a left hander. He'll take on teenage qualifier Casper Ruud. Pella is a good chance of exceeding his average of 46.8, making him worthy of consideration, especially given his $7,300 price tag.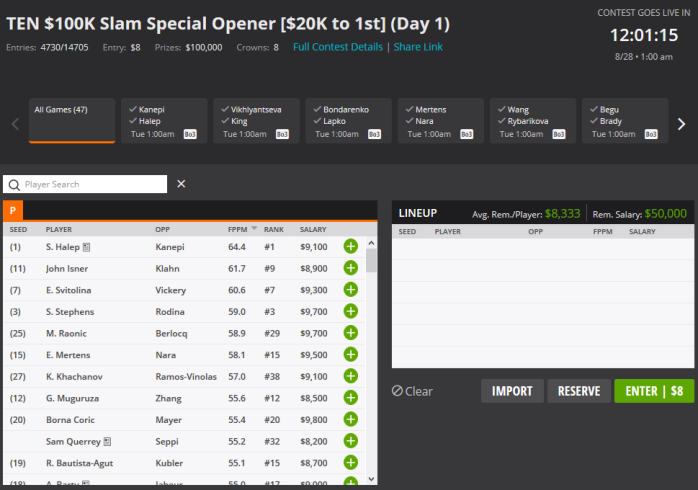 Over the length of the tournament, Roger Federer will be expensive but is such a consistent and reliable performer, he will be worth the investment. He potentially won't face a seeded player until the third round, where he may come up against Australian Nick Kyrgios.
Novak Djokovic won't face any top 10 players until the quarter-finals where he would potentially meet Federer.
In the ladies draw, Serena Williams looks set to cruise into the third round where she could come up against her sister Venus.
Karolina Pliskova looks to have a good draw and could well score a number of early easy wins. If Caroline Wozniacki can overcome past champion Samantha Stosur in the first round, she will should cruise straight into the quarters as well.
Get over to DraftKings now and for less than $10, you can be in the running to win big!
*All prices shown here are in US Dollars.