daily fantasy sports articles
Will "Donkey" Be Unmasked At The Draftstars Biggest Bash Live Final?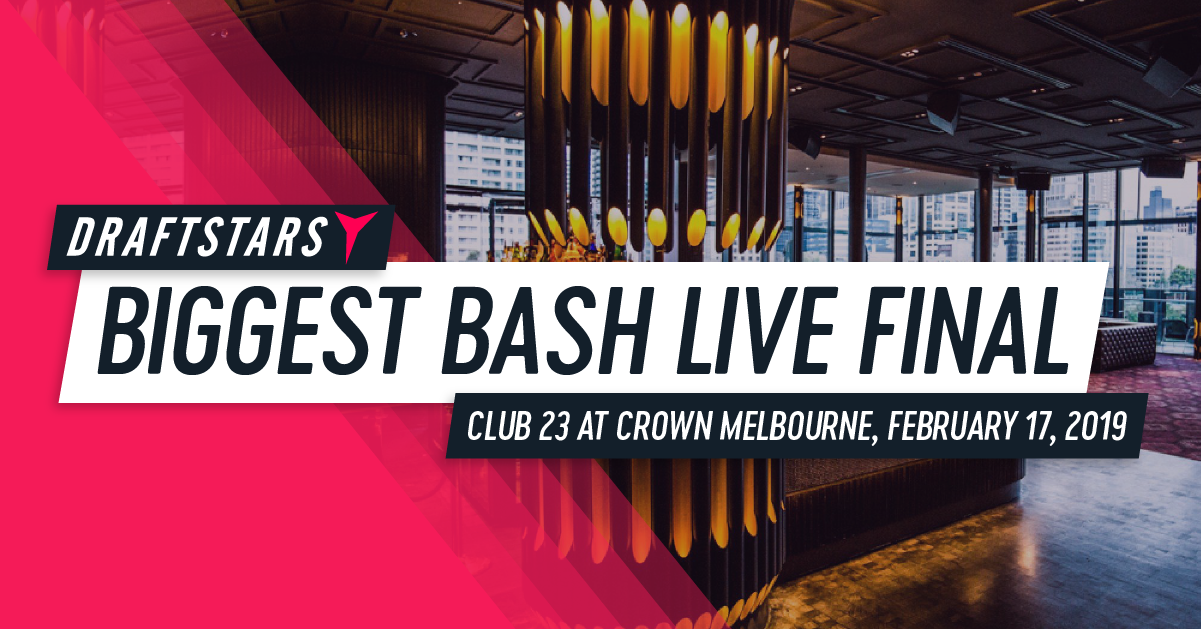 Draftstars' exciting "Biggest Bash" contest has taken the Australian DFS industry by storm, with unprecedented interest in the regular $2 qualifying contests to earn a place in the $150,000 guaranteed live final. If you aren't familiar with the Biggest Bash there is still plenty of time to get involved – you can find all the details here.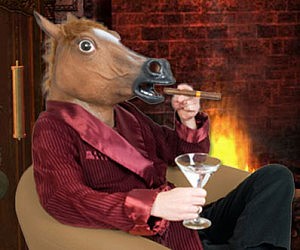 Last week we saw the mysterious "Donkey" score a place in the final with a first place finish in the Thunder v Scorchers $2 qualifier. Donkey is a Melbourne local who agreed to chat with us about his win and his DFS career but chose to remain secretive about his identity which adds another layer of intrigue to the upcoming VIP Live Event!
Like many Aussie DFS players, Donkey got his fantasy start in AFL Dream Team back in the very first season playing with his mates, quickly relishing the fact that fantasy sports gave him added interest to watch all the matches that he otherwise wouldn't have cared too much about. He is also an avid poker player who enjoys thinking about game theory and strategy, so it is no wonder he got involved with daily fantasy sports as it provides that perfect cross of strategy and fantasy sports.
Donkey is a bit of a DFS stalwart, having cut his equine chompers in the early horse racing contests before the sports contests were as popular as they are now. He has been playing on Draftstars for about three years, with this being his third season playing the Big Bash contests. His favourite sport to play is AFL, but cricket is a close second and the fact he has had better results playing cricket doesn't hurt that! He has also dabbled in some Rapidfire Golf but AFL and cricket are definitely top of the list.
We asked Donkey what makes DFS so appealing to him:
"As much as I loved playing season long contests, it can start to drag out towards the end of the year. With Daily Fantasy Sports you get a new shot at winning money each day. It's almost impossible to do well every day and we all have off days, so being able to start fresh is excellent.
There is so much money to be won on Draftstars and now that sites like Daily Fantasy Rankings are out there providing tips and tools that can help you learn to be a better player, there is no reason why anyone can't give it a crack and join in on all the fun!"
Donkey is no stranger to DFS success and comes in 9th in all time wins on our Daily Fantasy Rankings with a massive 238 contest wins and over $275,000 in lifetime cashes! A lot of that has come from racing tournaments but he has taken down his fair share of single slate AFL and BBL contests over the past couple of years, and admits that this year he seems to "get it" a bit more. Donkey is a big fan of the DFR BBL cheat sheets and previews and said they have made his life much easier to get his teams in after the bat flip, which is usually a crazy 30-40 minutes to compile his lineups.
In the Thunder v Scorchers qualifier, Donkey entered his customary 10 lineups – "at just $20 it is great value to win a package valued at $5k and a shot a share of the $150k – money we don't often see in Aussie DFS!" He was very keen on Fawad Ahmed and Jonathan Cook, surmising the Spotless Stadium conditions would be perfect for them.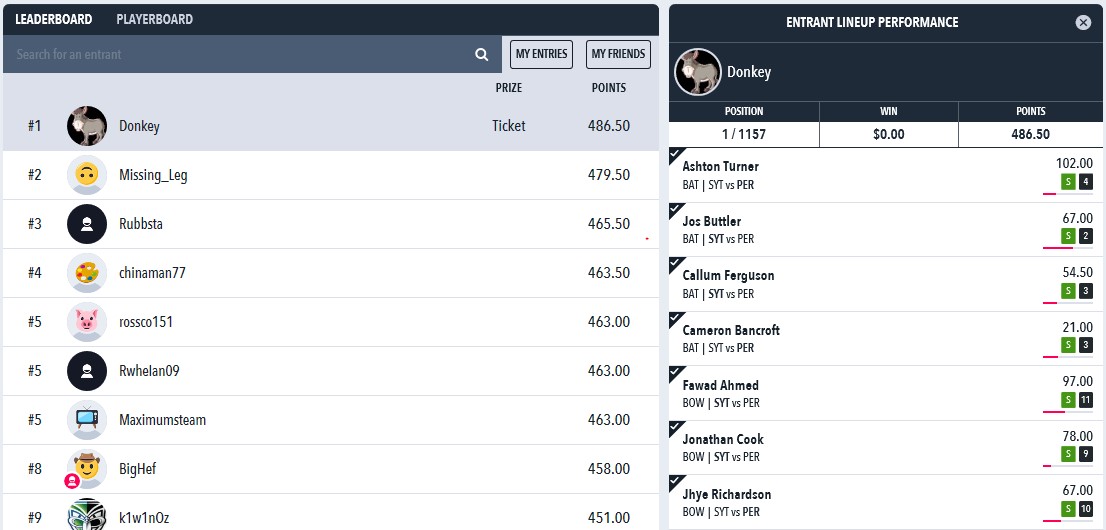 We asked Donkey to run us through his night watching his lineup bring home the DFS glory and he was only too happy to oblige:
"I was at home watching the game - most nights I'm normally chatting to a few mates that all play Draftstars - and thought I was going to be a small chance. I was leading for most of the second half and when Watson took that amazing catch in slips, I thought I was a real runner to go deep.
Over the last few weeks there had been a couple of close calls where I'd be leading or in top 5 and then just fell away at the end. I had a team that was leading late in the game but it ended up finishing 17th - when Ashton Turner started to go nuts, my team that won came from about 50th place and stormed home!
There was a huge sweat in the last over - I was in the lead and "Rubbsta" was on my tail... I was 19 points in front and he had Sams bowling the last over. Effectively if he had taken a wicket I would have lost, so thankfully for me he bowled a wide on his 4th delivery. This meant he lost a point so at worst if he took a wicket we would tie.
Then he bowled another wide! At that point my mates were going nuts saying that I've won and can't lose... As we all know it's never over until it's over, but I was pretty safe.
It took a few minutes for it all to sink in... But it was super exciting!"
We asked Donkey who will be his +1 at the VIP Live Final... "It seems to be the hottest ticket in town at the moment and I instantly had a few mates try and claim the +1 spot – Parks12 and DChauff also kindly offered their company in the Draftstars chat box if I can't find anyone so I'm sure I won't be going alone..."
Donkey, congratulations from everyone here at Daily Fantasy Rankings and we look forward to seeing you at the Draftstars "Biggest Bash" Live Final on February 17!
Want to join "Donkey" at Club 23, playing for a share of $150,000? Check out our full run down of the "Biggest Bash" contest and start playing the $2 qualifying tournaments running on every home and away match of the BBL08 season on Draftstars!
Have you qualified for the "Biggest Bash" Live Final and want to share your story with the world here on Daily Fantasy Rankings? Contact us or shoot us a message on Twitter and we will get in touch to share your story with the Australian DFS community!

Always remember to gamble responsibly. When the fun stops, stop. If gambling is having a negative impact on your life, seek support at Gambling Help Online. 18+ only.