daily fantasy sports articles
Wimbledon $50,000 Quarter-Finals DFS Contest at DraftKings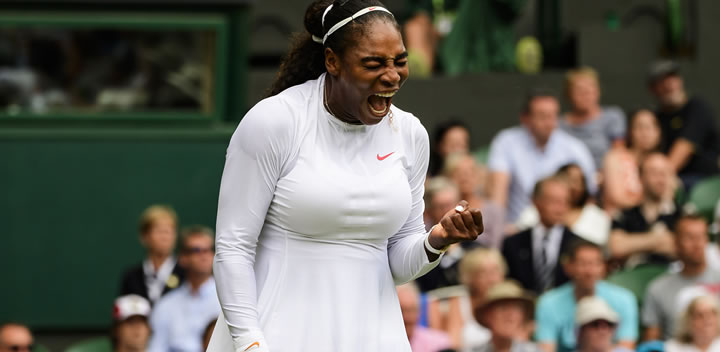 The 2018 Wimbledon Championships are getting towards the business end of the tournament with 8 men and 8 women reaching the quarter-final stage. Who is going to come out on top? If you think you know your aces from your drop shots, then it's not too late to join in the daily fantasy tennis contests being offered for Wimbledon over at DraftKings.
The early rounds required wading through a wide variety of players but the quarter-finals means that there's only a maximum of 16 matches to choose from to build your fantasy line up of six players.
Of course Roger Federer is the obvious favourite in the tournament and will be a chalky pick at a price of $11,100. The Swiss superstar picked up extra fantasy points in his fourth round match against Adrian Mannarino when he delivered a bagel to the Frenchman with a 6-0 first set score line. Federer has been able to win through each of his matches in straight sets and he bangs down plenty of aces for even more points for your team.
The only issue with taking Federer is that it takes up over 20% of your budget, and really to win these contests, you need to be finding six winners from your six picks. Taking Federer might mean you need to find a cheap underdog or two to cause an upset.
On the women's side of the draw, it's been total carnage with the top ten seeds all falling in the early rounds. That's left Serena Williams as the current favourite, despite her limited playing schedule in recent times. Of course Serena is always dangerous, especially on the grass of Wimbledon.
Serena also hasn't lost a set so far this tournament, although she was pushed by Kristina Mladenovic in the third round. Serena takes on the unseeded Camila Giorgi in the quarter-finals in what looks to be a favourable matchup so she is worth adding to your team at $9,600.
Don't be afraid of taking players on the women's side of the draw in fantasy tennis contests on DraftKings. Despite the women only playing best-of-three matches compared to the best-of-five, their matches are weighted so that the points allocation works out pretty close between the men and women. And in fact, it's probably easier for the top female players to secure a straight sets win in two sets, as opposed to some of the male players who need to win three sets in a row for a straight sets bonus.
The other likely winner you can consider in your fantasy team is Novak Djokovic ($10,300) who is coming up against an injured Kei Nishikori. Djokovic has been progressing through the tournament well and should prove too strong here but just be wary of a possible injury retirement with Nishikori.
You won't be able to fit Federer, Williams and Djokovic into your lineups, so you'll have to choose between two of the three and then find some other underdog winners.
The other matches are all relatively close, so you could easily be swayed towards the cheaper players. Josh Isner will be bombing plenty of aces and at a price of $6,900, he might be worth taking for an upset against Milos Raonic. Dominika Cibulkova is a fighter and only a narrow underdog against Jelena Ostapenko. We're going with the favourite in Angelique Kerber for hopefully a comfortable win, and Julia Goerges who is a narrow favourite against Kiki Bertens.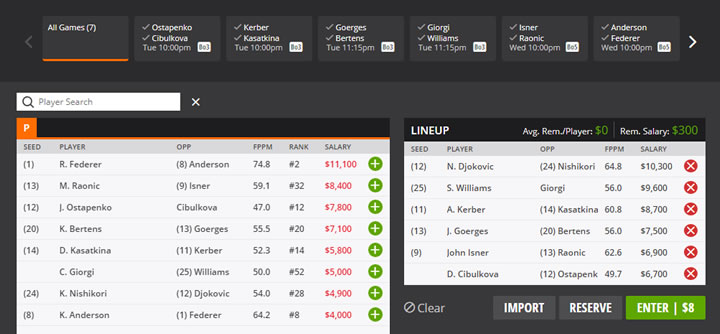 DraftKings are running tennis contests every day through Wimbledon with a $50,000 "Drop Shot" tournament on offer tonight for the quarter-finals! First place is a guaranteed $10,000 and entry is just $8!
These contests offer Australian players tremendous value so we recommend putting together some lineups and having a crack at landing a few aces and hopefully a big score! Click here to join DraftKings today. Good luck!
Please gamble responsibly.