daily fantasy sports articles
2018-19 NBA Daily Fantasy Tips for Thursday, 25th October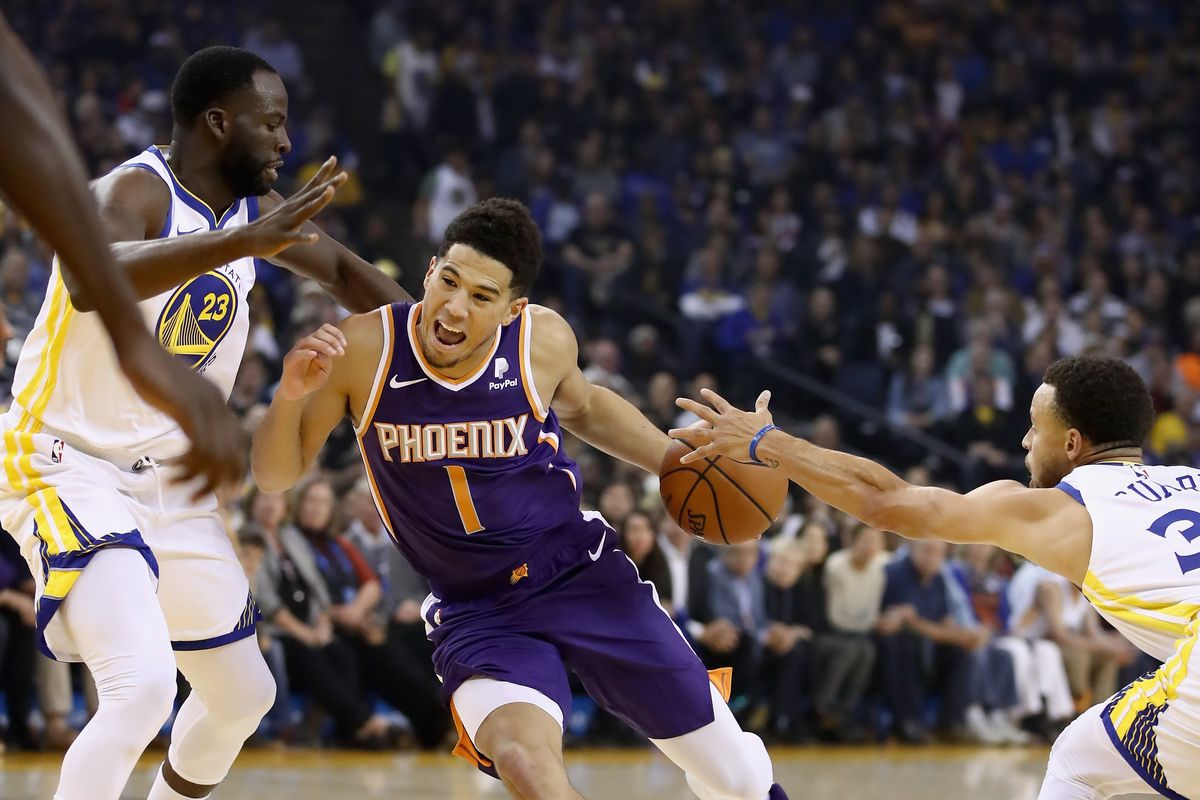 The NBA is well underway now as we approach the second week of the season. Already we have seen our first fight and suspensions, a video deep dive into "spitgate" and historic pace and scoring totals across the league.
Thursday is generally the biggest day of the week for DFS competitions, especially on the Australian platforms. Here are some big tournaments to get your DFS juices flowing:
As per usual we have broken down the matchups and highlighted the key plays to help you build winning line-ups.
GAME BREAKDOWN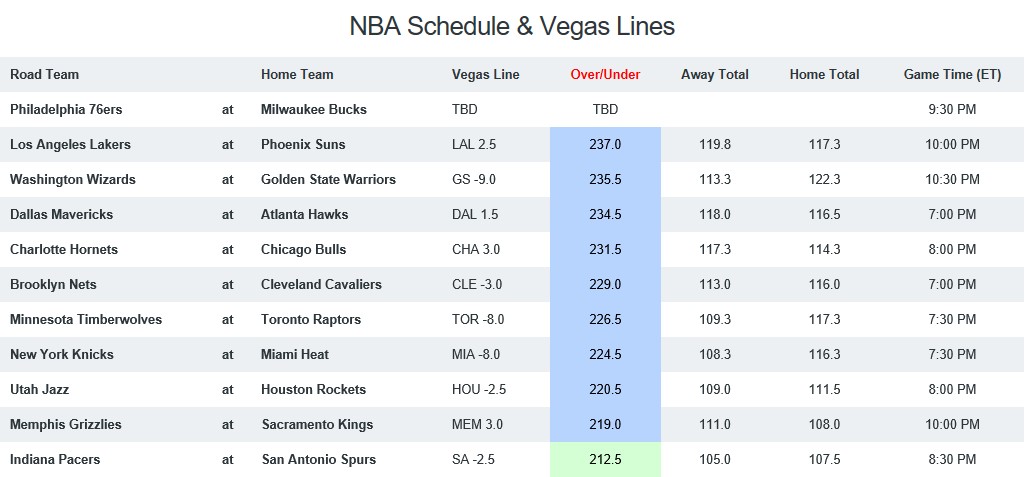 As is becoming typical of this season practically every game has a massive project total with just two games under 220. In 2017-18 it really appears that a 230 game total is the new 220. Getting a handle on this new up-tempo style of play the resulting numbers is going to be key for rostering.
If you are looking for advice on how to interpreter bookmaker lines in DFS play for NBA we released a guide this week.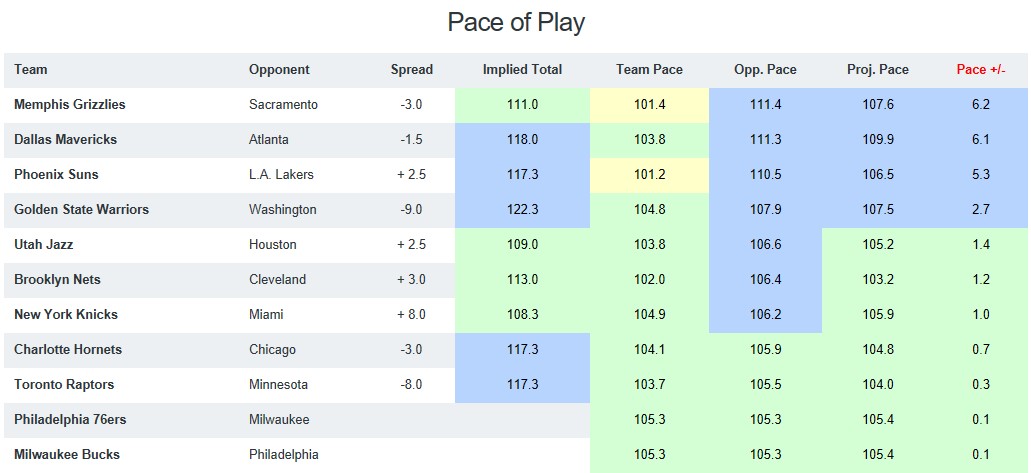 A number of pace up spots to target, in particular the Memphis Grizzlies should be a little owned target given their game total is the second lowest on the board, however they have the biggest forecast pace increase in their matchup of all teams on the slate.
Meanwhile Dallas and the Phoenix Suns will be the more obvious targets both featuring in huge 230+ point total games with a huge pace up matchup.

VALUE
It is early to predicting the value plays with line-ups not being confirmed until closer to tipoff so remember to please keep an eye out on any late news. That said there are still several obvious value targets that stand out already due to being seriously under-priced.
TJ McConnell (DraftStars salary $5,730) will be a value play again on Thursday if Ben Simmons is still out with injury. Do not be off put by him not getting the start when Simmons is out as McConnell will still get plenty of minutes as seen in today's matchup where he played 32 minutes (more than Fultz) and posted 10 points, 8 assists and 3 rebounds. Monitor the news close to line-up lock to gauge whether Ben will play; if he doesn't you will not necessarily have to risk playing TJ on this massive slate as there is plenty of value to be found.
Danny Green (DS $8,040, DraftKing salary $4,400) has been totally rejuvenated in his role at Toronto after a subpar season with the Spurs last year. Averaging 25.6 fantasy points per game Green's price is yet to really move to match this output. He should also draw Andrew Wiggins as a matchup and the Timberwolves have been the 20th ranked team in defensive efficiency at the SG position so far this season.
Cedi Osman (DS $7,880, DK $5,800) has been a revelation for the Cavaliers so far this year. Averaging a massive 35 fantasy points per game he is criminally under-priced on DraftStars to the point where he is pretty much a lock and load play. On DraftKings he can still return value, particularly in this matchup vs the Brooklyn Nets who have been one of the worst teams at defending the wings this season.
Rodney McGruder (DS $6,280, DK $4,900) is another who has this season been playing outside of his skin. Averaging a colossal 34.3 fantasy points through 3 games he offers enormous value, particularly on DraftStars. New York have surprisingly been relatively efficient defensively to start this season however given the pricing McGruder will still be hard to ignore in line-up builds.
TJ Warren (DS $7,710, DK $4,800) is in the third biggest pace-up matchup on the slate as he faces Lebron's Lakers who have been playing at the fastest pace in the league to start the year. These up-tempo style games appear to suit Warren who exploded for 44 fantasy points against the Golden State Warriors in just 24 minutes. Warren hasn't been getting huge minutes coming off the bench however he brings upside for tournaments against the Lakers who have the 6th worst defensive rating in the league.
Tristan Thompson (DS $6,360 DK $5,300) is another player who has enormous value at his low price point on DraftStars. I think you can find better value than this at DraftKings, but Thompson's minutes will be safe at around the 30 mark, and the Brooklyn Nets have had trouble with keeping bigs off the glass going back to last season.
MID-PRICED
Tauren Prince (DS $9,690, DK $6,500) has opened up the season on fire for the Atlanta Hawks, effectively being the first or second option besides rookie Trae Young depending on which one of them is feeling it on a given night. His minutes and usage should be safe on this team and this matchup against the Dallas Mavericks figures to be a shootout as Atlanta play the second fastest pace in the league so far this year and the Mavericks have been conceding 115 points per game to opponents through the first three games.
Kris Middleton (DS $12,670, DK $7,000) has revelled under the Milwaukee Bucks new coaching setup. Playing at a tempo in the top half of the league so far this year and firing a significantly larger amount of threes is perfect for Middleton who has attempted 23 triples from 3 games so far. His price hasn't quite lined up to this new way of playing despite 42 points this year. On an 11 game slate I expect him to go under owned.
PREMIUM
Devin Booker (DS $16,350, DK $8,300) is a pure matchup play as he is priced relatively fairly across the industry. At this point in the season it is impossible to ignore the matchup vs the Los Angeles Lakers who are giving the most points in the league so far this season at over 130 points per game.
If you are looking at spending all the way up, Lebron James (DS $23,590, DK $11,100), Giannis (DS $20,320, DK $11,300) and Kevin Durant (DS $19,880, DK $9,700) are all playing in huge game totals and make for attractive plays given the amount of value available at Draft Stars.
Note: data in this article provided by Notorious of RotoGrinders.

Always remember to gamble responsibly. When the fun stops, stop. If gambling is having a negative impact on your life, seek support at Gambling Help Online. 18+ only.