daily fantasy sports articles
NBA DFS Training Camp – Betting Lines and Totals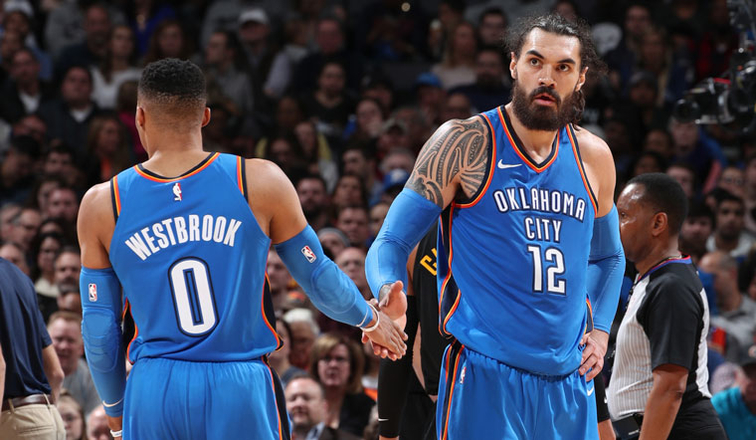 Each Tuesday to start the season we are going to be releasing a new part to our NBA DFS Training Camp series that covers the key strategies and approaches to building successful NBA DFS lineups. The links to each part will be included below to ensure you don't miss anything and be sure to check back each Tuesday or stay tuned to our Twitter page to catch the next piece in the series!
Part 1 – Betting Lines and Totals
If you are new to NBA DFS, or DFS in general, you might have been noticing references to game totals and the lines on matches set by bookmakers when slates are broken down. Specifically, if you have been reading my previews to the slates these are often the first thing I analyse to break down the games. They are very useful tools to help building your daily fantasy teams and here I will explain why and help you understand how to use the information yourself.
Rule No. 1 - The greater the number of real points scored by a team, the greater the fantasy points they will score
This is true in most sports, but particularly so in basketball where real points and assists count for a significant portion of fantasy points. The best part about this? Bookmakers are setting totals for each game on a daily basis, as well as implied totals for individual teams. So all we have to do is check out a bookmaker such as Sportsbet to get an idea of which games we can expect to be the highest scoring of the day: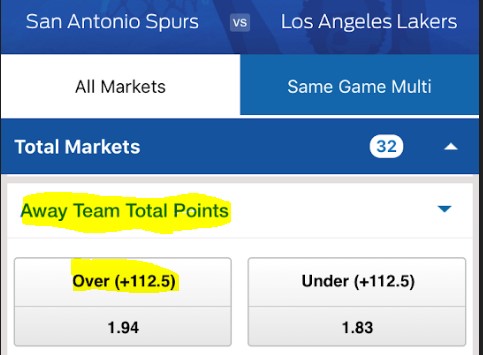 Or if you are reading our slate previews for Thursdays and Saturdays, you will be provided with data such as the following breakdown and our analysis on what to take from it: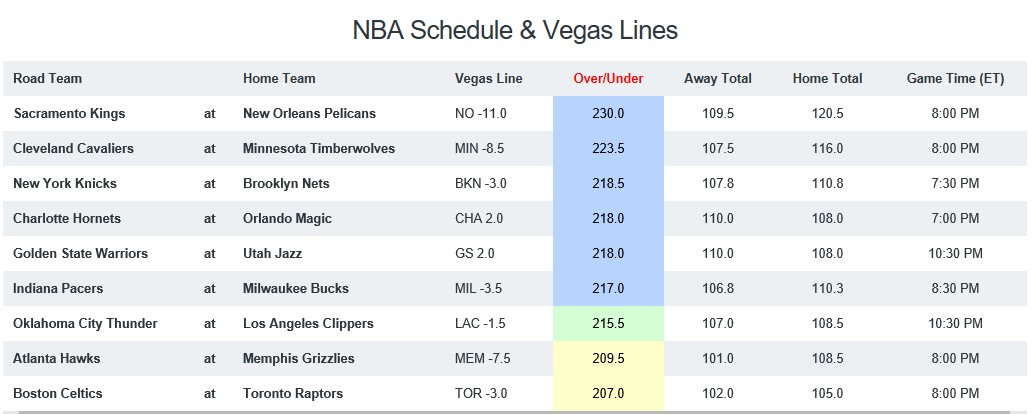 Data provided by Notorious of RotoGrinders.
The next question people often ask is why rely on bookmaker lines? Sure, you could spend the time in developing your own models and expectations for game totals. But bookmakers are already using well developed and sophisticated models as they are essentially professionals in this area and are willing to have a lot of money riding on the fact they are correct. So why reinvent the wheel? If you think you can more accurately predict these totals you won't necessarily need to play DFS as you will be able to take as much money off the bookmakers as you can get on by simply betting. Given their expertise in this area, utilising their forecast totals will save you a stack of time, a resource that is much needed when breaking down a 10+ game NBA slate.
Now once you have identified the highest expected game or team totals for the day your job isn't done. You need to assess the relevance of this information in contrast to their average performance. The reason for this being that a player's price will typically be based on their historical performance, so while the team total might be the highest of the day, it does not necessarily mean it is high for them.
For example, if the Warriors implied team total for the day is the highest on the slate at 125 points, but they have been averaging 127 points for the season, then their expected output will be lower than average. Therefore, all things being equal their players will be expected to produce less fantasy points as a whole than their season average (obviously remembering this is only ONE factor to consider). This doesn't make them a strong target in comparison to a team that is forecast to score 120 points, but has only been averaging 110 points for the season, as this team should exceed the average fantasy output that their pricing is set at for daily fantasy.
You want to be targeting high team totals that are exceeding their season average to help generate value per dollar for your rostered players.
This concept of application is critical as it can be often overlooked by DFS players as a whole who tend to focus exclusively on high total games without considering the true impact. Often you will find players in low scoring teams being overlooked despite having a projected total for the day that exceeds their season average.
Rule No 2 - Blowouts generally lead to lower fantasy points
The second thing we can take from bookmakers in assessing the games on the slate is the line they set. This gives you a projected margin of victory and can help identify possible blow outs. A blow out is a game where one team opens up a big lead and both teams look to conserve their best players with the game basically over long before the final whistle. Blow outs in the NBA can have a significant impact on starter fantasy point output mainly due to the fact that they will play lower minutes in the second half with the game already decided (minutes being the most critical driver of fantasy points in NBA DFS - a topic we will cover later in the series).
Avoiding blow outs is typically more critical for higher to premium priced players as they will generally need a full allotment of playing time to return value on their hefty price tag. So considering the situation and the type of player you are rostering by understanding what they will need to do to return value will be critical to using game lines in your research.
For example, if a player is getting a start due to injury and is priced at $3,500 you will generally be looking at needing only 20+ fantasy points to achieve adequate value (depending on your competition). Players can hit this mark in 25 minutes and therefore a blow out might not impact them. Conversely when rostering a player for $10,000 you will be looking for a return closer to 60+ point mark, which may require 40 minutes of game time even if they are scoring at an enormous rate of 1.5 fantasy points per minute. Therefore missing the fourth quarter can be very detrimental to a premium player's fantasy scores.
In summary, using bookmakers forecasts is a crucial element to breaking down NBA slates from a DFS perspective and hopefully you can now use these forecasts to help target more attractive players to roster in your teams.
Next up in the series is Part 2 – Matchup Analysis – Pace and Defence vs Position

Always remember to gamble responsibly. When the fun stops, stop. If gambling is having a negative impact on your life, seek support at Gambling Help Online. 18+ only.