daily fantasy sports articles
NBA DFS Training Camp – Matchup Analysis – Pace and Defence vs Position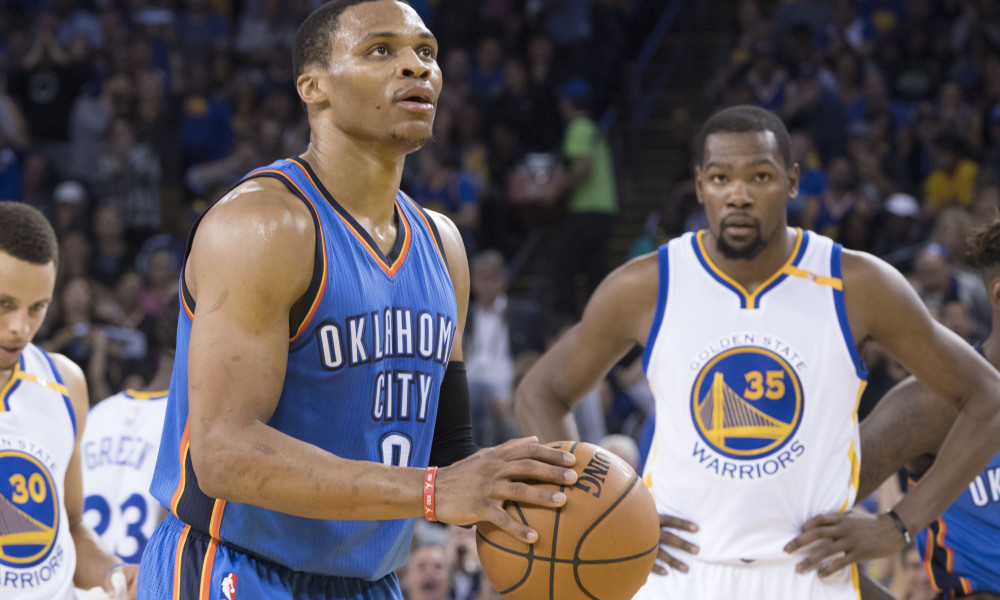 Each Tuesday to start the season we are going to be releasing a new part to our NBA DFS Training Camp series that covers the key strategies and approaches to building successful NBA DFS lineups. The links to each part will be included below to ensure you don't miss anything and be sure to check back each Tuesday or stay tuned to our Twitter page to catch the next piece in the series!
Part 2 – Matchup Analysis – Pace and Defence vs Position
Last week we introduced the concept of using bookmaker's totals and lines to help select which games you want to select players from. This week we are going to teach you how to narrow things down further by analysing the matchups to identify which teams and positions you should be focusing on when building your rosters.
Step 1 - Target teams playing up in pace
Pace is one of the most critical, and often under-rated, stats to consider when selecting players to roster in NBA daily fantasy. The pace statistic is essentially the number of possessions a team uses per game. The faster a team plays the more possessions they will fit into the 48 minutes of a basketball game.
This is key for fantasy scoring in the NBA as every possession will end with a fantasy scoring event, whether that is a score, assist, rebound, steal, block or turnover. Therefore for daily fantasy we want there to be as many possessions as possible for our rostered players.
So does that simply mean we target the teams playing at the fastest pace in the league?
No.
Last week we talked about not just targeting teams with the highest game totals, but those teams with implied totals that are significantly higher than their season average. Similarly, when it comes to pace we want to target teams who are playing in what we call a "pace up" matchup.
A pace up matchup is when a team is playing in a match where the forecast pace (calculated by considering the two teams pace for the season) is greater than their average pace of play. The value in this from a DFS perspective is that a player who features in more possessions than usual will have greater opportunity to exceed the score expected from their salary.
There are two situations when this occurs:
1. When a slow paced team is playing a faster paced team
For example if the Indiana Pacers (currently last in pace this season at 97.58) were to play the New Orleans Pelicans (currently fourth at 106.8) the Pacers would be in a pace up matchup and you would expect them to have more possessions then average due to the Pelicans pushing the pace when they have the ball.
2. When two fast paced teams play each other
For example if the Washington Wizards (currently second in pace at 107.39) were to play the New Orleans Pelicans, both teams would be in a pace up situation due to the impact of each side pushing the pace at a higher rate that league average, therefore having a multiplier impact on the possessions.
Right now you might be thinking this could be complicated to work out, however luckily there are several free resources providing this analysis for you on a daily basis. If you have been reading my slate previews you will notice we provide the teams in a pace up matchup. This data comes directly from Rotogrinders "Early Look" that goes up the night before each slate.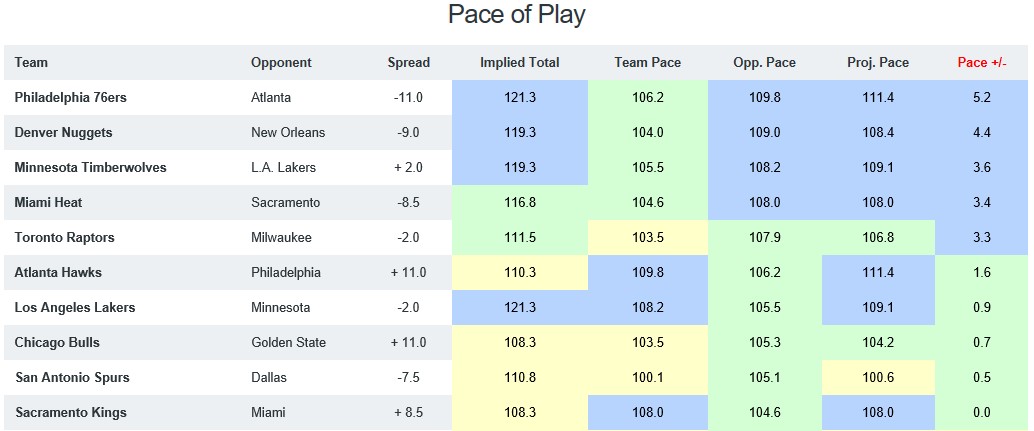 You can sort by pace +/- to identify the teams in the best pace advantage situations. In the above you can see that Philadelphia are in the best expected matchup of the night in their game against the Atlanta Hawks who currently lead the league in pace at 108.6 possessions per 40 minutes. As a result Philadelphia players will receive more opportunties to score fantasy points than usual and choosing to roster the right players would be an elite strategy.
Step 2 – Consider defensive matchups
So now you have identified the games and teams you want to target, how do you choose your players? There are a number of key statistics to consider when rostering players for NBA daily fantasy that we will cover in the coming weeks, but from a matchup perspective, how a team's defence performs against specific positions is critical to your high level analysis.
Defence v Position (DvP) is a common statistic in daily fantasy that shows the average points teams concede to specific positions. In the NBA that will mean the average fantasy points a team has given up to points guards, shooting guards, small forwards, power forwards and centres. Like pace data there are several free resources providing this information, including Rotogrinders and our previews will start including this information this week as the sample size for the season gets large enough.
It is worth noting that while DvP is an important input to your analysis, it isn't perfect in NBA. Different sites might calculate this differently; for example, some might be calculated based off the fantasy platform positions while others are based on official positions provided by advanced statistical sites. Furthermore, in the NBA positions can be somewhat fluid; for example Anthony Davis might be playing centre for 25 minutes of a game and power forward for 10 minutes, blurring the accuracy.
That said, the DvP stats still enable players to identify where teams have significant weaknesses defending a specific position and therefore should be a key input to your decision making process on whether to roster a player. Following on from our example earlier, Atlanta have been one of the worst teams this year at defending the centre position, therefore given Philadelphia are already in a pace up matchup, adding this defence factor in would suggest their centre Joel Embiid would be a great play.
Given the limitations of DvP it is also useful to supplement this stat with other defensive statistics to support your decision, for example:
Defensive efficiency, either for the team as a whole or by specific position, demonstrates the points allowed per possession;

Rebounding Differential/Rebounding % shows how strong a team is at securing rebounds, which can indicate how strong a play is for a rebound orientated player; and
Defensive Real Plus-Minus gives a great indication of a players defensive capabilities, so in the situation below avoiding players matching up against Rudy Gobert or Robert Covington would be wise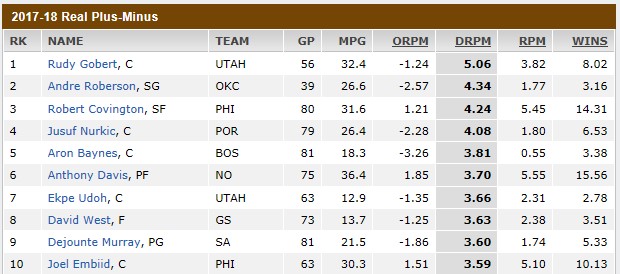 You can access these statistics from a range of sites, most notably Rotogrinders, ESPN and Basketball Reference.
In summary these tools should help you analyse the matchups you want to target when building your NBA daily fantasy rosters. We want to be targeting teams and players who are in "pace up" matchups to maximise their possessions and fantasy scoring potential. Then, we want to be focusing on weak defensive matchups identified through defense vs position stats and other defensive indicators.
Using these two tools to break down games on a slate will be a huge step in making you an elite daily fantasy player in NBA. Coming up next week we will begin to look at the key individual stats for projecting performance and finding value per dollar.
Next up in the series is Part 3 – Key Statistics in Daily Fantasy Basketball

Always remember to gamble responsibly. When the fun stops, stop. If gambling is having a negative impact on your life, seek support at Gambling Help Online. 18+ only.