daily fantasy sports articles
2018 NRL Saturday Slate: PlayOn $25k Super Contest!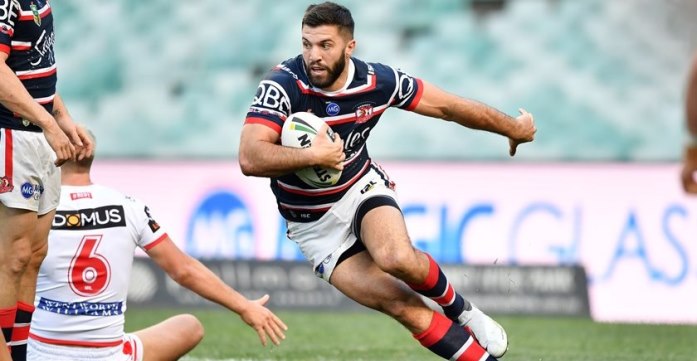 This Saturday will see three NRL games take place in Round 24, starting with the Raiders playing the Rabbitohs, followed by the Titans taking on the Storm.
The third game will be the match of the round between two sides in the top 8, the Roosters and the Broncos. It is this match which will be the PlayON $25,000 NRL Super Contest. There are a total of 125 seats available, however it is already very near 90% full, so opportunities are fast running out.
Outside Backs
James Tedesco is the most expensive player ($20.7 million) but he also has the highest average at 1548 per game. His last 5 games though has seen him average 1713 per game. He's only had two scores under 1090 this year but they were back at the start of the year. So even at his worst, you'll still get a good score.
Blake Ferguson is the next expensive player at $20 million, however he is consistently achieving strong scores, he is hard to ignore. He's averaged 1452 per game this year with just 1 score under 1035 (back in Round 2 when he scored 925 points).
Jordan Kahu is a good value player if you've spent your cap elsewhere and need a respectable back for a good price. He's worth $8.7 million and has averaged 669 points per game. Last week he scored a very good 770. His average took a hit when he scored 239 a few weeks ago due to only playing just over half the game. His average in full performances this year is a very handy 822.
James Roberts has an average of 994 per game, scoring over 1000 points in 8 of his 19 matches so far. While that is a very good average, it's a bit low considering his hefty price tag of $15.7 million.
Halves
Kodi Nikorima stands out as the obvious choice here. Not only does he have the highest average at 1168, but he is the third most expensive at a very affordable $13.5 million. A genuinely strong ball running half, he is a good chance to score strongly.
Cooper Cronk is reliable as reliable can be. His average of 772 per game is both very good for a half and will be very close to the score you will get. Some halves have weeks where their scores fluctuate wildly, but not Cronk. Given his equally respectable price tag of $12.9 million and a history of success over the Broncos, he's a solid and safe investment.
Luke Keary will return after a 3 week absence due to injury. He's average a very good 914 per game this year, but at a cost of $15.4 million, he may be a bit pricey in what will be a tough return match.
Forwards
Boyd Cordner comes in with the best average (1369) and highest price ($18.5 million) and despite being a little down on form in his last few weeks, he has still scored between 1250 and 1285 for his last 4 straight games. If you want ultra-consistent, reliable scoring around 1200 but capable of then he is your best pick.
Nat Butcher has had a tremendous season so far and is well worth consideration as a strong scoring yet affordable option. He is a bench player, but has still managed to average 944 points per game on average. Coming at a cost of just $6.6 million, there is next to zero risk here. Even if he scores 600 points, you still won't be hard done by. He scored 860 last week in just 25 minutes.
Sio Siua Taukeiaho has scored 1074 or higher in all bar one of his last 13 games, where that one match he was under was a 963 scored 12 weeks ago. He's worth a reasonable $14.1 million, which is money worth spending for someone consistently churning out 4 figure scores.
Dylan Napa started the season out strong, averaging 883 per game in his first 10 games of the year, but in his 6 games since he has averaged just 559 per game. Given he has a price of $11.2 million, he's just not scoring strong enough to justify the price tag.
Check out our preview for the PlayON $25k NRL Super Competition here
Then head on over to PlayON and select your teams to be in the running to win a share of their $25,000 up for grabs!