daily fantasy sports articles
2019-20 NFL Daily Fantasy Tips: Week 2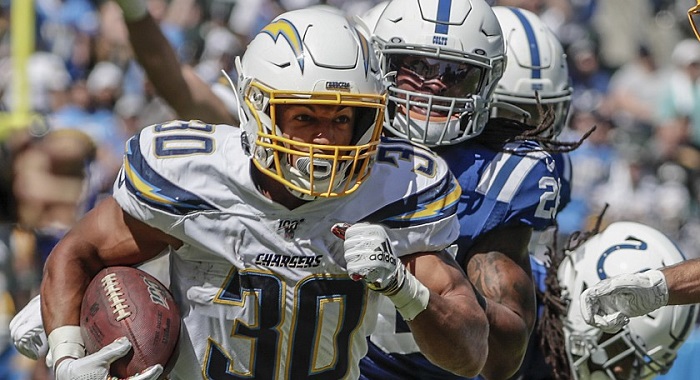 The 2019/20 NFL season got off to a hot start on the weekend with a fantastic slate of games! The action continues this weekend and the daily fantasy sites in both Australia and the United States have a massive amount of cash up for grabs once again!
We'll run you through all of the fetature tournaments at DraftKings, Draftstars and Moneyball throughout Week 2 of the NFL season below and give some of our best NFL tips for each slate.
NFL Week 2 Daily Fantasy
Friday
Tampa Bay Buccaneers at Carolina Panthers (10.20am AEST) Panthers -7/Total 49.5
DraftKings: $1,111,111 $10USD entry fee
Draftstars: $8,000 $15AUD entry fee
Moneyball: $4,000 $15AUD entry fee
Chalk: Christian McCaffrey (Carolina)
Arguably the best fantasy running back in the league, McCaffrey dominated the Rams in Week 1, singlehandedly keeping his Panthers in the game. He racked up 128 rushing yards and added a further 81 receiving yards and also found the end-zone twice along the ground for a monster score of 45.9. You'll pay a premium for him, but against a Rams defence that allowed 31 points in Week 1, he should be massive.
Chance: Breshad Perriman (Tampa Bay)
Only scored three points in week one with two receptions totalling 10 yards. However, it was the target numbers that caught our eye. Although Jameis Winston didn't give the recievers much opportunity at all, the quarterback still targeted Perriman on five occasions, which is the same amount of targets that star receiver Mike Evans got. At just $6,900, Perriman could be great value this week.
Chump: Peyton Barber (Tampa Bay)
Peyton Barber will go into Friday's game as the higher priced Tampa Bay running back but we prefer Ronald Jones II if we had to make a choice out of the two. Coach Bruce Arians will continue to use both but seemed to favour Jones, particularly in the last quarter, when he received 100% of the touches. Jones racked up 13 carries compared to 8 for Barber.

Monday Main Slate
San Francisco 49ers at Cincinnati Bengals (3am AEST) Bengals -1/Total 45
Los Angeles Chargers at Detroit Lions (3am AEST) Chargers -2.5/Total 47.5
Minnesota Vikings at Green Bay Packers (3am AEST) Packers -3/Total 44.5
Indianapolis Colts at Tennessee Titans (3am AEST) Titans -3/Total 44.5
New England Patriots at Miami Dolphins (3am AEST) Patriots -18.5/Total 43
Buffalo Bills at New York Giants (3am AEST) Bills -2/Total 43.5
Seattle Seahawks at Pittsburgh Steelers (3am AEST) Steelers -4/Total 46.5
Dallas Cowboys at Washington Redskins (3am AEST) Cowboys -4.5/Total 46
Arizona Cardinals at Baltimore Ravens (3am AEST) Ravens -13/Total 47
Jacksonville Jaguars at Houston Texans (3am AEST) Texans -8.5/Total 43
Kansas City Chiefs at Oakland Raiders (6.05am AEST) Chiefs -7.5/Total 52.5
Chicago Bears at Denver Broncos (6.25am AEST) Bears -2.5/Total 40.5
New Orleans Saints at Los Angeles Rams (6.25am AEST) Rams -2.5/Total 53
DraftKings: $4,500,000 $20USD entry fee
Draftstars: $25,000 $15AUD entry fee
Moneyball: $10,000 $15AUD entry fee
Monday Main Team of the Week:
Quarterback
Tom Brady (New England)
There's a chance that Brady doesn't have that much of an influence on the weekend against the Dolphins, esepecially if they get up by multiple scores early in the game and they revert to the run game. However, Lamar Jackson and the Ravens continued to run the score up with the passing game without risking too much in Week 1 so we think it could be a similar theme. With Antonio Brown making his debut for the Patriots, Belichick and Brady will see this matchup against the Dolphins as a great chance to work on some things in the passing game. Could see a high percentage of pass plays here.
Running Backs
Saquon Barkley (New York)
Barkley didn't set the world alight in Week 1 but still managed to rack up 120 rushing yards and 20.9 fantasy points. He should be around that mark every week and should be able to find the end-zone this week against a Buffalo defence that doesn't match up to the Dallas defence that Barkley faced on the weekend.
Austin Ekeler (Los Angeles Chargers)
The Los Angeles Chargers shouldn't be too concerned about the Melvin Gordon contract holdout if Austin Ekeler continues to play the way he did on the weekend. The running back had 154 all-purpose yards and three combined touchdowns for a monster score of 39.4 and has a good matchup this weekend against the Detroit Lions, who allowed David Johnson 137 combined yards and a touchdown in the tie.
Todd Gurley (Los Angeles Rams)
Gurley was held to just eight yards on five carries in the first half of his Week 1 matchup against the Panthers as critics started to question his health. However, the star back came to the party in the second half, finishing with 97 rushing yards on 14 carries. He was denied a goal-line opportunity in favour of Malcolm Brown that should surely go his way as his fitness continues to improve. Has a good matchup against the Saints this weekend, who allowed three Texans players 40+ rushing yards in Week 1.
Wide Receivers
Josh Gordon (New England)
Antonio Brown makes his debut for New England this weekend and at just $7,000, should have a fairly high percentage ownership. However, we are opting to pair Tom Brady with Josh Gordon this week in an attempt to fade Brown. Gordon racked up 73 yards and a touchdown on just three catches in Week 1 against the Steelers and should have even more 1 on 1 opportunities downfield this week with more double-teams focused on both Brown and Julian Edelman.
DK Metcalf (Seattle)
Many expected DK Metcalf to play a fairly limited role in the Seattle offence to start the season, however, with the departure of some key receivers in the off-season, the Seahawks were in need of a deep threat and Metcalf proved to be that in Week 1. He caught for 89 yards on four receptions for 12.9 points and has a fantastic matchup against the Steelers this week, who couldn't stop a thing and allowed 366 passing yards to the Patriots in Week 1.
Tyrell Williams (Oakland)
With Antonio Brown officially gone from Oakland, the No.1 receiver spot in Oakland was up for grabs in Week 1 and Tyrell Williams seemed to grab it with both hands. He was targeted seven times by Derek Carr, catching six of them for 105 yards including a touchdown. Has a good matchup this week against Kansas City, who allowed a debutant QB 275 yards and two touchdowns.
Tight End
Adam Shaheen (Chicago)
Was targeted just two times in Week 1 against the Packers but has a better matchup this weekend against Denver. Chicago No.1 tight end Trey Burton will likely remain on the sidelines through injury so we think there is good value in Shaheen this week.
Defence/ST
New England
Tough to look past the Patriots this weekend in their game against Miami. The Dolphins looked completely outmatched against Baltimore in Week 1, putting up just 10 points and 200 total yards. The Pats defence allowed just three points to the Steelers in Week 1 and will be odds on to not allow another touchdown this weekend.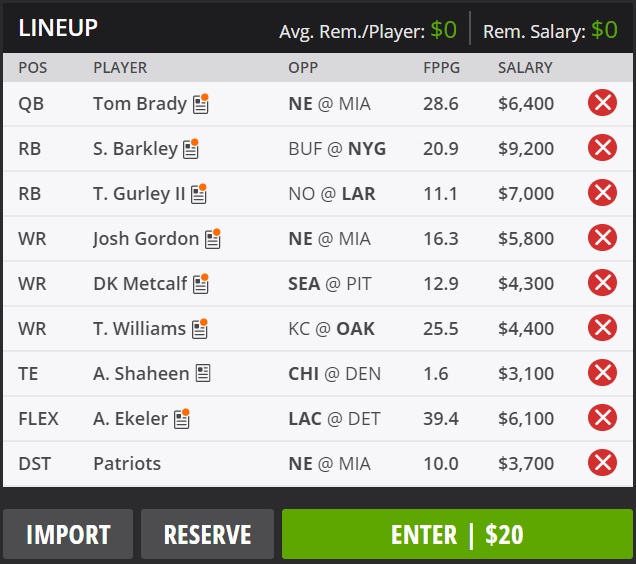 Monday Late Game
Philadelphia Eagles at Atlanta Falcons (10.20am AEST) Eagles -1/Total 51
DraftKings: $800,000 Contest $10USD entry
Draftstars: $3,000 Contest $15AUD entry
Moneyball: $1,500 Contest $15AUD entry
Champ
Julio Jones - After a mediocre performance for 15 fantasy points last week against Minnesota, Jones has admitted he wasn't up to scratch. 11 targets though means we are expecting plenty of opportunities from Mat Ryan against the Eagles. The Falcons are only 1.5 point dogs, the high point total of 51 means there will be plenty of fantasy scoring in this game. Will be highly owned but the ceiling is high.
Chance
DeSean Jackson - Jackson exploded for a Fantasy score of 31.5 points against the Redskins and will gain a lot of ownership from that performance. Jackson like most WR2/WR3 does have a low floor however. Although stacking with Carson Wentz will be a popular option in single contests.
Cheapie
Ito Smith - Keep an eye on the inactives for the Falcons before kickoff here. Brian Hill (RB) was inactive last week which meant a dual Running Back roles for the Falcons with Smith and Devonta Freeman. Scored only 5 fantasy points on 1 reception and 31 rushing yards last week, but this has potential if Hill does not get a call-up.
Chump
Either Defense/Special Teams - With a 51 game total, I will resist the temptation rostering a cheap DST to fit in more studs. Only 1 sack for each side last week whilst giving up 27+ points. Will really need poor passing games from Wentz and Ryan to make this work and these two QB's are quality.
Tuesday
Cleveland Browns at New York Jets (10.15am AEST) Browns -2.5/Total 45.5
DraftKings: $1,250,000 Showdown - $10USD Entry
Draftstars: $8,000 Flex Contest - $15AUD Entry
Moneyball: $1,500 Traditional Contest - $15AUD Entry
On paper in the off-season this matchup had the potential to be a great game to watch with Sam Darnold going up against Baker Mayfield. But with Darnold out with illness and the general public not that infused, we may have an opportunity to strike in DFS. Here are my CCCC plays for Tuesday:
Champ
Le'Veon Bell - Whilst he did have scans on his shoulder last week, Le'Veon Bell is going to have the ball in his hands a lot for this match. So much so, that barring injury he could potentially have a massive night against the Browns. Only 60 yards rushing but 6 receptions for 32 yards boost his fantasy output last week. With backup QB in Trevor Siemian under centre, this is a highly owned yet safe play for Bell.
Chance
Nick Chubb - Number 1 Running Back for the Browns in Nick Chubb could in theory build on last week's solid start to the season. With the Jets expected to either be limited on offense or fall behind on the scoreboard, I can see Chubb increasing on his 17 carries for 74 yards in Week 1. Being priced just below Le'Veon Bell and more expensive than Jarvis Landry, Chubb should be low owned in this slate.
Cheapie
David Njoku - Njoku scored a respectable 13 fantasy points last week after a TD and 4 receptions. Njoku is in the shadow of star receivers in Odell Beckham Jr. and Jarvis Landry but Njoku has Redzone potential and is priced nicely for his upside. It is hard however, to roster TE's in single/showdown slates but Njoku can save you a bit of salary for the bigger pieces of your lineups.
Chump
Trevor Siemian - With the news of Sam Darnold (QB) on the sidelines with mononucleosis we have number 2 QB in Trevor Siemian starting on Monday night for the Jets. With the sites pricing Siemian up with the news, he will be a low owned play with the majority of the offence now going to go through Le'Veon Bell and newly acquired Demaryius Thomas from New England at Wide Receiver. I can't imagine seeing a 4TD 300+ yard effort against this Cleveland pass rush who had 4 sacks last week.
Draftstars Suggested Lineup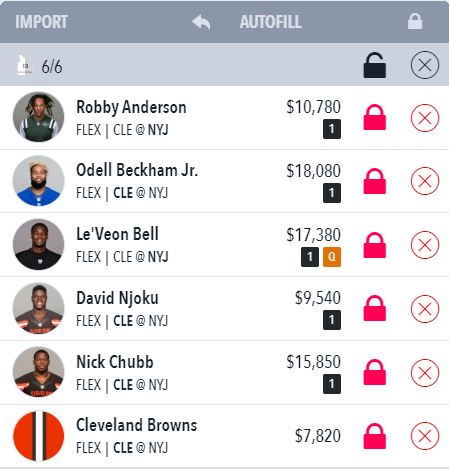 DraftKings Suggested Lineup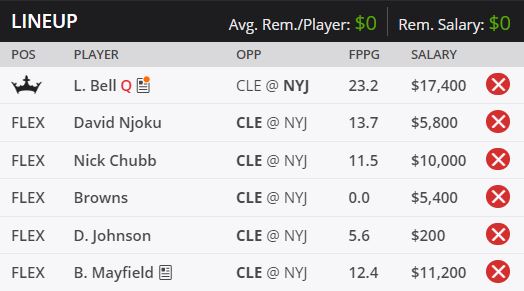 The Daily Fantasy Rankings "Dragon" has scoured the Australian sports betting markets and found some great value picks for this game. Check out his picks for the day below and click on the links to follow his betting plays!