daily fantasy sports articles
2019-20 NFL Daily Fantasy Tips: Week 3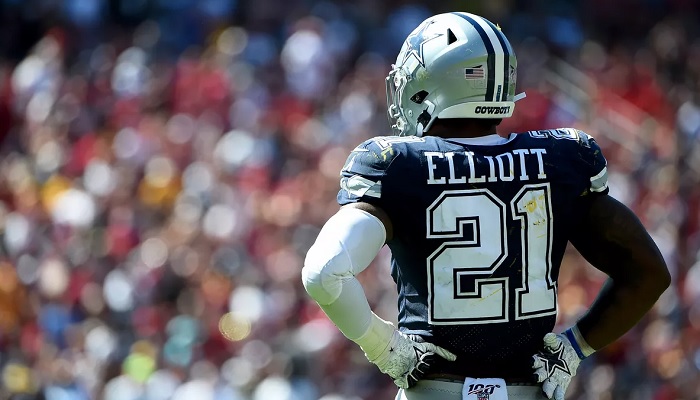 Week 3 in the NFL boasts a fantastic slate of games headlined by some great matchups in the marquee time-slots for Aussie fans! As usual, we have a full fantasy preview for the Week 3 matchups, taking into account the feature tournaments at DraftKings as well as the Australian sites, Draftstars and Moneyball.
The week gets underway on Friday morning as the Jacsonville Jaguars host the Tennessee Titans from 10.20am and continues on Sunday with a 14 game slate.
NFL Week 2 Daily Fantasy Preview
Friday
Tennessee Titans at Jacksonville Jaguars (10.20am AEST) Titans -1.5/Total 40.0
DraftKings: $1,000,000 $10USD entry fee
Draftstars: $8,000 $15AUD entry fee
Moneyball: $2,000 $15AUD entry fee
Chalk: Derrick Henry (Tennessee)
Henry was a monster in Week 1 against the Browns, rushing for 84 yards and adding another 75 yards in the air. He ran and caught for a touchdown to rack up a total of 28.9 points. Was solid in Week 2 as well, compiling 93 all-purpose yards and a touchdown for 17.3 points. Should be the most picked player on a pretty weak slate.
Chance: Cairo Santos (Tennessee)
As far as kickers go, the Titans marksman has had a couple of decent weeks so far, averaging 9.5 points through his first two games. As they usually are, we think that the Friday morning clash could be a bit of a slugfest between two defences that have been pretty solid through two games. The Titans kicker could be a great point of difference Friday morning.
Chump: Darren Chark Jr. (Jacksonville)
The Jaguars wide receiver has been one of the finds of the fantasy season to date, racking up two impressive games few the first few weeks. Chark had just four targets in Week 1 but managed to pile up 146 receiving yards and a touchdown for 27.6 points. He backed it up in Week 2 with seven caches on nine targets totalling 55 yards and a touchdown for 18.5 fantasy points. However, we are steering clear of the Jacksonville WR this week due to the passing defence the Titans have shown in the first two weeks. They have allowed just 167 passing yards per game, the 2nd fewest of any team in the competition.

Monday Main Slate
Cincinnati Bengals at Buffalo Bills (3am ET) Bills -6/Total 43.5
Detroit Lions at Philadelphia Eagles (3am AEST) Eagles -7/Total 48.5
Oakland Raiders at Minnesota Vikings (3am AEST) Vikings -8.5/Total 42.5
Baltimore Ravens at Kansas City Chiefs (3am AEST) Chiefs -6.5/Total 55.5
Atlanta Falcons at Indianapolis Colts (3am AEST) Colts -2.5/Total 47.5
Denver Broncos at Green Bay Packers (3am AEST) Packers -7.5/Total 43.5
Miami Dolphins at Dallas Cowboys (3am AEST) Cowboys -21.5/Total 47.5
New York Giants at Tampa Bay Buccaneers (6.05am AEST) Buccaneers -6.5/Total 48.0
Carolina Panthers at Arizona Cardinals (6.05am AEST) Panthers -2.5/Total 46.5
New Orleans Saints at Seattle Seahawks (6.25am AEST) Seahawks -4.5/Total 44.5
Houston Texans at Los Angeles Chargers (6.25am AEST) Chargers -3/Total 48.0
Pittsburgh Steelers at San Francisco 49ers (6.25am AEST) 49ers -7/Total 43.5
DraftKings: $4,250,000 $10USD entry fee
Draftstars: $25,000 $15AUD entry fee
Moneyball: $8,000 $15AUD entry fee
Monday Main Team of the Week:
Quarterback
Jimmy Garoppolo (San Francisco)
We are opting for the 49ers quarterback this weekend after he helped his team put up 41 points against the Bengals in Week 2. Garappolo threw for 297 yards and three touchdowns in the win and has a fantastic matchup against the Steelers at home this weekend. The Steelers have allowed 320 passing yards per game through the opening few weeks, the fourth most of any team in the league. The Patriots scored 33 points on the Pittsburgh defence in Week 1 before Russel Wilson and the Seahawks put up 28 points on them in Week 2.
Running Backs
Ezekiel Elliot (Dallas)
We are going heavy on the Cowboys this weekend as they face off against the Miami Dolphins at home. Miami could be a contender for one of the worst teams in the history of the NFL at the moment. They have put up just 10 points through the first two games and were shutout against the Patriots on the weekend. They have allowed 102 points in the two games including over 1,000 yards of total offence. They also traded one of their best defensive players in Minkah Fitzpatrick away this week, making their defence even more vulnerable. Should be an absolute rout and Ezekiel Elliot should run riot.
Devin Singletary (Buffalo Bills)
Another running back with a great matchup this weekend is Devin Singletary of the Bills. Singletary is currently listed as questionable but we think he should be in action this weekend against the Bengals, who allowed 165.5 rushing yards per game, the third most of any team in the league. The 49ers rushed for 259 yards on the Bengals in Week 2. Singletary has scored over 10 points in both matchups so far this season. Singletary is now out with his Hamstring injury. Frank Gore now takes over as the Number 1 RB at the Bills and is a good value play.
Rex Burkhead (New England)
It's always a tough proposition selecting a Patriot running back because you never know which one of them is going to get the bulk of the touches from game to game. However, Burkhead has been solid in both games so far, racking up over 75 all-purpose yards per game. Has a good matchup against the Jets this week, who the Patriots trounced by 35 points in their last meeting, in a game where Rex Burkhead scored a touchdown.
Receivers
Deebo Samuel (San Francisco)
We are pairing Jimmy G with his No.1 target Deebo Samuel this weekend. Samuel might be the second highest priced wide receiver for the 49ers but has had over double the amount of targets that Maquise Goodiwn had in Week 2 against the Bengals. Samuel racked up 87 yards on five catches including a touchdown for 20.4 fantasy points and should continue to feature prominently in the 49ers offence moving forward.
Julian Edelman (New England)
We are continuing our Patriots/49ers/Cowboys theme here by taking Julian Edelman. Hard to believe that the reigning Super Bowl MVP can be the forgotten man of the Patriots offence but that's exactly what he is at the moment. With Josh Gordon seemingly firing on all cylinders and Antonio Brown being inserted into the line-up, Edelman has become a bit of an afterthought for defences, which should suit him moving forward. The Jets possess a pretty good secondary so short passes over the middle should be the game plan for Tom Brady here. The last time the Pats played the Jets, Edelman had 93 all-purpose yards and a touchdown.
Amari Cooper
Another Cowboy here in Amari Cooper is almost a no-brainer this weekend as Dallas host the Miami Dolphins. Not reading too much into this one, the Dolphins have allowed over 100 points and over 1,000 total yards in just two games and traded away their best safety this week. On the flip side, Dallas have passed for 333 yards per game, the third most of any team.
Tight End
Mark Andrews
Andrews has been by far the best scoring tight end in the game through the opening two rounds. The Baltimore star has racked up back to back games of 27+ points against the Dolphins and Arizona and has another good matchup against the Chiefs this week. While Kansas City are one of the best temas in the league, they do allow a lot of offence, particularly to tight ends, where they are ranked 29th in the league. You will need to monitor is status however, with reports that he is 50-50 for the matchup. Lucky enough this game is in the eariler time slot.
Defence/ST
New England Patriots
Is there any other option this weekend? Everything points towards the Patriots against the Jets. The Pats have allowed just three points through their opening two games. Yes, you read that correctly, three points. Their D/ST scored a mammoth 37 points against the Dolphins in Week 2 and when they last faced the Jets, they allowed just three points, forced three fumbles and had four sacks.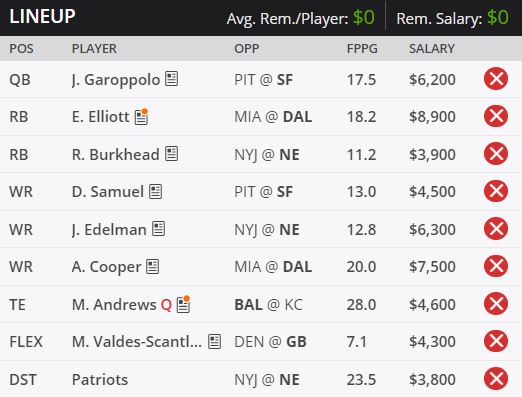 Monday Late Game
Los Angeles Rams at Cleveland Browns (10.20am AEST) Rams -3.5/Total 47.5
DraftKings: $888,888 $10USD entry
Draftstars: $3,000 $15AUD entry
Moneyball: $1,500 $15AUD entry
The Rams are 3.5 favourites on the road at the Browns on Sunday Night Football. David Njoku is OUT with concussion and Rashard Higgins is Questionable with a knee injury (he was out for week 2). Whilst it would be easy to roster Rams players in this matchup, I am following a more fantasy friendly game script from the Browns who will probably need to play from behind and air the ball out more. It should be a good game to watch.
Champ
A career long TD against the Jets on Monday Night and over 161 yards receiving means Odell Beckham Jr is the 'Champ' of the week. With the Rams slight favourites, we may see a come from behind game script from the Browns and that means a lot of opportunities with Baker Mayfield and Beckham. Salaries all sites means he is easily attainable and very chalky for the slate.
Chance
I really like Rashard Higgins in the WR3 spot this week. Higgins missed last week with a knee injury and is questionable for the matchup. If he does suit up then we can see potential big plays especially if Beckham and Jarvis Landry are well held from the Rams secondary. If Higgins does not play, look to Jarvis Landry in the WR2 spot. Landry is more expensive than Higgins but has the same upside in this matchup.
Cheapie
With David Njoku (TE) out with Concussion, you can find Demetrius Harris at a very cheap price across the sites. Only 1 reception last week after Njoku left the game early on Monday Night, so expect Harris to be apart of the playbook in the matchup. Also in a great 'Cheapie' spot is Dontrell Hilliard who is back as the Browns RB2. D'Ernest Johnson (RB3) filled in as Nick Chubb's backup in Monday's 23-3 win over the Jets, catching three of four targets for 42 yards and adding three carries for eight yards. So if Hilliard has the same fantasy output he will easily be value for his salary.
Chump
Whilst I am not going to call him a chump in this match, but I am fading Todd Gurley here. His workload did increase from week 1, including a TD from 4 yards out in Week 2. Only has attempted to rush the ball under 20 times in both games and coach McVay has made good on his vow to lighten Gurley's overall workload a tad in 2019. Still a big part of the Rams offence but you can certainly get a jump on the field if Gurley has a sub-standard fantasy game.
Draftstars Suggested Team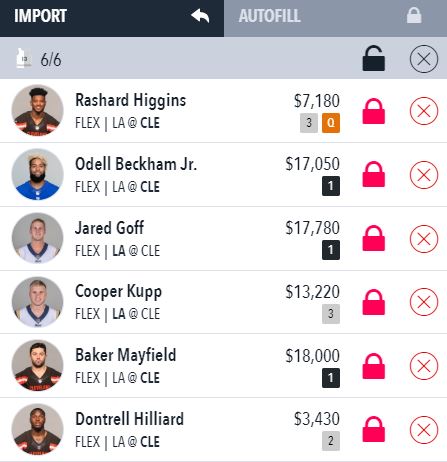 DraftKings Suggested Team

Chicago Bears at Washington Redskins (10.15am AEST) Bears -5.5/Total 41.0
DraftKings: $1,250,000 $10USD Entry fee
Draftstars: $8,000 $15AUD Entry fee
Moneyball: $1,500 $15AUD Entry fee
Chicago (1-1) travel to Washington (0-2) in a Monday night fixture that features two struggling offensive teams. Chicago was bailed out by a 50+ yard winning FG at Denver last week whilst Washington gave up another lead in their lost to Dallas. The spread did start at +4 for Washington but has been bet up to +5 throughout the week, whilst the total has remained steady at a low total of 41. I'm expecting a defensive struggle, particularly from the Bears' defense as this unit is one of the best of the league (average 12 points per game through 2 games).
Champ
I wasn't sure to start with but Terry McLaurin is my champ of the week. Leads the Redskins in targets through two weeks (16) and played 100% of snaps in Week 2. With the Redskins scripted to be behind in this match, I expect the targets to continue and is well priced across the fantasy industry. However, the defensive line for the Bears is very strong so I wouldn't be locking 100% McLaurin in my teams.
Chance
A 2019 third-round pick out of Iowa State, David Montgomery had a quiet week 1 but was used more in the offense in the 2nd week against Denver scoring his 1st TD in the NFL. With Mitch Tribusky not firing in the passing game and Tarik Cohen only used as receiver, the script is geared towards plenty of running opportunities for Montgomery.
Cheapie
Well it may seem silly but in these single game slates, rostering a defense/special teams (DST) has proven to be contrarian but significant play so far in 2019. With the Bears given a 5 point spread and league leading 12 points per game average, it seems to be a safe play to roster the Bears DST. Dig deeper though and the Bears have not scored a DST Touchdown this year with only 7 sacks and 1 interception so far. So tread carefully here.
Chump
I thought Mitchell Trubisky was going to build on his impressive start to his NFL career at the Bears but it is just not working so far. 16/27 for 120 yards in Week 2 is pretty disgusting QB stats so the only way is up for Trubisky. Unfortunately you need to pay a pretty penny to roster this week and will need to go large just to reach value. Probably a good contrarian play at a lower than expected ownership.
Draftstars Suggested Team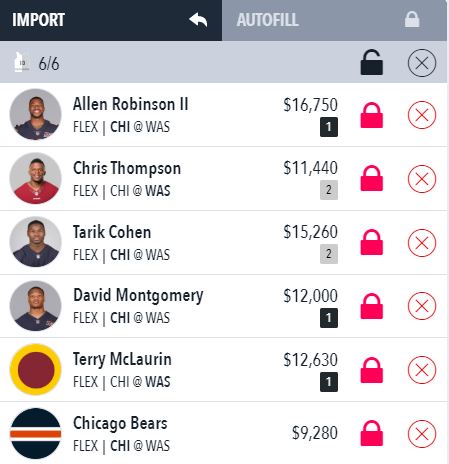 DraftKings Suggested Team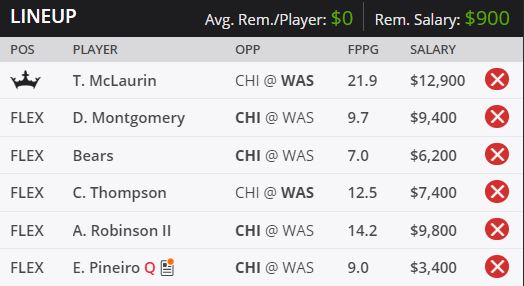 The Daily Fantasy Rankings "Dragon" has scoured the Australian sports betting markets and found some great value picks for this game. Check out his picks for the day below and click on the links to follow his betting plays!