daily fantasy sports articles
A Brand New Draftstars!

There has been some exciting news overnight in the Australian daily fantasy sports world, with popular DFS site Draftstars updating their software to deliver an even greater experience to Australian daily fantasy sport enthusiasts.
Regular DFS players would be aware that Draftstars is now under the ownership of PlayUp, a powerful player in the DFS industry. This new partnership has been the catalyst behind some new and exciting changes to the old Draftstars software that we've all come to know and love.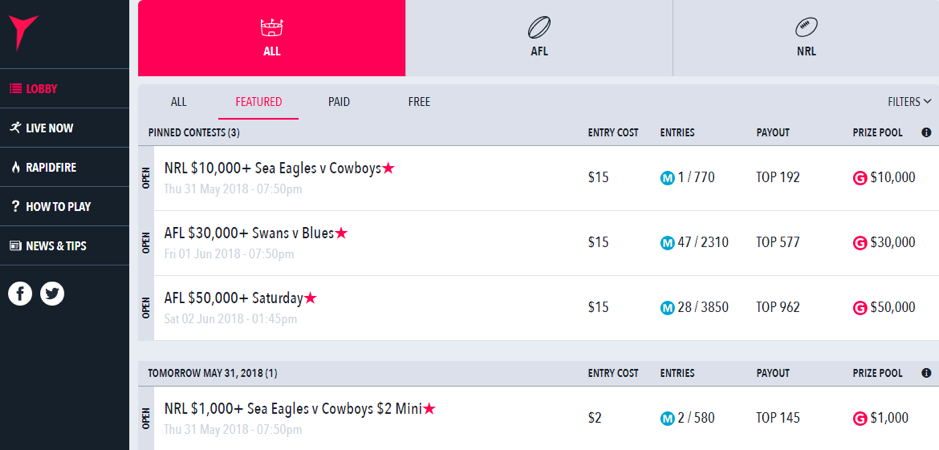 What's the same?
It's not a total overhaul. Plenty of what you've come to expect from Draftstars has remained the same. The popular contests haven't changed, and the salary caps, scoring and player formats are all the same. There is also no need for any new action required on your account - your balance, verification and profile will all remain the same.
What's new?
There are plenty of new features to go along with the general improvements that have been made. You will now have access to all features on all devices, which was something that caused issues in the past. They've also worked on the social side of things, with new contest specific chat rooms for you to throw sledges at your mates, as well as easier navigation through the leaderboards to keep an eye on how your friends are going.
The biggest news to come out of this new partnership is the announcement of plans for Draftstars to host the first $1,000,000 prize pool in Australia. It's an ambitious goal, but they are starting things off on the right foot with a huge $100,000 prize pool guarantee announced for the Queen's Birthday AFL match between Melbourne and Collingwood on June 11th.

What's coming soon?
There are plans for further improvements in the very near future. Draftstars are working to improve Head to Head, Live Draft, Private Challenges and Turbo, which may happen as early as June 1st. They are also planning to offer more sports for players to indulge in, with more news coming soon!
For more information, check out our Draftstars Review page.