daily fantasy sports articles
AFL 2019 Finals Fantasy Tips: Geelong vs Collingwood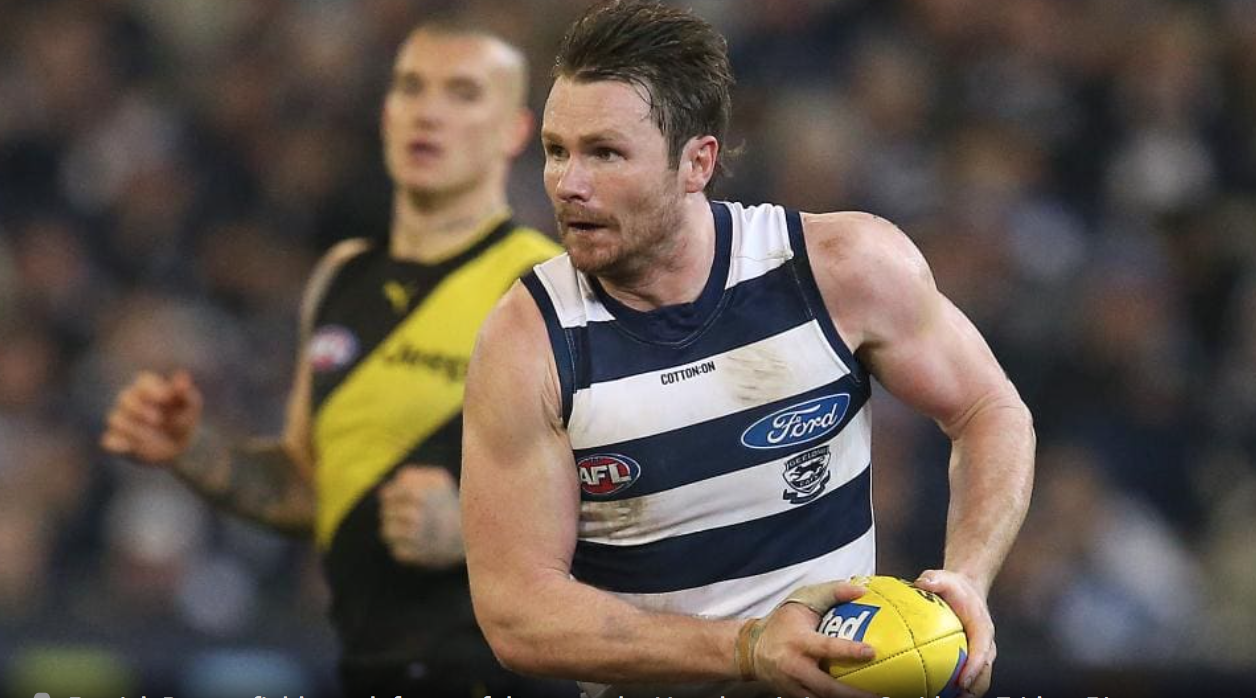 Finals footy is upon us and each game has received a major single game DFS contest across both platforms. We will be breaking down each individual game to help you pick the best possible team. The second game of the first week of finals is Geelong vs Collingwood at the MCG on Friday the 6th of September, at 7:50pm AEST. The major contests include:
Smatho and Big Hef from the DFS Down Under Show broke down this matchup between Geelong and Collingwood discussing their DFS plays. Check them out here!
In addition to the previews for each and every slate during the finals, Daily Fantasy Rankings has also unveiled our AFL Resources page. This section provides you all the data you need to build your best line-ups. It includes daily cheat sheets for both Draftstars and Moneyball, Player Correlation tables, Player Out tables, Scores Against tables, Tagging information, statistical breakdowns and much more!
The game as seen by the bookmakers:
Geelong vs Collingwood at the MCG (bookmarkers' total 152.5, line GEE -5.5)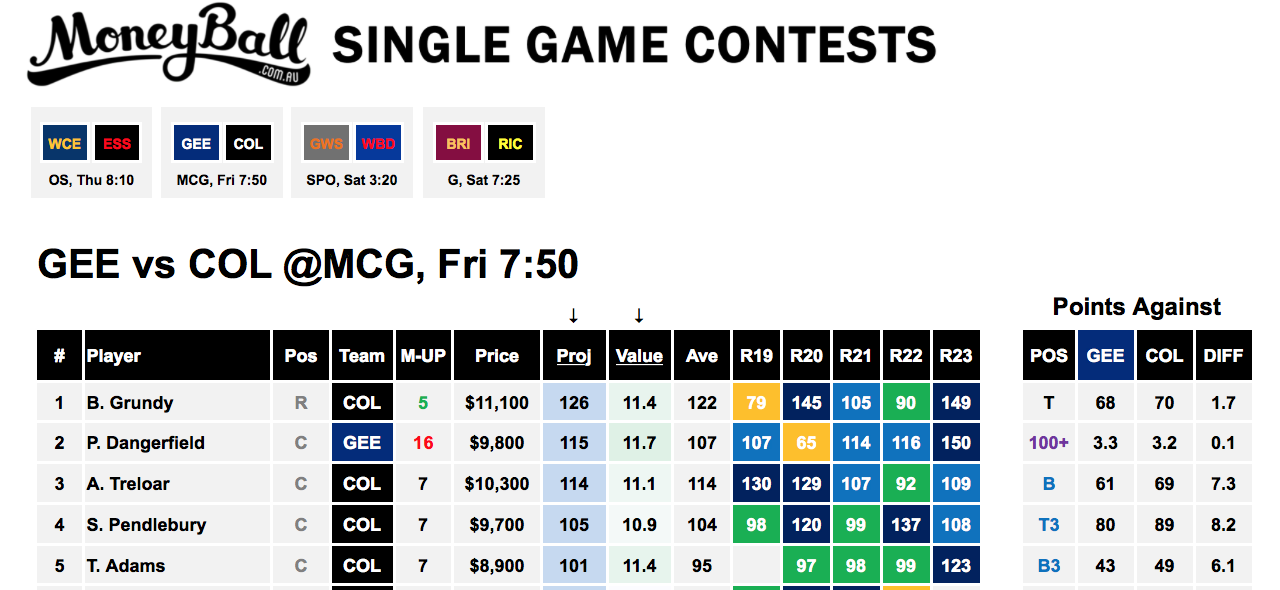 Where to Attack
Something will have to give in this matchup as Geelong have conceded to fewest fantasy points in the league this season, while Collingwood have scored the most. From a daily fantasy sense this is the irresistible force meeting the immovable object. When these two teams last met all the way back in round 1 it was Geelong who came out on top on both the scoreboard and in fantasy, conceding just 1 tonne.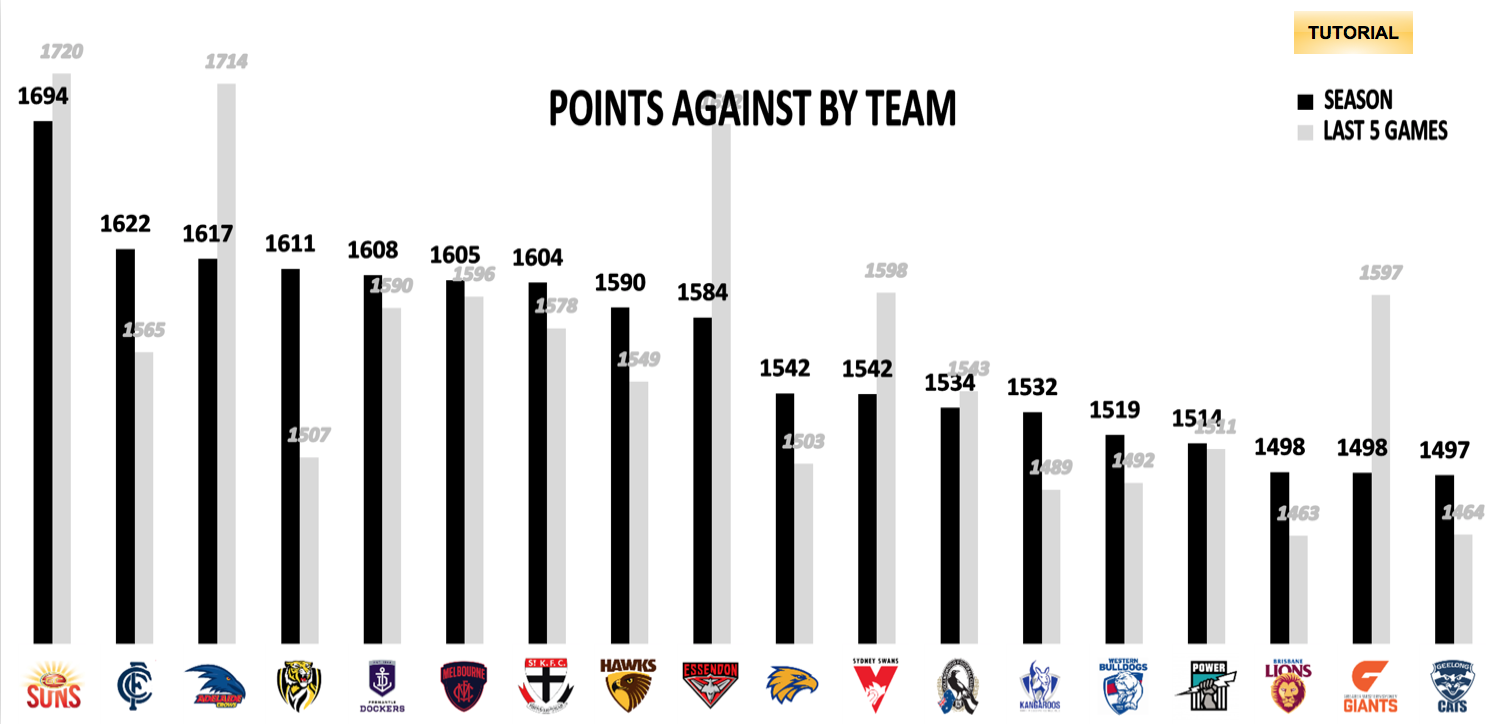 Backline has been a clear standout as the position to target Collingwood with this year. This is particularly true for premium defenders, with the Magpies giving up 89 points per game to their opponents top three scorers at the position (fourth most in the league). This number has ballooned over the past 5 weeks to 96 points per game.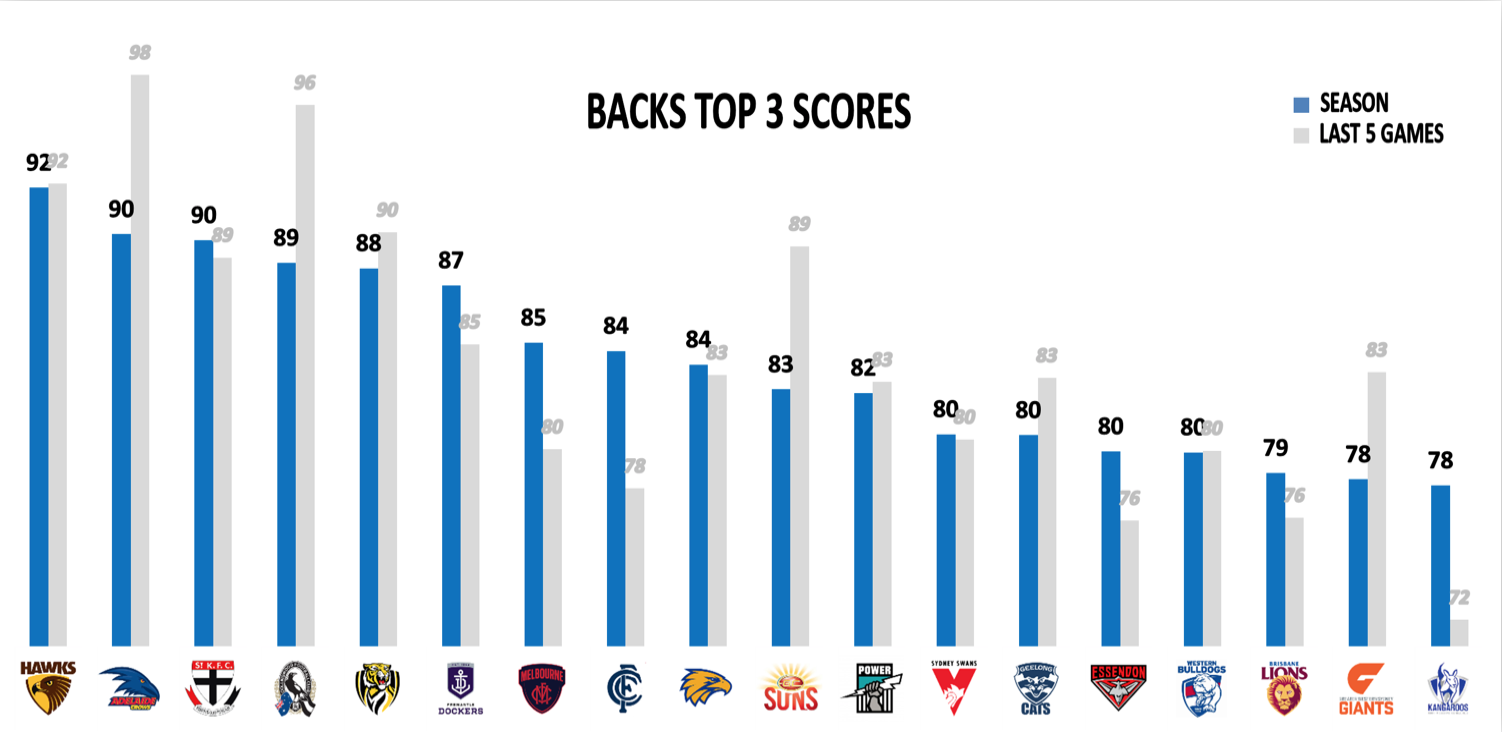 Surprisingly Geelong have given up around the league average to the top scoring midfielders this year. Their 107 points per game to the oppositions top 3 scorers is 4 points per game better than Collingwood.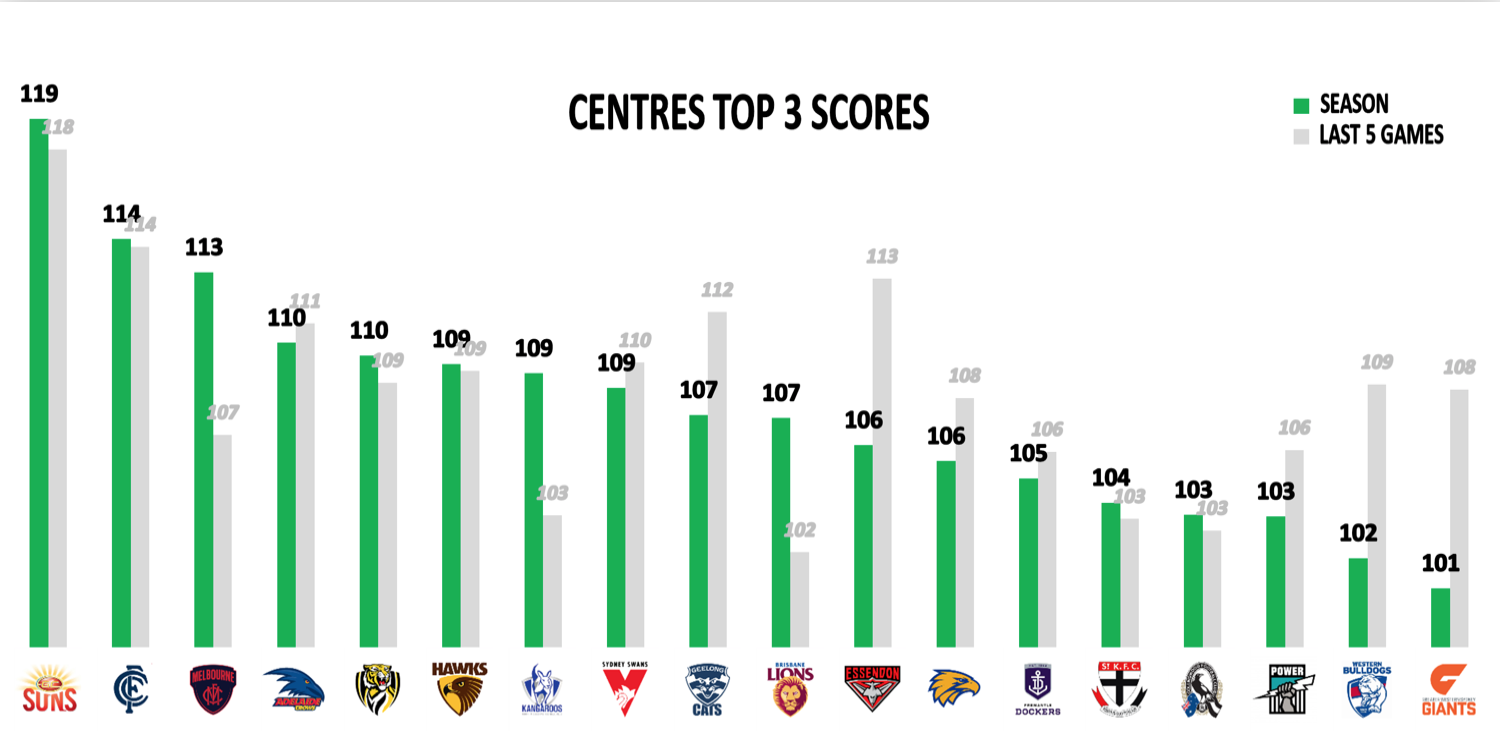 Geelong have been patch working their Ruck position for going on many years now. It appears that Rhys Stanley will be back for the finals after being back in the side in round 23. By the numbers the Cats have given up the 6th most points in the league to the oppositions number 1 ruck this season, which means a Brodie Grundy ceiling game could be in play.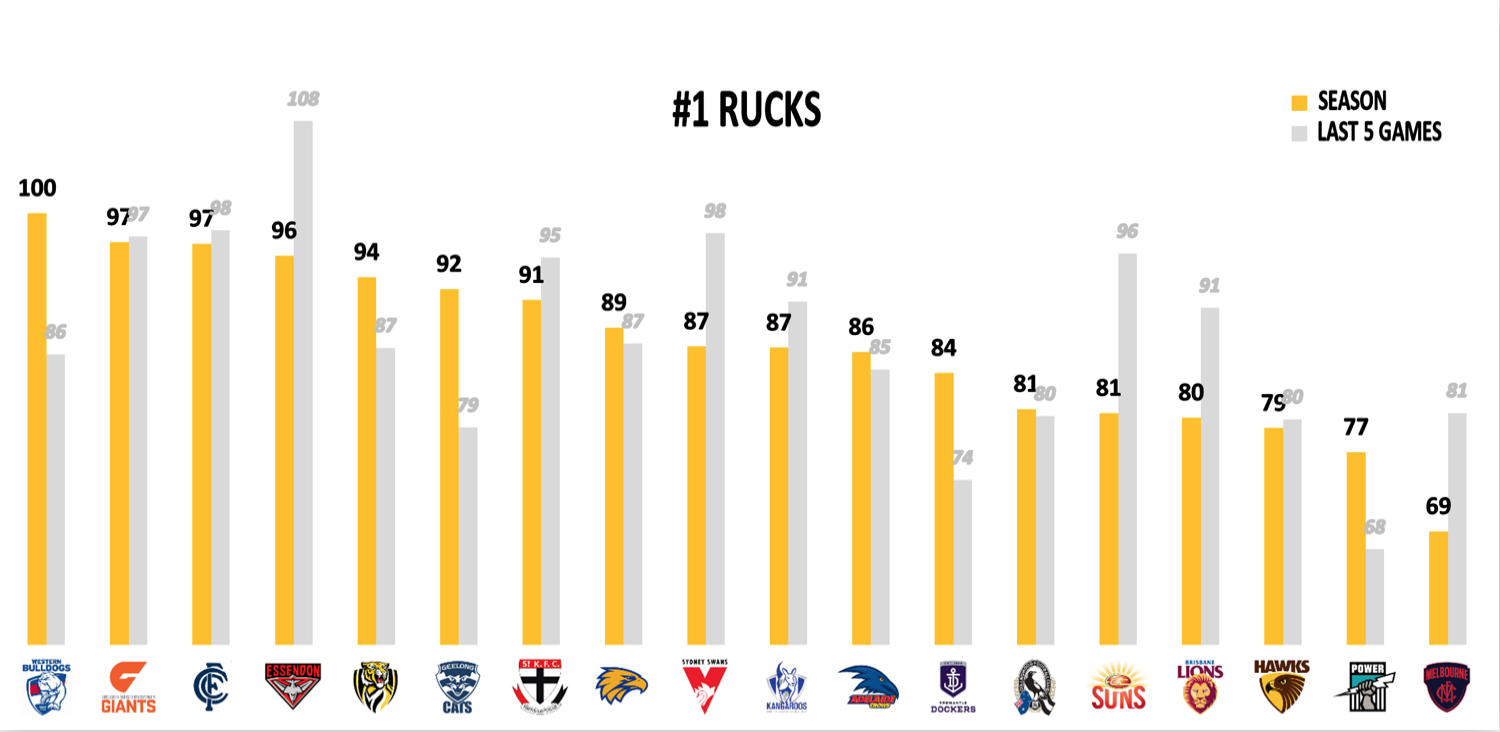 TAGGERS
Neither side has tagged significantly this season, which makes the analysis for daily fantasy a little less complicated. Our tagging tool highlights the impact of taggers by each time for the entire 2019 season: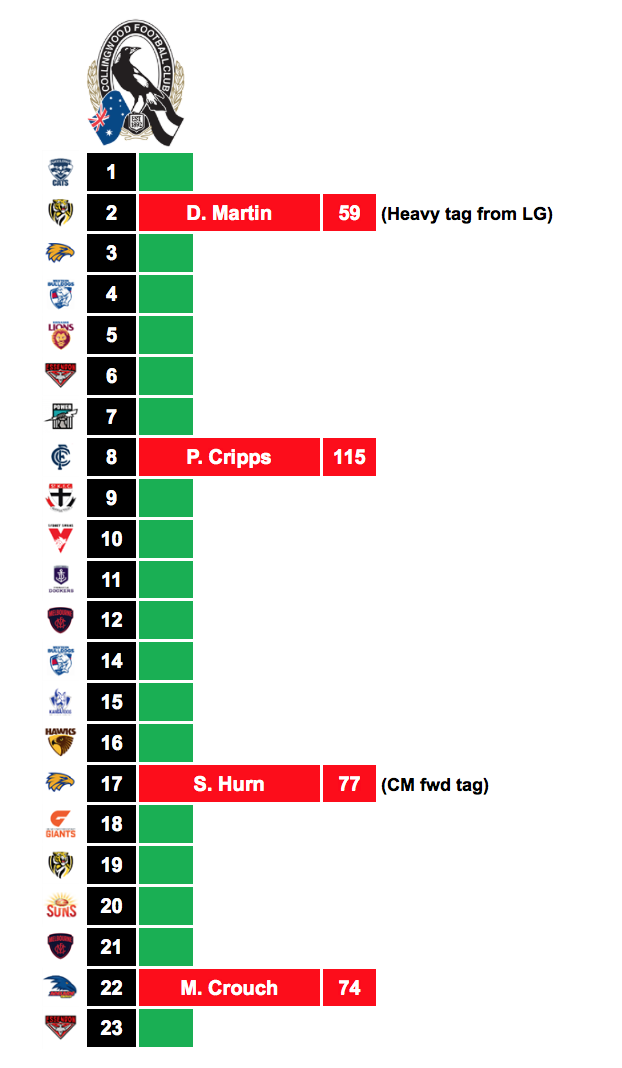 When Collingwood have tagged it has either been through Chris Mayne applying a forward tag on a key half back or Levi Greenwood providing a hard tag on an oppositions number one midfielder. This has been used sparingly this season and is unlikely to occur in this matchup (no tag was utilised in their only matchup this season).

It all looks clear for Collingwood midfielders in this matchup with Geelong not applying a tag once this season.
VALUE PLAYS
Quinton Narkle (MB $4,300, DS $10,470) … at his Draftstars price point it is unlikely I would play him, but on Moneyball he is a lock. I have been all over Narkle in these previews since he returned the AFL side three games ago. He had been spending time in the midfield at VFL level posting 20+ possessions in his last 5 games before being called up in round 21. In his first game for the Cats this year at GMHBA Stadium he attended 4 out of the teams total 14 centre bounces and spent plenty of time around the ball, while racking up a huge value return of 93 fantasy points. This continued against Brisbane, attending 7 centre bounces, however he wasn't able to produce a similar fantasy return in a tougher matchup. Against Carlton in the final round he once again spent plenty of time on the ball and filled up with a massive 111 fantasy points.
Now his two big scores have been at GHMBA and this is a tougher matchup than those two games, which is why I am wary on Draftstars, but on Moneyball he is quite simply too cheap in this single game slate to ignore.
John Noble (MB $3,900, DS $8,440) will be a set and forget on both platforms for me on this slate. Playing across half back he has been right in the middle of the Magpies possession game style, which has shown in his previous two games fantasy scores of 74 and 77. On a single game slate with limited safe value options Noble will be one of the most popular plays.
MID PRICED PLAYS
Joel Selwood (MB $6,900, DS $10,590) … the million dollar question is whether Selwood is over the hill or if he has simply been playing possum during the regular season. I have been waiting for this point in the year to load up on Selwood in DFS, assuming that the Cats had simply been keeping his body safe for finals by playing out on the wings. From round 15 through to 20 he was among the Cats leaders of centre bounce attendances, and he averaged 86 points per game during this period (8 points above his season average). For the final few rounds he returned to the wing.
I am staking this play on the fact that when the whips are cracking Selwood will be back on the inside and he still brings that 110+ point upside in that role. Simply through name and price he may garner ownership on this single game slate, however coming off an average of 60 points per game over his last 4 there is the possibility of picking up a slate breaking score at a low percentage.
Tom Stewart (MB $8,300, DS $13,280) is my premium back play on this slate. As noted above the Magpies have been giving up points to defenders all season and Stewart has been the top scoring back for the Cats all season averaging 95 points per game. He has topped the 100 point mark the last two times Geelong have faced Collingwood and has gone under 92 points at the MCG just one time in his last five games on the ground.
PREMIUM PLAYS
Brodie Grundy (MB $11,100, DS $16,990) is pricey but based upon the matchup against Geelong who have given up the 6th highest points to oppositions number 1 rucks this season is my preferred option. Grundy last year proved to be a finals performer averaging 113 points per game over the Magpies four games (with just one game below 100 points at 99). He has been prolific this season averaging 122 points, and over the past 6 games has posted 3 scores of 140+, which includes a massive 181 points against GWS.
Patrick Dangerfield (MB $9,800, DS $16,270) feels like a can't miss play here. In a final Dangerfield should play the majority of his time through the midfield and he has been a consummate finals performer over his career, averaging 115 points per game over his last 4 finals for Geelong. He has averaged 107 points per game over his last 25 matches at the MCG and was one of 4 Cats to top the 100 point mark in their only matchup against Collingwood this season.
Dragon's Suggested Moneyball Team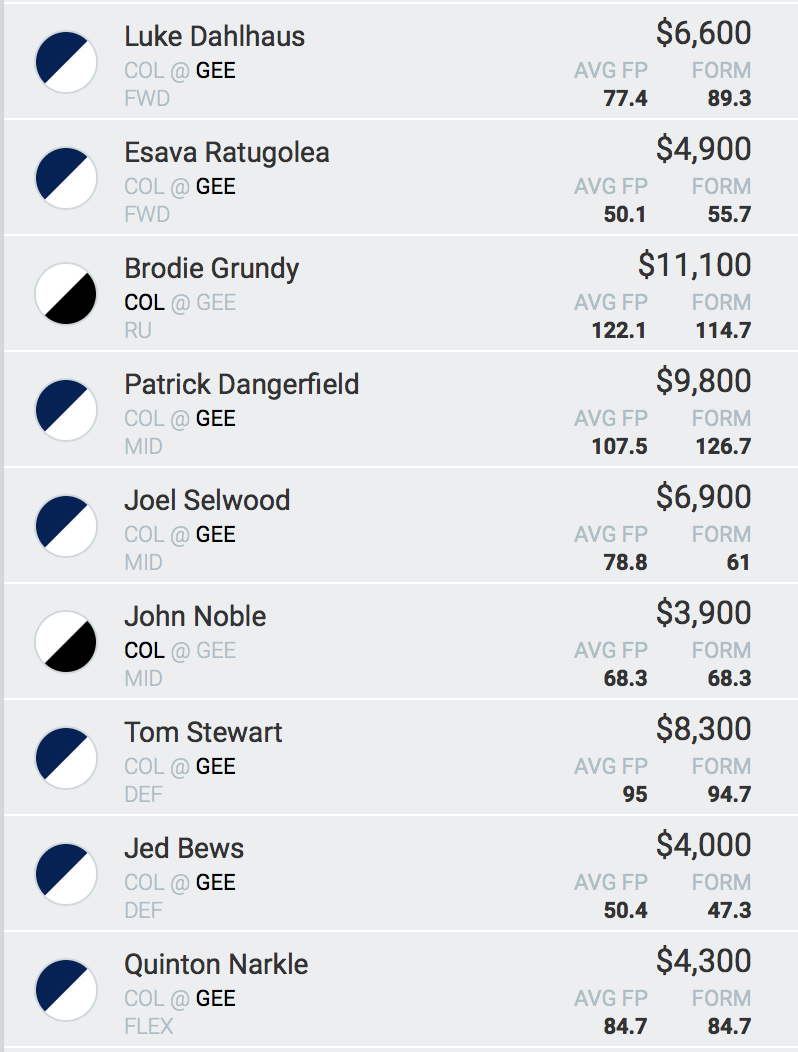 The Daily Fantasy Rankings "Dragon" has scoured the Australian sports betting markets and found some great value picks for this game. Check out his picks for the day below and click on the links to follow his betting plays!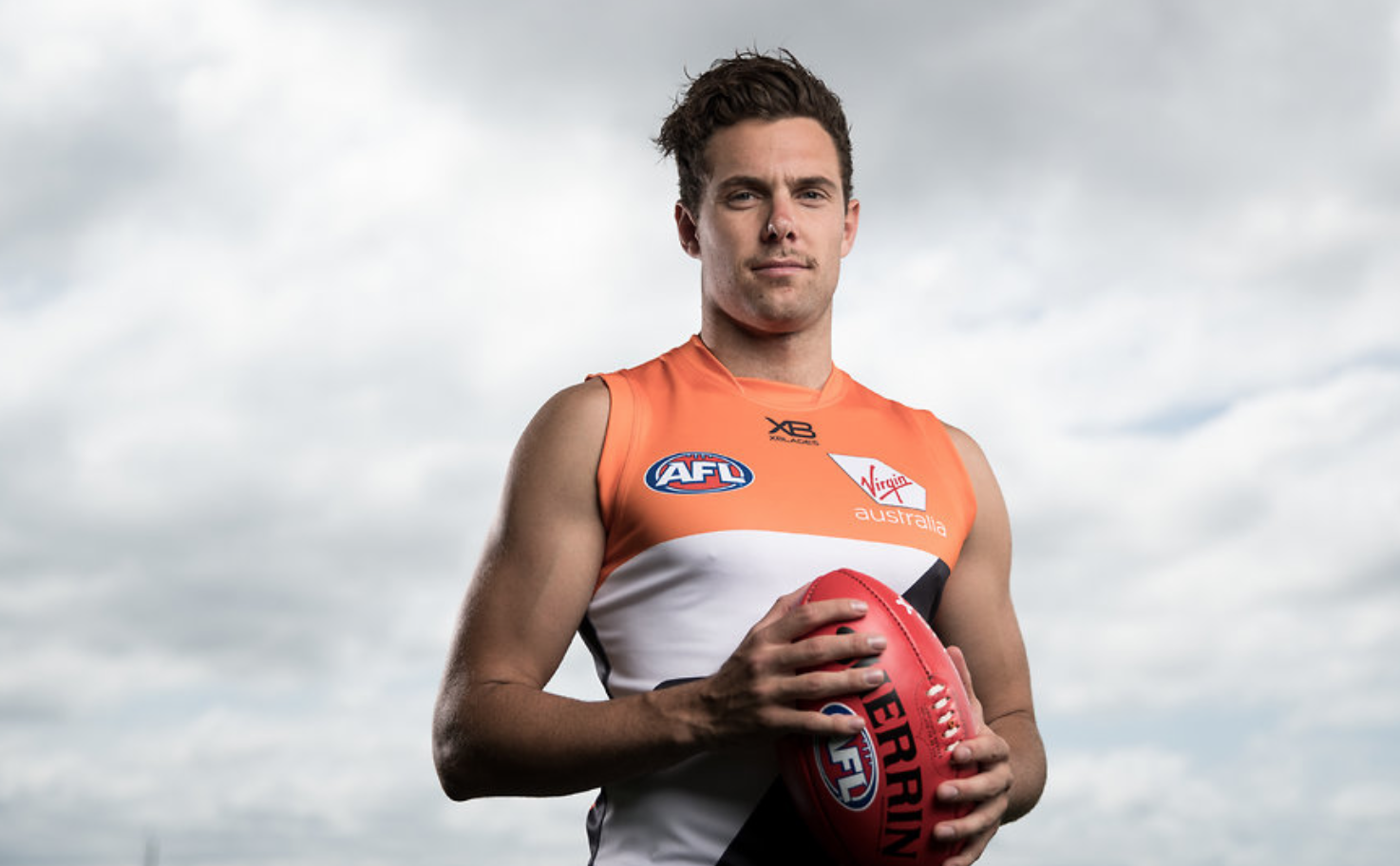 Always remember to gamble responsibly. When the fun stops, stop. If gambling is having a negative impact on your life, seek support at Gambling Help Online. 18+ only.