daily fantasy sports articles
AFL Daily Fantasy Strategy: Steps to Success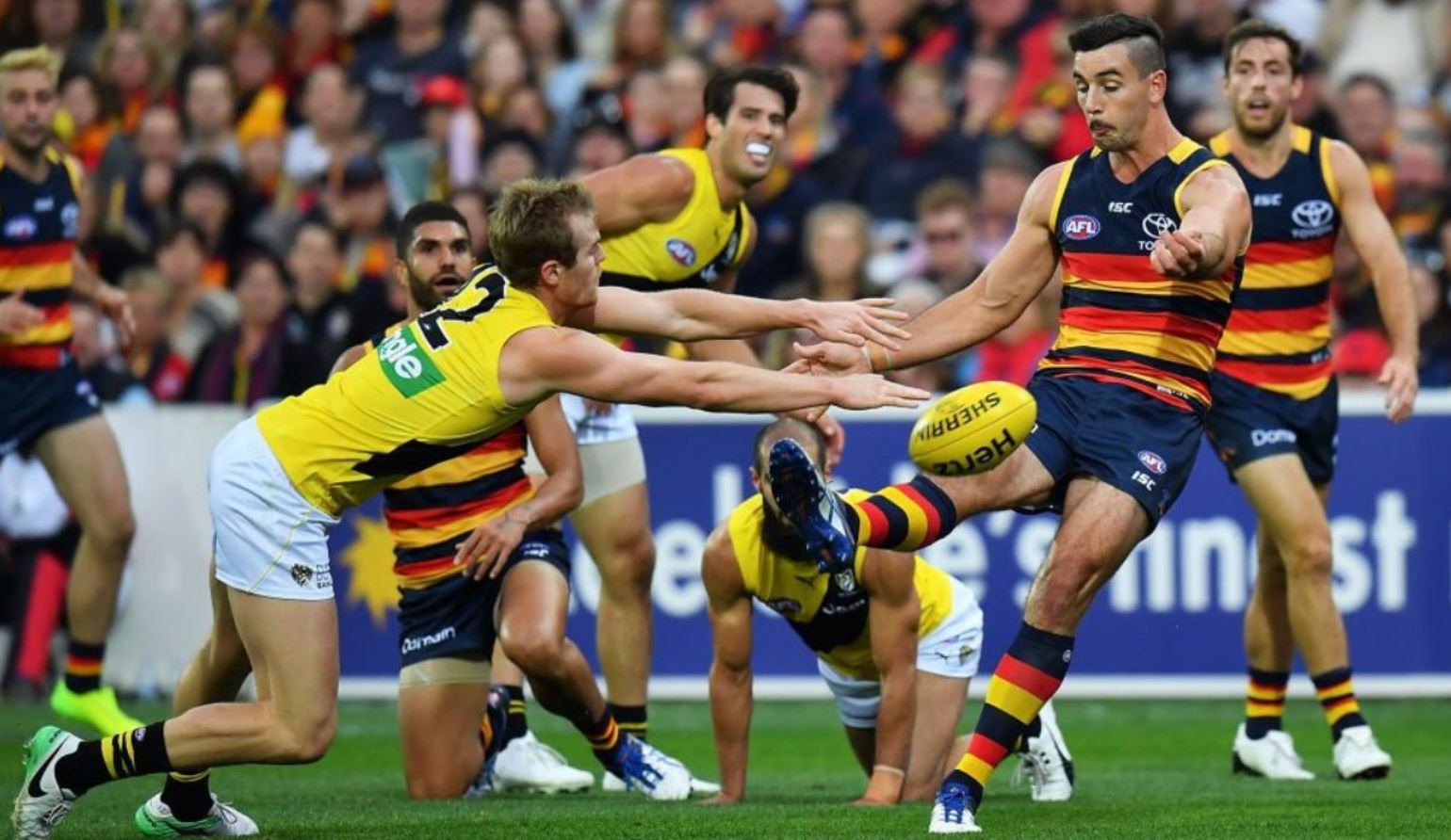 Welcome to Daily Fantasy Australian Rules, otherwise known as the AFL (Australian Football League) for 2020! If you are playing Daily Fantasy AFL for the first time you can find out the basics of the game in our "How to Play" article. AFL fantasy contests are available on US Fantasy site DraftKings, along with Australian Fantasy site Draftstars.
The AFL in 2020 consists of 18 League teams right across Australia which is now a 17 round competition and 4 weeks of finals to determine a premiership team. Without the pandemic the competition would have been a regular 23 round season with 1 bye for each team. The first thing you will notice with the AFL is that 10 out of the 18 teams in the competition are based around the city of Melbourne. The AFL was born out of the Victorian Football League (VFL) when expansion to other Australian cities such as Adelaide, Sydney, Perth and Brisbane occured 30+ years ago.
The AFL will resume Round 2 of the 2020 season on June 11th and will play games in front of no crowds. There are some small changes to the game itself to accommodate the pandemic with the most important change is the amount of game time. A traditional game of AFL is 20 minutes per quarter plus "time-on" for stoppages. This has been reduced to 16 minute quarters plus "time-on".

Traditionally there will be 9 fixtures per round and these games are spread across four days in Australia. A game will be played on Thursday Night and on a Friday Night. These fixtures are the showpiece games (similar to Sunday Night / Monday Night football for the NFL) with 4 games played throughout Saturday and 3 games on Sunday. Games are staggered to obtain maximum television exposure but is common to have two games at the same time on a Saturday night. Thus there will be a combination of "Showdown/Single" and "Classic/Multi" slates each round.

Team lists are released by clubs and published on the afl.com.au (the league's official website) on Thursday evening (Australian Time), each team list will consist of 26 players. If a game is played on Thursday then the team list will be released on Wednesday. The 26 players consist of 18 players starting on the field, 4 interchange players and 4 emergencies. When a player is named as an "emergency" the player is on standby for a late change to the original team list due to injury to a named player. Each team must submit their final 22 players at 60 minutes before each game. However due to extraordinary circumstances, an emergency can still play if a player is injured in the warm-up. These are rare circumstances but they do occur.
North Melbourne has made a very late change, Paul Ahern (hamstring) has been replaced by Nathan Hrovat.#AFLNorthPower

— AFL (@AFL) August 17, 2019
The injury reporting in the AFL is sound with a variety of beat reporting and information provided by clubs on the status of their players. However, the league does not mandate an injury reporting system similar to the NBA and NFL. Due to the nature of the game, if a player does have an injury it is most likely a player will not be named in the initial team list.
AFL Twitter like for all fantasy sports is important to stay informed of news and reports. Suggested follows include @AFL @AFLcomau @superfooty (Largest News organisation in Australia) and of course for all things AFL DFS @rankingsDFS
DFR will cover all match previews with fantasy relevant content along with FREE statistical access to all AFL Fantasy Data including projections. You can access these in our Data Tools
Currently the Richmond Tigers are the defending premiers in 2019 and currently the favourites for the 2020 Premiership. Close behind in the markets are the Collingwood Magpies, West Coast Eagles and GWS (Greater Western Sydney) Giants.
Tips for AFL Daily Fantasy
Just like other sports around the world, there are few factors that need to be considered when building lineups.
Weather Conditions
All grounds apart from one are outdoors and can be influenced by the weather. Rain makes the ball harder to control which leads to lower scoreboards but higher tackling and ruck contests. If the game is wet or has the potential for rain during the game, look for your teams best tacklers as tackling will increase. Avoid Key forwards as marking a wet "footy" is difficult and leads to less opportunity to score. Wind can give teams an advantage if they have the wind behind their backs kicking towards goal. Kicking the ball into the wind is much harder and this leads to condensed scoring towards one end of the ground. The ground that does not have these weather factors is Marvel Stadium in Melbourne. The ground has a retractable roof and is shut for the majority of matches. However the pandemic has forced the ground to have the roof open for the foreseeable future.
Market Odds
The AFL is a big market for Australian "Punters" who look to wager on the numerous markets available. The Australian bookmakers provided various spread and over/under totals for matches, halves, quarters etc. But most importantly the larger bookmakers provide specific over/under fantasy totals on key fantasy players in fantasy markets. Teams that win games more often than not, gain more possessions and therefore gain more fantasy points. However I say often but there are cases that teams still win games without having more disposals than the opposition. You can look at the Round 3 cash between Richmond and Port Adelaide in 2019. Richmond won the game by 7 points but Port Adelaide outscored Richmond as a team by 170 fantasy points (394 possessions to 331). Teams that have large spreads against them indicate that the forwards for the underdogs nearly become fantasy irrelevant.
Interchange
Having a player rostered on the interchange is not an issue. A team has 80 interchanges per game to rotate through and players are constantly on and off the ground, especially in the midfield. One stat to keep an eye on is TOG% (Time on the ground). Similar to time on the court in the NBA, you only score points if you are on the field. Inexperienced players and backup Ruckman do experience lower TOG% comparison to their teammates. However with the change in amount of game time in 2020, the interchanges are more quicker than ever and players are spending more time on the ground.
Long Term Trends
The AFL is a high possession and high scoring fantasy game. Unlike fantasy games where key moments provide fantasy scoring, the game leads to a spread of points amongst teammates. Taking a Mark and kicking a Goal provides 12 fantasy points and is the highest fantasy scoring play in the game. However making a completed tackle, receiving a free kick from the umpire then kicking the ball down field gives you 8 fantasy points. Teams who score more goals, tackle more players and have a high possession rate are the fantasy targets. In 2019 Collingwood led the competition in possessions per game (401.4) and was the highest fantasy scoring team with an average of 1697 team points per game. Gold Coast only averaged 343 possessions per game with an average 1494 fantasy team points per game. Our free Data tools on Daily Fantasy Rankings go further into the data with positional breakdowns, along with correlation data and points against. It is a must for all AFL Fantasy players. Check them out here
Dual Position Players (DPP)
In the AFL the game has evolved that some players on the field have become a "utility". These could be a player in the midfield but can also play in the backline. A forward player that could also play in the ruck. We call these players Dual Position Players (DPP) and are similar in the NBA when a player can play a different position. These players can provide some flexibility in your fantasy lineups, especially when building heavy midfield teams.
Where to Spend your Salary Cap
Whilst this is not a hard or fast rule, investing in premium players in the midfield is a sound strategy in AFL DFS. Baring injury or a lack of form, the best players from each team also score the most fantasy points. Forwards have low floors but have higher ceilings due to their potential to score multiple goals in a game. Ruckman have safer floors and only the elite Ruckman can match and sometimes outscore midfielders. You will need to pay close attention to defenders as they fall into two categories: Key-Defender and Loose in Defence. Key-Defenders are guarding their forward opponent and are only involved in play if the ball is in the vicinity. Key-Defenders should be avoided as these players have low fantasy value. However Loose Defenders are looking to link with each other as they possess the ball from the defence and thus become fantasy relevant. Defenders can get on a chain of Kick and Marks which is known as a "Cheap Kick".
Keep an eye out for future articles from DFR on AFL Fantasy strategy as the season continues.