daily fantasy sports articles
Australian DFS Weekend Results - 25th April 2017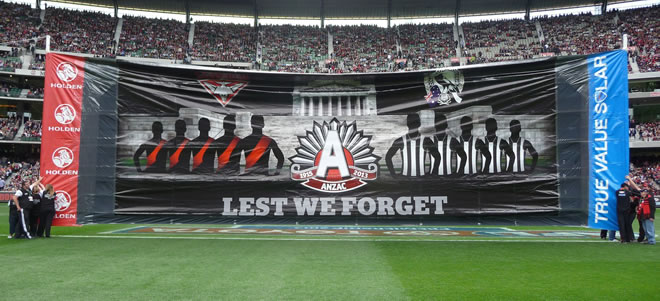 The ANZAC Day holiday provided a long weekend for many and a punting paradise for most with five days of football fun as well as some big racing action from around the country.
The big events also meant there were some big contests and healthy prize pools to be won around the Australian DFS websites. Let's take a quick look at some of the best results over the weekend.
DraftStars
DraftStars had multiple featured contests that swelled well beyond their advertised guarantees. On Friday night for the Power vs Blues, and on ANZAC Day for the Bombers vs Pies, the prize pool reached in excess of $30,000.
The major event of the weekend was the $50,000 Guaranteed Saturday Special with Julian "Womblecopter" Cohen chopping first place with "ZeroXP" as they both took home $7,250 apiece. It was an interesting sweat in the final quarter for the Cohen household with Julian's brother Hugh taking 3rd place in the same tournament for $2,750. DFR #1 ranked player jayk123 picked up $550 and more valuable rankings points for his 9th place finish.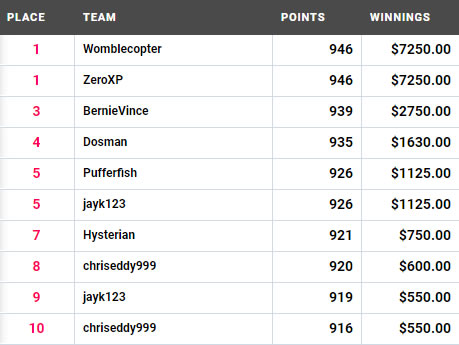 We'd see another interesting result in the $25,000 Guaranteed Sunday contest which also exceeded its prize pool guarantee with 2,007 entries taking part. Once again it would be "Tryanhit" who would clean up, with an identical lineup collecting a staggering 1,011 points to collect $3,281.25 for each entry. Another four entries inside the top 50 would ensure Tryanhit another profitable day on Draftstars and more DFR rankings points to maintain his position as the #2 ranked player on Draftstars.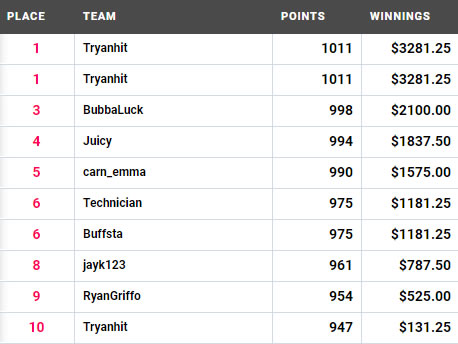 SportChamps
The weekend AFL and NRL tournaments are proving popular over at SportChamps with buy-ins ranging from $2 up to $50 every round. This weekend we saw a remarkable triple by "WillyB". A man with a keen eye for the AFL, WillyB collected victories in the $10, $25 and the $50 AFL tournaments for a combined collect of $608.13 in prize money. WillyB also collected enough DFR ranking points to take over the lead in the Sportchamps AFL rankings.

PlayON
The repeat cashes kept coming with the major NBA tournaments at PlayON producing arguably the most extraordinary result of the weekend. During the week PlayON announced a partnership with the NBA and to celebrate, increased their daily prize pools. The player to cash in on that news was "M&M" who won two of the $1,000 Guaranteed NBA tournaments, including one where he cashed in four of the top five places to scoop 90% of the prize pool himself!
There are plenty of overlays on PlayON at the moment with M&M cleaning up on the NBA and Puttz dominating the Golf to see these two players hold the top DFR ranking spots for PlayON. Now is the time to create a PlayON account and cash in on the value!