daily fantasy sports articles
Australian DFS Weekend Results – 4th March 2019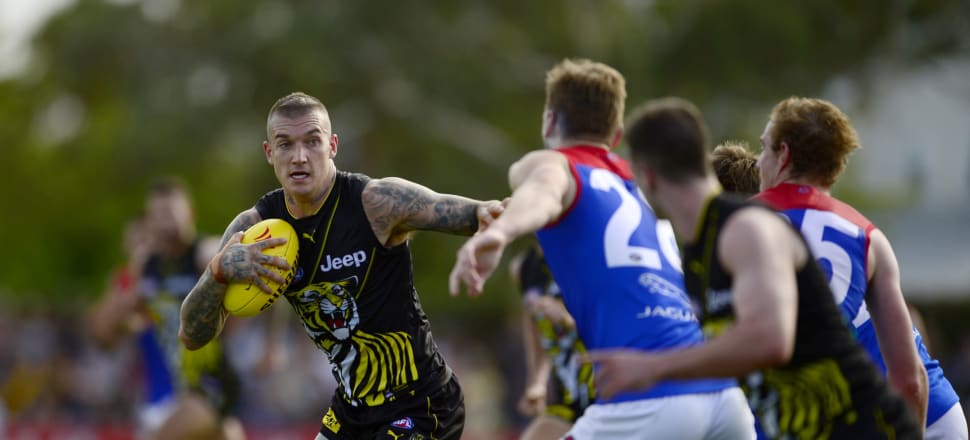 Another weekend of DFS is in the books and there was a lot of action in the NBA as two massive jackpots went off on Saturday, while AFL JLT also got underway.
We recap all the winners from the biggest competitions across the weekend.
SportChamps
SportChamps was again loaded with racing tournaments to choose from over the weekend headlined by the Saturday Metro Tournaments with two massive single rebuy contests offering prize pools at $20,000 and $10,000. Pot4556 took home first place and $3,720.50 in the $20K tournament, while in the $10K tournament it was MossG7 who finished at the top of the leader board winning $1,690.79.
TopBetta
TopBetta held racing contests throughout the weekend headlined as usual by their Saturday Metro Gallops events featuring contests with a $3.6K price pool and another with a pool of $1.8K. The $3.6K contest was won by eddie55 who collected $2,190. The $1.8K contest were won by the 38th ranked DFR member nicpj365 who won $744.
Draftstars
The biggest news on Draftstars this weekend was THE BIG 400 target contest went off with three players topping the 400 point mark and taking a share in the $24,910.40 jackpot. Congratulations to jbarrett16, BenCov and Clangers (who got two shares) for each winning a share. You can read about all the details of how it went down, including interviews with some of the winners here.

In the regular NBA $15,000+ contest it was no surprise to see the same three players atop the leader board, with the 6th ranked DFR member jbarrett16 taking home first place with a staggering score of 422.25 points to add a further $1,158.07 to his winnings for the day.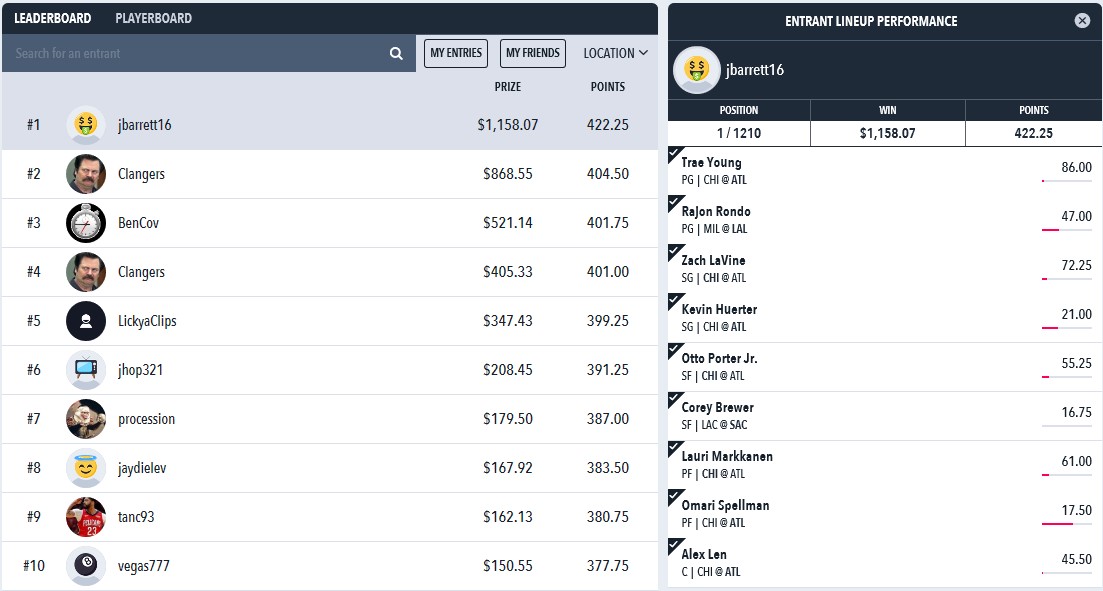 On Sunday it was wiznation83 getting the chocolates to collect the first place price of $1,140.69, holding off the 99th ranked DFR member robmannus who had two entries finish third and DFR's own NBA guru and 15th ranked member j2thep in 5th.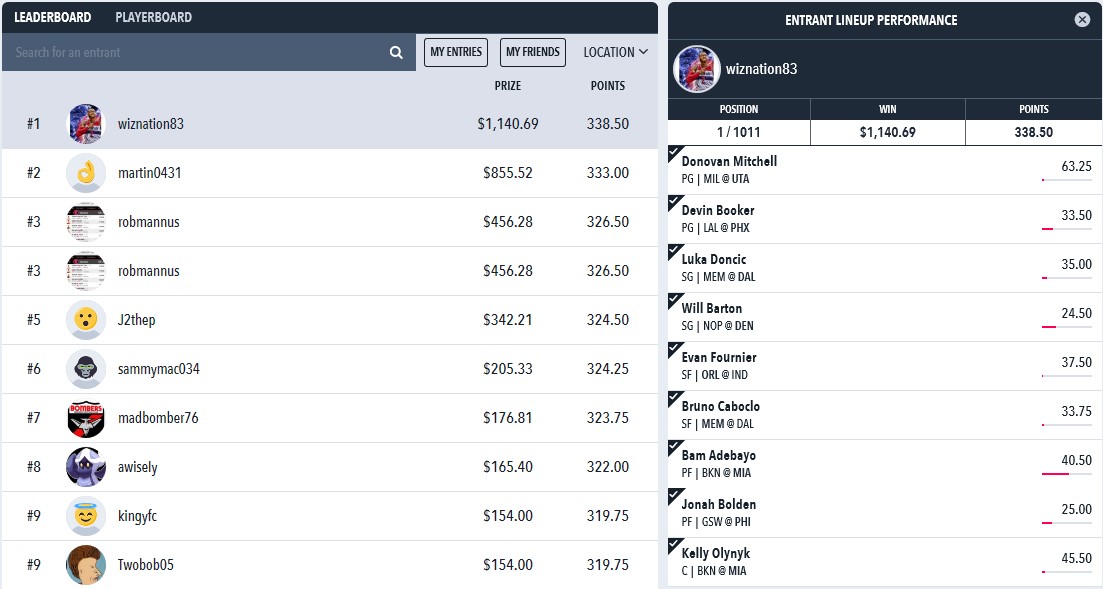 AFL JLT got underway this weekend with several $2,000 single game competitions being run at Draftstars. Former number ranked DFR member turned DraftKings extraordinaire jayk123 was back in the thick of it with three top ten finishes, including first place, of the AFL JLT $2,000+ Giants v Swans contest.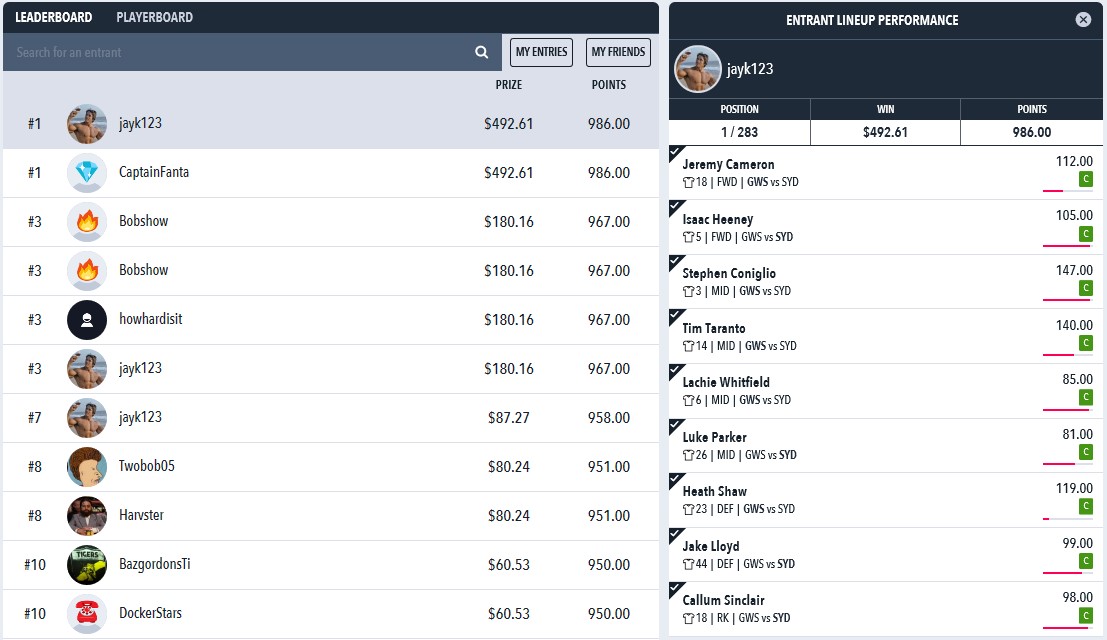 In AFLW $2,000+ Saturday contest it was johnsblueboy who took home first place and the $277.79 prize.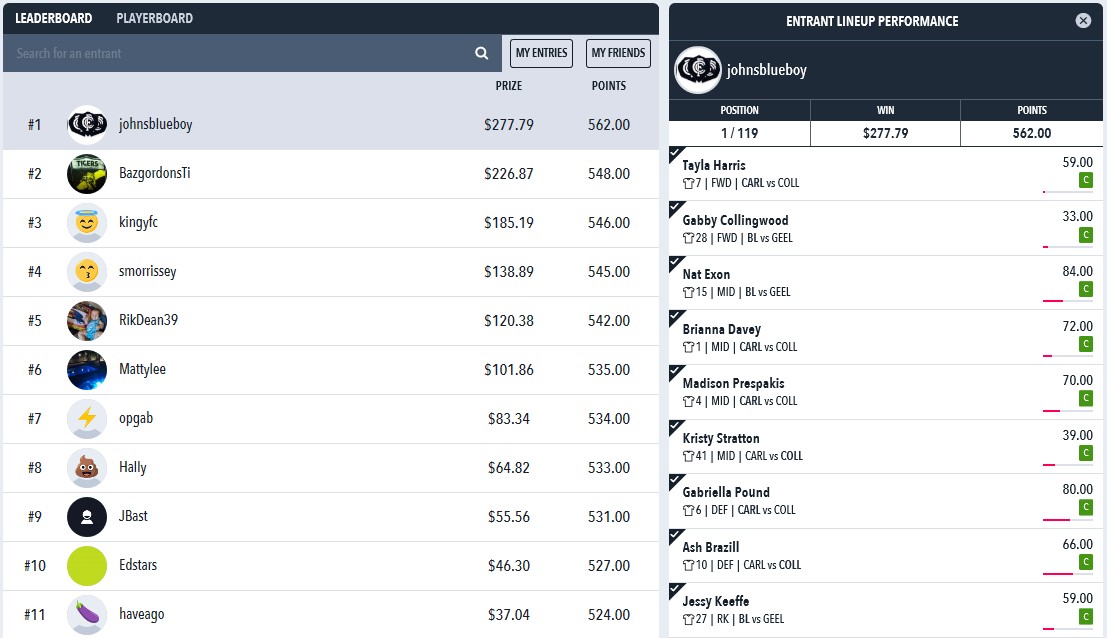 Moneyball
Moneyball also had their massive target go down on Saturday as well with Beavoir notching up an unbelievable 425.3 points to get there by 0.3 of a point and take home the massive $87,852 jackpot all to himself!! Once again you can read up on everything that happened with the targets falling here.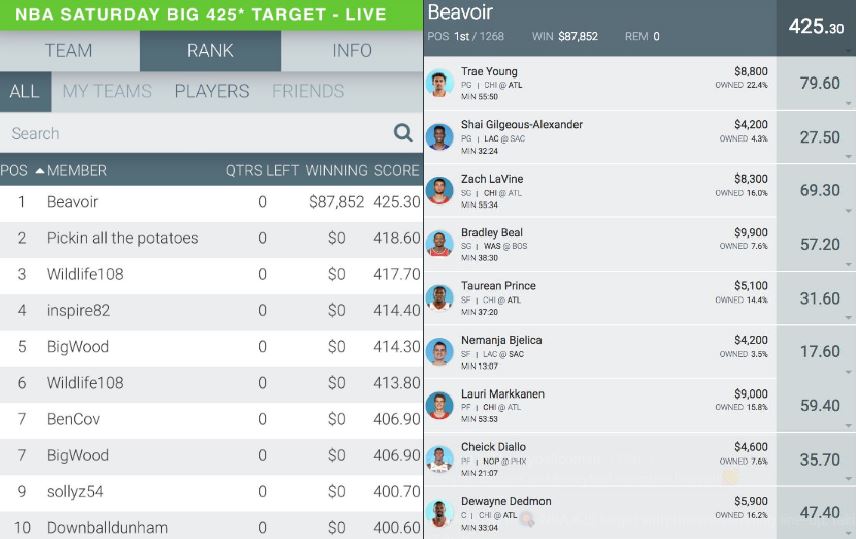 Moneyball also ran their two major NBA GPP's on Saturday and Sunday with $6K and $5K prize pools respectively. Saturday's was won by BenCov who finished 1st and 5th collecting a total of $965 in winnings to go along with his Draftstars target kitty. Talk about having a day out!

Sunday was taken down by Boo10 who collected $650 for first place.

Congrats to all this weekend's winners and remember DFS doesn't rest on week days with contests running across the platforms every day!
Always remember to gamble responsibly. When the fun stops, stop. If gambling is having a negative impact on your life, seek support at Gambling Help Online. 18+ only.