daily fantasy sports articles
NBA Target Jackpots Tumble on NBA Saturday!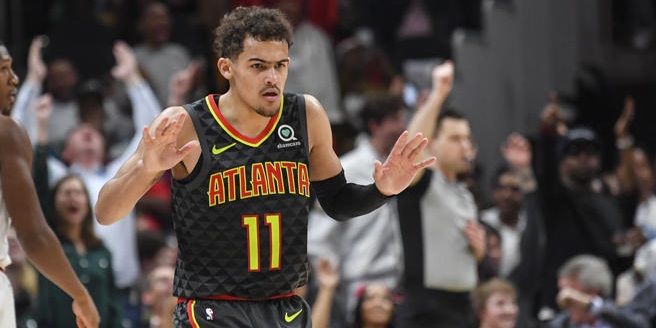 In an amazing turn of events in the NBA on Saturday the 2nd of March, the Australian DFS community was astonished when not one but both Moneyball and Draftstars target contests were won.
For a small $1.00 entry the prize was only won if you achieved a total score above 400 in Draftstars and 425 in Moneyball. With the difficulty to obtain this score the Moneyball jackpot grew to an enormous amount of money - $87,852 to exact. The Draftstars target was only recently introduced and despite being won previously, had quickly grown to $24,910.
In Jesse Penfold's preview of the 7-game slate, all games had exceptionally high game totals. Jesse did have a take on the Atlanta vs Chicago matchup:
"Chicago have top pace up matchup on the slate going against the Atlanta Hawks who have played at the fastest pace in the league this season. This is a sneakier game to attack as it doesn't have a game total that is popping on this slate, however with a line of just 2 points it should remain close and both teams are ranked in the bottom 6 in the league in defensive efficiency."
Well this game stayed close. Really close. So much so that the game required 4 periods of overtime to separate the two "under-performing" teams. The result finally went to the Bulls 168-161.
With career best performances from Trae Young and Zach LaVine along with extreme minutes from players from both teams, line-ups with stacks from these teams were in the box seat for a serious score.
The biggest celebration occurred on Moneyball where Beavoir took down the entire $87,852 jackpot amount by himself, making him the single biggest prize winner in Australian DFS history! The team at DFR have put the call out on Twitter to find about our biggest prize winner but alas at the time of publication we are unable to track him/her down. Sources (well the Moneyball chat box) indicate he or she has been playing the target for quite some time but hit the target with a single entry. Regardless of the mystery, congratulations go to Beavoir on the unbelievable result!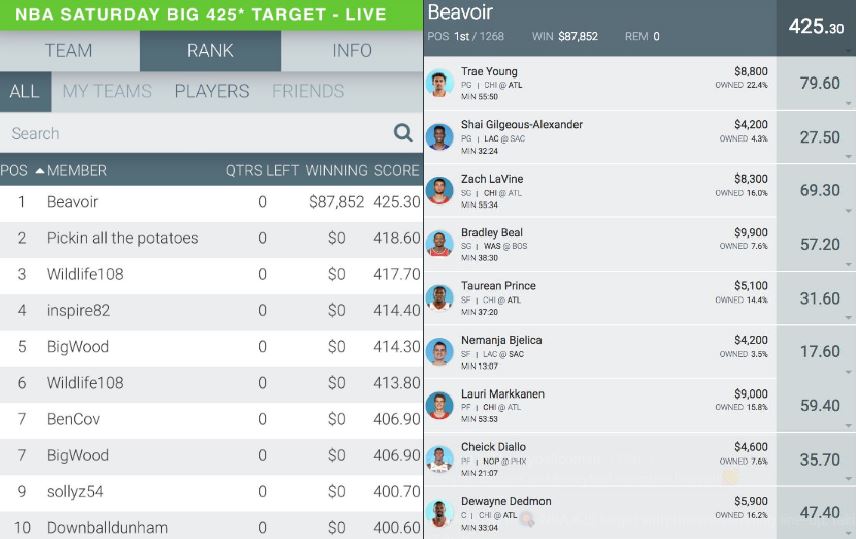 For DFR members jbarrett16 (6th overall), Clangers (14th overall) and BenCov, they had the big pieces from this game in the Draftstars Target and that led them to splitting the jackpot four ways - although Clangers did gorge himself on a couple of pieces of $6,227.60 pie!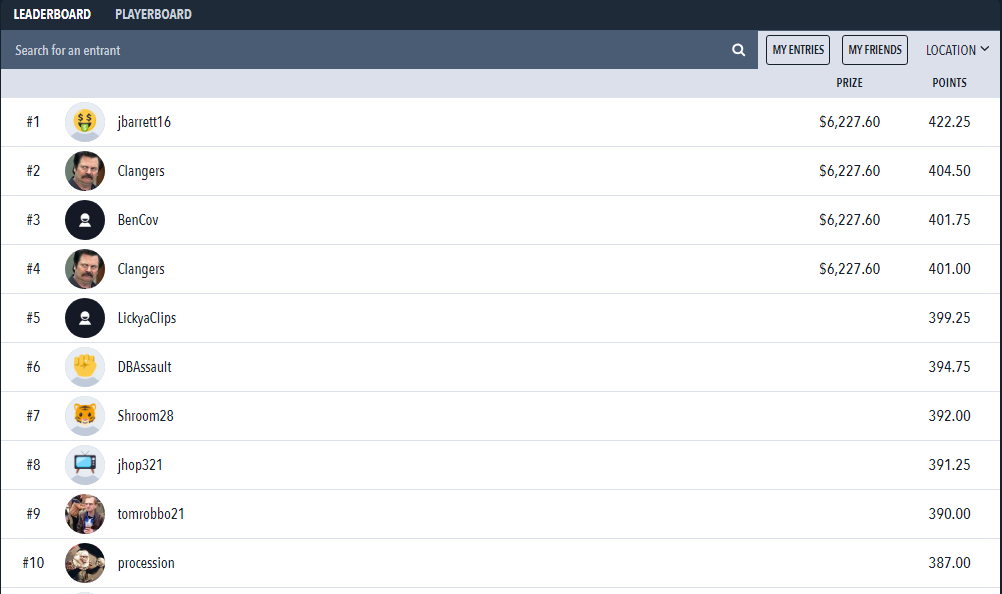 I caught up with BenCov after his big results on both sites - at the same time he won a share of the Draftstars Target, he was also winning the $15 on Moneyball for the first time! Based in Hobart, Ben has been playing DFS for the past 3 years. Whilst a very keen AFL fantasy player, Ben has put a bit of time into NBA over the summer. I asked Ben about yesterday's epic sweat.
And to top that managed to hit the @DraftstarsAU target! pic.twitter.com/11yfaA0Ahp

— Ben Covington (@_BenCov) March 2, 2019
"Yesterday was a funny day, I initially wasn't even going to put any teams in. I had a flight scheduled to leave at 11:20am and with lockout at 11:40am, I knew I was breaking the cardinal rule of not being active for the frantic few minutes before the first game. However, I had some time to kill and figured I'd put in a game stack team just for fun really. The Bulls/Hawks contest was my pick based on the starting line-ups getting announced already since it was a 11:40am game and I could fit most of the starting 5's in my team because neither team had any top salary guys. I only had the single line-up on Draftstars but decided to go two on Moneyball.
Since I was on a plane I didn't get to check scores at all until half time in the Bulls/Hawks game. My team was struggling a lot at this point and I kind of left it alone for a while. I checked the scores again with a few minutes left in the final quarter and realised the game was close. Then the OT's kept on coming! I was more interested in my Moneyball line-up and was initially disappointed because I fell short of the target score of 425 on there. It wasn't until I checked my Draftstars team towards the end of the day that I realised Shamet was going alright and Bledsloe was on fire. The equation was I ended up needing 9 points by Bledsloe in the final quarter. I was very nervous and flicked on the live stream of the game on the phone. I got very lucky with a couple of 3-point plays by Bledsloe and he hit a 3 pointer with 27 seconds left to just put me over the total!"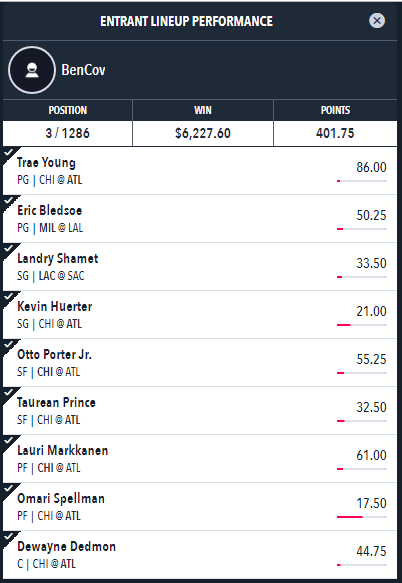 What a sweat and a great result, thank you for sharing that experience Ben!
I also caught up with jbarrett16, the young gun from Wodonga, after he smashed the 400 target on the Draftstars site. Jbarrett16 started out on the Sports Fantasy Pro and cleaned up there in BBL contests throughout various seasons before turning his attention to Moneyball and Draftstars. More akin to AFL, NRL and Cricket, jbarret16 turned his attention to the NBA and importantly the target contests. I asked about jbarrett16's big Saturday.
I'd been going big after the targets for a while now due to the massive prize pool. I had 8 entries in each on Saturday. Funnily enough my first entry was the winner. The Atlanta/Chicago game stood out to me because really when it comes to defence they are both probably still conceding 100+ points against an everyday Monday night social team. Didn't expect massive OT but thought a 125-124 score line was possible so knew there'd be plenty of points around that game. Followed my team all day and at about 2 o'clock when the game went to OT I started to think I may have a 1% chance here.
From then I was glued to my phone, when that game finally finished I needed another 30 points between Rondo and Brewer. Rondo started well but then I was stuck on the 394 mark for about 15 minutes with Brewer resembling me on a footy field. Doing a whole lot of running but couldn't get anywhere near the ball. Then Rondo copped one in the face and thought for a brief moment he might go off with a broken nose, luckily, he was fine. After what seemed like forever Brewer picked up a couple rebounds and then to get me over the 400 he grabbed an offensive rebound and put in the layup. Once I hit 405 I relaxed and checked my occasionally to see how many would share in the prize pool.
What a great result and congratulations on your big win.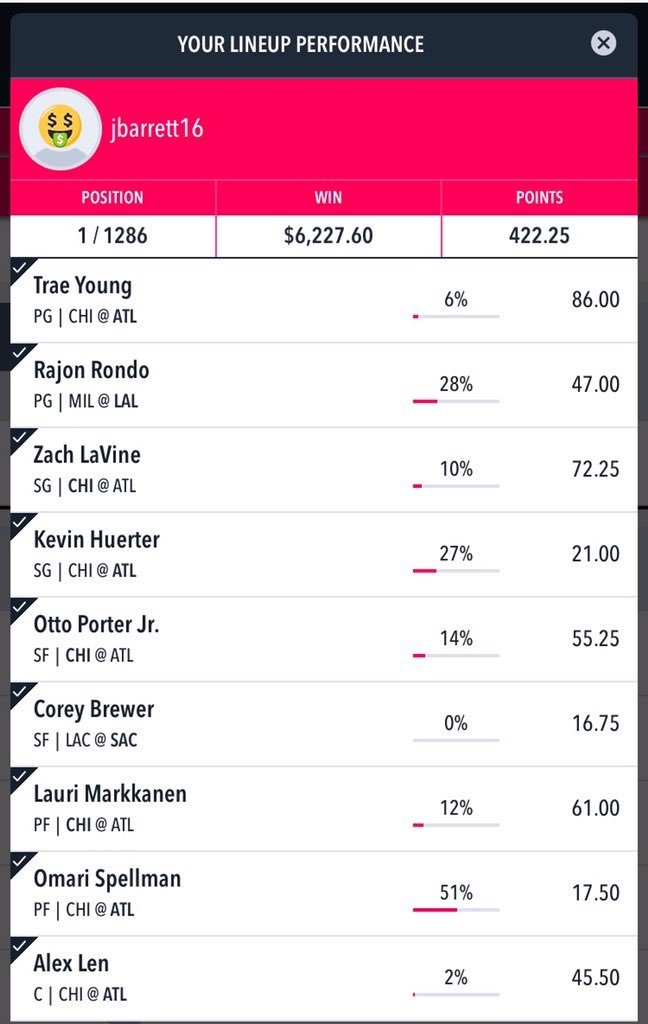 DFS regular Clangers took down half of the jackpot with his two teams sneaking over the 400 mark in another great result for one of the country's leading players. After making contact with him he mentioned he was very happy with the win but didn't have much more to add - you can read more about his background in our article earlier this year when he qualified for the Draftstars Biggest Bash!

Draftstars have reset their Target back at $5,000 for a $1 entry, whilst the good folks at Moneyball are yet to relaunch their Target contest.
On behalf of the team at DFR congratulations to all the major winners in the Target contests. Remember to use our NBA resources page on the Daily Fantasy Rankings site whilst keeping up to date with the previews from our NBA writer Jesse Penfold and you could be the next one to jag a Target Jackpot!
Always remember to gamble responsibly. When the fun stops, stop. If gambling is having a negative impact on your life, seek support at Gambling Help Online. 18+ only.