daily fantasy sports articles
2018-19 NBA Daily Fantasy Tips for Saturday 2nd March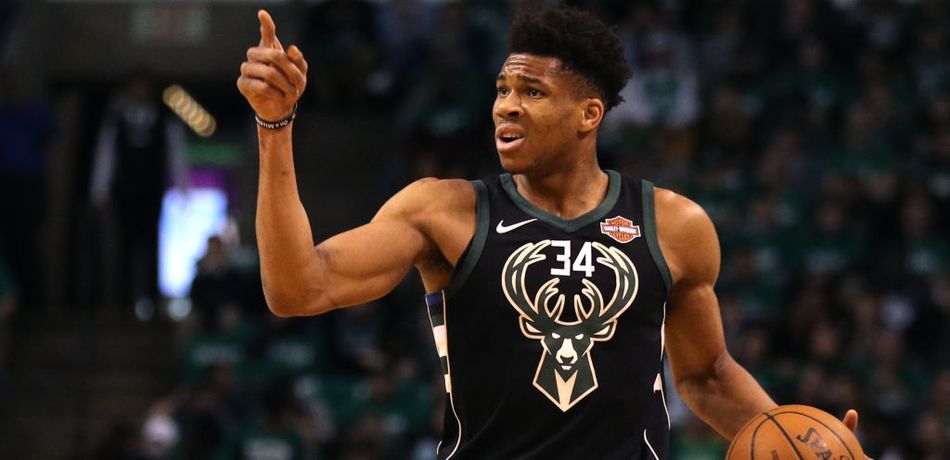 NBA Friday (Saturday AEST) brings perfect 7 game slate for us to attach as we hit the home stretch of the regular season and things start to get totally unhinged! The usual major DFS tournaments are on offer:
We have broken down the matchups and highlighted the key plays to help you build winning lineups. For more insight into how to utilise our game breakdown data check out our NBA DFS Training Camp Series:
Part 1 – Betting Lines and Totals
Part 2 – Matchup Analysis – Pace and Defense vs Position
Part 3 – Key Statistics in Daily Fantasy Basketball
Part 4 – Trade Analysis – Breaking Down the Jimmy Butler Trade
Part 5 – DraftKings Sharpshooter Winning Lineup Recap
Part 6 – Adjusting for Line-up News
Have you seen our new NBA DFS Cheat Sheets? We have added even more information for you to see at a glance, including pace numbers, last 5 scores per player and a new Slate Overview section, which brings you projected pace, projected fantasy score totals and Vegas lines and totals for every team on the slate. The perfect accompaniment to our regular previews and a great starting place for the days we don't cover!
GAME BREAKDOWN

Despite only being a seven game slate there is no shortage of juicy games from a DFS perspective. The highest game total tops out at a whopping 240 points between the Clippers and Kings, while there are four other games with totals 230 or higher.
The lowest game total on the slate is still 226.5 points between Portland and Toronto. That total does feel a little high to me, however, and that game is likely to be one that I ignore.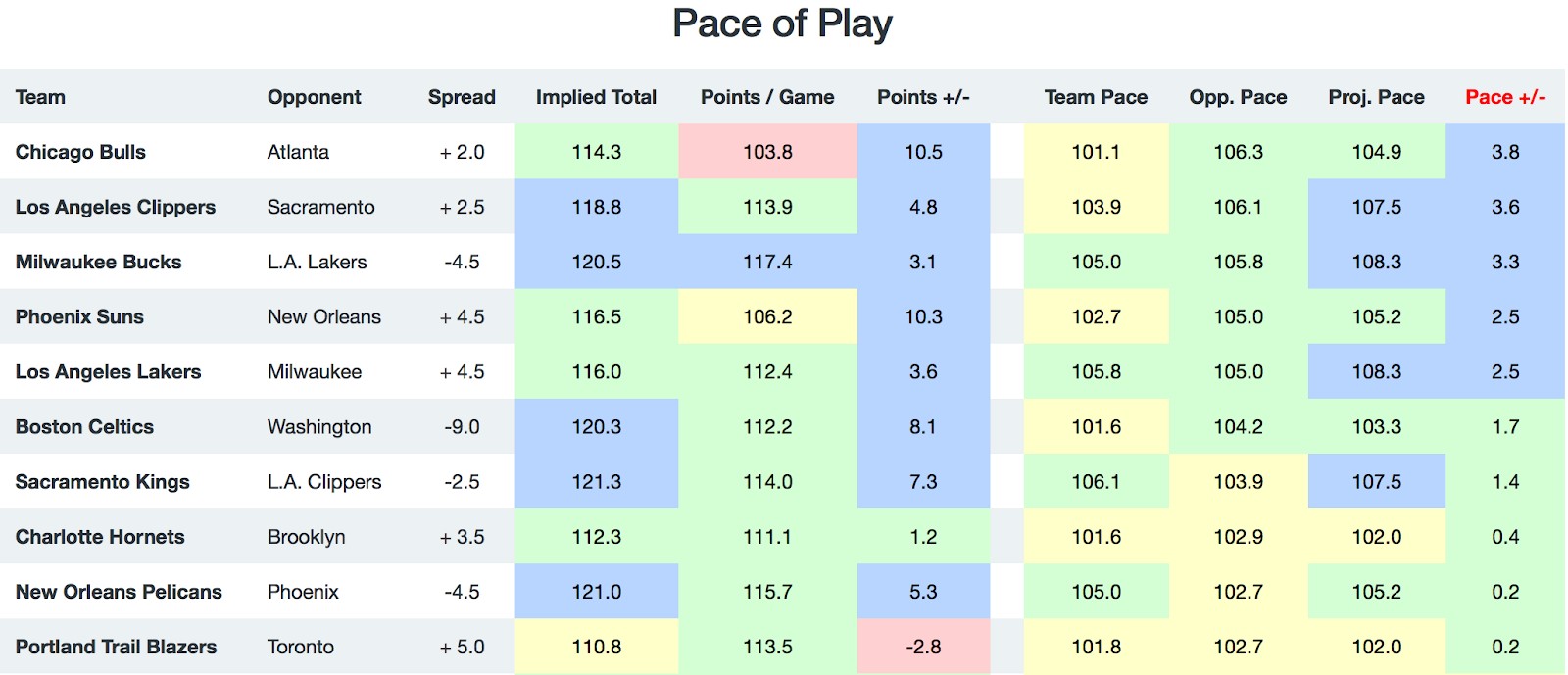 Chicago have top pace up matchup on the slate going against the Atlanta Hawks who have played at the fastest pace in the league this season. This is a sneakier game to attack as it doesn't have a game total that is popping on this slate, however with a line of just 2 points it should remain close and both teams are ranked in the bottom 6 in the league in defensive efficiency.
Phoenix holds the second highest implied point differential compared to their season average at 10.3 points making them a strong target in a pace up contest against New Orleans.
Injury News
Major injury news that could impact this slate includes:
Sacramento
Marvin Bagley has been diagnosed with a left knee sprain and will be re-evaluated in 1-2 weeks. Given how Bagley's role has changed over the season looking at numbers without him is extremely noisy. But it is worth monitoring who will be taking the starting role that Bagley had occupied on and off recently. Players that should see a boost are Harrison Barnes (DS $9,690, DK $5,100), Bogdan Bogdanovic (DS $12,000, DK $5,400) and sneakily Harry Giles (DS $7,380, DK $3,100).

VALUE
Remember to monitor injury news, particular those uncertainties noted above, as tip off gets closer as further value should open up.
Jaylen Brown (DS $9,120, DK $4,500) is worth highlighting as a value option as he has recently moved into the closing lineups. As a result of his positive play this should result in an uptick in minutes, which we saw last game against Portland where he played 30 minutes. Over his last four games Brown has averaged 28 fantasy points from 24.4 minutes of playing time and on this slate matches up against Washington who have given up the third most points to small forwards over the last 10 games.

Kevin Huerter (DS $7,290, DK $3,500) is just simply priced way too far down for a player in line for 20-30 minutes and bringing over 40 point upside. In his last game he managed 20 fantasy points despite going just 2/9 from the floor, and as little as six games ago he was priced at over $5K on DraftKings.
MID-PRICED
Bogdan Bogdanovic (DS $12,000, DK $5,400) is the player I expect to get the biggest boost from Bagley's injury. While this might not be the most obvious replacement he is likely to remain in the starting lineup (as he was last game where he returned 58 fantasy points from 43 minutes). But he should also get more opportunity with the second units, particularly if he comes off the bench as Bagley had been soaking up plenty of usage recently. The Kings are in the highest game total fo the night at a whopping 240 points and the Clippers have given up the 5th most fantasy points in the league over the last 10 games.
Brook Lopez (DS $10,720, DK $5,000) draws one of the best matchups in the league on this slate for his position with the Lakers giving up the 4th most points to centres this season. In addition he brings a very strong revenge narrative after being let go by the Lakers last season.
PREMIUM
Giannis Antetokounmpo (DS $22,720, DK $11,600) is worth highlighting here if only to note that in his last game he was on a minutes restriction after returning from a brief injury. Monitor news in regards to this as if he is back to a full workload he is my favourite top flight premium on this slate. In a matchup against Lebron on national TV I expect Giannis will be ready to put on all out assault. The Lakers have been 26th in defensive efficiency over the last 15 games and given up the 5th most fantasy points to power forwards over that time.
Jrue Holiday (DS $16,040, DK $7,900) / Julius Randle (DS $15,020, DK $8,000) look to be under priced given that Davis is only playing around 20 minutes per game at the moment. Holiday in particular is the safest cash play in this price you will find at the moment while Randle bring tournament upside. On this slate they matchup against the Phoenix Suns who have given up the most fantasy points in the league over the last 10 games.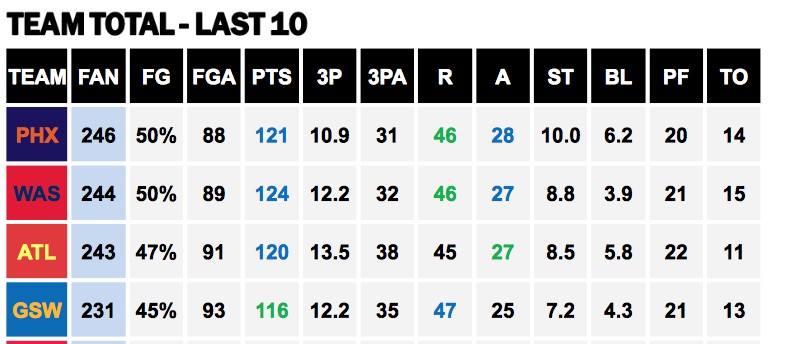 Kemba Walker (DS $15,310, DK $8,200) looks nicely priced for this uptempo matchup against Brooklyn who have played at the 4th fastest pace in the league over the last 15 games. Both teams are vying for a playoff position and Brooklyn have given up the 9th most fantasy points to point guards over the last 10 games.
Data provided by Notorious of RotoGrinders and Daily Fantasy Rankings NBA Resources

Always remember to gamble responsibly. When the fun stops, stop. If gambling is having a negative impact on your life, seek support at Gambling Help Online. 18+ only.