daily fantasy sports articles
NBA DFS Training Camp – Winning The DraftKings Sharpshooter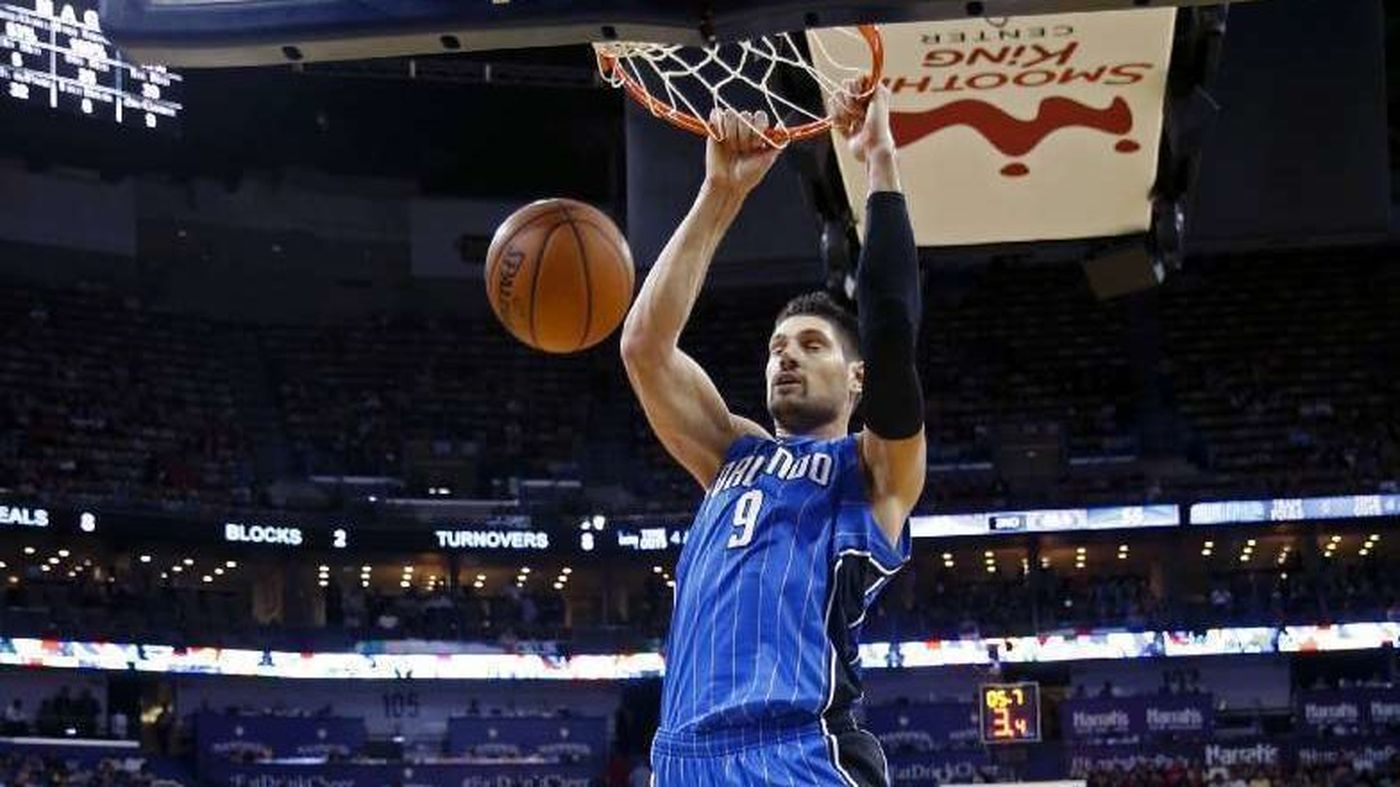 I started playing on the DraftKings platform when the NBA season kicked off this year. The first month I had been peppering a number of contests able to make a profit but no major results until yesterday when I finished first out of 39,635 entrants in the $100k NBA Sharpshooter. Unfortunately another player entered the same team as myself meaning we split the 1st and 2nd placed dividends winning $7.5K USD each (approx. $10k AUD):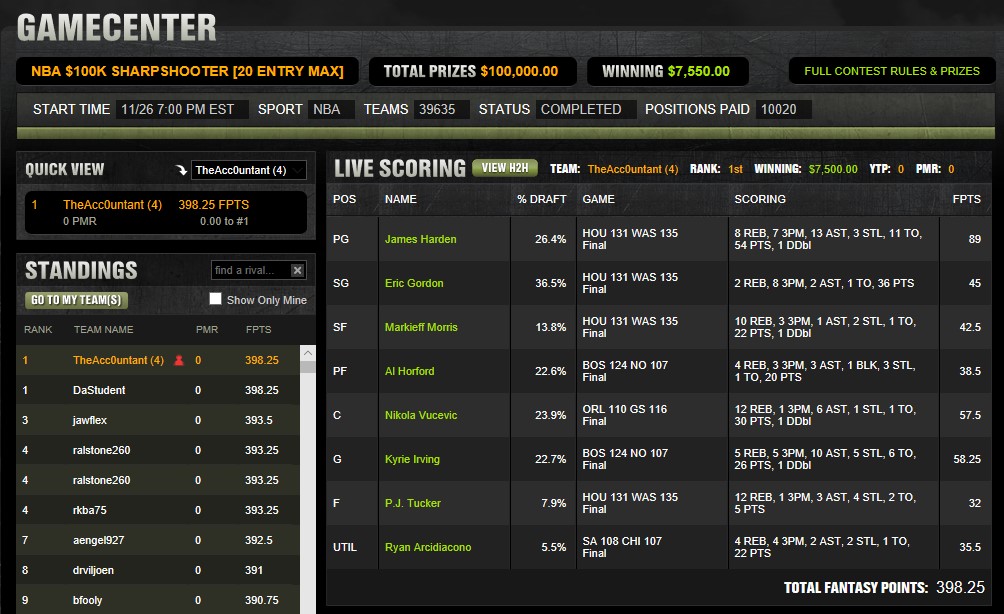 In addition to providing previews for the Tuesday, Thursday and Saturday NBA slates I have been writing our NBA DFS Training Camp series for the site this season, covering so far:
Part 1 – Betting Lines and Totals
Part 2 – Matchup Analysis – Pace and Defense vs Position
Part 3 – Key Statistics in Daily Fantasy Basketball
Part 4 – Trade Analysis – Breaking Down the Jimmy Butler Trade
So I thought this would offer a great opportunity to review my winning side, linking it back to the strategic concepts I have covered above.
CONTEST SELECTION
No matter what site you are playing on understanding the type of contests you are entering and building a team accordingly is going to be critical to your success. This is never truer than it is on DraftKings where there are an endless number of contest options with different entry limits and pools stretching out to the 10s of thousands.
During my first month on DraftKings I experimented with a variety of contests from the beginner H2Hs at the start to the odd entry in the big 400-500K daily tournaments. But where I landed was focusing on the bigger single entry contests, such as the $40K Pick and Roll, and the limited max entry tournaments such as the $100K Sharpshooter (20 Max entry), $40K And-One (20 Max entry) and other 3 Max entry tournaments.
My game style has typically been more suited to tournaments but these competitions enabled me to compete on a fair level as I am able to max out the entry numbers. Once I had worked out which competitions to play that became my daily routine for NBA entries.
TEAM SELECTION BREAKDOWN
As I have referenced in Part 1 and Part 2 of my strategy articles I start off my analysis reviewing the games on the slate for attractive matchups

The two teams I was absolutely in love with on this slate were the Houston Rockets and the Boston Celtics. Houston were playing the Wizards who are 6th in pace this season but also 2nd last in defensive efficiency, while the Celtics had the biggest pace up matchup of the night against the New Orleans Pelicans. Both teams are also 1 and 2 in most points conceded to point guards this year.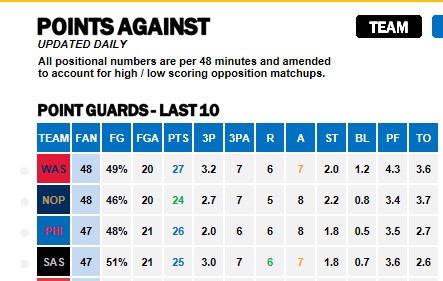 From this I had marked Kyrie Irving as a play, and also James Harden but was waiting on news regarding Chris Paul's injury status. As I wrote in my preview for the slate:
"Furthermore Paul is still under an injury cloud, if he was to miss this game Harden would almost become a lock and load play given he has averaged 6 points per game more and had a 5% usage bump when Paul has been out this year."
When he was confirmed out James Harden and Eric Gordon (who also received a significant usage bump with Paul out of the line-up) become my most popular targets and I didn't have a rostered team that day without at least one of these two players in it. This led to me being significantly over the field on ownership as while they were two of the more popular plays on the slate they were only 26.4% and 36.5% owned respectively.
Markieff Morris was another of my popular plays on this slate. He can be up and down at times, especially coming off the bench but with his price all the way down to $4,400 he brought the possibility of 10x value that can win you a GPP. He was in a prime position with Dwight Howard out for this game as in games Dwight has missed this season he had averaged 12 more fantasy points per game in 2.4 more minutes and received a 2% usage bump, which you can see on our player out tool: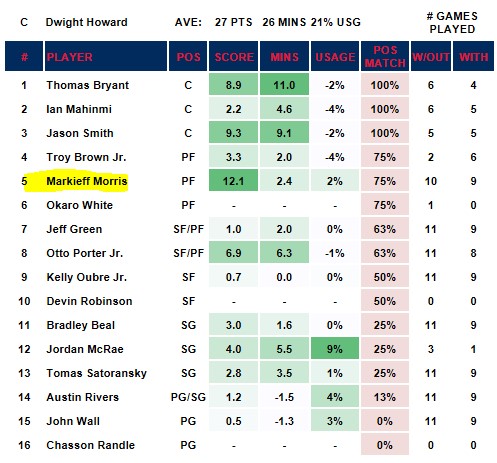 Al Horford was the final player from this team who I held heavy ownership on. His price had dipped all the way down to $5,400 with an average of 30 fantasy points on the season. He brought over 40 point upside and was playing in a pace up matchup against a team that concedes the 6th most assists to centres in the league this year (which could have possibly benefited Horford who has a reasonable playmaking responsibility for the Celtics). He didn't provide a massive return on his price but was solid enough.
Nikola Vucevic was a player I liked enough to roster in a couple of teams but didn't want heavy exposure to. His price weirdly went down after a 71 fantasy point outing the night before against the Lakers. He had typically performed poorly against the Golden State Warriors but his major flaw in these matchups had been not staying on the court as a result of the Warriors playing small and Vucvevic struggling to help on ball screens for Steph Curry. In this game neither Steph Curry nor the Warriors small ball centre Draymond Green were playing. In this situation the Warriors play a much slower tempo which suits Vucevic and they have no matchup for him defensively which made him worth a flier in a few tournament teams.
The final two roster spots were effectively GPP punt plays who I was rotating through my line-ups, but still not without reason:
PJ Tucker benefited from the same matchup that was noted for Harden and Gordon above. He is also playing 36 minutes a game this year, one of the biggest drivers of fantasy point production is minutes played as discussed in the Part 3 – Key Statistics in Daily Fantasy Basketball strategy article. At $3,900 he was far too cheap for someone getting that level of game time.
Ryan Arcidiacono was a similar play in that he was priced even cheaper at $3,600 but playing over 33 minutes per game in his last 6 matches as the starting point guard for the Chicago Bulls. Again he had demonstrated an upside of high 27 fantasy points already which made him a solid value play at this price.
Both of these last two plays I landed at low ownership as well (under 10%) which was helpful given there was no smash value play on the slate.
That is essentially the main process I went through in building the roster. The core concepts are the same ones that I have outlined in the strategy articles and the same points I discuss in my slate previews. This is not to say applying this means tomorrow you will automatically win a large GPP. You might have to play the Ryan Arcidiacono's of the world 5 gut wrenching times for no return where you are questioning your sanity of decision making. But if you apply these principals and develop them into your own process you apply consistently they will make you a better daily fantasy NBA player.
Data provided by Notorious of RotoGrinders and Daily Fantasy Rankings NBA Resources

Always remember to gamble responsibly. When the fun stops, stop. If gambling is having a negative impact on your life, seek support at Gambling Help Online. 18+ only.