daily fantasy sports articles
NBA DFS Training Camp – Breaking Down the Jimmy Butler Trade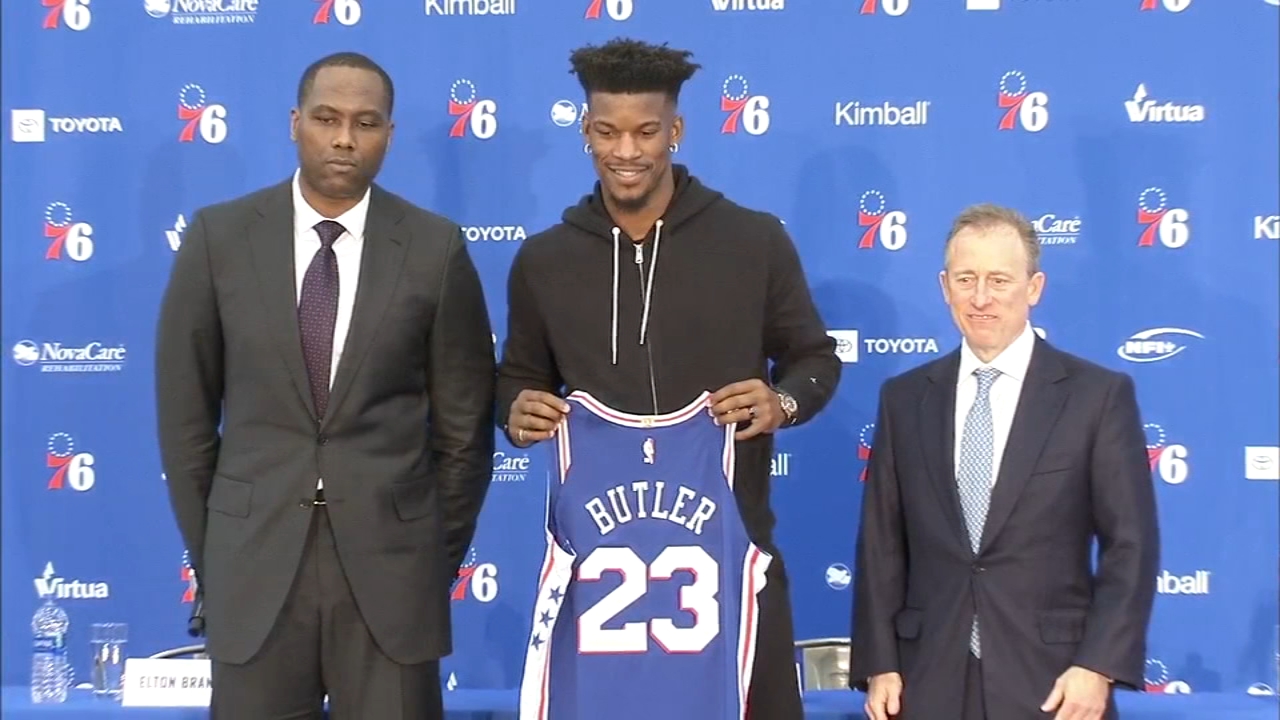 Each Tuesday we are releasing a new part to our NBA DFS Training Camp series that covers the key strategies and approaches to building successful NBA DFS lineups. The links to each part will be included below to ensure you don't miss anything and be sure to check back each Tuesday or stay tuned to our Twitter page to catch the next piece in the series!
Part 1 – Betting Lines and Totals
Part 2 – Matchup Analysis – Pace and Defense vs Position
Part 3 – Key Statistics in Daily Fantasy Basketball
Today we are going to take a break from the series and take the opportunity to put what we have learnt into use. On Saturday news came out that the Jimmy Butler vs Minnesota standoff had come to an end with Butler being traded to the Philadelphia 76ers.
The deal:

For daily fantasy trades will typically have two major impacts:
1. Trade purgatory
The first will be prior to the trade being officially cleared and players suiting up for their new teams, the traded players are essentially in trade purgatory with no one to play for. This is a very short term situation that typically might last 1-2 games, however for daily fantasy we are playing on single day slates so understanding the impact for those 1-2 games will be critical to being successful on those days.
To assess the impact of the time period you will need to understand the roles of the players in the trade, including both their positions and the key statistics we discussed in last week's edition of the training camp series – minutes and usage:

From this we can see that Minnesota will need to replace 36 minutes and 22.3% usage at the wing position while the trade is going through, while Philadelphia will need to replace 33 minutes at the wing position and another 30 at the power forward position.
This time and usage will be replaced though current starters picking up a greater amount of usage and through reserves moving into the starting line-up and/or receiving more minutes off the bench.
In Minnesota's case for example, using an on/off tool like the one provided by Fantasy Boss here on Daily Fantasy Rankings or CourtIQ at Rotogrinders would tell you that Derrick Rose, Jeff Teague and Karl-Anthony Towns are the three biggest usage beneficiaries with Jimmy Butler off the court this season, all receiving over a 2.9% usage boost. So while this trade is still going through these three players would be elite players to roster.
Meanwhile when Butler has missed games this season Derrick Rose and Josh Okogie have typically received the biggest increase in minutes per game, making them both attractive options before the new acquisitions arrive.
Philadelphia on the other hand is a little more complicated. Losing two big minute starters throws a lot more unknown into the mix. The on/off tools will tell you that Markelle Fultz has been the biggest beneficiary from a usage perspective with those two off the court, however given his role on the team is unlikely to be receiving the minutes bump. Rather the Sixers would need to cover wing and power forward positions through a combination of T.J McConnell, Landry Shamet and Mike Muscala. This is where monitoring the news from the team, understanding the rotations and looking at the starting line-ups is key for playing daily fantasy while trades are yet to be finalised.

2. Post Trade
The second period of time to take advantage off when a trade occurs is post trade when players are now suiting up for their new teams. Typically all players pricing, including those on the teams involved in the trade and the actual players traded will remain consistent with what their past pricing has been, based on their recent history. The only difference is that past situation no longer exists. So we need to use our knowledge of the new team setup to take advantage of any value that has arisen in the new line-ups and avoid those players who are now overpriced:
Philadelphia
As discussed above they will be replacing over 60 minutes of minutes. Butler will soak up a touch over half of these, so we shouldn't expect his minutes to change a great deal. Usage wise he will be playing alongside usage monster Joel Embiid (30.9%) as well as Ben Simmons (21.0%), however given the Sixers are losing a combined 30+% from their two starters and the fact that Butler's usage had been a modest 22.3% this season it wouldn't appear like he should lose much in the way of touches. If anything beware of Butler's arrival reducing Embiid or Simmons' usage.
Furthermore, Minnesota and Philadelphia play at a similar pace of around 103 possessions so it is unlikely that there will be any further possessions for Butler to take advantage of in his new team.
Philadelphia will also have to fill another starter position, which at this stage will likely be taken by Wilson Chandler. The rotation will be in flux as well with Philadelphia trying to find more shooting with Butler (not a strong 3 point shooter or spot up shooter) taking over Covington's minutes. This should open up more time for J.J. Reddick, Landry Shamet and Mike Muscala. If you can just on these players early before their price rises you should be able to take advantage of post trade value.
Minnesota
The Timberwolves will have to fit two new players into their roster. As mentioned earlier the loss of Butler should open up significant usage for existing players, particularly Towns given that the two players acquired do not have high usage rates in Covington and Saric.
In addition, the Wolves only traded out one starter so either Covington or Saric's minutes are likely to reduce on their new roster making them over-priced initially. Saric will be battling for playing time with Taj Gibson making it highly unlikely that he continues to see 30+ minutes a night, with Gibson also seeing a reduction from his 27 per game. Covington could replace Jimmy Butler's role and only see a modest drop from his heavy workload of 33.8 minutes per game, however be mindful of his impact on other Wolves players with Teague, Wiggins and Rose all in the rotation on the perimeter.
In concluding, it is crucial in NBA daily fantasy to be across the impact of trades immediately, both the impact before official sign off while the players are out, and the immediate implications once they suit up for their new team. Understanding the losses and gains of minutes and usage rate on a particularly roster can set you up to take advantage of significant value per dollar that arises due to a trade.

Always remember to gamble responsibly. When the fun stops, stop. If gambling is having a negative impact on your life, seek support at Gambling Help Online. 18+ only.