daily fantasy sports articles
NBA DFS Training Camp - Adjusting for Lineup News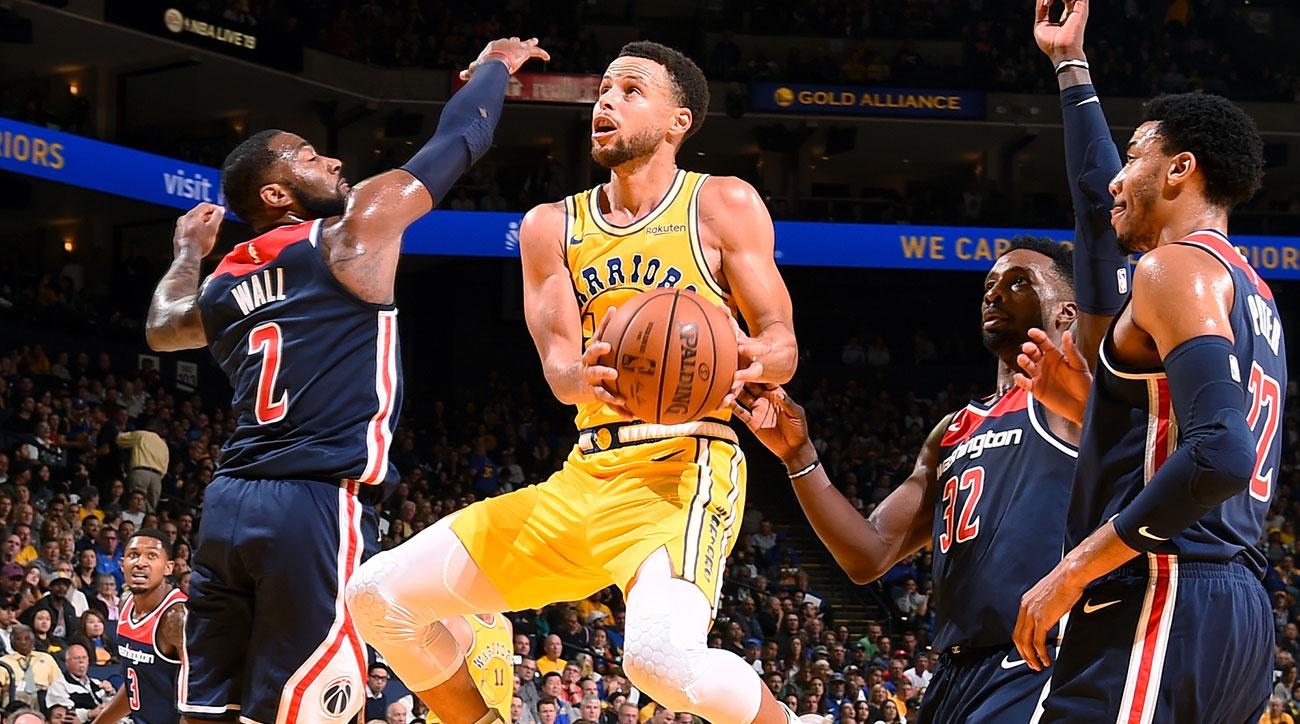 Each week to start the season we are releasing a new part to our NBA DFS Training Camp series that covers the key strategies and approaches to building successful NBA DFS lineups. The links to each part will be included below to ensure you don't miss anything and be sure to check back each week or stay tuned to our Twitter page to catch the next piece in the series!
Part 1 – Betting Lines and Totals
Part 2 – Matchup Analysis – Pace and Defense vs Position
Part 3 – Key Statistics in Daily Fantasy Basketball
Part 4 – Trade Analysis – Breaking Down the Jimmy Butler Trade
Part 5 – DraftKings Sharpshooter Winning Lineup Recap
Part 6 - Adjusting for Lineup News (Injuries/Resting)
Injuries play a bigger roles in NBA DFS than practically any other sport you till play. This is due to the finite amount of minutes and scoring opportunities that exist in a game with only 5 people per side on the court at a time.
Furthermore with an 82 game long season, teams playing games every other day and the focus on rest there is a significant amount of injury news coming out right until tip off of the first game, and at times after lineup lock of the first match, which is also critical now given DraftKings late swap option.
As a result it is absolutely imperative that you are able to monitor all the news as it leads up to lineup lock and make changes accordingly. I would go as far to say that if you are not free to monitor news, adjust lineups and crunch the data for changes in that last hour leading up to tip off in the first game I would not even play NBA DFS that day.
In this article I will cover why it is so important to track lineup news and how to interpret.
Why is lineup news so crucial?
If you have been following through each part of these strategy articles you will have picked up on a consistent theme when it comes to NBA DFS. That is NBA fantasy output is driven by being able to participate in as many fantasy scoring events (scoring, assists, rebounds, blocks, steals) as possible, given that each event has a low score attributed to it.
As we noted in Part 3 – Key Statistics in Daily Fantasy Basketball the key drivers for fantasy scoring are a combination of minutes on the floor and usage (% of team plays used by a player when on the floor). These are scarce resources in basketball given there are only 5 players for each team on the court at a time and a single basketball. As a result when a player is going to be out of the lineup those minutes and usage opportunities will be soaked up by teammates.
For example on a slate last week John Wall was out due to personal reasons. This season Wall had averaged 34 minutes of game time with a 29% usage rate. This means that teammates will have to pick up 34 minutes of game time and absorb 29% of the teams possessions. These players will typically be valued at their usual output based on the average minutes and usage, thus meaning they are undervalued.
This is why such news changes the entire shape of the slate.

How do we interpret to build better teams?
Lineup news with players being out impacts two types of players. Firstly and most obviously the bench player who will be moving into the starting lineup. This player is typically going to receive a significant increase in minutes, the number one stat that correlates to fantasy scoring. Given these players have been coming off the bench their daily fantasy price is typically down around the platforms minimums depending on their bench role, therefore a starting role provides them with a significant value opportunity.
Assessing the amount of value they return and thus how much of a lock play they will become can be achieved through consideration of various factors. Firstly looking at their fantasy points per minute can provide an indication of how well they score when they are on the floor.
Secondly consideration of position is also key, as typically a point guards will be more certain to be involved in the play and thus given scoring opportunities, while bigs will have rebounding opportunities regardless. Wings can be more of a risky proposition as they tend to require the ball being passed to them. A tool to help analyse this are the on/off tools provided by sites such as Rotogrinders, here you can see how a bench players usage and scoring when they are on the floor with the starters.
The second type of player that is impacted by players being out are the other starters on the team. This is due to the fact that they also soak up the lost usage and part of the minutes from the player who is out of the game.
The best example to demonstrate this has been the impact of Steph Curry's injury this season for the Golden State Warriors. Curry this year has averaged 33 minutes at a 32% usage rate and therefore when he was out injured it increased not just Quinn Cook's role who replaced him in the starting line-up initially, but also Kevin Durant's role who picked up a significant chunk of Curry's usage.
Assessing this can be done again through on/off tools provided by sites such as Rotogrinders, or by using our free player out tool. The impact of Curry's absence is shown in the our player out tool below: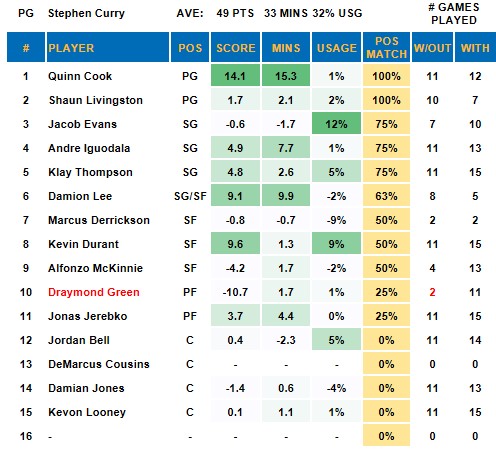 From the above we can see in the 11 games Curry has missed this year, Quinn Cook averaged 14.1 fantasy points above his season average from 15.3 additional minutes - demonstrating the impact of an injury to a reserve discussed above.
But in addition to this Kevin Durant saw a 9.6 fantasy point increase as a result of soaking up 9% of Curry's usage, while Klay Thompson also saw a 4.8 fantasy point increase from 5% additional usage. These gains demonstrate how critical it is to analyse injury news effectively when building your DFS rosters.
In summary, every NBA slate you are playing you should be monitoring injury news right up until lineup lock as a late out can change an entire slate. Use appropriate tools to assess the impact of not just the replacement in the starting lineup but also the other starters. And remember, these potential value gains won't last as if the same player is out for a long period of time the price will adjust to represent their new roles.

Always remember to gamble responsibly. When the fun stops, stop. If gambling is having a negative impact on your life, seek support at Gambling Help Online. 18+ only.