daily fantasy sports articles
Chalk, Chance or Chump: AFL DFS Grand Final Line-up Tips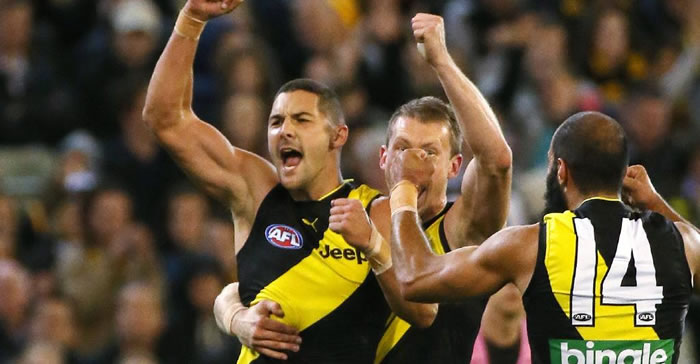 The 2017 AFL Grand Final is down to the final two titans with the Adelaide Crows and the Richmond Tigers meeting on the 'G on the last Saturday in September. It should be a cracking Grand Final and it's going to be even better when we grab a share of the $100,000 Guaranteed prize pool offered at Draftstars this week. The feature contest is just $15 to enter, so it's worth having a crack at, and hopefully this week's "Chalk, Chance and Chump" will give you a big of a head start when picking your line up.
For new players, we highly recommend creating a new Draftstars account and jumping into the $100,000 Beat Barry promotion. It's totally free to enter, and you just have to pick six players from pre-defined groups. It couldn't be easier!
When we're looking at key players to mention here, we're using the following criteria. A "chalk" player is a gem that will be hard to let through to the keeper at the price, so you'll find him appear in a whole heap of line ups. A "chance" is someone who might not be as popular, but has a lot of potential that might be worth a punt, while a "chump" is a player we think is overpriced and not worth the time of day.
Chalk: Jack Graham - $8,550 (MID)
This young Tiger has only played a handful of games, but Jack Graham has already proven to be an important cog in the success of this side. Graham has been a consistent contributor and the thing I love most about him is his tackling pressure. He's had 32 tackles in his first four games, which is great for fantasy points with scores ranging between 60-84 points. Even at the low end of that range, he's a viable option at just $8,550 to help free up some cash for elsewhere, but if Graham can get towards his ceiling, then he's a fantastic option. Just expect him to be in a stack of line ups this week.
Chance: Shaun Grigg - $11,950 (MID)
We're getting a great price on Shaun Grigg this week, but it does come with some risks. Grigg was well down last week, with just 16 touches and 46 fantasy points, but before that he had scores of 92, 123 and 153 in the three weeks prior. He's also had ten scores of 100+ this season. So there is a lot of potential upside. Is Grigg reliant on Richmond success? Is his outside game suited to the high-pressure contests of finals? Those are the questions you must ask, but if he does well, he offered an affordable point of difference in the midfield when a lot of other Draftstars players will lean towards the better-known mids.
Chump: Josh Caddy - $12,000 (MID)
The former Cat will be pretty happy with his switch to the Tigers as he finds himself playing in a Grand Final. Look, he's not a bad player, but in my eyes, he's a bit player – not really a midfielder, not really a forward. Recently he's been hovering forward and blew the stats out of the water against Hawthorn towards the end of the season with a 142-point game. He kicked four goals that day, and while he's had some contributions in other games, that match remains his only 100+ point score for the season. When you have a price tag of $12,000, you want to see those players tickle 100 points. For the same price, I'd much rather Shaun Grigg for reasons mentioned above. Caddy just doesn't take the game by the scruff of the neck often enough to push that 100-point barrier, so he remains one of the poorest-priced players in the Grand Final. Avoid.
Good luck on Saturday and hopefully a few of the DFR members take home a piece of the Draftstars $100,000 prize pool!
Who are your picks for the Chalk, Chance and Chump this week? Do you agree with our picks? Head to the forumto share your views with the DFR community!