daily fantasy sports articles
Daily Fantasy Rankings Podcast #002 - Interview with Jayk123 Part Two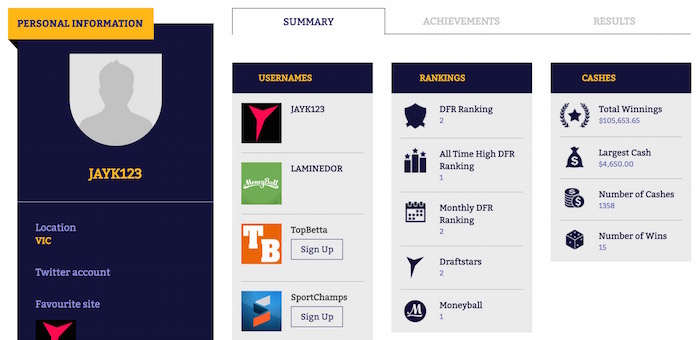 The Daily Fantasy Rankings Podcast is back with Part 2 of our interview with Australian Daily Fantasy Sports crusher Jayk123.
Our host Adgee continues his chat with the number one ranked DFR player, Jayk123, about his first 12 months of playing DFS as well some key talking points in the industry at the moment.
"It was fantastic talking with Jay. He truly is a great advocate for the industry and really wants to make it better for everyone. His insight on issues such as multi entries are fascinating and great to listen to," Adgee said.
Continuing on from their discussion in the first podcast, Jay continues to share his views on multi entries and how it's a good thing for the growth of the Australian DFS community.
"The insights that Jay provides from his own journey are brilliant. He openly discusses about how he has gone financially with DFS and also talks about his experiences in going head-to-head with 'Tryanhit' since the early days of playing Dream Team," Adgee added. "We are very lucky that we have players such as Jay wanting to talk about what they have gone through, and we believe that there are more players in the community that want to share their experiences."
You can listen to DFR Podcast Episode #002: Jayk123 Interview Part Two below and always find episodes here at Daily Fantasy Rankings, while the DFR Podcast is also available on iTunes - link on the button below.
Please feel free to head to our Australian daily fantasy forum to discuss episode two of the DFR podcast, while you can also click here to suggest future DFR guests who you would like to hear from.

Follow Daily Fantasy Rankings on Twitter @RankingsDFS