daily fantasy sports articles
Daily Fantasy Rankings Podcast #007 - chriseddy999 talks poker, daily fantasy and sports betting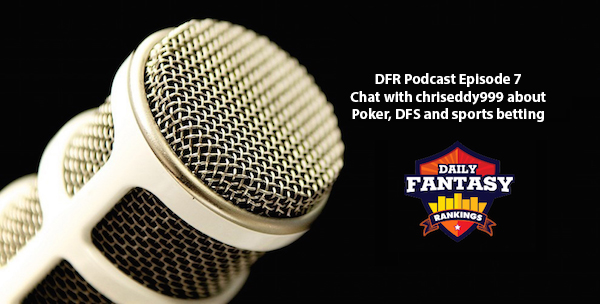 We are back with another podcast featuring one of the most well-known Daily Fantasy players in the community, chriseddy999 (Chris Edwards). In Episode 8 of the podcast, host Adgee discusses all things punting with Chris, from his early days playing high stakes poker all the way to his dominance of the Australian daily fantasy scene.
The boys start out by discussing how Chris got into the scene by playing cash poker games and how has converted recently and turned playing Draftstars on a weekend into a source of income.
"I was a heads-up cash game specialist for the last five or six years but everyone who is in tune with that world knows to jump off a dying ship at the moment due to the new laws."
"This is basically my job I guess' I've got a few other things that I do during the week but this is my main source of income I guess" says Chris.
Chris talks about how he was able to transfer some of the skills he learned as a heads-up poker player to playing Draftstars and how some of the same gambling traits as well as mental skills are needed for daily fantasy.
"It's definitely set me up for a great DFS start, I mean there's just so many skills that are transferable, so many gambling concepts and even psychological elements."
The guys then delve into the world that is sports betting and some of the problems top punters like Chris face when trying to open accounts with online agencies and maintain a profit without being barred.
"There's this whole spectrum of players, and yeah it's a good business decision on their behalf to bar winning players but how on earth is that a fair environment' they promote this dream of living off your punting winnings but as soon as you get half good at it, bang your gone."
And of course the boys discussed in length Chris' life now as a daily fantasy player, how he got started with his love of DreamTeam and some of the key strategies he implments today that allow him win at DFS.
You can listen to Episode 7 of the DFR Podcast in full using the Soundcloud media player below or if you want to listen on the go you can find it on iTunes.
Please feel free to head to our Australian daily fantasy forum to discuss episode five of the DFR podcast, while you can also click here to suggest future DFR guests who you would like to hear from. If you have any specific questions for Chris, he is also happy to be reached out to on Twitter @chriseddy999.

Want to play Daily Fantasy along side DFS stars like chriseddy999? Click on the banner below to create a Draftstars account today, while you can learn more about on the site on our Draftstars review page.

Follow Daily Fantasy Rankings on Twitter @RankingsDFS