daily fantasy sports articles
DAILY FANTASY RANKINGS PODCAST #008 - jayk123 & procession Review 2017 AFL DFS Season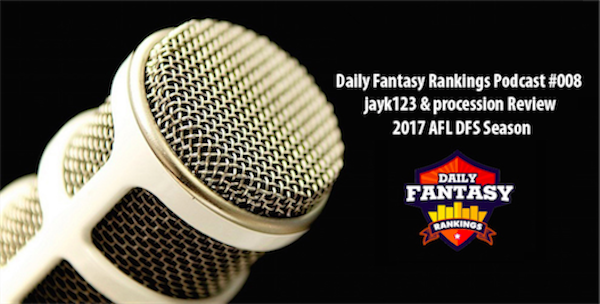 Epsiode 8 of the Daily Fantasy Rankings Podcast is now out and available to listen to on Soundcloud or iTunes! This week on the show, Adgee hosts a special combination of DFS players, arguably the some of the most dominant in the Australian daily fantasy scene, Jayk123 and procession.
Jayk123 and procession come on the show to break down the season that was in the AFL, talking all things DFS past, present and what they hope and predict the community holds in store moving forward.
What better pair to discuss the ins and outs of the AFL season and Australian Daily Fantasy Sports in general than Jayk123 and procession, who between them have racked up over $350,000 in winnings from DFS competitions.
Not only do they have massive numbers on Draftstars and Moneyball, but they are part of the uber exclusive club who have reached the pinnacle of AFL on Draftstars, the 990 jackpot winners. The guys talk about their wins in the jackpot tournament and how procession was just a few points off claiming the title for a 2nd time later in the year.
"The target games started earlier in the year during the NBA and It was clear that it could be huge for the AFL. To see it come out this season and see how big it got and how much interest there was just amazing," procession said.
Maybe most important of all, the guys talk about how they think the Daily Fantasy Sports scene can be improved upon in the years to come and the ideas they have that could generate more interest, and in turn bigger prize pools moving forward.
"Draftstars need to add MLB next season because it means that almost every single day of the year would then have morning sport to keep DFS interest and MLB is an even better sport for the Target events than AFL," jayk123 suggests.
"I think the steps and qualifier tournaments this year gained enough traction to see the sites try and pump them up a bit more, but they seemed to back off them a bit. I'm hoping they get them going because that's how the industry can build up to really massive prize pool events," procession said.
All in all it's a really insightful look into the Daily Fantasy Sports scene and life as a full time DFS player, you can listen to Episode 8 of the DFR Podcast in full using the Soundcloud media player below or if you want to listen on the go you can find it on iTunes.
Please feel free to head to our Australian daily fantasy forum to discuss episode five of the DFR podcast, while you can also click here to suggest future DFR guests who you would like to hear from. If you have any specific questions for procession or Jayk123.

Want to play Daily Fantasy along side DFS stars like chriseddy999? Click on the banner below to create a Draftstars account today, while you can learn more about on the site on our Draftstars review page.

Follow Daily Fantasy Rankings on Twitter @RankingsDFS