daily fantasy sports articles
DAILY FANTASY RANKINGS PODCAST #009 - Former professional poker player Jesse McKenzie talks poker, daily fantasy and NBA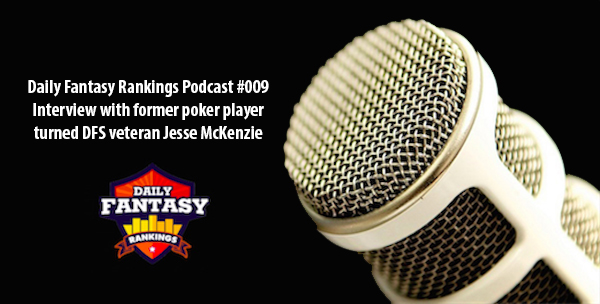 We are back this week with another edition of the Daily Fantasy Rankings Podcast for your listening pleasure! This week, host Adgee sits down with former professional poker player turned Daily Fantasy Sports junkie, Jesse McKenzie, also known as 'OnTheMac'.
This week the boys discuss Jesse's life as a former successful poker player and how he adjusted to life after the new Australian rules and regulations on online poker and how he was able to find a good balance in his new passion, daily fantasy sports.
"I kind of saw that (rules and regs changes) coming about 18 months ago and I tried my best to learn everything I could about daily fantasy and mainly the NBA."
The guys also talked about how Jesse thinkgs the DFS community in Australia can be improved and what his hopes are for online companies like Draftstars and Moneyball are going forward.
One of the sports that Jesse loves to watch and particularly play at daily fantasy sports sites is the NBA. Jesse is a massive fan of the basketball and that becomes evident when the two guys talk about the upcoming season!
"Growing up as kid I played basketball from about 8-16 and I really enjoyed it. I loved watching all the best players from the early 90s and I feel like now this group of players in the NBA is starting to rival that in terms of competition."
Jesse is so passionate about the daily fantasy sports community in Australia that he even created his own website, FantasyHQ.com.au, which helps punters get involved in the DFS scene by giving them the best strategy and stats articles going round on sports including AFL, NBA, NFL and NRL.
"I just really wanted to document what I'd been learning. I was thoroughly enjoying the process of learning about DFS so I began writing articles that would help beginners get into fantasy!"
The guys talk about lots more in the interview as well. You can listen to Episode 9 of the DFR Podcast in full using the Soundcloud media player below or if you want to listen on the go you can find it on iTunes.
Please feel free to head to our Australian daily fantasy forum to discuss episode five of the DFR podcast, while you can also click here to suggest future DFR guests who you would like to hear from. If you have any specific questions for Jesse.

Want to play Daily Fantasy along side DFS stars like Jesse? Click on the banner below to create a Draftstars account today, while you can learn more about on the site on our Draftstars review page.

Follow Daily Fantasy Rankings on Twitter @RankingsDFS