daily fantasy sports articles
DAILY FANTASY RANKINGS PODCAST #010 - Interview with Darryl Woodford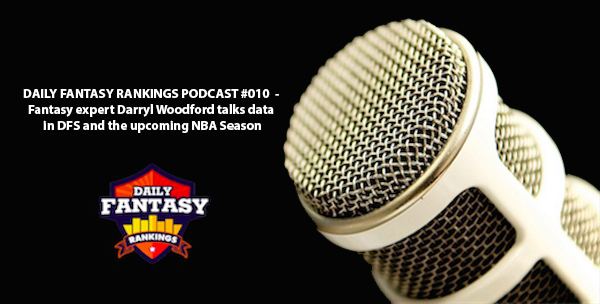 To celebrate the commencement of the 2017-18 NBA season this week, we are back with another episode of the Daily Fantasy Rankings Podcast! This week Adgee sits down with Darryl Woodford, better known in the daily fantasy community as DPWoodford and the owner of Fantasy Insider.
The boys discuss how Darryl turned his love of US sports and particularly the NBA into a brand-new website that helps Aussies adapt his knowledge of the US daily fantasy model to Australian sports like AFL and NRL.
"Ive always been a big fan of sports but I've always loved data as well" "at the time I came to Australia the daily fantasy community was really starting to take off with Moneyball, Sports Fantasy Pro, Top 8 and Draftstars so I thought there was some real opportunity there."
For you data nerds out there, Darryl also talks about how the reliability of the data in US sports and particularly player stats can be more reliable and easily predictable than that of some of the Australian sports.
"The data ecosystem in Australia has improved massively since I started doing those betting models back in the day but the US sports are still massively ahead of the Australian sports."
Darryl also gave his thoughts on how not only just the community of daily fantasy sports can be improved, but also the likes of the betting tournament sites like TopBetta and SportChamps, which is a great insight from someone with a PHD in the industry.
"I would still like to see it be a bit more fantasy than virtual betting. I think there's a way to do horse racing where you build a stable of eight horses that are racing throughout the day and they each have a salary etc"
Overall the podcast is a great insight and a bit different to our previous ones as it features someone that not only religiously plays daily fantasy but has also had years of experience working in and studying the industry.
You can listen to Episode 10 of the DFR Podcast in full using the Soundcloud media player below or if you want to listen on the go you can find it on iTunes.
Please feel free to head to our Australian daily fantasy forum to discuss episode five of the DFR podcast, while you can also click here to suggest future DFR guests who you would like to hear from. If you have any specific questions for Darryl.

Want to play Daily Fantasy along side DFS stars like Darryl? Click on the banner below to create a Draftstars account today, while you can learn more about on the site on our Draftstars review page.

Follow Daily Fantasy Rankings on Twitter @RankingsDFS