daily fantasy sports articles
DFR Podcast Returns for 2018 - Interview with PlayON's Jonathan Moreland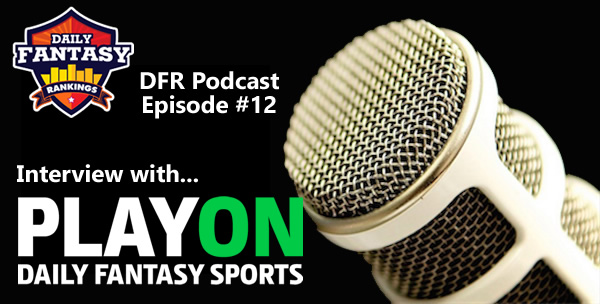 The Daily Fantasy Rankings Podcast is back for 2018! Your host Adgee returns to bring you all the latest news, results and promos from the daily fantasy sports industry in Australia.
In this week's podcast, Adgee reflects on the off-season and some of the achievements of DFR players across summer sports including Big Bash, NFL, NBA, AFLW and racing. He then looks ahead to the NRL and upcoming AFL season and previews what's in store for DFS players across the leading Australian daily fantasy sports websites.
One of the biggest offerings for the footy seasons comes from PlayON. Perhaps considered one of the new kids on the block in Australia, PlayON has actually been around for quite some time, primarily focussed on European markets, but are now licensed to offer games for Australian players.
To find out more about PlayON, Adgee catches up with PlayON Marketing Director Jonathan Moreland for a chat. Moreland explains more about who PlayON are and what they have coming up for the AFL and NRL seasons. The feature contests are the Super Contests for the respective codes which will offer $25,000 guaranteed for the NRL and a massive $100,000 guaranteed prize pool for the AFL. Qualifiers are running now, so don't delay, sign up to PlayON today and join in the fun!

For extra DFS strategy and tips for the AFL season, check out the DFR Podcast archive in our Multimedia section. We have interviews with leading DFS players such as procession, chriseddy999 and the #1 ranked DFS player in the country, JayK123.
You can listen to the latest episode of the DFR Podcast in full using the Soundcloud media player below, or if you want to listen on the go, you can find it on iTunes.
Please feel free to head to our Australian daily fantasy sports forum to discuss this episode of the DFR podcast, while you can also click here to suggest future DFR guests who you would like to hear from.

Want to play Daily Fantasy Sports for the AFL and NRL season? Compete for hundreds of thousands in prize money at PlayON. Click here to create a PlayON account or learn more about on the site in our PlayON review.
Follow Daily Fantasy Rankings on Twitter @RankingsDFS