daily fantasy sports articles
EPL 2018/19 DFS Lineup Tips: Game Week 3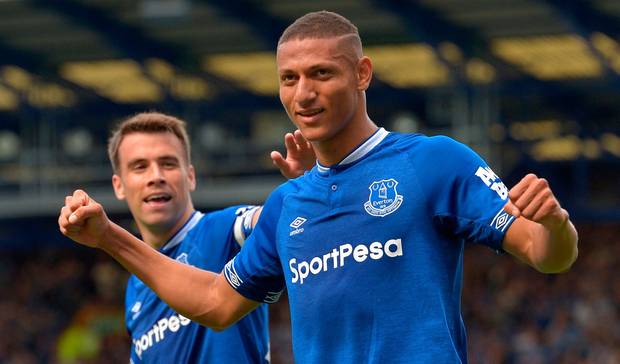 The EPL season is well underway now as we look towards Game week 3! There are some great games featuring in the Saturday night slate including: Everton vs Bournemouth, West Ham vs Arsenal, Cardiff vs Huddersfield, Leicester vs Southampton, Brighton vs Liverpool.
There are some great Daily Fantasy Sport contests to get involved in for the big Saturday night slate. DraftKings are hosting a massive $50,000 contest, Draftstars have a $6,000 contest, PlayON have their own $1,000 contest, while SportChamps have a season long $5,000 tournament.
If you're new to EPL fantasy or DFS in general you can check out our 2018/19 EPL Fantasy Guide article to get a handle on how to play EPL fantasy, as well as an insight into some of the contests that popular DFS sites are offering this season.
Below, we've provided our best plays for each position from the featured matches in the 50k DraftKings contest.
Goalkeepers
Alisson ($6,000) is the obvious pick in your GK slot on Saturday night. He's looked like a great signing for Liverpool in their opening two fixtures and is yet to concede, which is something we expect to continue against Brighton.
Petr Cech ($5,700) is the only other realistic option and comes in a touch cheaper than Alisson. You'd expect Arsenal to take care of business at home against the Hammers, but their defence hasn't been very convincing to date.
Defenders
We recommend focusing on stacking your team with defenders from a team you expect to keep a clean sheet. In this slate, we feel that Liverpool present the best case as they're yet to concede this season and will more likely than not keep that trend going for at least another week. You can either go two ways here, picking the more expensive but higher scoring full backs in Trent Alexander-Arnold ($6,600) and Andrew Robertson ($6,000), or you can opt for the cheaper and lesser scoring centre backs in Joe Gomez ($4,100) and Virgil Van Dijk ($4,000) and hope that they can capitalise with a goal from a corner. Which way you go on this will depend on how much you're spending on the rest of your squad.
Midfielders/Forwards
Most of the best options in the midfield or forward slots this week are dual position players, so we'll be grouping them together for Game Week 3.
We'll start off with the obvious picks, which are again the Liverpool mid/fwd players. You can put a blanket over Mo Salah ($11,300) and Sadio Mane ($10,700), who are both excellent (but expensive) picks. A cheaper option that could pay off is Roberto Firmino ($8,800), who's probably due for a goal.
Now for some of the more risk/reward picks…
Richarlison ($7,900) has begun his career for the Toffees in unbelievable fashion, scoring 3 goals in his 2 goals for the club. He definitely won't keep up this strike rate all season, but he's every chance of scoring against mid-table team Bournemouth on Saturday night.
Mesut Ozil ($6,700) has had a very disappointing start to the season, but will be looking to take advantage of a softer match-up this weekend against West Ham. He comes in at a discounted price.
Alex Iwobi ($5,400) was impressive in his 75-minute performance against Chelsea where he netted his first goal of the season. If he's given another start he could be well worth taking a punt on.
Matteo Guendouzi ($4,100) has impressed in the holding midfield position for the Gunners in his opening two matches. He comes in at near basement price and picks up a lot of points naturally from his ability to intercept and make tackles.
We've got to give Aussie Aaron Mooy ($6,200) a mention. He's questionable to play, but if he does he could be a great POD for your team. He's in the middle of everything for Huddersfield and should score well above his price tag.

Here's DFR's DraftKings team for Game Week 1
*This article was uploaded prior to team sheet announcements.