daily fantasy sports articles
How to play Daily Fantasy NBA at Moneyball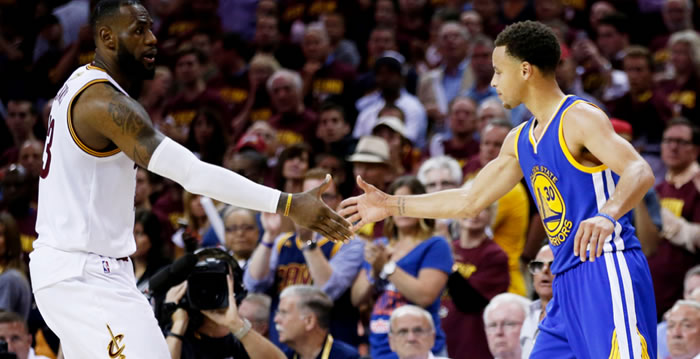 With the enormous popularity of Daily Fantasy Sports in the US, it's no surprise to see the phenomenon starting to take off in Australia. We now have a wide range of Australian Daily Fantasy Sports websites to choose from, however the first to launch in Australia was none other than Moneyball.
Moneyball launched in 2015 and was an instant success in Australia. With the already consolidated fan bases playing AFL and NRL Supercoach and Dream Team competitions, it wasn't hard for the Australian population to understand the appeal of Daily Fantasy Sports. With its instant popularity came the introduction of new sports to the Australian DFS marketplace and that included the introduction of NBA.
Daily Fantasy NBA is now a daily ritual for many Australian DFS players, and playing Daily Fantasy NBA on Moneyball couldn't be easier. To start off with, you'll need to first create a Moneyball account and deposit some money to play with. You can then select the competition you want to play in and start entering your team.
If you're interested in learning more, read on for our guide on How to Play Daily Fantasy NBA at Moneyball!
The Lobby
The Moneyball lobby is your hub for daily fantasy competitions. Here, the tournaments and one-on-one challenges can be sorted by sport, entry fee, start time or entrants. This sorting process makes it easier for you to quickly find the best competitions that suit you! While we will be focusing on NBA today, Moneyball also offers competitions in the AFL, NRL, NFL, A-League, EPL, MLB and more. So if Basketball isn't your style, rest assured that Moneyball has something that is.
There are a few different types of NBA competitions that you can enter. If you want to outlay a small amount for a chance at winning big, then the Thursday Monster is the competition for you. Thursday morning in Australia in the NBA usually offers 10 or more games during the regular season, and to celebrate that, every Thursday, Moneyball run a competition with a $20,000 cash prize pool. It costs $15 to enter the Thursday Monster with the chance to win $3,000 if you come out on top!
If you like the idea of increasing your chances by playing against less opponents and a more even distribution of prize money, then check out the daily double up competitions. These range in price and entries, however, whatever the entry fee is, you have a chance to 'Double Up' your investment by simply finishing inside the top half of contestants.
Then there are the 'Head to Head' challenges. These challenges resemble a standard fantasy league, but it's just you versus one opponent, mano-a-mano! Each contestant will put forward a set entry fee, and after Moneyball take their standard fee, it's winner take all!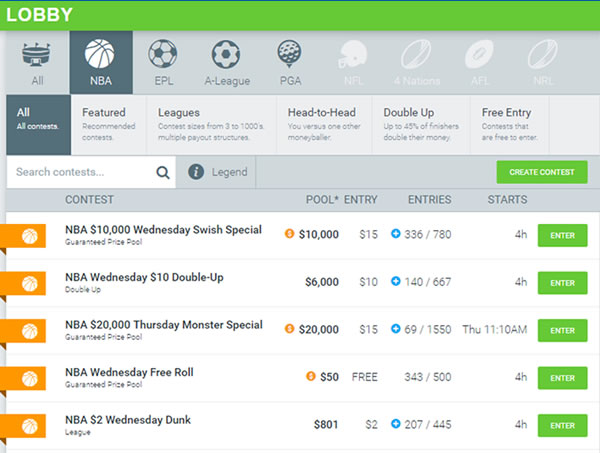 Your Roster
Once you have selected the competition you want to enter, it's time to build your roster. Building a roster is simple and the excellent user interface at Moneyball makes it even easier. All you need to do is select 2 Pont Guards, 2 Shooting Guards, 2 Small Forwards, 2 Power Forwards and a Centre. Moneyball allows you to sort ALL available players by average score, price, position and game, making it straight forward to fill out your team. Once you get to those last few empty slots, you can click that empty position on your roster to show only players who play that position.
Only players whose teams are playing that day and featured in your actual competition will be visible to you, so no need to worry if whether or not someone you have selected is indeed playing. However, injured players will still show up on the available players list, usually marked with a little red cross. It's best to check your lineup around an hour before game time to make sure there hasn't been any late exclusions.
Some Moneyball competitions will also allow you to enter multiple teams. Hit 'Enter Multiple' to either enter the same team again (for another entry fee) or head back to the lobby to enter a different team in the same competition. Once you have selected and are happy with your team, and it comes in under the salary cap, hit enter and that's it!
Now it's time to see your watch your players live score as they as try to get you a W!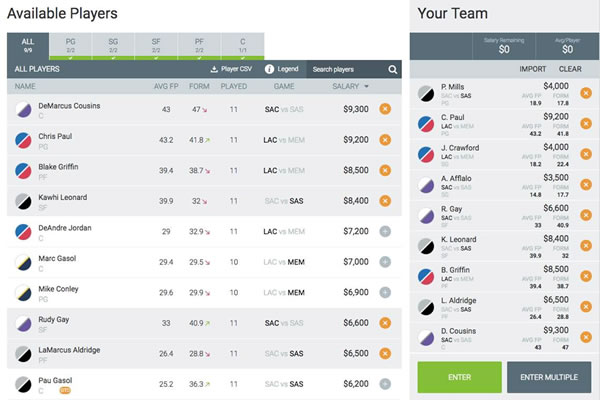 Scoring
Moneyball makes it easy for its contestants to understand the scoring by using the standard NBA scoring system used in most Daily Fantasy competitions throughout the world.

As your players accumulate stats in real life, their points will also accumulate within the competition. You can track their live progress by selecting the 'Live' option in the lobby. This will take you to a detailed list of all your competitions currently in progress. From there you can select a competition and follow your team's progress on the all-important leaderboard!
From the lobby, you can also select the 'Upcoming' option. This will reroute you to a list of competitions you have entered but haven't kicked off yet. From here you will be able to edit your lineup or make any changes in case of last minute injuries. Note that as soon as the first game of your competition kicks off, all players and teams will be locked. Good luck!
For more information and help, please refer to our Moneyball review page.