daily fantasy sports articles
How to play Daily Fantasy NBA at Draftstars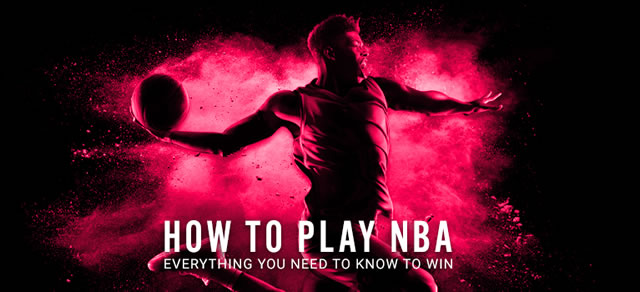 Draftstars are one of the most popular places to play Daily Fantasy Sports in Australia. Offering all types of sports including AFL, Basketball, Soccer, NFL, Rugby and Cricket, Draftstars is sure to have something for all Australian DFS players. Today we focus on the NBA and how you can play Daily Fantasy NBA at Draftstars.
NBA contests at Draftstars are a little different to most Daily Fantasy NBA competitions around the world in terms of salary and scoring. See below for a full guide to playing NBA Daily Fantasy with Draftstars.
Lobby
The Draftstars Lobby is where you can view all current and upcoming competitions and tournaments. Here you can sort the competitions by sport, number of players, entry fee or tournament type. The sortable feature makes it easier for you to quickly find and enter the right competition for you! When you select NBA, you'll see an array of daily tournaments that you can jump into. One of the great things about the NBA is there are at least a few games on every day during the regular season, which means there's plenty of chances for you to win!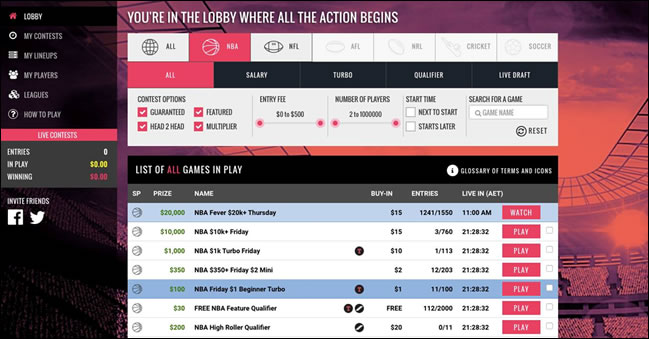 Feature Contests
There are a few different game types you might want to get involved in. The first of which are the Featured Contests. These game types have massive prize pools due to their high number of contestants but obviously that means they are also harder to win. Each Thursday (AEST), Draftstars offer the "NBA Fever 20k" competition. As there are usually 10 games or more on a Thursday, it's the perfect day to hold the event. Usually well over 1,000 entrants will participate at a $15 entry fee. With the guaranteed prize pool of $20,000, the winner pockets a cool $3,000. These competitions require skill but they also require a lot of luck to win, or even place, as you have to beat out the majority of contestants to walk away with some substantial winnings, but if you back yourself, then this is the contest for you.
Head-to-head
Another game type is the head-to-head format. You and an opponent will enter a team to compete solely against each other. The entry fee will be the same for both players, and after Draftstars take their standard 10% of the pool, it's winner takes all! These game types are easy to understand, and easy to follow live, as you're only concentrating on your team versus the team of your opponent.
Qualifiers
The third type of contest is qualifiers. These work in a similar manner to a regular contest, however the winners won't be awarded prize money, instead they will get entry into a bigger, real money competition in the future. Sometimes these qualifiers are free to enter, so you get a chance to earn a crack at the big time without even having to spend any money!
Your Roster
Once you have decided which game type is the best for you, it's time to start building your roster (team). Your roster should be picked based upon which players you think will perform the best in real life on that particular day. Players will be awarded points for racking up stats such as points and rebounds, so remember to take that into account when recruiting players. We will break down the scoring system a little later.
Regardless of what game type you enter, you will be met with the same requirements at the "select your lineup" screen. For NBA you must select 2 Point Guards, 2 Shooting Guards, 2 Small Forwards, 2 Power Forwards and a Centre. A salary cap of $100,000 will be given to you to select all 9 players, with the better players usually hovering in the range of $14,000-$20,000.
Only players who are playing that day as part of your contest will be visible to you, so no need to worry if whether or not someone you have selected is indeed playing. However injured players will still show up on the available players list, usually marked with a little red cross. It's best to check your lineup around an hour before game time to make sure there hasn't been any late exclusions.
If you like the look of your lineup and want to use it in another contest, you can enter that competition and hit the "Import Team" button, and DraftStars will automatically import your lineup from a previous contest.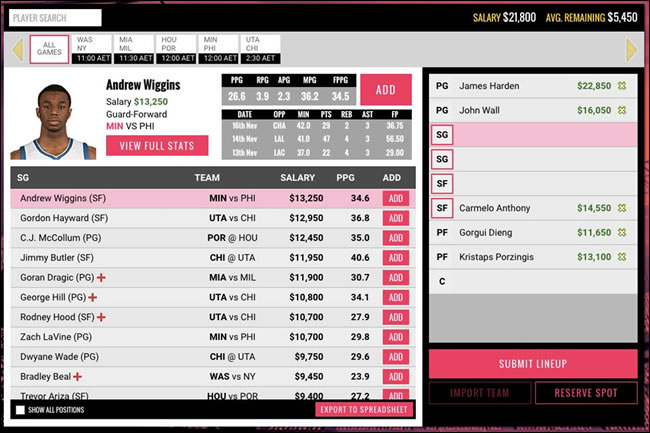 Scoring
The Draftstars NBA scoring system is a little different from other Australian Daily Fantasy Sports sites. As well as offering points for normal stats like points, rebounds and assists, Draftstars will also penalize your players for missed field goals and missed free throws. Alternatively there are extra bonuses within the game that other websites don't have. If a player finishes with a double-double, triple-double or hits a three-point field goal throughout the game they will be awarded bonus points.
As your players rack up stats in real life, their score will also accumulate within the contest. You can follow your progress live through Draftstars by hitting the "My Contests" button in the main menu. This will take you to a detailed list of all live and upcoming contests you are currently entered in. To follow a live contest, simply click on it and you will be taken to a screen featuring your own and all of your opponent's lineups, with up-to-date scoring as is happens in real time!
If you're lucky enough to be a winner, your winnings will be dropped into your Draftstars account and ready to jump straight back into the action!
Click here to find out more in our Draftstars Review.