daily fantasy sports articles
2019-20 NFL Daily Fantasy Tips: Week 1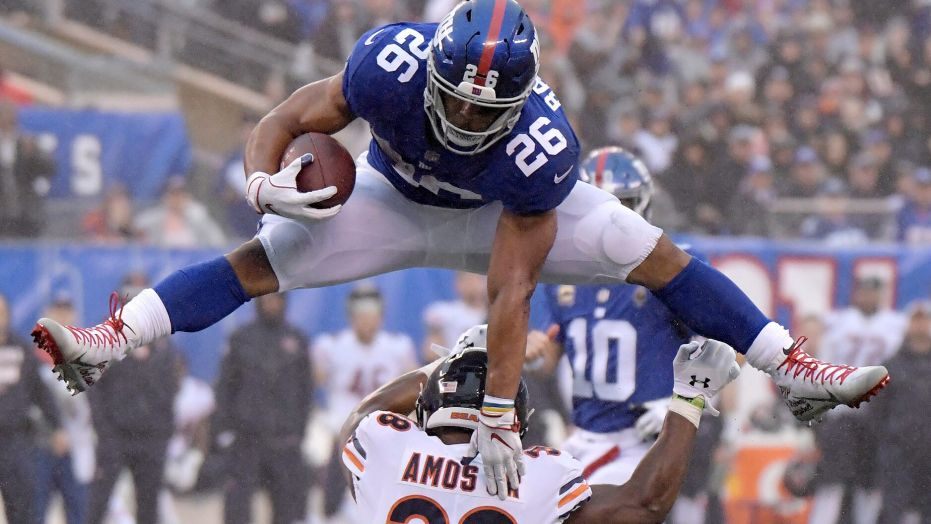 It's one of the most popular daily fantasy sports in the world and it gets underway this week! The 2019-20 NFL season kicks off on Friday morning (AEST) with the Chicago Bears hosting the Green Bay Packers from 10.20am!
Both DraftKings as well as the Australian daily fantasy sites will be hosting some massive tournaments throughout the regular season and playoffs, and here at Daily Fantasy Rankings, we'll be giving you a weekly mega preview for all of the DFS action.
We'll be focusing heavily on the Sunday slate, which will regularly feature a massive 12-13 tournament at DraftKings, Draftstars and Moneyball. However, we'll also give you all of the info for the single slate tournaments on Friday and Tuesday mornings (AEST)
Have not played NFL DFS before? You can check out our how to play NFL DFS with our article here.
Also you can catch the DFR Podcast with JayK and Smatho. The two talk NFL lineup construction and go through Week 1 options! A must listen who have entered the Draftkings VIP Experience this week!

NFL Week 1 Daily Fantasy Information
Friday
Green Bay Packers at Chicago Bears (10.20am AEST) - Bears -3 Total 46.5
DraftKings: $2,500,000 prize pool, $10USD entry fee
Draftstars: $10,000 prize pool, $15 entry fee
Moneyball: $5,000 prize pool, $15 entry fee
**Take note of the lineup construction for Single game slates of each site as each operate much differently.
DraftKings - Pick 6 players within $50,000 salary cap. The player you draft as your captain will earn 1.5x the standard fantasy point value for each statistic. This player will also cost 1.5x more in salary.
Draftstars - Pick 6 players within $100,000 salary cap. There are no positions to adhere to and you can roster any position in your lineup.
Moneyball - This is the traditional scoring method like main slates where you pick 9 positions in a $60,000 salary cap.
NFL Packers vs Bears Daily Fantasy Tips
Chalk - Mitchell Trubisky
Trubisky is in his 3rd season as the Bears QB1. I expect him to build on his overall game by rushing the ball more this season. He averaged just under five carries per game last season and scored three rushing TD's. The Packers secondary is fairly average and Trubisky does have a healthy Wide Receiver group led by Allen Robinson and Taylor Gabriel at his disposal.
Chance - Davante Adams
With Aaron Rodgers now back as QB1 for the Packers, Adams is in line for a lot of targets and has the potential for a massive game. The reason why he is a 'Chance' that Rodgers also has some other key targets at his disposal this season. Marquez Valdes-Scantling and Geronimo Allison are up and coming talent on the Packers roster which could see Rodgers spread his targets around, especially if Adams is locked down by either Kyle Fuller or Prince Amukamara who are two of the better players in the Bears Secondary.
Chump - Trey Burton
The Bears Tight End has been under an injury cloud for the majority of the Off-Season and comes in as 'Questionable' for this matchup. I don't think he would feature much at all for the Bears even if he suits up. Low targets in the previous season which means you can look elsewhere in this position
Monday
Tennessee Titans at Cleveland Browns (3.00am AEST) - Browns -5.5 Total 45.5
Baltimore Ravens at Miami Dolphins (3.00am AEST) - Ravens -7 Total 37.5
Atlanta Falcons at Minnesota Vikings (3.00am AEST) - Vikings -4 Total 47.5
Buffalo Bills at New York Jets (3.00am AEST) - Jets -3 Total 40
Washington Redskins at Philadelphia Eagles (3.00am AEST) - Eagles -9.5 Total 46.5
Los Angeles Rams at Carolina Panthers (3.00am AEST) - Rams -2.5 Total 50.5
Kansas City Chiefs at Jacksonville Jaguars (3.00am AEST) - Chiefs -4 Total 50
Indianapolis Colts at Los Angeles Chargers (6.05am AEST) - Chargers -6.5 Total 44.5
Cincinnati Bengals at Seattle Seahawks (6.05am AEST) - Seahawks -9.5 Total 44
New York Giants at Dallas Cowboys (6.25am AEST) - Cowboys -7 Total 45.5
Detroit Lions at Arizona Cardinals (6.25am AEST) - Lions -3 Total 47.5
San Francisco 49ers at Tampa Bay Buccaneers (6.25am AEST) - Pick em Total 50
DraftKings: $5,000,000 prize pool, $10USD entry fee
Draftstars: $25,000 prize pool, $15AUD entry fee
Moneyball: $10,000 prize pool, $15AUD entry fee
Pittsburgh Steelers at New England Patriots (10.20am AEST) - Patriots -6 Total 51
**Last game of the day not included in most DFS tournaments**
Showdown / Flex Slates available
DraftKings: $800,000 prize pool, $12USD entry fee
Draftstars: $5,000 prize pool, $15AUD entry fee
Moneyball: $1,500 prize pool, $15AUD entry fee
Tuesday
Houston Texans at New Orleans Saints (9.10am AEST) - Saints -7 Total 53.5
Denver Broncos at Oakland Raiders (12.20pm AEST) - Pick em Total 43
DraftKings: Details coming soon
Draftstars: $5,000 Prize Pool, $15AUD Entry (Texans at Saints)
Moneyball: $1,000 Prize Pool, $15AUD Entry (Texans at Saints)

NFL Week 1 Daily Fantasy Tips
As we mentioned above, we'll be focusing heavily on the Monday slate for our fantasy tips throughout the 2019-20 season as it holds the biggest prize-pools, biggest player pools and as you could imagine, it's the most fun slate due to the sheer amount of games!
Check out our NFL Week 1 team of the week for the Monday slate at DraftKings below!
Quarterback
Russel Wilson ($6,300)
Russel Wilson is our top pick at the quarterback position this weekend as he looked to bounce back from a season where he was below average in statistical output. The seven year veteran threw for just 3,448 yards, his lowest total since his sophomore season and added just 376 yards along the ground. It was also the first season in his career that he didn't rush for a TD.
Wilson has a fantastic matchup against at home against the Bengals on the weekend, which should ease him into the season fairly comfortably. The Bengals allowed 28.4 points per game last season, the third most in the league and allowed more passing yards at 4,414 than any other team. They were one of just two teams to allow over 400 total yards per game and should give up plenty through the air this weekend.
Yes: Philip Rivers ($5,900) Jameis Winston ($6,600)
No: Baker Mayfield ($6,400) Matt Ryan ($6,100)
Running Backs
Saquan Barkley ($9,000) Dalvin Cook ($6,000) Ty Montgomery ($3,200)
Tough to look past the New York Giants superstar Saquan Barkley any week, but he has a particularly good matchup in Week 1 as he faces the Dallas Cowboys. The Cowboys were a top 10 team in allowing fantasy points to running backs last season and Barkley comes into the 2019-20 year after one of the most dominant rookie seasons by a running back in NFL history. Barkley played all 16 games, had over 2,000 all-purpose yards and had 15 combined touchdowns through the air and along the ground to finish the season as the second highest scorer in fantasy behind only Patrick Mahomes.
With Latavius Murray departing for the New Orleans Saints this season, Minnesota RB Dalvin Cook should see plenty more carries in his third season in the league. He was fantastic in the Vikings third pre-season game, carrying the ball just twice for 88 yards and a touchdown against the Cardinals. Combined for over 900 yards last season with four touchdowns and has a great matchup against Atlanta on in Week 1, who allowed the 8th most points per game last season and the 8th most rushing yards per game.
Montgomery is 2nd in the RB pecking order at the New York Jets this season with the arrival of Le'Veon Bell, however, due to the limited workload that Bell might have during the first stretch of the season, we think Montgomery could be a valuable addition. Montgomery averaged 5.2 points per game last year as the 3rd or 4th string running back at the Baltimore Ravens at times throughout the season. Should have an increased workload at New York.
Yes: Ezekiel Elliot ($9,200) Austin Ekeler ($5,500)
No: Todd Gurley II ($7,900) Kenyan Drake ($4,700)
Wide Receivers
Jarvis Landry ($5,600) Brandin Cooks ($6,500) Tyler Lockett ($6,000)
While many predict the arrival of Odell Beckham Jr to have a negative impact on Landry's fantasy performance, I think it will do the opposite. Landry was a sole hand at the receiver position in Cleveland last year but now Beckham should garner all of the attention from the opposition's lock down cornerback. The Browns have a good matchup against the Tennessee Titans in Week 1, who were 11th overall in fantasy points allowed to receivers last season.
In similar fashion, the return of Cooper Kupp from injury for the Rams could have a positive effect on running mate Brandin Cooks. Cooks caught for 1,204 yards last season, the 14th most in the league and added 5 touchdowns. The Rams have a solid matchup against the Carolina Panthers this week, who allowed 240 passing yards per game last season and 23.9 point per game.
Tyler Lockett is our value pick of the week. In a great matchup against the Cardinals, we absolutely love the combo of Wilson and Lockett to sync up for big numbers. Lockett hauled in 10 touchdown passes last season as a serious deep threat and moves up in the pecking order this year with the retirement of Doug Baldwin.
Yes: Mike Evans ($7,900) Adam Thielen ($6,800)
No: Julio Jones ($8,000) Keenan Allen ($7,300)
Tight End
Delanie Walker ($3,500)
Opted for a bit more value than out and out scoring potential in the tight end position with Delanie Walker from Tennessee. Walker is the No.1 tight end on the depth chart for the Titans once again this season and has a good Week 1 matchup against the Browns, who allowed the eighth most passing yards per game last season and the 3rd most fantasy points to tight ends.
Yes: George Kittle ($6,600) Gerald Everett ($2,900)
No: O.J Howard ($5,000) Jordan Reed ($3,600)
Defence/ST
Baltimore Ravens ($3,800)
Arguably the best defence in the league coming up against arguably the worst team in the league. This one seems like a no brainer, so we are just going to run with it. The Ravens allowed the 2nd fewest points per game, the 5th fewest passing yards per game and the 4th fewest rushing yards per game last season.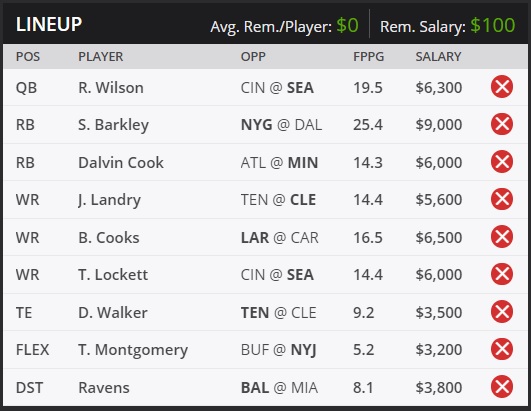 Sunday Night Football
Pittsburgh Steelers at New England Patriots (10.20am AEST) - Patriots -5.5 Total 49
Champ - Tom Brady
Brady has a magnificent record (5-0) against the Steelers at home throwing 18 TD's to 0 Interceptions. Talk this season is for the Patriots to have a more run heavy offense, with a healthy Sony Michel and James White in the backfield. But with a total around 50 points, I can see Brady looking to get his passing game up and about. Whilst he doesn't have his new toy in Antiono Brown till Week 2, Brady will be looking towards Julian Edelman and Josh Gordon.
Chance - Julian Edelman / James White
If you were to play Brady then you will need to stack with Julian Edelman and James White. I'll probably look to get all three into a lineup but if you only want one then lean towards Edelman. The Steelers allowed the ninth-most yards to wide receivers in 2018, and while slot cornerback Mike Hilton isn't a pushover, he has allowed the most yards per reception of any of the Steelers' starting trio.
Chump - Ben Roethlisberger
Big Ben attempted the fourth most passes in NFL history last season. Without Antonio Brown, a repeat will not be in store. The Steelers are at the Patriots and Roethisberger has a terrible record on the road. Roethlisberger only averages 1.5 TD's on away matchups and faces a talented Patriots defense led by CB Stephon Gilmore.
Sneaky - Donte Moncrief
If JuJu Smith-Schuster is shut down by the Patriots secondary, Donte Moncrief could receive more targets from Roethlisberger and is a sneaky play for me. Even more sneaky is Jaylen Samuels who could receive targets out of the backfield at a very low salary.
Suggested Lineups
​