daily fantasy sports articles
NRL 2020 Fantasy Tips: Grand Final - Panthers v Storm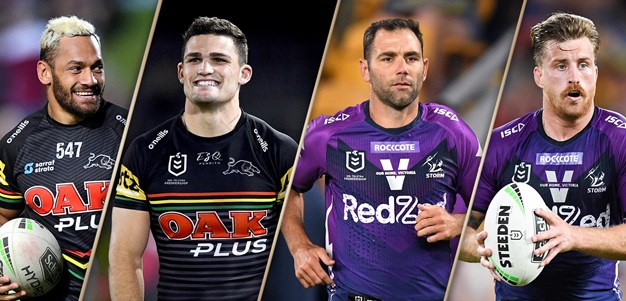 One last time for 2020, we have a massive $50,000 GPP on Draftstars to compete for, with $5,000 top prize. With more to play for, I'm going to expand my format and give a short opinion on each player as well as a recommended approach for mass entry, seeing as this is such a big slate with expanded entry limits. The wet weather forecast is interesting, but I don't think it makes enough of a predictable difference to change your strategy for a one-off game.
If this is your first time playing NRL Daily Fantasy for the biggest tournament of the year, then you can check out our "How to Guide"

Market Odds
Panthers $2.25 v Storm $1.70
Spread: 2.0
Total: 35.5
Panthers Team Preview
Dylan Edwards: Edwards has 5 scores over 55 this season, and 8 scores under 42 (nothing in between). His price has dipped after 3 average games in a row, which makes him a good value based on his average score of 45. However the Storm are a very tough matchup and it will be difficult for him to hit the 60+ heights he is capable of. ~30% is the appropriate ownership level.
Josh Mansour: Like Edwards, Mansour has seen a price drop after a couple of quiet games in the last month. He's still getting through plenty of work, but like most backs he really needs a try to smash value. The cheap price and tough matchup balance each other out somewhat, so I'm happy to take around 40% of Mansour and hope he can bag a try.
Brent Naden: This is a scary play. Naden can play, and he has the odd big score in him, but his floor is much worse than his teammates, as evidenced by last weeks 11 point outing. We want at least 40 points at that price, which he's done in 4/17 games this year. Chuck in the tough matchup and I'm inclined to think 10% is the limit of the exposure I want here across both WFB and CTR. UPDATE - Naden starts on the bench in a late swap before kick off.
Stephen Crichton: One reason I don't want much Naden is because I do want quite a bit of Crichton. He has a better ceiling, a better floor, and is even a tad cheaper. At least 30% of this young stud seems appropriate.
Brian To'o: To'o is interesting. He's been the best scorer of his backline teammates, with 6 of his last 7 scores in 45+ territory. I'm usually put off by his salary but it is just low enough on this slate to make 50 a good score. I still prefer Mansour and Edwards who are generally similar scorers at better prices, and I also think ownership could end up similar across all 3 options. I recommend 25% exposure.
Jarome Luai: Luai has had an incredible season, starting slow in a fantasy sense but absolutely blossoming with 5 50+ scores in his last 8 games, including 3 over 65. Having said that, 65 is roughly the score he'll need at his price, and that will a tough ask against a defensively sound Melbourne Storm team. As it turns out he's probably my least favourite option at the HLF position, so I'm only looking to own around 10% of him.
Nathan Cleary: Another star Penrith half who needs a big score to make value on this slate. The difference with Cleary is that the 75+ he needs is well within his range of outcomes against any opponent thanks to some great base stats in the kicking game. We know he can score 100+, and I trust him more than anyone to perform on the big stage. I want 40% of Cleary, which is tough at his price but there should be enough value around to get it done.
James Tamou: Tamou's two biggest scores have come in the last 3 weeks, which is enough to make him the most expensive prop. There are several cheaper options that are generally better scorers, so I don't think Tamou is a great option at all, 10-20%.
Apisai Koroisau: A cheap Brandon Smith is preventing this from being a Smith/Koroisau coin flip, but as he is available at FRF also I still want to isolate the two expensive hookers. Both players have barely dropped below 50 all season and have remarkably similar numbers. I'm not even going to call experience a deciding factor as Koroisau won a premiership with the Rabbitohs in 2014. A 50/50 split between the two is absolutely fine by me.
James Fisher-Harris: Early in the season JFH was pumping out 65s for fun, with one score slipping over 80. He's been a little quite in the second half of the season, but I still trust him to have 60+ upside in this matchup more than any other FRF/2RF (apart from Yeo), and I'll be aiming to get around 50% exposure.
Viliame Kikau: Kikau has a very nice-looking patch of recent scores, highlighted by a massive 87 two games ago. Looking back further, he gives a lot of 30s with the odd explosion score. You must respect that ceiling, but he should be a popular play with his name value and recent score, so I'm looking to go under the field. Nothing more than 20%.
Liam Martin: One of Penrith's breakout players this season, Martin had an amazing scoring run in the middle of the season, but has been a little quiet recently. He's very cheap for a player averaging around 45, and just needs that one big attacking play to convert his recent scores of ~40 into a slate-winning score. I want at least 30% of Martin.
Isaah Yeo: What a player. He's really locked down a role in the middle of the field this season, and gone to a level we hadn't seen before. Having said that, and despite his 3 straight 65+ scores, I feel it's hard to fit him in to many line-up builds with expensive players elsewhere and so many cheap 2RFs. It's especially hard to fit Cleary and Yeo in the same line-up. If you can get 30% of Yeo he's probably worth the cost, but it may have to be less than that to fit everyone else in.
Tyrone May: Does May get a late start at centre again? Or does he play a utility role off the bench? Either way he probably doesn't have the kind of 40+ ceiling required, so I'm not including him in any line-ups. UPDATE - May does get the start and is now viable at the cheapest salary in the CTR position.
Kurt Capewell: Capewell is a rocks and diamonds scorer, with 4 scores of 55+ and 3 under 25, in just 8 games! He's moved back to bench to accommodate Kikau's return from suspension, and I highly doubt he can go anywhere near 50+ points in maximum 40 minutes on the field. If you want to take a punt on him, keep it to 5%.
Moses Leota: There were periods this season where Leota seemed to have a bigger role, and was capable of regular 40+ scores, which would be plenty at his price. Lately he's been back to a mid 20s scorer, but it would only take an injury or one big play to make him a useful punt play. I like the idea of 5-10% exposure.
Zane Tetevano: A similar play to Leota, but with a little less ceiling as he's a less explosive player. For that reason, I'm not very interested in playing him at all.
Storm Team Preview
Ryan Papenhuyzen: With a hefty price and a big gap down to the other WFBs on this slate, you need to be confident that Papenhuyzen can score 60+ if you want to use him. He can, he's done it in 6/19 games this season. Using that number as a guide, I want a maximum of 30% exposure, and probably closer to 20%.
Suliasi Vunivalu: Suli has had plenty of terrible scores this season, but those last 3 scores are intoxicating. Averaging 49 in his last 3 and needing ~45 to hit GPP winning value in this game. I still like Mansour more as a consistent scorer with a bigger ceiling, so I think around 30% is enough for Vunivalu.
Brenko Lee: For a player that seems like a big of a nobody, Brenko is actually a very solid fantasy scorer. With more than half his scores over 35, and half of those 40+, he's probably the best cash play at centre and as good a play as Crichton at centre. 30%+ for me.
Justin Olam: I could almost copy and paste the above Brenko Lee section, especially in the last 2 months when Olam has become a very solid scorer. I can't see much reason to separate him from Brenko or Crichton, so another 30%+ play is in order.
Josh Addo-Carr: Like Olam, the Fox started the season very slow but has exploded in the last 2-3 months (I believe he was playing sore earlier in the year). We know how good he is, so I must think he's the best WFB play, and therefore worthy of 40-50% ownership.
Cameron Munster: Really, Munster is cheaper than Luai and Hughes? This seems like clearly the best cash play at HLF, with a solid chance of a 50+ score. There is also a pretty good chance of the 60+ we need in a GPP, and I think trying to match the 40% I suggested for Cleary is fine, but anything over 30% is good.
Jahrome Hughes: Hughes has just as much ceiling as Munster and Luai and is a perfectly good play on his own. It's only the price that makes me less keen on him than Munster, so slightly less exposure in the 20-30% range seems prudent.
Jesse Bromwich: This is a very cheap J Brom, but that is because his ceiling has largely disappeared towards the end of his career. He's still capable of exceeding 45, something he's done in 3 of his last 6. He could be reasonably popular as a salary relief option, but I don't want any more than about 30% to ensure I can get enough exposure to other FRF options.
Cameron Smith: As mentioned with Koroisau, it's pretty hard to split the two premium HOK options. My gut says Cam due to his GOAT pedigree and bulletproof injury history, but he's literally the oldest man in the sport so it's fair to say that his days of pumping out 70+ scores every week are behind him. A 50/50 split with Koroisau is just fine.
Christian Welch: After starting the year slow on return from his ACL, Welch has really gotten it going in the also two months. He's gone straight past J Brom as the Storms dependable battering ram in the middle of the field, and it's translated into 50+ scores in 6 of his last 9, with a floor close to 40. Those are good numbers, so Welch is hard to go past as a top FRF play. 40% seems like the right number.
Felise Kaufusi: Much like J Brom, Kaufusi's output has dropped off this season as his ceiling games are few and far between. The good news is that he's cheap enough to only need ~45 points, which he's achieved in 3 of his last 8. 30-40% is the range here.
Kenneth Bromwich: Another stop forward having a below par fantasy season, but K Brom does have a little more ceiling potential than his brother and Kaufusi. The problem is that he's a little rocks and diamonds, and he's only exceeded 50 in 3 of 20 games. I think the range is wide on this one, as you can be aggressive hoping for his ceiling or hold back a bit because he likely will let us down. 20-40% seems right.
Nelson Asofa-Solomona: Nelson is one of several forwards on this slate that has hit a late season purple patch after getting a starting role. He needs ~55 points at his price, which he's achieved in 4 of his last 8. The presence of Finucane on the bench still worries me a little as someone who can steal his minutes, but he can put up a huge score in less minutes anyway. 30-40% is good again.
Brandon Smith: Here is our biggest wildcard on the slate. His price has dropped a little more than I expected for someone averaging 50 in his last 6. He provides an interesting alternative at HOK and is as good as any other play at FRF, so I think this is someone I want to over own. He did have issues with head knocks during last week's game, but I'm just hoping that reduces his ownership a little. I think getting close to 40% exposure should be enough to be over the field's ownership.
Tino Faasuamaleaui: Tino has had plenty of massive scores this year, but his move back to the bench hurts his floor significantly. If you want to be aggressive backing his outrageous talent then I think 30% is about the limit, but I'll be closer to 20.
Dale Finucane: Finucane is a dependable veteran, and he scores like one. Especially from the bench, I can't see him getting the 50+ points that would win the slate at low ownership. There is no need to be aggressive here in my opinion, so anywhere in the 0-10% range is fine.
Nicho Hynes: If you're wiling to bet on a bench utility at minimum price in a Grand Final, you're braver than me. He's shown he's a good player and solid fantasy scorer, but there is every chance he plays 0 minutes unless there is an injury, or the Storm get desperate. If you do want to take a couple of shots at him, I'd play him at HLF where the salary relief is more extreme and allows you to play all the best plays in other positions.
Final Word: That was a lot to take in probably. If you are playing less entries, you can only win on such a huge slate by taking some risks. The problem is that these are the two best teams in the NRL, and therefore they are full of good players presenting as worthwhile fantasy plays. Go with your gut, try some funky combinations, and enjoy the final NRL slate of 2020 (…Origin is going to be amazing though). Good Luck!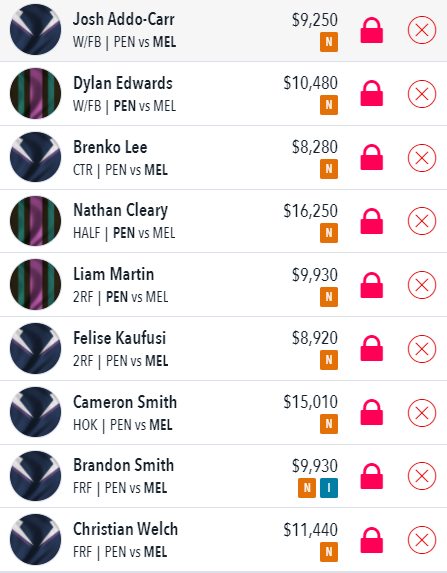 Always remember to gamble responsibly. When the fun stops, stop. If gambling is having a negative impact on your life, seek support at Gambling Help Online. 18+ only.