daily fantasy sports articles
NRL 2021 Daily Fantasy Tips: Grand Final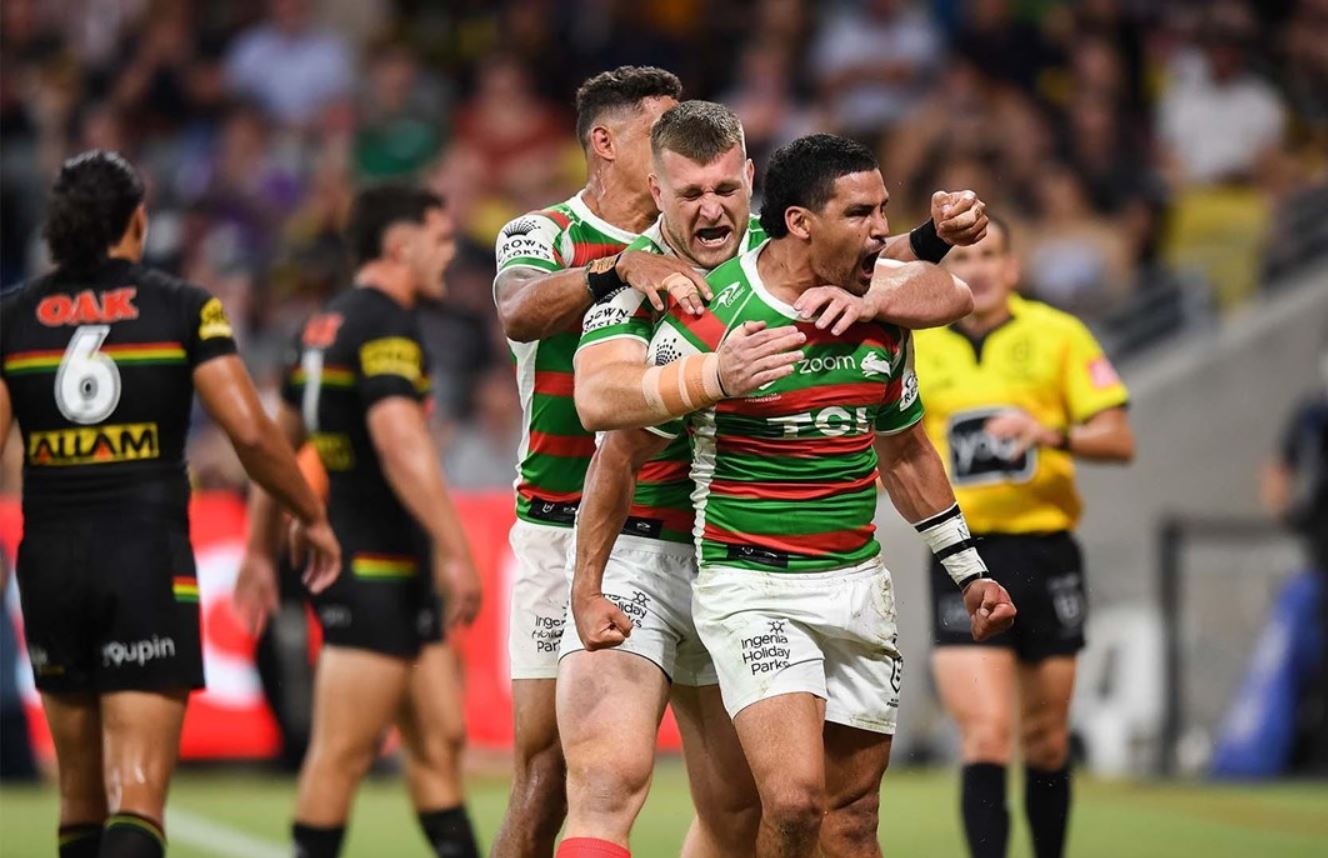 There is only one game left in the 2021 NRL season! As sad as that is, we have a fantastic Grand Final matchup on our hands, and some clear air on the sporting calendar. The Penrith Panthers managed to hold off the dominant Melbourne Storm in a low scoring thriller to book their berth for the second year in a row, while the South Sydney Rabbitohs had a comfortable win over the inconsistent Sea Eagles. The match is being played in Brisbane at Suncorp Stadium, a much-deserved venue change after most of the second half of the season had to be played in Queensland due to covid restrictions. At this stage it looks like the weather should be clear.
Draftstars has a massive $75,000 contest with $7,415 to first place, up 50% from last year's Grand Final. There are also several other contests including the Mini, Micro and the High Roller.
If this is your first time playing NRL Daily Fantasy for the biggest tournament of the year, then you can check out our "How to Guide"

Team News
As expected at this time of the year, the teams are very settled. The only change for either team is Moses Leota returning from injury in place of Tevita Pangai Junior, who sustained his own injury last weekend. Villiame Kikau is named to start with Liam Martin back to the bench, but there is a good chance they'll swap pregame as they have for several weeks now. Dylan Edwards was sporting a moon boot at training due the week, which casts some doubt. The Rabbitohs are at full-strength apart from Blake Taaffe filling the fullback role with Latrell Mitchell suspended. Adam Reynolds' groin seems to be the spotlight for the Bunnies this week…
Odds
Panthers $1.68 v Rabbitohs $2.25
Line – 3.5
Total – 37.5
Overview
It's a mild surprise that the Panthers are coming in as favourites, having endured a difficult run through the finals which included a 6-point loss to the Rabbitohs in the first week. Meanwhile the Rabbitohs got a week off and the won comfortably in their prelim last week, plus got an extra day's rest. Still, on paper there looks to be almost nothing in it, and the Panthers do have the edge of having experienced the Grand Final just 12 months ago, as well as being a more youthful team.
Team Breakdown
Panthers
Dylan Edwards ($10,340)
After a slight blip thanks to a minor injury in round 23 which seemed to linger (and forced him to miss the first final), Edwards has gotten things back on track in the last two weeks. Scores of 45 and 48 better reflect his normal level, and I expect him to be very busy again sniffing around the middle of the ruck and running the ball back strongly on kick returns. His price barely moved, and he still looks too cheap for his usual output.
Stephen Crichton ($7,900)
Crichton's move to the wing has been bad news for his fantasy prospects. Despite a smallish sample size, he's averaged around 28 points a game at the position, nearly 10 full points below his centre/fullback level. It doesn't help that tries have been hard to come by, and we did see a decent score of 37 when getting across the line last week. If you think the Panthers can have success down the right, he could be a good unique play, although Gagai and Johnston isn't one of the easier defensive pairings to break down.
Paul Momirovski ($8,430)
The new Panthers got off to a flyer this season with a 40+ average early, before he lost his spot and then barely averaged 30 in his first 6 weeks back in the team. Like Edwards, he has rebounded in style over the last two weeks, with two scores in the 40s and looking plenty involved both in attack and coming out of their own end. With that in mind, he looks like a solid salary saving alternative to some more popular centre options.
Matt Burton ($9,590)
In contrast, Burton has been strong all season, taking hold of a role at centre and never letting it go (apart from when needed in the halves). He has maintained an average over 40 in his games at centre, until scores of 20 and 27 in the last two weeks halved his numbers. He's seen a pretty big price drop and could be a little lower owned than usual. I'm keen to bet on his incredible talent and trust that he'll be ready to thrive on the big stage.
Brian To'o ($13,440)
In a season where he has averaged an incredible 56 points and exploded onto the Origin arena, To'o has faced a big challenge in the form of an ankle injury which has caused him to miss 5 of the last 9 games. Still, in the 4 games he has managed to play, he has just one score under 49 and an average of 62. There is enough value littered around the slate for him to be a popular play despite the high price, but it would be brave to bet against him continuing to excel.
Jarome Luai ($8,180)
Another Panther that found Origin success this season, Luai has struggled in the latter part of the season. He averaged 48 in the first 10 rounds, and just 30 in his 14 games since then. That is quite an alarming difference and makes it very difficult to see much upside in this play. The contrarian play is to be on him rediscovering his early season form and role, in which case he'd be a massive value at almost no ownership.
Nathan Cleary ($17,520)
Interestingly, Cleary has also seen a fantasy drop-off since returning from his Origin injury. An average of 91 in his first 12 games of the season has been followed by an average of 71 in his last 7. At his price he might need a score of 75+ to be worth it, something that he has done in more than 50% of his games all season, and even in 3 of his last 7. Can we safely assume that the recent drop-off is an insignificant stat that comes with a small sample size? I do think that he should thrive on the big stage and prove himself as the top player in the game.
Moses Leota ($9,950) It's been a career best season for Leota in a fantasy sense, stepping into the void left by James Tamou and averaging 40+ points per game. That kind of form has held pretty stable all season, but an injury has seen him miss two of the teams three finals. We should assume that he'll be fully fit for this game and ready to take on another big role after the injury to Pangai Jnr. He's likely to be overlooked in the FRF position with Nicholls/Tatola below him.
Api Koroisau ($12,540)
Another Panther that has suffered some injuries this season, Koroisau has now strung together six games with an average of 53. Many of those games featured slightly reduced minutes with Mitch Kenny on the bench, but we saw him play a full game last week in Kenny's absence and could see the same again. He looks to be slightly better value than Damien Cook at the HOK position, but it's close.
James Fisher-Harris ($11,890)
JFH had a good enough season to earn the reputation as potentially the best prop in the game, but he took a month off later in the season and then had some quiet games on his return. It looked like things were back not rack with a nice 57 in the second final, before a knee injury last week restricted his minutes and kept him to 33 points. There is some doubt that he'll be able to play this week, and we have to assume that if he is deemed fit, he'll still concede some of his usual minutes to the bench forwards. That will make it difficult to pay up for him as the most expensive FRF, with a ceiling game needed to be worth the price.
Kurt Capewell ($10,020)
Another Panther that started great (48 in his first 10), before averaging just 33 in his next 10 after returning from an injury sustained during Origin. He has returned to form in style in the last two games, with big scores of 64 and 54. With other forwards under injury clouds, his role as an 80 minute second-rower seems pretty secure, and he's still too cheap this week (especially in the CTR position).
Villiame Kikau ($11,220)
Kikau was in some doubt last week with an ankle concern but managed to play and score a healthy 47 points in the close win. Based on his average of around 45 he is prices very fairly, but as player with a big ceiling who can score 30 one week and 70 the next, Kikau represents a good GPP option. If he moves to the bench before the game, it should lower his ownership, which could create a good opportunity to stick with him and the reap the rewards if he can bust the line with a big play or two.
Isaah Yeo ($13,840)
If there is one Panther that never lets you down, it's Yeo. He was a little quieter than usual at the start of the season thanks to some reduced minutes but has gone on to average 57 in his last 12 after thriving in an Origin series win. That average goes up to 64 in his last 4 games, which leads me to believe that despite the big price tag it's important to try to find space for one or both of Yeo and opposition lock Cam Murray.
Scott Sorensen ($8,560)
Sorensen carved out a strong bench role for the team this season, at times commanding around 40 minutes and scoring 40+ points. That role has diminished somewhat in the last month as other Panthers forwards have returned to full fitness, but he could now be one to benefit from the likes of Fisher-Harris, Leota and Kikau being under injury clouds. If one or more of them has their role restricted, Sorensen will be ready to step into the void and would become an interesting value play as the cheapest viable 2RF.
Liam Martin ($9,300)
Another Panther who found Origin success in 2021, Martin has hovered around an average of 40 points for most of the season despite being asked to fill a variety of roles as both an edge and middle forward. If the expected switch with Kikau transpires, I expect him to play 20-30 minutes on the edge to start the game, and then another 30-20 in the middle. That equates to a round 40 points again, although there is more upside if he manages to rack up some attacking stats. He's definitely cheap enough to take a shot on that happening.
Tyrone May ($7,750)
The versatile May had some big games this season playing halfback, of all positions! In this game he's likely to be limited to 20-30 minutes as a middle forward and/or hooker, so likely lacks the 40+ point upside he'd need.
Spencer Leniu ($7,000)
The young Panthers tyro looked like he could explode at the start of the season, averaging 34 in his first 5. After that some niggling injuries he slid down the pecking order behind the likes of Leota, Sorensen and Martin led to a lowly average of 20 in his last 14 games playing cameo minutes. While that is likely to continue, there is a slim chance that some of the injury issues to the players ahead of him could see a bigger role. He's the type of player that can score very quickly, so if he somehow got close to 30 minutes, he could manage to pay off his minimum salary, but it's unlikely.
Rabbitohs
Blake Taaffe ($7,700)
The young speedster put up a career best game last week, with 41 fantasy points. He looked composed on the field and did a good job when asked to kick goals with Adam Reynolds limited by a groin strain. Reynolds may be ready to take the role back this week, but Taaffe could still have enough upside as the cheapest WFB to be a nice play regardless. This looks like a situation to play Taaffe in Rabbitohs stacks but avoid him if you think the Panthers win comfortably.
Alex Johnston ($10,140)
The try-scoring machine has taken it to a new level this season, capitalising on the new rules to score 29 tries in just 21 games. That absurd output has translated into a healthy fantasy average of 39, although games without a try have led to a terrible average of 16 in 6 such games. With the Rabbitohs left edge attack the best in the league, and the Panthers sporting some defensive questions marks on that side with the Momirovski-Crichton pairing, it's hard to dismiss Johnston and his substantial ceiling.
Dane Gagai ($11,650)
Gagai has also put together a massively strong season on the left edge, averaging an impressive 46 points. His consistency has rarely wavered, but he's often been too expensive to consider in DFS. He gets enough of a price drop this week to be in contention, needing around 50 points to be a strong play. He's done that in 8/22 games, and like Johnston has the advantage of being on the most likely side of the field for the Rabbitohs to find success.
Campbell Graham ($9,040)
After a breakout season in 2020, Graham found the going a little tougher this season, mostly thanks to a couple of injury issues. He's managed to get well and truly back on track at the end of the season, averaging 45 in his 5 games since returning from injury, and 53 in his last 3. He's still way too cheap and will be very popular as a result. As above, I expect the going to be a little tougher on his right-hand side of the field, but that doesn't mean that his immense talent can't lead to success if the Rabbitohs manage to get the better of the game.
Jaxson Paulo ($8,130) The young winger was on the fringes for much of the season, but has managed to force his way in for 8 of the last 9 games, for an average of 33 points. Like most wingers he needs at least one try to be relevant, although I suspect he'll need multiple tries in this one with Brian To'o likely to give him a tough night in defence. Probably my least favourite WFB play.
Cody Walker ($13,880)
Whether it was due to niggles for Adam Reynolds, or just incredible form on his own part, Walker has put together a great stretch of play leading to an average of 55 points in his 13 games since the teams bye (only 42 before that). As the most important member of the lethal left edge, it seems a bad time to bet against that form continuing. His elevated price tag means that he's unlikely to represent strong value, but he has plenty of ceiling to become a strong play in a Rabbitohs win.
Adam Reynolds ($12,670)
Despite what I've said above, Reynolds has managed to hold a consistent level throughout the season, with his average hovering around his career level of 52. His lowish price makes him a popular play most weeks, but there is concern now that his groin injury will limit his upside. If he can't goal kick, that's around 5 points surrendered, and he may also be limited in general play kicking which is so important to his scoring. For that reason, this seems like a decent spot to fade a popular player, but it can of course backfire (7/24 scores over 60 this season).
Mark Nicholls ($9,150)
Nicholls has managed to put together a career best season in his early 30s, mostly by grinding our consistent scores in the high 30s. He's had two really big scores thanks to rare try-scoring feats, but I think it's safe to say that won't happen this week. The likely outcome is to grind out a solid score close to 40 in a hard-fought match, which might just be enough thanks to a low price and a lot of question marks at the FRF position.
Damien Cook ($14,610)
One of the best fantasy performers for several season now, Cooks level has slipped a little in 2021. He still managed to maintain a fairly consistent average in the high 50s. Some of his truly massive ceiling games have been diminished from previous seasons, but he's still managed 5/23 scores over 70. An average of 61 in his last 6 has seen a bit of a price rise, which has me leaning towards the cheaper Koroisau with almost the same upside.
Tevita Tatola ($9,660)
Another player with some injury interruptions this season, Tatola has hovered around a low-40s average, which is about 5 points worse than his breakout 2020 season. As a result, he looks to be another player with a very affordable price tag, but the question is does he have the upside to win you the slate? His highest score this season is 51, and it will be hard to better that against such a strong opposition.
Keaon Koloamatangi ($11,650)
After a slow start in his first month as a starting player, the young tyro has broken out in a big way with an average of 50 in his last 18 games. That includes 5 scores over 60, which would be plenty at a slightly reduced price. The question is, can he achieve that against such a strong opposition? Given that he plays on the left where that Panthers are more susceptible and is available at FRF where the options are less appealing, I'm very interested in taking a punt in the youngster stepping up in the biggest game of his career.
Jaydn Su'a ($8,980)
The young backrower has been on a bit of a rollercoaster this season, at times thriving in an 80 minute role, and at times being asked to play reduced minutes either off the bench or even as a starter. We got a fair idea last week that he might be back to playing big minutes, when he played the full game while direct backup Jacob Host saw very limited minutes off the bench. He didn't quite capitalise with a score of only 34, but if the role repeats this week, he looks to be a strong play as the cheapest starting forward in the game.
Cameron Murray ($14,710)
Murray has had his best season yet, averaging over 60 if we take out his two bad scores when injured and then returning from that injury. He's the second most expensive player on the slate, but he also gets the second highest projection, so could well be worth the price. An average of 64 in his last 10 gives plenty of confidence that he can capitalise on strong form and overcome the tough matchup.
Benji Marshall ($7,000)
Benji has done nothing wrong when required to step into a starting role throughout the season, but he isn't relevant at all in his low-minute utility role off the bench. Probably the easiest fade on the slate.
Jacob Host ($7,000)
Host has surprised at times in his first season as a Rabbitoh, often managing to play around half a game off the bench and putting up some strong scores. However, we saw that role reduced to just 24 minutes last week, and I think at this pointy end the team is looking to trust it's starting pack, to the detriment of Host. It would be brave to invest in him now, despite the minimum salary.
Jai Arrow ($9,980)
Another new Rabbitoh, Arrow has had a strong season while being asked to play a number of roles. In 12 games as bench forward, he has been a 40-minute, 40 point type of player, with a little upside as seen in a big round 1 performance of 62 points. With his price as low as I've seen it for a while, it could be worth gambling on him bookending the season with big scores and emerging as the best play in the FRF position.
Tom Burgess ($10,780)
It has been a very consistent season for Burgess, missing only one game thanks to a round 25 rest, and maintaining an average in the low 40s. In his last four games he's been asked to play a role off the bench, which has seen a slight reduction in both minutes and points. That does make his price tag look a little high, but he still has enough upside with 6/25 scores of 50+. He's another lower owned play I'm willing to take a chance on at FRF.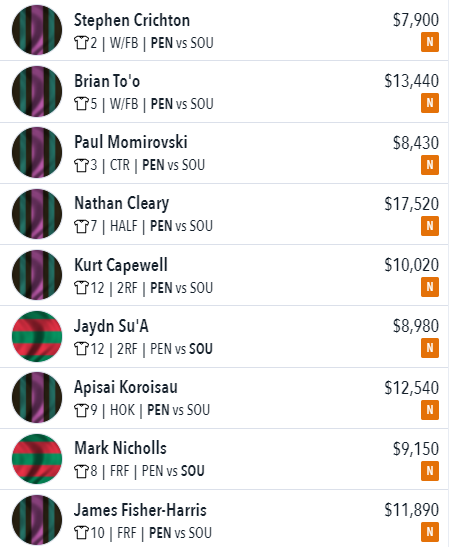 Always remember to gamble responsibly. When the fun stops, stop. If gambling is having a negative impact on your life, seek support at Gambling Help Online. 18+ only.