daily fantasy sports articles
Daily Fantasy Rankings Podcast #006 - jayk123 Talks NFL DFS & 990 Target Win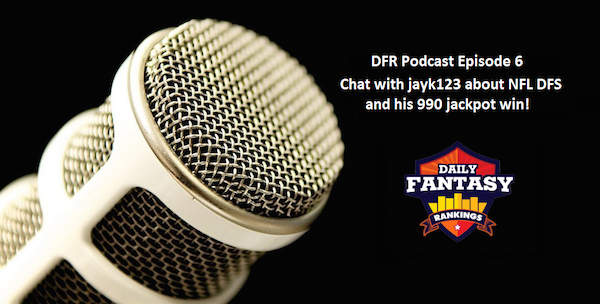 Daily Fantasy Rankings is back with another podcast for your listening pleasure. This week, in DFR Podcast Episode 6, we talk to jayk123 about NFL Daily Fantasy in Australia and his recent addition into the exclusive club of daily fantasy sports players who have hit the Draftstars 990 AFL target.
You may remember jayk123 from the inaugural DFR podcast, where he discussed his rise to the top of the Daily Fantasy Rankings leader board, how he got started playing Draftstars and Moneyball and some of the better wins he's had over his time.
But in Episode 6, jayk123 returns to chat about NFL Daily Fantasy, but firstly discusses his recent massive win - the monster weekend of Daily Fantasy he had in Round 22 of the AFL, where he managed to split the 990 target prize-pool of over $34,000 as well as finish in the top two in the Sunday $30,000.
"Hitting the 990 wasn't something that was really a goal of mine, because who can really decide that they are going to hit such a big score," jayk123 said. "But it ended up being a really crazy day."
jayk123 discusses what looked to be a pretty ordinary day in Draftstars and how it ended up being a special one after Richmond blew Fremantle out of the water in the 2nd half to finish with a 100-point win and a huge amount of fantasy points spread amongst their players.
"Richmond had a healthy lead at half time, but it still seemed like a fairly standard game until what actually eventuated was a bloodbath which put my team in a really good spot."
With the 2017 AFL season wrapping up in the coming weeks, the boys then go on to discuss another one of jayk123's daily fantasy passions, the NFL and in particular ways that DFS sites in Australia can build on some already impressive NFL contests.
"When it comes to NFL as a Daily Fantasy Sport it's an awesome game because it's got a good mixture of scores ticking up slowly, but then there are big fantasy point events like touchdowns which can really change up the leader board completely."
He also gives some great advice for anyone who might be thinking of taking up NFL Daily Fantasy for the first time in the upcoming season.
"Anyone who has played NBA on Draftstars will know that when a guy is 'in doubt' then very often they wont end up playing... In NFL there are less games and every game matters a lot more, so if there is a red cross on a player, a lot more often they will end up playing, so don't be put off and maybe google them and you might find more information that says they are actually expected to play."
NFL Daily Fantasy begins during the first week of the AFL Finals and we will be watching with interest to see how the growing Australian DFS community embraces the exciting American sport. In the meantime, get more tips about NFL Daily Fantasy from star DFS player jayk123!
You can listen to Episode 6 of the DFR Podcast in full using the Soundcloud media player below or if you want to listen on the go you can find it on iTunes.
Please feel free to head to our Australian daily fantasy forum to discuss episode five of the DFR podcast, while you can also click here to suggest future DFR guests who you would like to hear from.

Want to play NFL Daily Fantasy along side DFS stars like jayk123? Click on the banner below to create a Draftstars account today, while you can learn more about on the site on our Draftstars review page.

Follow Daily Fantasy Rankings on Twitter @RankingsDFS