daily fantasy sports articles
SuperCoach vs DFS: The differences in scoring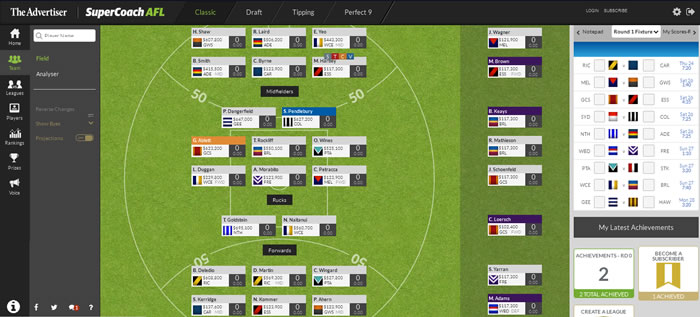 If you're a seasoned SuperCoach veteran, but find you no longer have the time to commit to a season long contest with your mates, you might be thinking of making the switch to daily fantasy. Let's be honest, the pros heavily outweigh the cons. There's no season long commitment, you won't get stuck all year with a bad team, you can still play against all your mates and, best of all, you can take their money!
If you've been playing SuperCoach for a long time you've probably become accustomed to their scoring system that values a lot more intricate stats than the simpler forms of DFS do, so we'll run you through the major changes to the scoring system that you'll come across when you make the switch.
For the purpose of this article, we'll be using the scoring systems from the most popular Australian DFS sites, Moneyball and Draftstars, to compare them to the SuperCoach system for all of you avid DFS players.
SuperCoach Scoring System
The current SuperCoach scoring system is based off the Champion Data points system and unlike the more DFS-similar AFL Fantasy system, SuperCoach considers several factors that don't show up on an everyday stat sheet. Stats such as gathers, handball receives, clangers, spoils, shepherds and intercept marks all factor into the Champion Data ranking system as well as placing an extremely heavy bias on whether or not each player's disposal was a) contested or not and b) effective or not.
On this system we see the best players in the league average well above 100 points per game, with the 2019 leading scorer being Brodie Grundy from the Pies who averaged a whopping 130.0 points. You'll often find that some of the more outside midfielders, who rack up a lot of cheap possessions skirting the packs and not winning their own ball will often score a lot lower than the genuine inside midfielders in this system, however, it does even the spread to make backs and forwards more valuable than the DFS and AFL Fantasy system.
DFS Scoring System
Both Moneyball and DraftStars use the more conventional scoring system that has been implemented in DreamTeam, and now AFL Fantasy system, for years. It's a much simpler system, so if you're coming over from SuperCoach, it won't take you long to pick up, however, it does reward different types of players, making them a lot more valuable come your weekly DFS selection meeting.

As we can see above, there are only nine statistical categories making up the Moneyball and Draftstars system, and with over a decade's worth of sample sizing in the DreamTeam and Fantasy AFL competitions, it's safe to say that it favours midfielders heavily. Of the top 30 AFL Fantasy scorers last year, 27 of them were midfielders, with only ruckman Max Gawn and Brodie Grundy along with defender Jake Llyod being able to crack the list.
The main thing to look for when selecting your DFS side is getting part-time midfielders who you can select as forwards or backs. This will maximise your scoring capability over taking guys who might be much better players, but just won't score well, such as full backs or small forwards. Some examples of these dual position players are Issac Heeney, Michael Waters, Jack Billings, Robbie Gray, Lachie Whitfield and Brodie Smith.
These are just a few tips to think about when it comes to thinking about DFS scoring for the AFL. Keep an eye the strategy section of Daily Fantasy Rankings for more DFS tips and tricks to help you move up the rankings!