daily fantasy sports articles
2018-19 NBA Daily Fantasy Tips for Tuesday, 13th November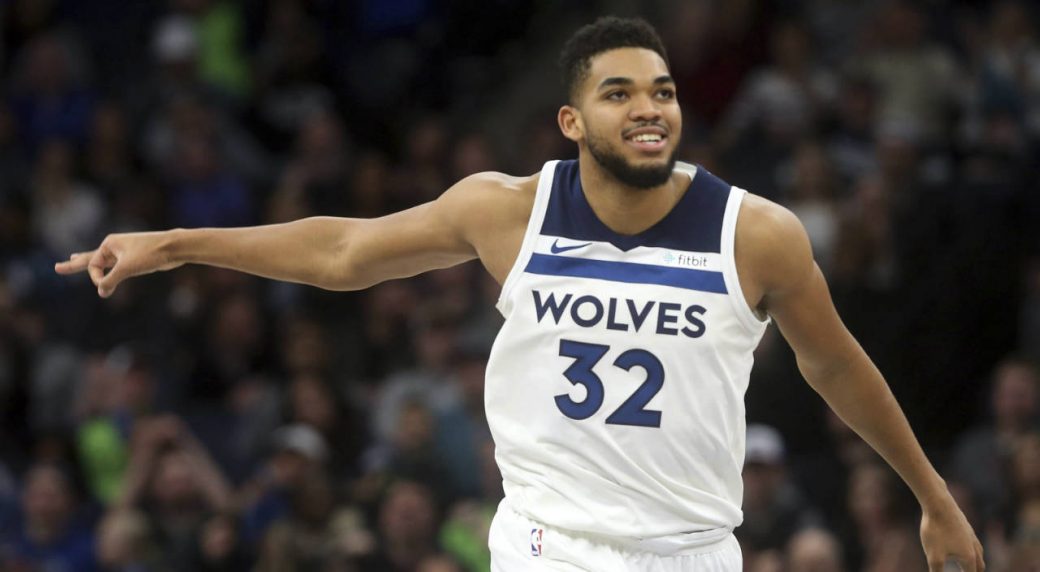 NBA Monday is loaded this week with a 9 game slate this week. The major NBA DFS tournaments on offer include:
We have broken down the matchups and highlighted the key plays to help you build winning DFS line-up. For more insight into how to utilise our game breakdowns as well as how to analyse key stats and data check out our NBA DFS Training Camp Series that comes out weekly:
Part 1 – Betting Lines and Totals
Part 2 – Matchup Analysis – Pace and Defense vs Position
Part 3 – Key Statistics in Daily Fantasy Basketball
GAME BREAKDOWN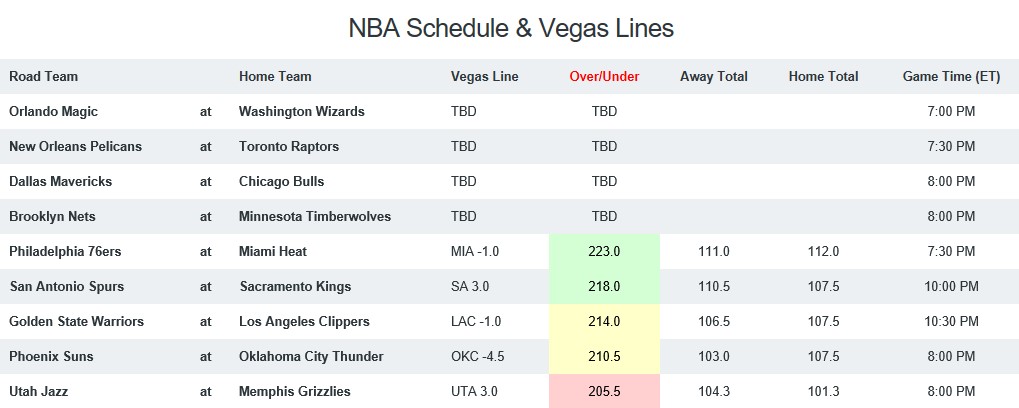 Once again we can see the injury news is the telling story with totals for four games yet to be up. The major injuries to consider on this slate currently included:
Orlando Magic, Aaron Gordon/Jonathan Isaac
New Orleans Pelicans, Elfrid Payton/Nikola Mirotic
Dallas Mavericks, Wesley Matthews
Minnesota Timberwolves, Jeff Teague/Andrew Wiggins
Brooklyn Nets, Caris LaVert
Keep a close eye on the injury news closer to tip off as there are several high usage players on this slate that will open up opportunities or value for other players if anyone listed above is out.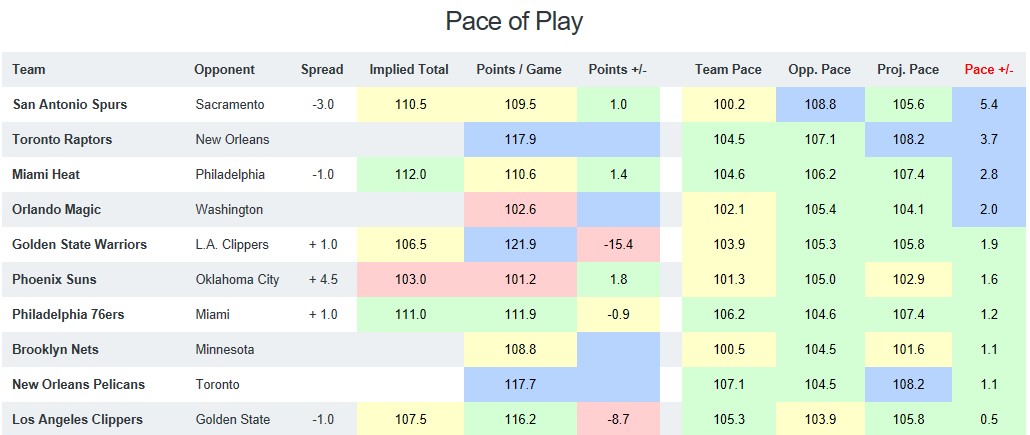 Even without all the game totals we can get a good picture who which teams are in positive matchups to target looking at the expected pace numbers. The San Antonio Spurs are in the biggest pace up position of the day against the Sacramento Kings who have played the second fastest pace in the league this season. The Toronto Raptors (12th in pace this season) vs the New Orleans Pelicans (4th in pace) should also generate plenty of extra possessions and make for a solid game stack option.
On a slate like this you do not have to target the most obvious games however as there are 10 teams in pace up matchups so feel free to attach the less popular plays on this slate to reduce your ownership.

VALUE
As usual remember it is early to be predicting the value plays with line-ups not being confirmed until closer to tipoff. This is particularly true with all the pending injury news highlighted above.
T.J. McConnell (DS $6,400, DK $3,800) should see another health dose of minutes vs the Miami Heat with the blockbuster Jimmy Butler deal not expected to be officially through in time for this matchup. Surprisingly to the majority of DFS players on Sunday McConnell ended up being the biggest beneficiary from the deal in the first post trade game playing over 34 minutes and notching up 32 fantasy points. This won't catch players by surprise again, McConnell has consistently shown over recent seasons he will take advantage of playing time from a fantasy perspective when the opportunity presents itself and Miami have the 19th worst defensive efficiency to the PG position this season.
Other value targets for Philadelphia while the trade is still in purgatory include Landry Shamet (42 minutes last game, 16 fantasy points) and Markelle Fultz (24 minutes, 22.75 fantasy points).
Jarell Martin (DS $5,000, DK $3,000) got the start today with Aaron Gordon joining Jonathon Isaac on the injury list. While the Magic have a glut of wing players off the bench Martin has the size to play the stretch four role that Gordon typically fills. Today Martin played 28 minutes in what became a blow out and returned 25.5 fantasy points at the bare minimum price despite shooting 2-10 from the field. If he stars again on this slate he is a new lock and load play.
It is worth mentioning that with both Isaac and Gordon out Terrence Ross (DS $8,800, DK $5,100) and Jonathon Simmons (DS $5,560, DK $3,300) also become targets for the Magic.
MID-PRICED
Harrison Barnes (DS $10,670, DK $5,000) has a season low price point on DraftKings after two mediocre performances. This looks like a nice bounce back position thought vs the Chicago Bulls who are ranked 25th in the defensive efficiency vs small forwards. Barnes has shown his upside of 45 fantasy points already this season which is GPP winning production at his current price.
Steven Adams (DS $12,810, DK $6,700) has posted 35.25, 40.5, and 40.75 fantasy points in his last three games with Westbrook out of the line-up. He will now matchup with the rookie Deandre Ayton who despite posting big offensive numbers to start his career has struggled significantly on the defensive end. Phoenix is ranked 24th in defensive efficiency vs the centre position and has conceded the fourth most real points. Adams might not have the upside to win a GPP but he is as solid as they come at this price for cash games.
PREMIUM
Karl Anthony-Towns (DS $17,650, DK $8,900) is finally free of the Jimmy Butler hostage situation which in addition to the emotional boost will provide a greater amount of usage. Towns has seen a 3.3% increase in usage with Butler off the floor this season, and if Wiggins is out as well this play becomes even better, as without Butler and Wiggins on the floor this season Towns massive 9.8% boost.
As if this play couldn't be any better Towns is going against the Brooklyn Nets who have been decimated by the centre position all season. They are ranked 20th in defensive efficiency vs centres and have given up the third most real points and most rebounds.
Kawai Leonard (DS $15,640, DK $8,700) has seen a price drop to back under $9k on DraftKings, which is a price point that is far more interesting for him. Toronto vs New Orleans has the highest predicted pace of all matchups on the slate and should have one of the higher game totals. The Pelicans are also ranked 27th in the league in defensive efficiency to the SF position making this a smash spot for Kawai.
Lamarcus Aldridge (DS $13,420, DK $8,100) has obviously lost some of his usage this season with Derozan joining the team making his scoring a little more up and down. This has kept his price point reasonable however and he has a prime matchup vs the Sacramento Kings. As mentioned earlier the Spurs are in the biggest pace up match of the day and the Kings have conceded the second most rebounds in the league to the centre position this season.
Kevin Durant (DS $18,370, DK $11,000) is a huge beneficiary when Steph Curry is out of the line-up receiving a 7.3 usage boost this season when he is off the floor. This was evident in the last match where Durant posted 57.75 fantasy points in 30 minutes. His price has been adjusted to reflect this up to a season high $11K on DraftKings, however he is still one of the safest ways to spend your money on this slate.
Data provided by Notorious of RotoGrinders.

Always remember to gamble responsibly. When the fun stops, stop. If gambling is having a negative impact on your life, seek support at Gambling Help Online. 18+ only.