daily fantasy sports articles
2018-19 NBA Daily Fantasy Tips for Tuesday, 27th November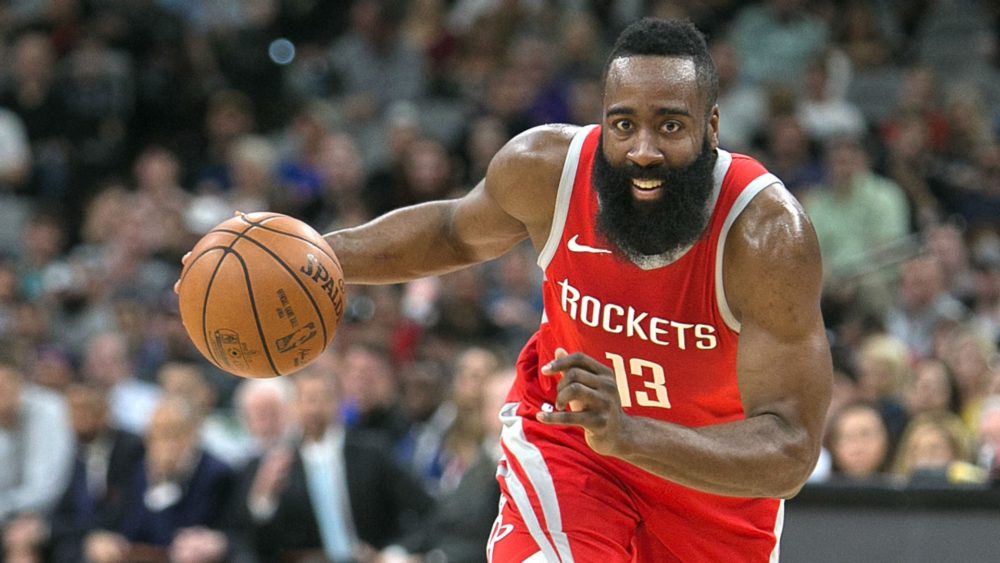 NBA DFS Preview – Tuesday 27th November 2018
NBA Tuesday brings a very manageable 7 game slate this week . The usual major Tuesday DFS tournaments are on offer:
We have broken down the matchups and highlighted the key plays to help you build winning line-ups. For more insight into how to utilise our game breakdown data check out our NBA DFS Training Camp series that comes out weekly:
Part 1 – Betting Lines and Totals
Part 2 – Matchup Analysis – Pace and Defense vs Position
Part 3 – Key Statistics in Daily Fantasy Basketball
Part 4 – Trade Analysis – Breaking Down the Jimmy Butler Trade
GAME BREAKDOWN

There are two games with totals yet to be released on this slate as a result of pending injury news. The impact of this news is covered below.
The Milwaukee Bucks vs Charlotte Hornets is the premier game on the slate from a DFS point of view with a game total 10 points above the next best listed. Despite the fact that the Bucks are only a 4.5 favourite I think it is reasonable to beware of blowout potential given the Hornets are on a back to back.
Houston Rockets vs Washington Wizards is the next best and will also be an attractive target with a 224 point game total.
Beyond those two games scores are expected to be relatively low in comparison to the season at large so we will need to focus more on pace up matchups.

Boston are in the pace up match of the day vs the New Orleans Pelicans. This match should also have a close spread which makes it even more attractive. The issue this year has been with Boston having such a large of spread of players who can use the ball on any possession.
As evidenced by the game total Charlotte have the second best pace up matchup, however playing against Milwaukee who have the 6th best defensive efficiency in the league this year isn't always a great option.
The Houston Rockets look to be one of the best targets of the day against the Wizards. The spread is just 3.5 and the Wizards have been playing at the 6th fastest pace this season while also being 28th in the league in defensive efficiency.
Injury News
Some of the major injury news to monitor includes:
Victor Oladipo (DS $14,710, DK $8,500) is listed as a game time decision vs the Jazz on this slate. Oladipo has missed three games this year and using the player out tool on our resources page you can see the biggest beneficiaries in those three games have been Aaron Holiday (DS $5,920, DK $3,600), Cory Joseph (DS $8,610, DK $4,500) and Domantas Sabonis (DS $13,020, DK $6,800).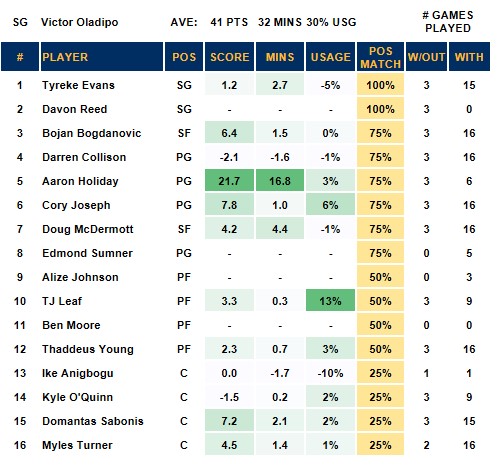 Donovan Mitchell (DS $12,230, DK $7,100) did not play in today's game and news about tomorrow is yet to surface. In games he has missed this year Ricky Rubio (DS $11,160, DK $6,500) has been one of the major beneficiaries getting a 4% usage bump and averaging 6.9 more fantasy points.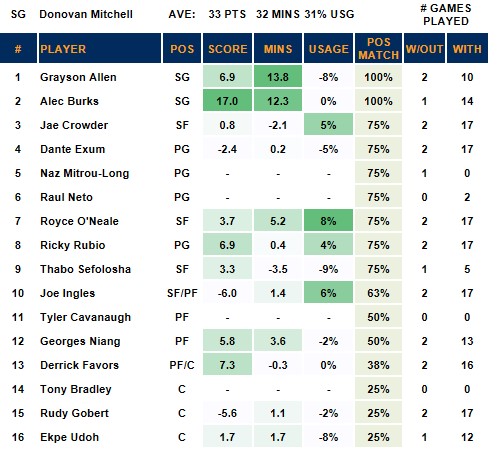 Anthony Davis (DS $21,890, DK $11,200) is a game time decision vs Boston on this slate. He was out for their most recent game and Julius Randle (DS $16,670, DK $7,600) took full advantage moving into the starting line-up and posting a massive 29 points, 15 rebounds and 7 assists.

VALUE
As usual remember it is early to be predicting the value plays with line-ups not being confirmed until closer to tipoff.
Aaron Holiday (DS $5,920, DK $3,600) has seen an increase of 16.8 minutes per game in the three games Oladipo has missed this year. If he is out again Holiday will be one of the best value plays on this slate at his current price.
David Nwaba (DS $7,330, DK $3,700) hasn't been as consistent in fantasy output as he was when he got opportunity last for Chicago, however he is getting way too many minutes for his current price. Playing over 30 minutes in each of his last two games, on this slate he will draw one of the best matchups in the league for his position, the Timberwolves, who have conceded the third most points to small forwards.
Alex Burks (DS $6,180, DK $4,000) is another sneaky beneficiary of an injured player. Coming off the bench he has seen a significant bump in scoring and minutes this season without Donovan Mitchell in the lineup. If he is out again on this slate he should make for a great value play.
MID-PRICED
Ricky Rubio (DS $11,160, DK $6,500) scored 42.75 fantasy points today without Donovan Mitchell in the lineup continuing a trend of excelling in that situation. On this slate the matchup isn't as friendly however Rubio hasn't seen a price increase after today's performance and should still be able to return value if Mitchell is out again.
Jayson Tatum (DS $11,260, DK $6,400) has 40+ point upside which would make for a good return at his current price point. He hasn't been consistent this year but his matchup on this slate is one of the best in the league with the Pelicans playing at the third fastest pace in the league this season and giving up the fourth most fantasy points.
PREMIUM
Kyrie Irving (DS $16,730, DK $8,700) cooled off in his last two games after a ridiculous patch of 11 games where he averaged just under 50 fantasy points. On this slate he will have a pace up matchup vs the New Orleans Pelicans who have conceded the third most fantasy points to PGs this season:

James Harden (DS $20,120, DK $11,400) has one of the premier matchups on the slate vs the Washington Wizards who have had one of the worst defences in the league this season. They have conceded the most points in the league vs point guards this year, a role Harden typically plays in the offense along with Chris Paul. Furthermore Paul is still under an injury cloud, if he was to miss this game Harden would almost become a lock and load play given he has averaged 6 points per game more and had a 5% usage bump when Paul has been out this year.
Kevin Durant (DS $18,560, DK $10,900) is under-priced in comparison to the other major stars on this slate. After posting an average of over 58 fantasy points in his last four games, which included a monster 71 in his last game he has demonstrated a consistent return of value at this price point. With Steph still out this should continue into the near future.
LaMarcus Aldridge (DS $14,070, DK $8,100) has been very hit and miss this season for fantasy. He has a suitable matchup on this slate vs the Chicago Bulls who have conceded the third most fantasy points to centres so far this season on the back of giving up the third most rebounds. Rebounding has been the corner stone to Aldridge's scoring this season and while the Bulls don't play at a fast tempo Aldridge has shown the ability to post big scores against slower paced teams this season, including a recent 56.5 fantasy points vs Indiana.
Data provided by Notorious of RotoGrinders and Daily Fantasy Rankings NBA Resources

Always remember to gamble responsibly. When the fun stops, stop. If gambling is having a negative impact on your life, seek support at Gambling Help Online. 18+ only.