daily fantasy sports articles
2018-19 NBA Daily Fantasy Tips for Tuesday, 11th December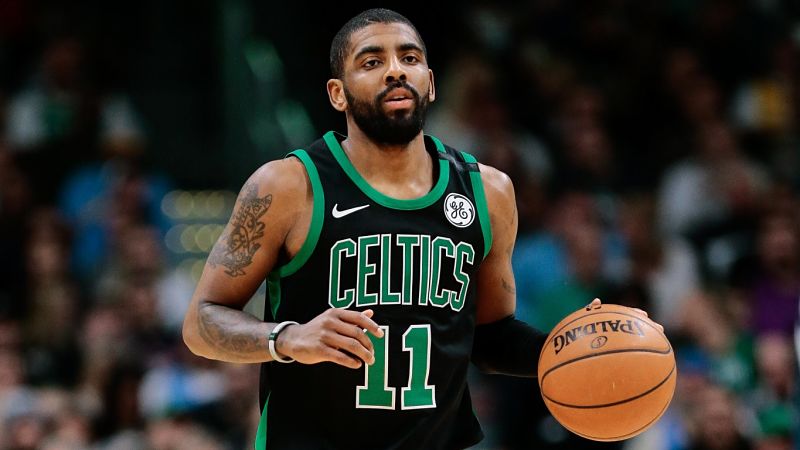 NBA Monday brings a huge 11 game slate get the week rolling. The usual major Monday DFS tournaments are on offer:
We have broken down the matchups and highlighted the key plays to help you build winning lineups. For more insight into how to utilise our game breakdown data check out our NBA DFS Training Camp Series that comes out weekly:
Part 1 – Betting Lines and Totals
Part 2 – Matchup Analysis – Pace and Defense vs Position
Part 3 – Key Statistics in Daily Fantasy Basketball
Part 4 – Trade Analysis – Breaking Down the Jimmy Butler Trade
Part 5 – DraftKings Sharpshooter Winning Lineup Recap
GAME BREAKDOWN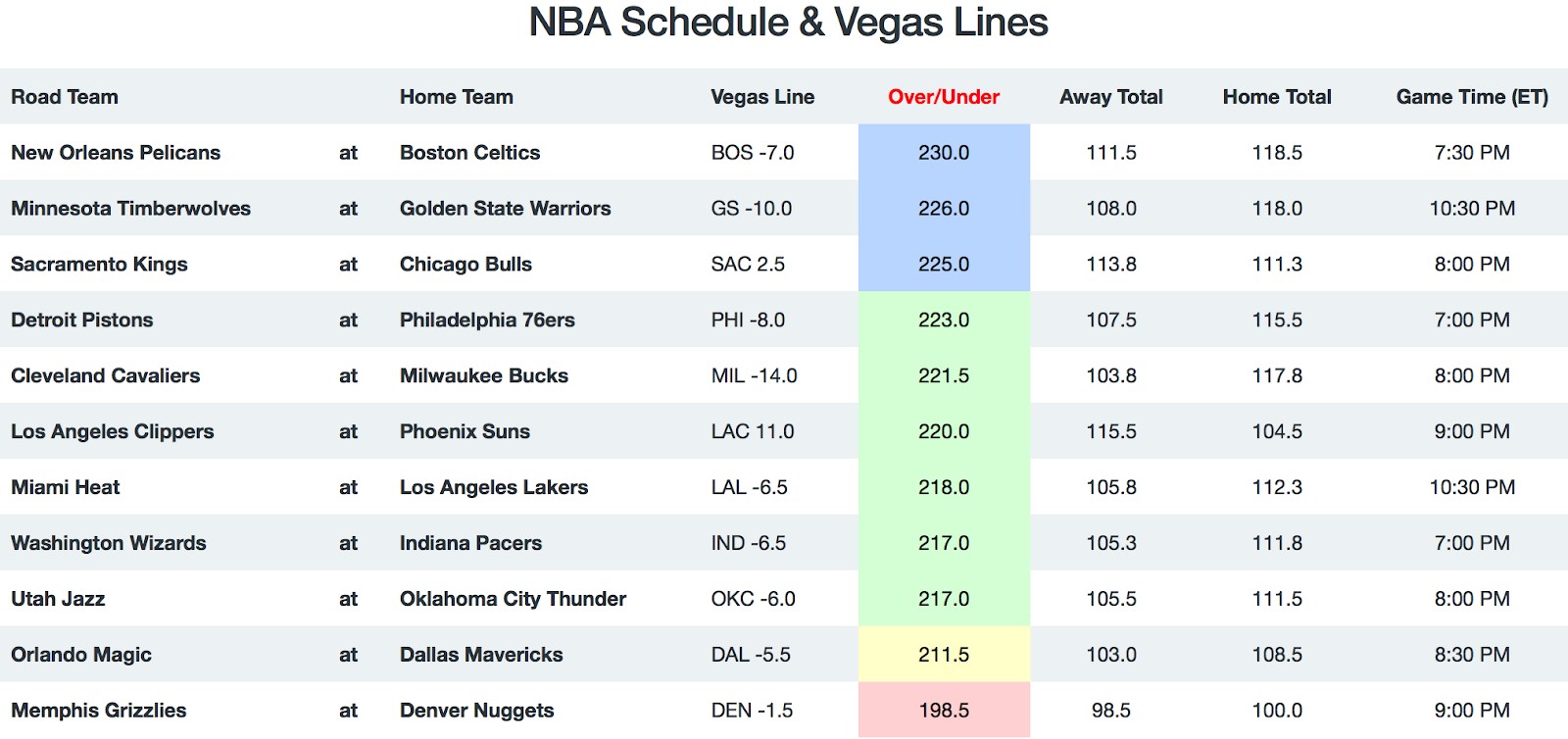 It is a full buffet of options on this 11 game slate with 6 game totals 220 or higher. On slates like this a key step is to narrow down your pool and two games stand out as immediate write offs unless ridiculous value arises in those particular games. Firstly the Memphis vs Denver game has a brutal 198.5 point game total, which is the lowest I can remember covering this season. Orlando vs Dallas is another that sits almost 5 points lower than the third lowest game total at 211.5.
New Orleans vs Boston and Minnesota vs Golden State lead the slate with 230 point and 226 point game totals, but the match that stands out to me is the next on down in Sacramento vs Chicago. That match brings a 225 point total with just a 2.5 point line. Even better it matches up two of the worst defensive teams in the league against each other with Sacramento 21st in defensive efficiency this season and Chicago 23rd.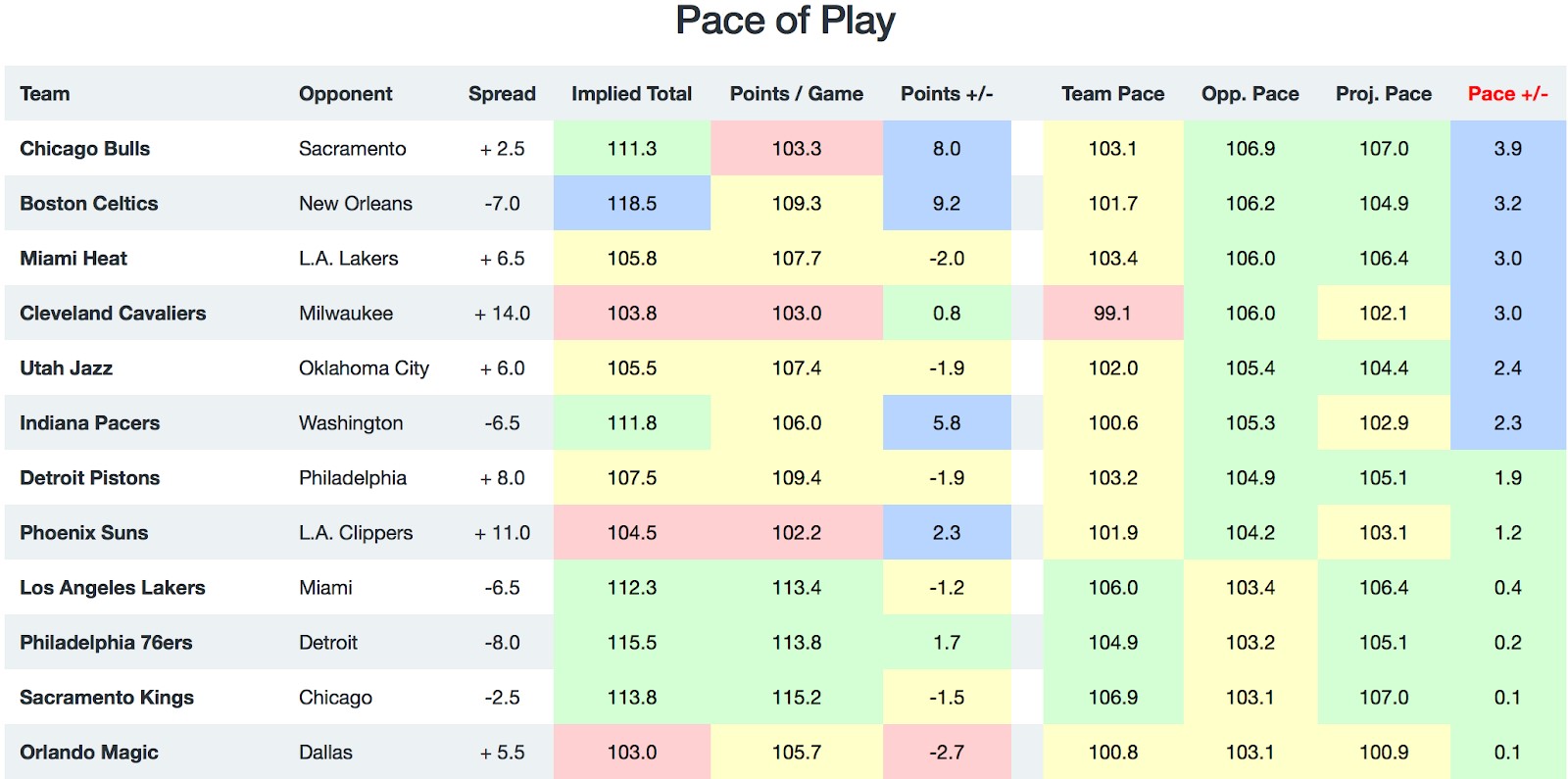 The pace of play supports this game with Chicago holding the biggest pace up matchup on the slate, and also the second highest implied total differential to their season average at +8.0. Boston hold the biggest implied total differential at a massive +9.2 points playing at home vs New Orleans.
The sneaky target on this slate will be the Indiana Pacers who are in a solid pace up matchup vs the Washington Wizards and hold an implied total differential of +5.8 points.
INJURY NEWS
Some of the major injury news to monitor includes:
Boston Celtics
Al Horford remains questionable for the game against the New Orleans Hornets. Horford has missed three games this year with the biggest beneficiaries being Aron Baynes (DS $5,930, DK $3,300), who averaged +17.2 fantasy points from 9.4 more minutes, and Daniel Theis (DS $9,820, DK $4,000) who averaged +19.8 points from 10.7 more minutes. Note Aron Baynes is also questionable, if they are both out again Daniel Theis will become one of the top value plays on the slate.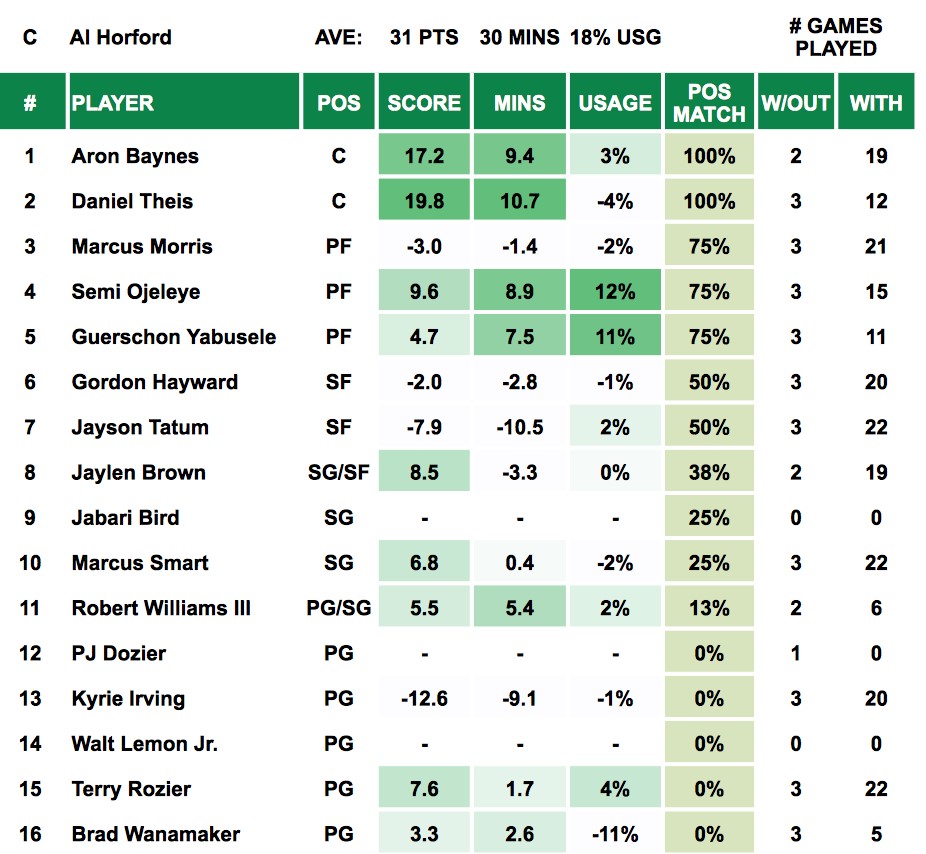 Denver Nuggets
Paul Milsap is out with a fractured toe. As mentioned above this is the most disgusting game not just on this slate but possibly of the season. However, Trey Lyles (DS $9,490, DK $3,700) should still make for a popular value play on the slate at his price: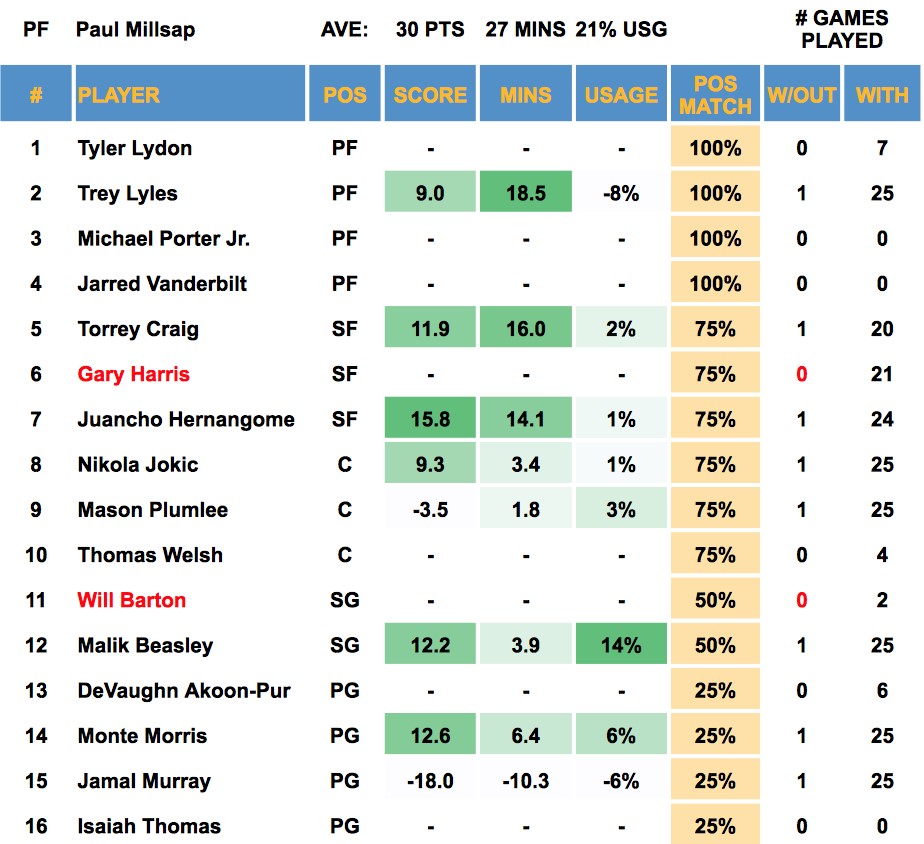 Washington Wizards
John Wall is questionable for the matchup with the Indiana Pacers. Wall has missed one game this season and this benefited essentially every starter in that game. That game was against the Atlanta Hawks, which is the best matchup in the league from a fantasy perspective so you will need to take that with a grain of salt.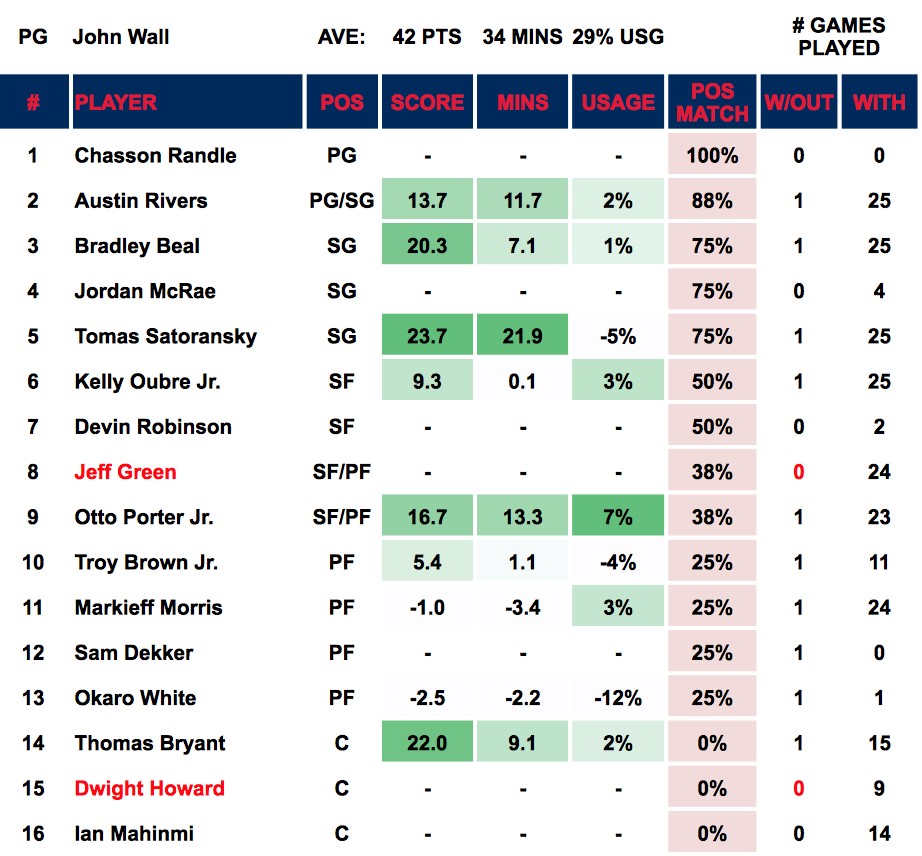 VALUE
As usual remember it is early to be predicting the value plays with line-ups not being confirmed until closer to tipoff.
Aron Baynes (DS $5,930, DK $3,300) / Daniel Theis (DS $9,820, DK $4,000) will be great value plays as noted in the injury section above pending who plays and who is out. They have one of the top matchups in the league as well vs New Orleans who play at the 3rd fastest pace in the league this year.
Thomas Satoransky (DS 6,650, DK $4,200) / Austin Rivers (DS $5,700, DK $4,000) are also top value plays if John Wall is out. These value plays don't have as good a matchup as Baynes / Theis do, however they will still play far too many minutes for their price if Wall is out.
Trey Lyles (DS $9,490, DK $3,700) is way too cheap on DraftKings for someone who will play over 30 minutes with Milsap out of the lineup. I know it didn't take me long to waiver on scratching this game off the slate, but Lyles has averaged just under 1 fantasy point per minute this season and should still be able to return value at near the minimum on DraftKings. On Draftstars I wouldn't touch him at the price in this matchup.
Tyreke Evans (DS $8,670, DK $4,700) is making me question my sanity as I continue to roster him slate after slate only to have him let me down again. As is the magic of DFS however his price continues to drop and I channel my best Gordon Gekko, "I loved him at $5K+, under $5K? It's an insult!" The thing is Evans has 40+ point upside and this slate makes for the perfect spot for him to hit that at low ownership going against the Washington Wizards who have given up the 4th most fantasy points in the league this season.
Boban Marjanovic (DS $5,960, DK $3,800) is a pure punt play based on the minutes he receives, however on this slate he draws the Phoenix Suns who have given up the second most points in the league to centres this season. Despite starting he only played 13 minutes in his last game, but two games before that he posted 30 plus fantasy points in just 13 minutes of action. GPPs ONLY!
MID-PRICED
De'Aaron Fox (DS $13,290, DK $7,600) is one of the plays of the slate for mine. I mentioned above how much I loved this matchup, he is priced well for a player that flashed 60 point upside just two games ago and Chicago have been getting destroyed by point guards over the last 10 games conceding the 3rd most fantasy points in the league to that position.

Donovan Mitchell (DS $11,620, DK $7,000) is worth flagging entirely due to the fact that he is severely under priced for a player averaging over 30 minutes with a usage rate or 29%. Tread carefully though as he has struggled this season and on this slate has one of the toughest matchups in the league vs the Oklahoma City Thunder who are number 1 in the league in defensive efficiency this season.
Lauri Markkanen (DS $11,190, DK $6,200) has been straight fire since returning from his injury. He has posted over 40 fantasy points in 2 of his last 3 games, with his most recent game seeing him only play 18 minutes as the game was over 2 seconds after tip off. He should be well rested for this match vs Sacramento who play at the second fastest pace in the league this season.
Montrezl Harrell (DS $11,320, DK $6,700) has the same elite matchup highlighted for Boban above. If Boban doesn't get substantial minutes Harrell is the one that should soak the rest up. His price has reduced recently from a few subpar matchups, but he has consistently shown 40+ point upside this season and has the chance to bounce back in this elite matchup vs Phoenix.
PREMIUM
Kyrie Irving (DS $15,090, DK $8,900) is matched up against the New Orleans Pelicans on this slate who have given up the second most fantasy points to point guards in the league this season. Boston played New Orleans on the 26th of November and Irving didn't disappoint posting a massive 58.
Karl Anthony Towns (DS $17,090, DK $9,200) has fared well against the Golden State Warriors who essentially have no real matchup for him. There is nothing that pops off the screen in DvP numbers vs centers but last season he averaged 26 points and 13 rebounds against the Warriors and they remain a team I like to sneakily attack at centre.
Data provided by Notorious of RotoGrinders and Daily Fantasy Rankings NBA Resources

Always remember to gamble responsibly. When the fun stops, stop. If gambling is having a negative impact on your life, seek support at Gambling Help Online. 18+ only.