daily fantasy sports articles
How to play Daily Fantasy NBA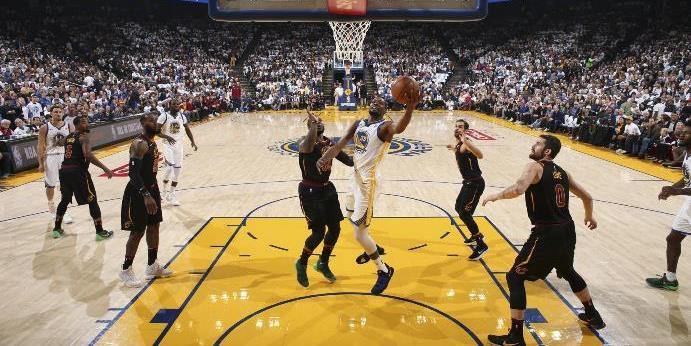 One of the biggest professional sporting competitions in the world is the NBA in the United States. The NBA is the elite club basketball competition in the world. The competition has a long season, with 30 sides each playing 82 games, before a lengthy play-off series which is in the form of a knockout. Each play-off match-up is a best of 7 series. Here we will explain just how does NBA daily fantasy work.
Each NBA side has 5 players on the court and 7 on the interchange. However in NBA Fantasy, the team structure is different, much like other fantasy team sports.
NBA Fantasy is one of more consistent yet engaging fantasy sports there is. Players from the tip to the end of the games score fantasy points from their statistics. Fantasy points are accrued whilst players are on the court and there isn't a real major event that spikes production. Basketball is one of the most intriguing Daily Fantasy Sports however as creating teams and forgetting is not an ideal strategy. Team lineups, injuries and players not taking to the court can turn your experience of optimism to heartbreak very quickly. And the best thing is that contests are on a daily basis!
Over at DraftKings the roster layout for daily fantasy NBA on DraftKings is Point Guard, Shooting Guard, Small Forward, Power Forward, Center, Guard, Forward and Utility. The Guard position can be filled by a second Point Guard or Shooting Guard. Likewise, the Forward position can be filled by any Small Forward or Power Forward. And the Utility position can be filled by any player.
DraftKings has a few more metrics to determine a player's score, which you should certainly look at, as they would impact on your fantasy selections.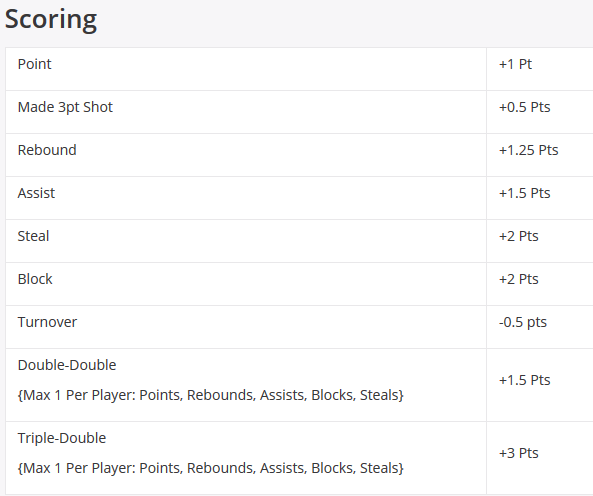 On Draftstars the roster layout for Draftstars consist of x2 Point Guards, x2 Shooting Guards, x2 Small Forwards, x2 Power Forwards and x1 Centre. Whilst very similar to DraftKings, Draftstars scoring does rewards players for three point shots you make, however you lose points for missed field goals and free throws.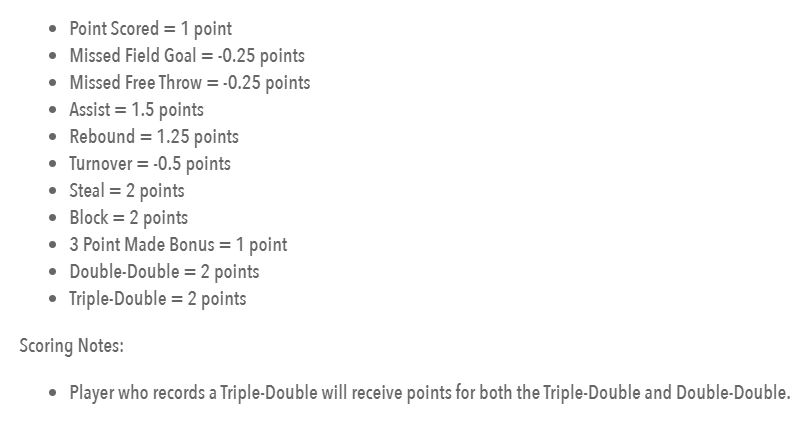 On Moneyball the roster layout is exactly the same as Draftstars but the scoring system is a much simplified version. As you can see below.

Last season our senior NBA writer Jesse Penfold (J2theP) took us through a six part series on advanced DFS Training Camp for the NBA. You can revisit his training camp by accessing our Training Camp or clicking on the links below:
Part 1 – Betting Lines and Totals
Part 2 – Matchup Analysis – Pace and Defense vs Position
Part 3 – Key Statistics in Daily Fantasy Basketball
Part 4 – Trade Analysis – Breaking Down Trades
Part 5 – DraftKings Sharpshooter Winning Lineup Recap
Part 6 – Adjusting for Lineup News
With such a long season and huge number of games, it is wise to keep a close eye on the interchange players, as they will likely get plenty of game time. Now that you know how NBA Daily Fantasy works, be sure to check back here at Daily Fantasy Rankings, as we will have plenty of NBA Fantasy tips to further assist you throughout the season