daily fantasy sports articles
2018-19 NBA Daily Fantasy Tips for NBA Finals, Game One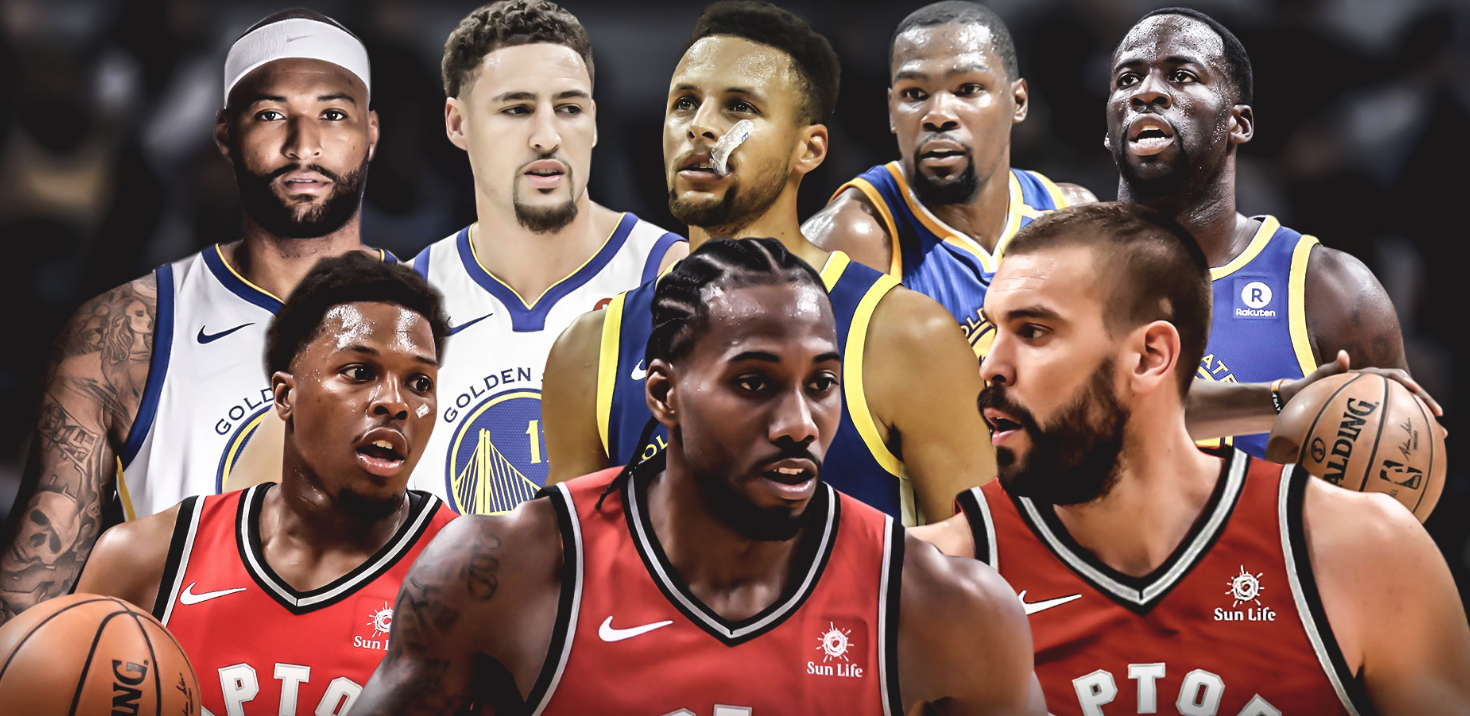 Game One of the NBA Finals is set to tip off on Thursday (Friday AEST) between the Golden State Warriors and the Toronto Raptors. It should be an exciting contest as the Warriors are returning to the NBA Finals for the fifth straight year and attempting to make history by winning their third straight title, while the Raptors are making their first appearance in franchise history.
There are several major DFS tournaments on offer for Game One, including:
The NBA Milly Maker is here for DraftKings! The games at DraftKings for Game One are "Showdown" style contests, which requires you to select 7 players within the salary cap, including one player as your captain - the player next to the crown picture: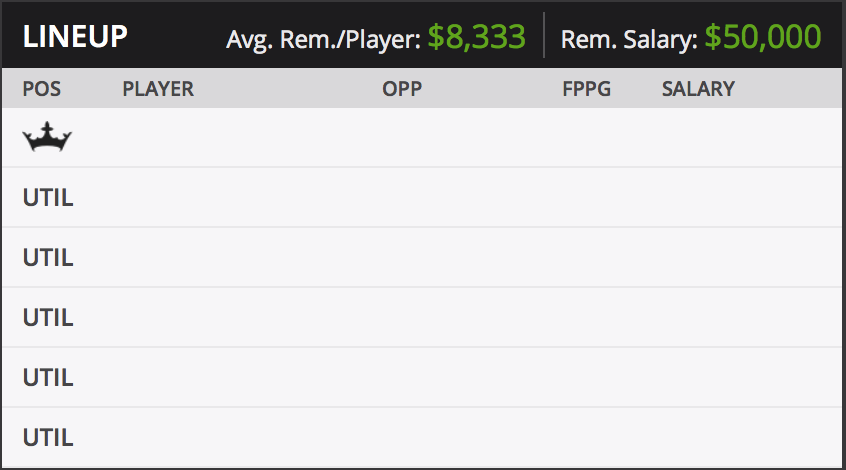 Your captain will be your most important decision as their score will count for 1.5x their total fantasy points scored.
In case you are new to NBA DFS these articles break down the matchups and highlight the key plays to help you build winning lineups. For more insight into how to utilise our game breakdown data check out our NBA DFS Training Camp Series:
Part 1 – Betting Lines and Totals
Part 2 – Matchup Analysis – Pace and Defence vs Position
Part 3 – Key Statistics in Daily Fantasy Basketball
Part 4 – Trade Analysis – Breaking Down the Jimmy Butler trade
Part 5 – DraftKings Sharpshooter Winning Lineup Recap
Part 6 – Adjusting for Line-up News
Have you seen our new NBA DFS Cheat Sheets? We have added even more information for you to see at a glance, including pace numbers, last 5 scores per player and a new Slate Overview section, which brings you projected pace, projected fantasy score totals and Vegas lines and totals for every team on the slate. The perfect accompaniment to our regular previews and a great starting place for the days we don't cover!
GAME BREAKDOWN

INJURY/LINEUP NEWS
It is still early in the week, however the major injury news to consider for both sides included:
Golden State Warriors
Kevin Durant will not play in Game 1 of the NBA Finals. Durant has missed the last 5 games of the playoffs and during that period the big three have all seen significant bumps in their output:
Steph Curry has averaged 58.2 DK points

Draymond Green has averaged 50.95 DK points

Klay Thompson has averaged 37.25 DK points
Meanwhile from a value stand point it has been Kevon Looney who has seen an increase in playing time averaging 25.8 minutes over the last five games.
Demarcus Cousins is questionable for Game 1 of the NBA Finals. If Cousins were to return it is unlikely he would have a significant workload, likely playing under 20 minutes even if he was to start.
Toronto Raptors
Patrick McCaw and OG Anunoby are the only two players currently on the Raptors injury list. Neither are likely to play in game 1 of the finals, nor have a major impact in the series.
VALUE
Kevon Looney (DK $4,800, DS $6,800, MB $5,500) is the value play of the slate. As highlighted above he has seen a significant boost in playing time with Kevin Durant out injured. He is essentially locked into 25 minutes of playing time per game now and through 96 games this year he has averaged 0.94 fantasy points per minute. Looney will have to do plenty of heavy lifting in this series against the Raptors bigs to keep the Warriors competitive on the glass, and he is likely to get opportunities when the Raptors double down on Curry.
MID PRICED
Pascal Siakam (DK $9,000, DS $9,300, MB $7,500) has been a roller coaster in the playoffs, which is typically no surprise for a young star on the rise. That said he has still shown incredible upside posting two games over 40 fantasy points from his last four games. He has done significant work on the boards in those high scoring games going for double figure rebounds in each of the 40+ point contests. This matchup should suit Siakam in that department with the Warriors generally playing small lineups that are susceptible to conceding rebounds.
Another positive for Siakam in this matchup is the fact that through the last two rounds he has been a player the defense have been helping off. In particular during the series against the 76ers they put Joel Embiid onto Siakam and left him open while Embiid roamed the paint. This is a tactic that the Warriors love to employ with Draymond Green, which will give Siakam every opportunity to score if he is hitting shots and cutting to the hoop off the ball.
PREMIUM/CAPTAIN
Kawhi Leonard (DK $11,800, DS $14,740, MB $12,00) is my lock and load captain selection for DraftKings millionaire maker competition. He has been the stand out player of the post season so far and averaged 54.1 fantasy points in six games against the Milwaukee Bucks who have been the top team in defense all season. This included two games over 60 fantasy points in games 5 and 6 of the series. Against the Warriors he will still face tough individual matchups, however the Warriors are ranked just 8th in the playoffs for defensive efficiency.
Leonard faced the Warriors just once this season, however he didn't disappoint racking up 37 real points and 8 rebounds in a Raptors win at home. The last time Leonard played the Warriors in the playoffs he was also having his way with the them posting 26 points and 8 rebounds in just 24 minutes before his ankle was taken out by Zaza Pachulia.
In addition, one of the few weaknesses in the Warriors game has been turnovers. This trend has continued in the playoffs where they have turned the ball over 14.3 times per game, which is the 8th highest of all 16 playoff teams. This should play into Leonard's gigantic hands as he is the top permintere defender in the league at the moment.
FADE
Stephen Curry (DK $11,400, DS $15,510, MB $11,000) … you can't play a single game slate without something controversial. Most players will do their best to squeeze both Leonard and Curry into their lineups and Curry might even be the most popular of the two given how he has performed since Durant went down (see above).
However… this isnt Portland. The Raptors are ranked number 2 in defensive efficiency in the playoffs. That have several long wing defenders to throw at Curry, including one of the best of all time in Leonard. At some stage in this series we will see Leonard on Curry and that might be right from the opening tip of Game 1 with Durant out of the lineup.
Curry played the Raptors just once this season and in that game he managed just 10 real points on 3/12 shooting. Going back to 2015-16, before Durant came to the Warriors, there was a game where Leonard and Green had tremendous success against Curry with a switching scheme that held him to just 14 real points on 4/18 shooting. So while Curry can go off against anyone there is evidence that he could have a tough time against this version of the Raptors.
Dragon suggested team at DraftKings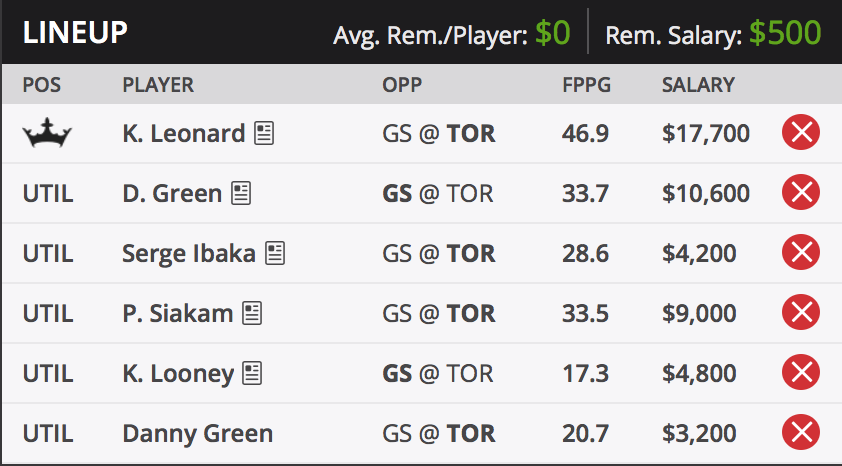 The Daily Fantasy Rankings "Dragon" has scoured the Australian sports betting markets and found some great value picks for this game. Check out his picks for the day below and click on the links to follow his betting plays!
Always remember to gamble responsibly. When the fun stops, stop. If gambling is having a negative impact on your life, seek support at Gambling Help Online. 18+ only.