daily fantasy sports articles
2018-19 NBA Daily Fantasy Tips for NBA Finals, Game Three
Game Three of the NBA Finals is set to tip off on Wednesday (Thursday AEST) as the Golden State Warriors face the Toronto Raptors with the series tied at 1-1. The series shifts back to Oracle Stadium, which should provide the Warriors with a boost, however the big question will be how healthy they are.
There are several major DFS tournaments on offer for Game Three, including:
Just remember with DraftKings contests they are showdown format, which as we discussed in the last preview means you select a captain whose score counts for 1.5x their total fantasy score.
In case you are new to NBA DFS these articles break down the matchups and highlight the key plays to help you build winning lineups. For more insight into how to utilise our game breakdown data check out our NBA DFS Training Camp Series:
Part 1 – Betting Lines and Totals
Part 2 – Matchup Analysis – Pace and Defence vs Position
Part 3 – Key Statistics in Daily Fantasy Basketball
Part 4 – Trade Analysis – Breaking Down the Jimmy Butler trade
Part 5 – DraftKings Sharpshooter Winning Lineup Recap
Part 6 – Adjusting for Line-up News
Have you seen our new NBA DFS Cheat Sheets? We have added even more information for you to see at a glance, including pace numbers, last 5 scores per player and a new Slate Overview section, which brings you projected pace, projected fantasy score totals and Vegas lines and totals for every team on the slate. The perfect accompaniment to our regular previews and a great starting place for the days we don't cover!
GAME BREAKDOWN

INJURY/LINEUP NEWS
Kevin Durant is not likely to play in Game 3 of the NBA Finals, however he has yet to be completely ruled out. Game 4 has been flagged as a more likely return date, however until Durant is cleared for practice we will be no closer to having a clear timetable. If he was to return for Game 3, he is unlikely to resume to his usual work load and he will also have a negative impact on other stars usage, including Steph Curry and Draymond Green.
Klay Thompson has been diagnosed with a grade 1 hamstring strain. This injury typically brings a 3-4 day rest period and with 3 days between games 2 and 3 the Golden State Warriors are expecting him to play. Klay also has a history of being an iron man, famously not missing a game during the NBA Finals last year despite suffering a high ankle sprain. If he was to miss game 3, however, look for Quinn Cook and Shaun Livingston to soak a significant portion of his playing time.
Kevon Looney has effectively been ruled out of the season with a fractured collarbone. Looney had been playing in the 25-30 minute range coming off the bench. In game 2 after he got injured it was Demarcus Cousins who took the majority of the extra minutes playing a total of 28 minutes for 37 fantasy points. After his performance it is expected for him to play as many minutes as physically possible again in game 3. Andrew Bogut was the other centre used by the Warriors, playing 7 minutes, while Jordan Bell went from starting in game 1 to playing zero minutes in game 2.
VALUE
Danny Green (DK $3,600, DS $6,180, MB $6,000) has found his shooting touch again in this series after being rendered almost unplayable in the Eastern Conference Finals. Green has taken advantage of the Golden State Warriors defensive strategy, which has involved being guarded by Steph Curry for the majority of his minutes and also being helped off on. Green has averaged 28 minutes playing time through games 1 and 2 and returned 18.88 fantasy points. For this price point this makes him by far the safest value option. He is shooting over 40% from three point range on mostly wide open looks.
MID PRICED
Andre Iguodala (DK $5,600, DS $7,050, MB $7,000) is once again the swiss army knife for the Warriors in this series. He is playing over 28 minutes per game through 2 games and returning 28 fantasy points per game. You can't expect much in the way of real points from Iggy as he has yet to hit double figures scoring in this series, however his peripheral stats give him safety in his score. He has been playing a significant portion of time as facilitator as the Warriors got to playing Steph off the ball, resulting in 6.5 assists per game in the series.
He also offers upside in the event he catches fire from deep like he did in game 6 of the series against Houston where he posted 35 fantasy points. The chance of this increases at home where Iguodala should shoot better, and as we saw on his game sealing three in game 2, the Raptors are daring him to beat them so all his shots will be wide open.
PREMIUM/CAPTAIN
Kawhi Leonard (DK $11,800, DS $15,970, MB $11,500) is the choice for the third game in a row. He didn't disappoint in game 2 notching up the highest fantasy score in the game of 60 fantasy points despite the Raptors loss. Leonard is getting double teamed as much as possible and facing some of the best perimeter defenders in the league, however he is still willing himself to the foul line and put up 34 fantasy points despite shooting just 2/9 from deep.
On the road the Raptors will likely rely on Leonard even more as role players typically don't shoot as well. As a result I expect his shot total to increase. Both Klay Thompson and Andre Iguodala will be somewhat hampered with their leg injuries, which should also make Leonards job a little easier. Lock. And. Load.
Dragon suggested team at DraftKings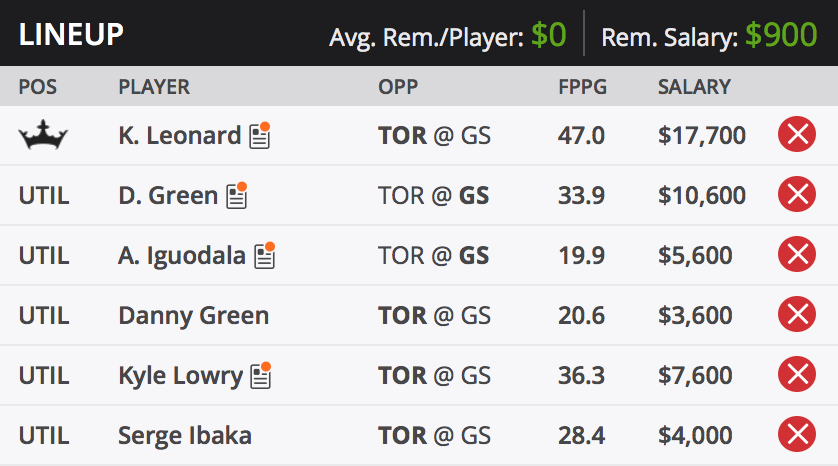 The Daily Fantasy Rankings "Dragon" has scoured the Australian sports betting markets and found some great value picks for this game. Check out his picks for the day below and click on the links to follow his betting plays!
Always remember to gamble responsibly. When the fun stops, stop. If gambling is having a negative impact on your life, seek support at Gambling Help Online. 18+ only.