daily fantasy sports articles
2018-19 NBA Daily Fantasy Tips for NBA Finals, Game Two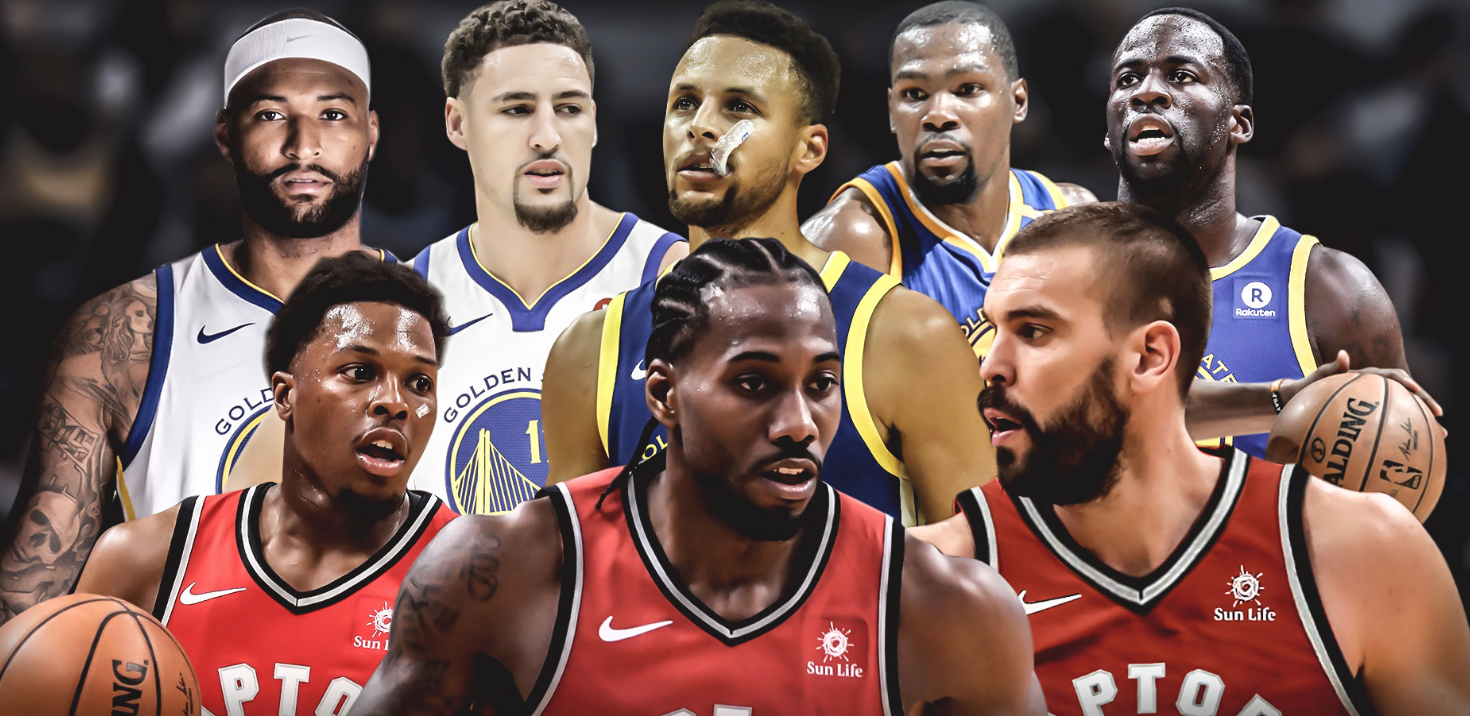 Game Two of the NBA Finals is set to tip off on Sunday (Monday AEST) as the Golden State Warriors attempt to even the series against the Toronto Raptors. This is not quite a must win game for the Warriors if they are to keep their three peat hopes alive, but a loss here and they will have to win 4 of the next 5 games.
There are several major DFS tournaments on offer for Game Two, including:
Just remember with DraftKings contests they are showdown format, which as we discussed in the last preview means you select a captain whose score counts for 1.5x their total fantasy score.
In case you are new to NBA DFS these articles break down the matchups and highlight the key plays to help you build winning lineups. For more insight into how to utilise our game breakdown data check out our NBA DFS Training Camp Series:
Part 1 – Betting Lines and Totals
Part 2 – Matchup Analysis – Pace and Defence vs Position
Part 3 – Key Statistics in Daily Fantasy Basketball
Part 4 – Trade Analysis – Breaking Down the Jimmy Butler trade
Part 5 – DraftKings Sharpshooter Winning Lineup Recap
Part 6 – Adjusting for Line-up News
Have you seen our new NBA DFS Cheat Sheets? We have added even more information for you to see at a glance, including pace numbers, last 5 scores per player and a new Slate Overview section, which brings you projected pace, projected fantasy score totals and Vegas lines and totals for every team on the slate. The perfect accompaniment to our regular previews and a great starting place for the days we don't cover!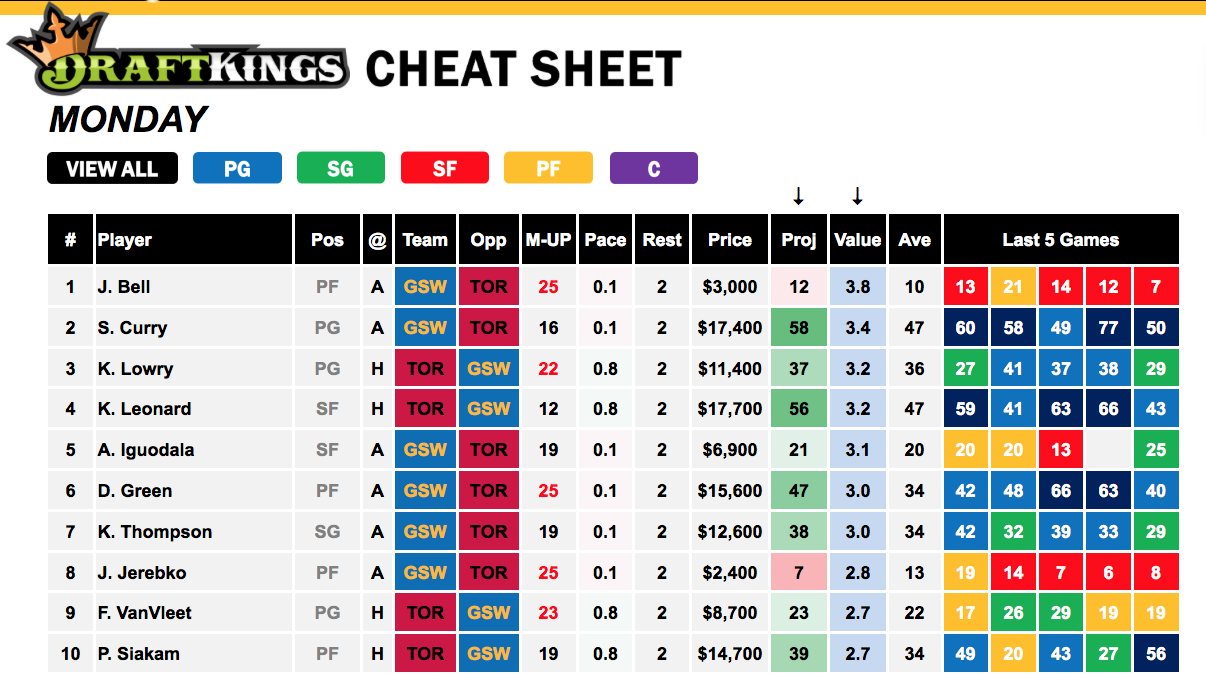 GAME BREAKDOWN

INJURY/LINEUP NEWS
Kevin Durant will not play in Game 2 of the NBA Finals. Durant has missed the last 6 games of the playoffs and as noted in our Game 1 preview, during that period the big three have all seen significant bumps in their output.
Despite the loss in Game 1 this trend continued to a degree with Steph Curry notching up 50 fantasy points, Draymond Green 41, and Klay Thompson 29. The Warriors roster is now so thin that even in a poor performance their top 3 players will be required to utilise so much of the possessions that they are strong fantasy plays.
Andre Iguodala looked to have strained his hamstring again late in Game 1. At this stage he is not on the injury listed and expected to play, however I would query at what level we can expect him to be able to perform.
OG Anunoby is a gametime decision for the Raptors. Given the amount of time he has spent out and the importance of this game it is unlikely that if he does play he has any major impact from a fantasy perspective.
VALUE
Shaun Livingston (DK $3,200, DS $5,000, MB $4,500) has been in solid form as a bench player recently topping double figure fantasy points in 3 of his last four games. If Iguodala is hampered Livingston is likely to be called upon to stretch out his minutes a touch, and the Warriors may also look to run more of the modified "death lineup" with Livingston in Durants spot for this crucial game. Livingston shot just 2/6 in Game 1 but still managed 16.5 fantasy points and at this price that is more than sufficient.
MID PRICED
Kyle Lowry (DK $7,600, DS $11,740, MB $7,500) had a shooting night to forget in Game 1 of the finals going just 2/9 from the field. The positive, however, was that he still posted 29 fantasy points due to racking up peripheral stats with 9 assists and 6 rebounds. His shooting will improve and it is unlikely that he has back to back bad offensive performances.
The Warriors will likely tighten up on Siakam and Gasol in this next game, which should open up opportunities for Lowry and the Raptors will need his attack if they are to take a 2-0 lead in this series. Even more appealing is the fact that players will likely flock to Siakam and Gasol after their outstanding Game 1 scores, meaning the players priced at Lowry's point will go under owned (as under owned as you can be on a single game slate).
PREMIUM/CAPTAIN
Kawhi Leonard (DK $11,800, DS $16,020, MB $11,500) … I am going right back to the well on this one. Leonard had a really ho-hum performance in Game 1 and the Warriors really sold out on him with double teams. This was essentially saying we are going to force other players to beat us, and that is exactly what happened.
Leonard shot just 5/13 from the floor in Game 1, but still managed 23 real points and 43 fantasy points. I expect him to bounce back shooting wise and also the Warriors to tighten up somewhat on their defense of his team mates. Furthermore Andre Iguodala is really one of the few Warrarios wings who is suitable to matchup against Leonard, and if he is restricted further by the flare up of his injured hamstring this will make life easier for Kawhi.
Dragon suggested team at DraftKings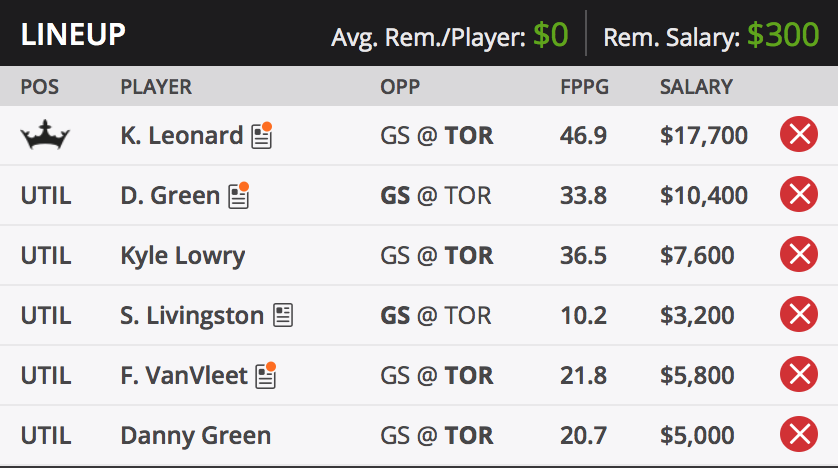 The Daily Fantasy Rankings "Dragon" has scoured the Australian sports betting markets and found some great value picks for this game. Check out his picks for the day below and click on the links to follow his betting plays!
Always remember to gamble responsibly. When the fun stops, stop. If gambling is having a negative impact on your life, seek support at Gambling Help Online. 18+ only.